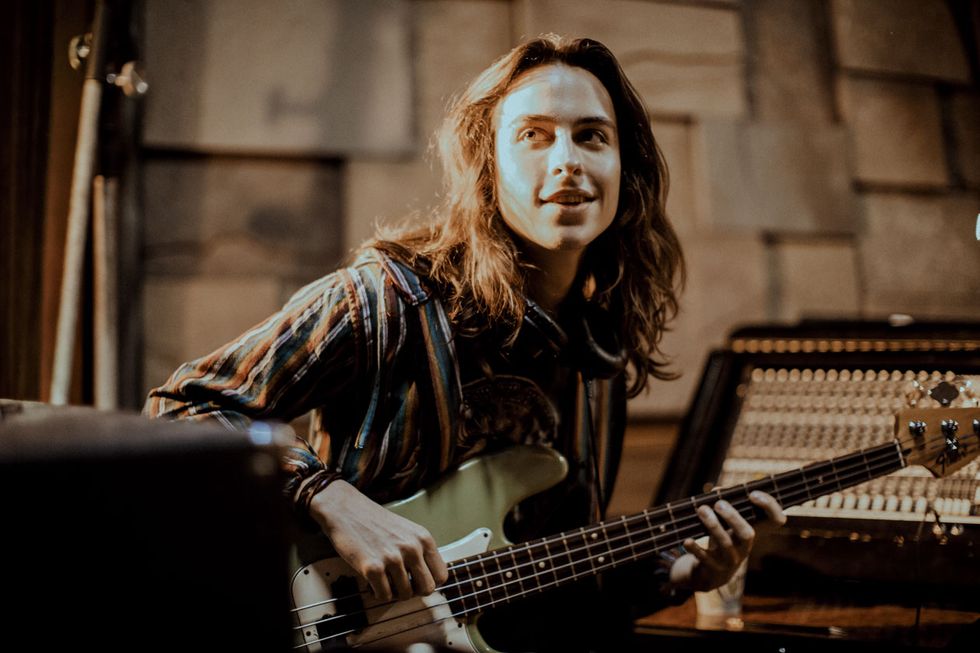 Sam Kiszka came away from Blackbird Studio with an amp he found in the closet: a Sunn 2000S that studio owner John McBride gave to him. The bassist favors the Sunn over his Fender Bassman and is using it exclusively now, even on tour. Photo by Alysse Gafkjen
You guys have spoken of influences a lot, but one interesting artist that keeps coming up is John Denver. What about his music speaks to you?
Sam: It was a huge factor growing up, you know, our dad and uncle and everybody would play John Denver all the time because it's freedom music. It interacts with the mind in a way that you are relieved of all earthly duties. I think that's what music is about, taking you away.
When I'm feeling frazzled or stressed out, I sit down and put myself in that spot and close my eyes and listen to a half-hour of music and when I open my eyes it's such a shock that I'm back here. It's like sometimes when you wake up and you don't know where you are, and then it registers. I think that's how we experience music—we kind of "come to," eventually. With John Denver it's his enormous voice, beautiful songwriting, and a jackhammer vibrato. It really captures what music should be.
You mentioned a goal for this album was to expand dynamics and dimensions of your music, and to make a more mature album. What do you feel is the progression going from the From the Fires EP to Anthem of the Peaceful Army?
Jake: I think a lot more happened within that objective than I thought. A lot came from inventing new little voicings and shapes within the solos, so that I started going somewhere else than the blues licks I've always played. In doing that, a lot of obscure things happened as far as the guitar goes, you know—licks that don't really have an identity. That sort of belongs to me now and a lot of that was happening. Mixing different genres together, a lot of experimentation, and a lot of creative freedom. More than I expected to happen throughout creating the album.
Sam: The goal for this album was really to capture what had happened. We've grown monstrously. I think that we've come to be proper musicians rather than just a couple of kids playing rock 'n' roll. I think every piece of an artist's work should be a time piece. You can write something and look back on it a year later and you're like, "whoa, that's where I was." A lot can happen in a year. After hitting the road hard in the past year-and–a-half, a lot of maturity has come out of that, not only in the songwriting, but also in the musicianship. I think there is a lot more mindfulness about where melodies interweave with each other. And the dynamics, like Jake said. Not only the dynamics themselves in the music but the dynamics of an album. Albums are kind of overlooked. We need to get back to that. Creating a great album is a lot harder than writing a great song.
Jake Kiszka's Gear
Guitars
'61 Gibson Les Paul with two PAF humbuckers
Gibson Custom Shop SG
Custom Coodercaster (built by producer Al Sutton)
Gibson Hummingbird
Gibson J-45
'59 Martin D-28 (studio)
'66 Fender Telecaster from Blackbird Studios (studio)
'65 Gibson ES-335 (studio)
Amps
Marshall Astoria CME
Vox AC30
Bletchley Amplifiers Belchfire 45 through a '74 Marshall slant with Celestion Greenback 25s
Effects
Electro-Harmonix Holy Grail Reverb
Jext Telez Range Lord
Jext Telez Jext Face
Vox wah
Strings and Picks
D'Addario strings (.010–.046)
Dunlop .60 mm picks

It feels like Anthem of the Peaceful Army is a concept album.
Sam: It is. It kind of dives into roots and beliefs. I think it asks fairly large questions. What are we doing to ourselves? What are we doing to our environment? What are we doing to each other? Why must there be hate? And why must there be greed and evil? I think it simply asks the question of why can't we all be one? We're all people. We all look up at the same sky, breathing the same air. We all come from the same place.
Jake: I think it does a good job musically of creating visuals that are rooted in nature. And lyrically we talk about mankind and our fascination with that. There's also subject matter of evolution on there and summarizing the message we can all get around of love, peace, and unity. And good fun! [Laughs.]
The band did some writing for the album up in the mountains of Chattanooga, Tennessee. Can you share any memories from that experience?
Jake: So, the thing you should know about this place we were at—we didn't know how isolated it was. It was an hour to the closest town; it was this little cabin on some mountain. We were making jokes like, "It's definitely 100 percent haunted." [Laughs.] We went into the basement once and that was the last time any of us stepped foot into the basement. It was a really creepy house.
We started writing around noon, and would end up 12 hours later at midnight having stuff and working on it. At this point we were going to bed at 3 a.m. or something. But I would stay up and mess with mixes and try to get parts together. There was this fireplace that was right behind the drum kit, and I would take breaks to sit by the fire. Everyone else was in bed, but I could hear, very clearly, footsteps walking behind me, and my whole body went cold and I just got goosebumps. I literally thought Sam or Danny or Josh had come downstairs, but I turned around and nothing was there. I would be up until sunrise editing stuff, and I'd have to sit with that and it would continue to happen. At one point, I turned around and said, "Stop. Leave me alone. I'm trying to work." It stopped and didn't happen again that night. At one point Danny was inside sleeping in a room far away from the rest of us, while we were outside. He said he could hear a little girl laugh whenever we would tell jokes. It was a very creepy experience, but I think that had some influence on some of the tracks.
Sam: I look back on that experience like one of the most magical in our lives. It was just the four of us for a full week, which is remarkable. We didn't get into any fights outside of playing, which is incredible also. It kind of set the scene. You drive out of Nashville for about two hours and you see nothing, nothing, nothing, until you see this massive … hey, I would even call it a mountain. And then there was this winding road that went up for about 20 minutes. It kinda goes back to John Denver. It's freedom, it's nature. We got up there, to this cabin, and it looks small and kinda raggedy from outside, but we go in and it's just pure beauty with spiral staircases. You walk out on the massive balcony and see millions, or tens of thousands, or trillions of trees! It was amazing. I have very specific memories of "Age of Man" being written and coming to life there. That's going to be the first track on the album, and that's always the place that comes to mind when I hear that song. The cabin was also very, very haunted [laughs].