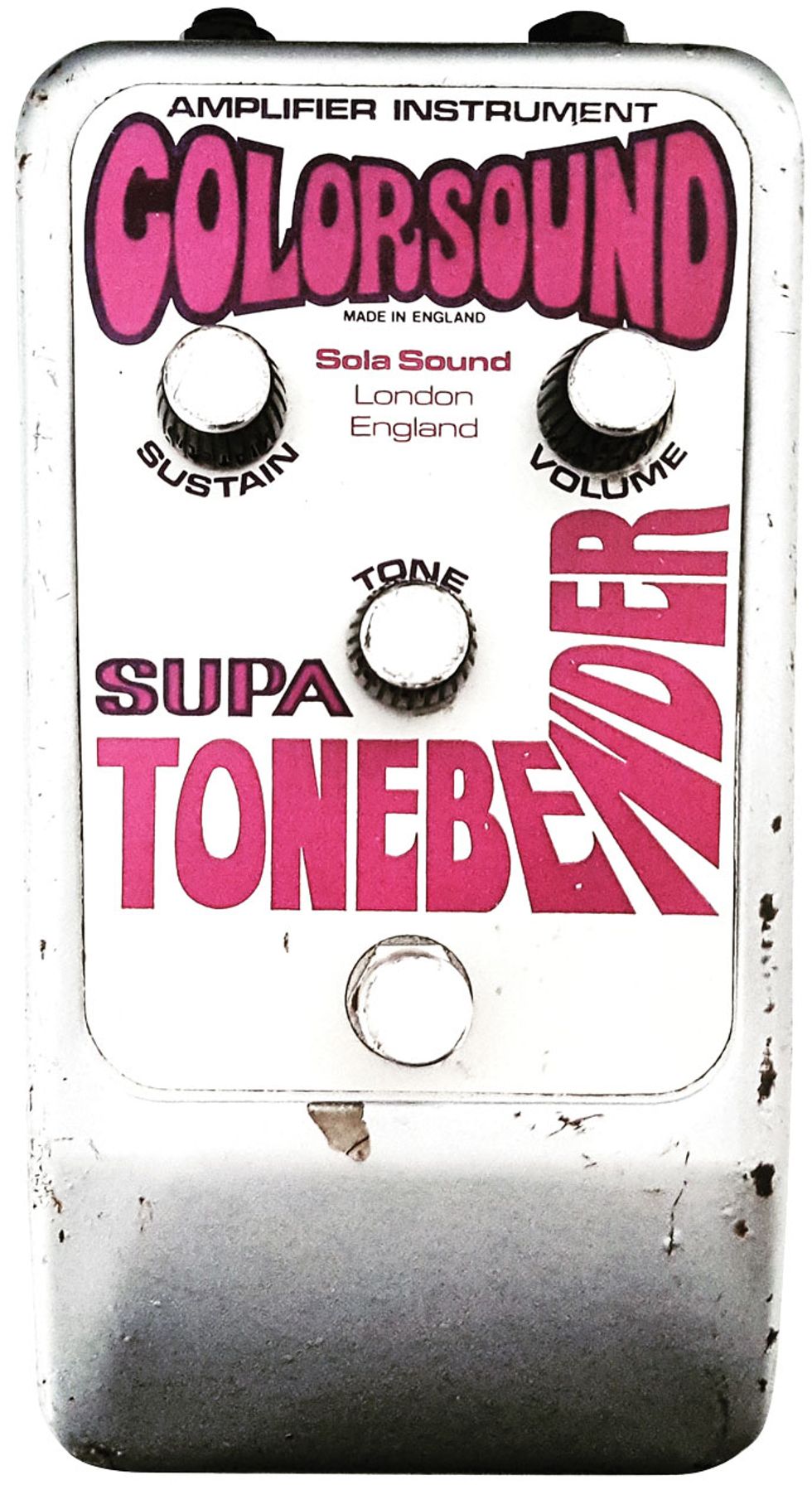 A notable user of the colorfully housed Supa Tone Bender was Steve Hackett during his tenure with Genesis. He also used a Marshall Supa Fuzz. He mounted the Supa on an early custom pedalboard. Photo courtesy of PedalPawn.com
The Supa Tone Bender
Released in 1973 under the Colorsound brand, the Supa Tone Bender had a noticeably different tone and feel to the previous pedals in the series. This was due to the fact that it didn't use germanium transistors like previous Tone Benders, and was essentially a mildly modified Big Muff—complete with four silicon transistors and diode clipping. Based on the "ram's head" Muff of the same period, the Supa removed two of the clipping diodes from the popular Electro-Harmonix circuit and added an extra capacitor, resulting in increased output volume compared to the Muff. Supa Tone Benders also differed in that they were housed in a wider, much more colorful enclosure.
Sonically, the Supa Tone Bender was far removed from its germanium-driven ancestors. Less harmonically intricate, its signature sound is a hefty, woolly fatness, with thundering low end and scooped midrange. Later versions of the Supa Tone Bender removed the last gain stage, thus lowering its output volume a bit.
Around late 1975, Colorsound further added to the confusing Tone Bender legacy by renaming the Supa Tone Bender as the Jumbo Tone Bender. The Jumbo was sold through the end of the decade under multiple brands and in a variety of enclosures, including the B&M (Champion) Fuzz, B&M Fuzz Unit, CMI Fuzz Unit, G.B. Fuzz, G.B. Fuzz Unit, or Pro'Traffic Fuzz Unit, or in a smaller enclosure labeled as the Eurotec Black Box Fuzz Module. (The B&M version powered Edwyn Collins' 1994 hit, "A Girl Like You"—a Bowie-esque, 60's-style pop gem featuring liberal use of the fuzz's thuggish buzz.)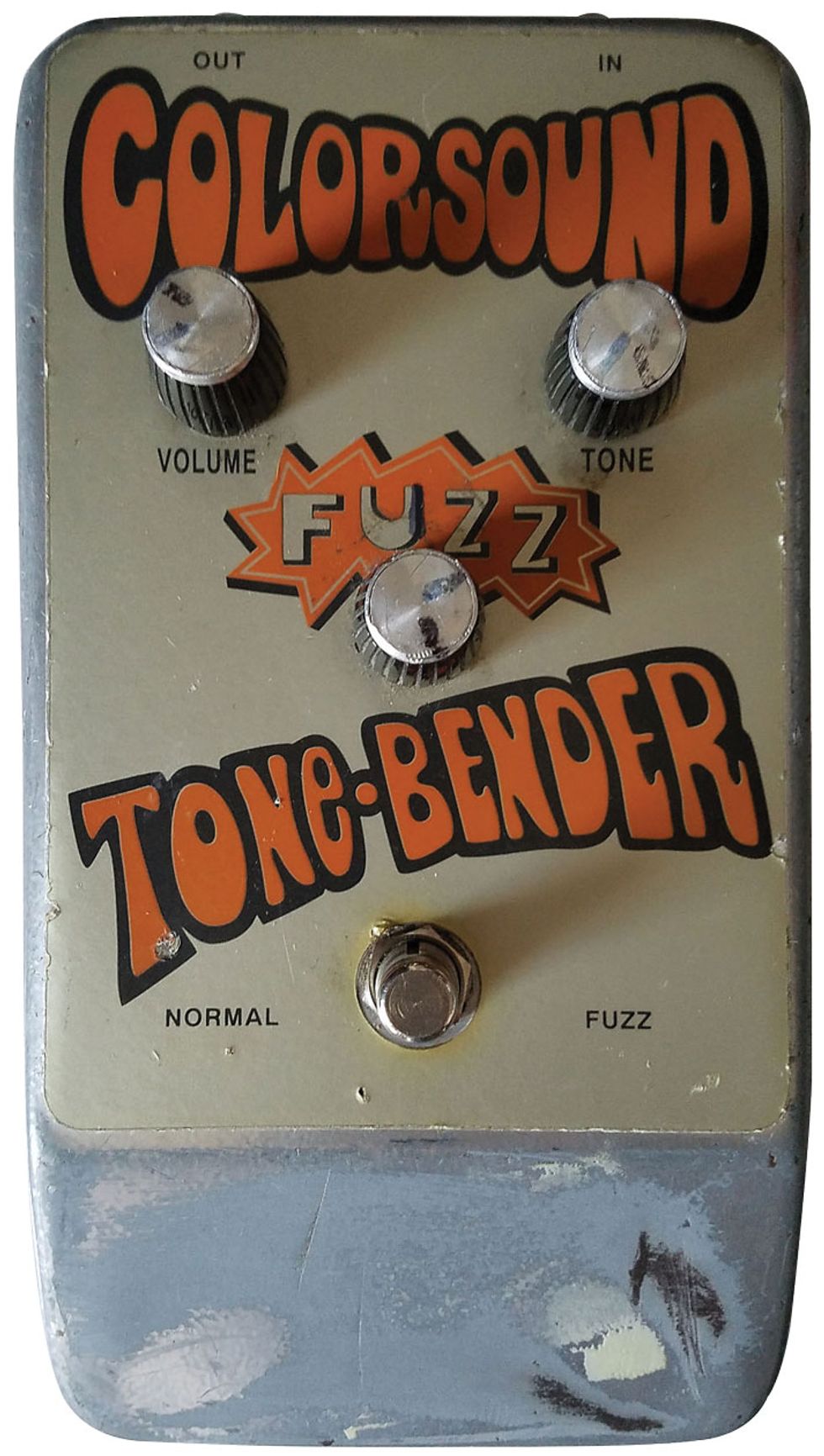 No doubt due to the resurgence of fuzz on the Pacific Northwest's surging grunge and garage-rock scene, Colorsound began releasing Tone Benders (above right) like this 1994 "ram's head" Big Muff-inspired Jumbo Tone Bender, as well as other iterations, in the mid '90s. Photo courtesy of Ken Rose/HeroJrMusic.com
The Dark Ages
During the 1980s, fuzz largely fell out of favor among guitarists, so the Tone Bender lay commercially dormant. However, in 1994 Colorsound reissued the 3-transistor, Muff-based Jumbo Tone Bender circuit. The company also unveiled an op-amp-driven Tone Bender bearing no resemblance in tone or circuit to the originals. Closer to a distortion than a fuzz, it is generally regarded as underwhelming at best.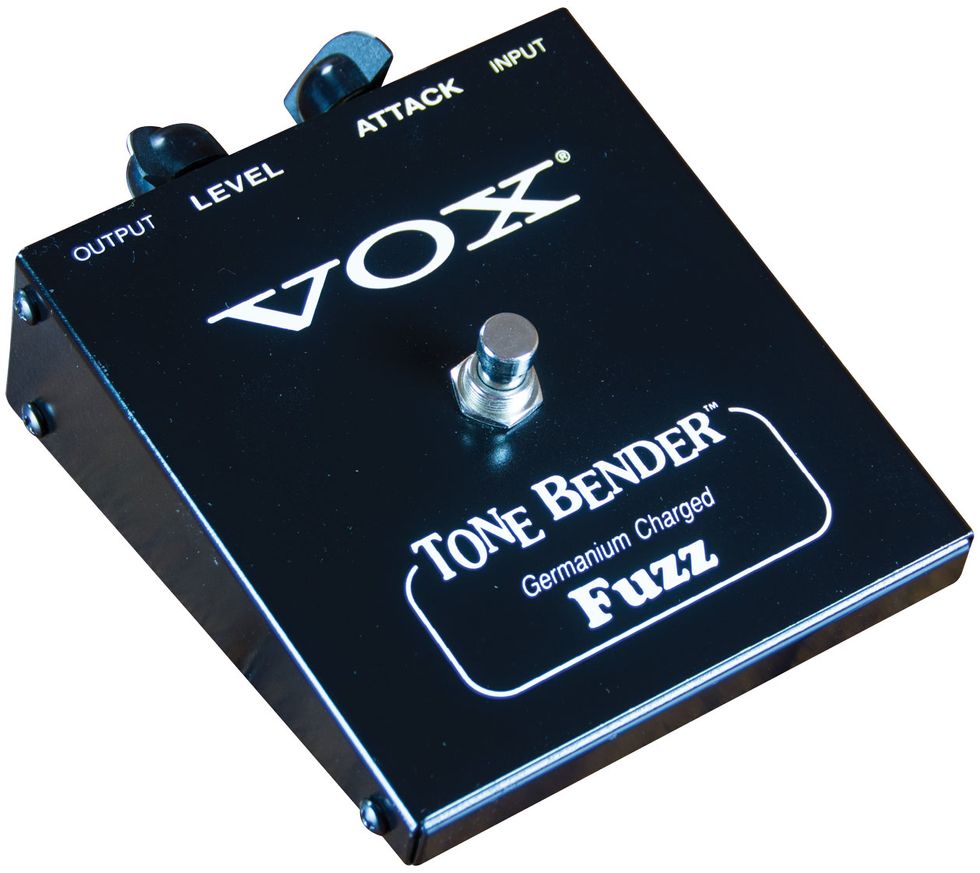 From 1994 to 1997, Vox sold a reissue of its V829 Tone Bender circuit in a smaller housing. Photo courtesy of Guitar Emporium of Louisville
Meanwhile, between 1994 and 1997, Vox issued the V829 Tone Bender, which was based on their late-'60s MkI.5 but housed in a smaller enclosure. Then, in 2004, Gary Hurst released a short run of MkI reissues, which he built himself and issued under his own name—sans any legal connection with Sola Sound, Colorsound, or the Macaris. Perhaps because of this, 2007 saw the "Tone Bender" name trademarked by Macari's Ltd. in the U.K. and Europe. The legal claiming of the name by the originators paved the way for an official reissue of the Tone Bender.
The Now
You don't have to be any sort of fuzz aficionado whatsoever to see that, today, fuzzes are more popular and abundant than ever. For the last several years, companies, large and small have been reviving circuits of yore and churning out their own takes on the effect. Sola Sound is part of that action, too. After decades being lost in the wilderness, the brand has roared back to life. Since 2009, Sola Sound-branded Tone Bender MkIIs have been available through Macari's in London (macaris.co.uk). Built by fuzz wizard Dave Main from Differential Audio Manifestationz (D*A*M), these accurate, painstakingly researched recreations are made to exceptional quality and deliver classic Tone Bender tone in spades, allowing the players of today to follow in the hallowed footsteps of those original '60s guitarists. In fact, after the success of the D*A*M-built MkII reissue, Macari's also tapped Main and his crew to recreate the MkI.5 and MkIV circuits under the Sola Sound name. In addition to D*A*M, companies such as Pigdog, Castledine, and a host of others now build stunning recreations of the various Tone Benders.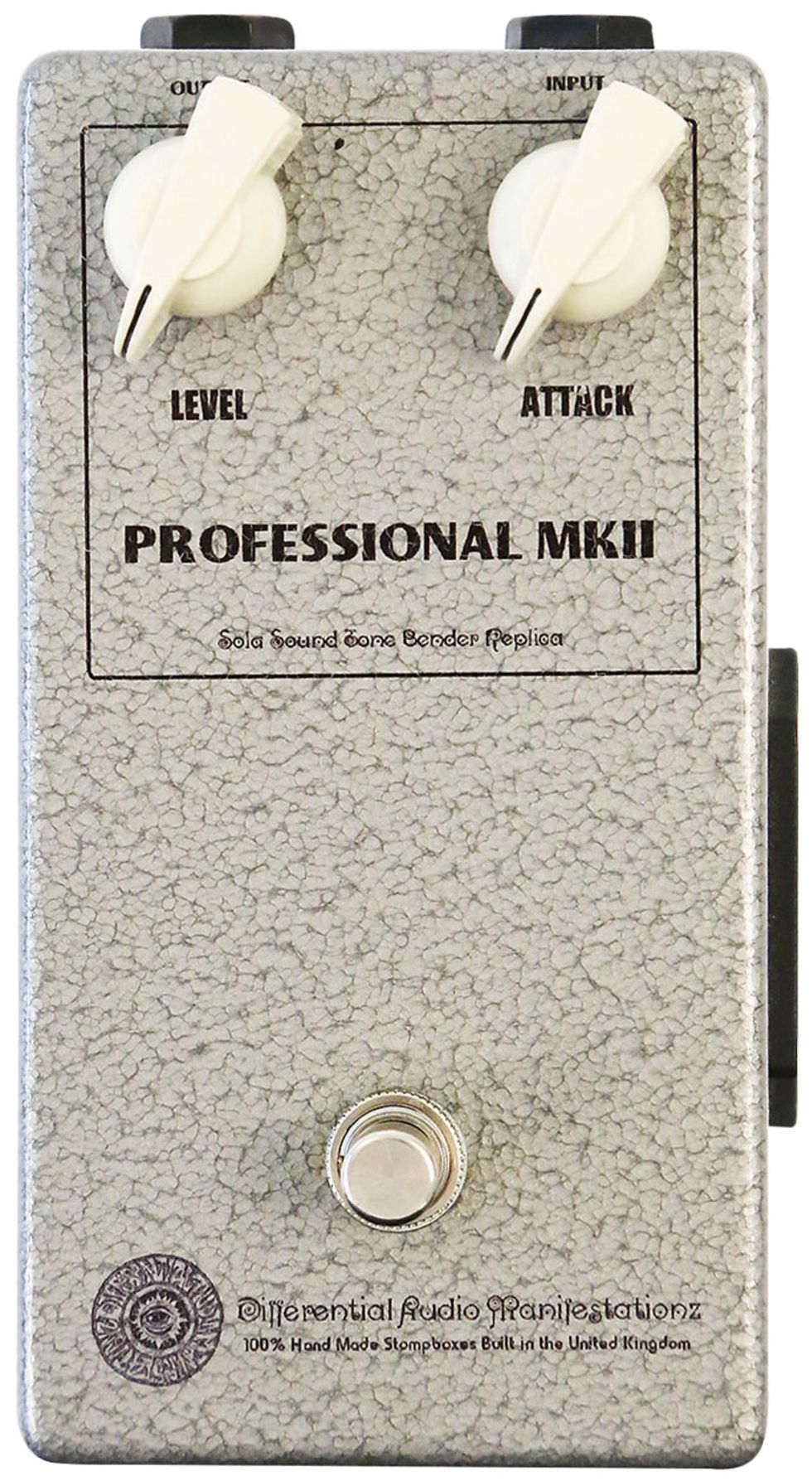 Macari's of London, owner and originator of the Sola Sound and Colorsound brands, now commissions Dave Main and the team at Differential Audio Manifestationz (D*A*M) to create authentic replicas of vintage Tone Bender circuits, such as this downsized iteration of a MkII. Photo courtesy of Chris Nelson
Tone Bender-style fuzz pedals are perfectly suited to boutique companies due to their ability to devote time to details such as transistor selection and fine-tuning of the circuit bias in each product produced—details that can be difficult to execute for larger outfits that rely on mass production. This is particularly important, as the style of circuit design they use and the temperamental nature of germanium transistors require a level of attention and time expenditure that a machine-made factory line often can't offer. Thus, the Tone Bender has come full circle. Starting life as a unique wonder built by hand in London, the Tone Bender once again is a handbuilt tone marvel—only now it's lovingly made at all sorts of shops around the world.
---