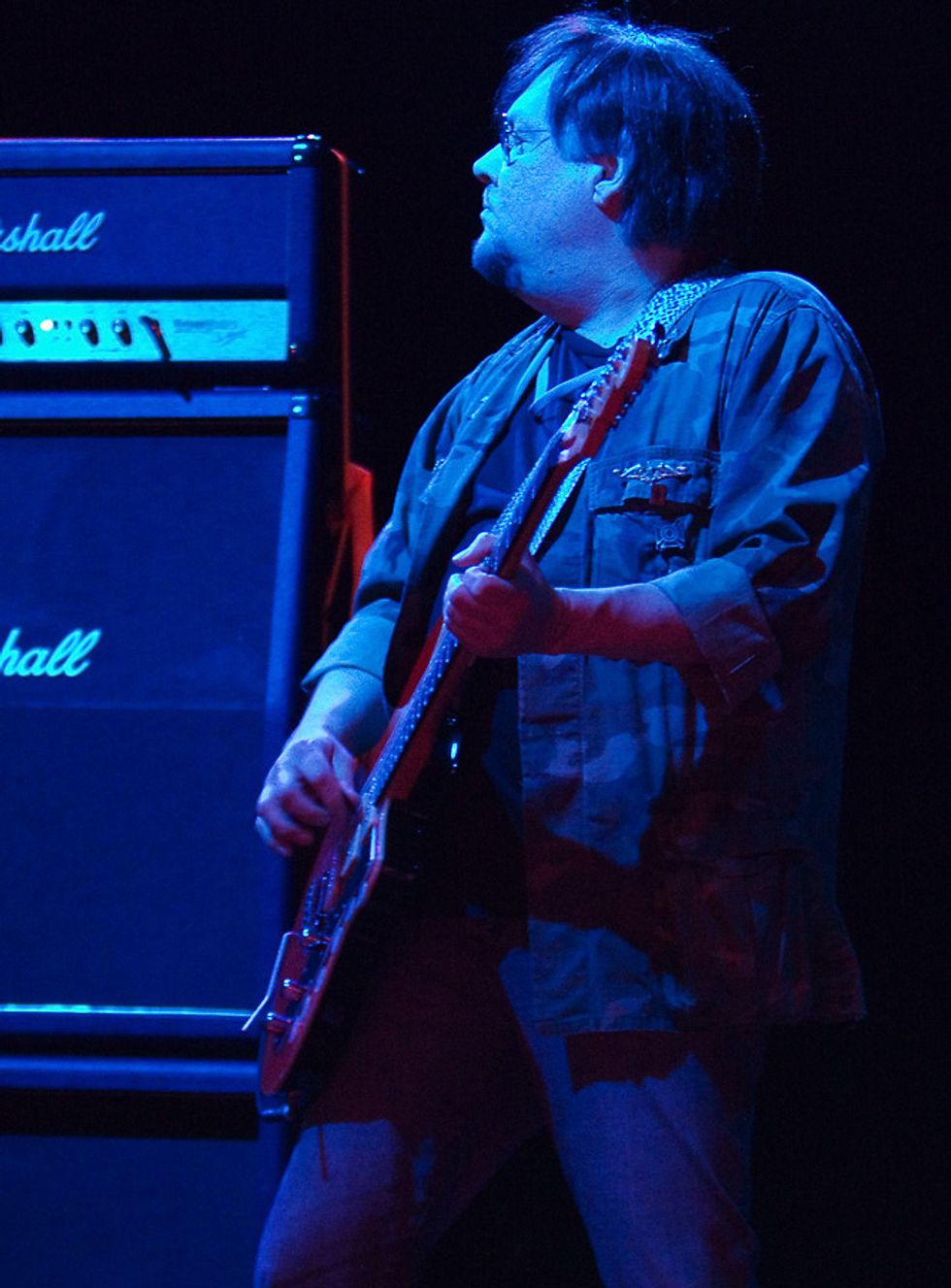 On tour, Asheton preferred renting amps, and his favorites were Marshall JCM800s powering two 4x12 matching Marshall cabinets. His longtime friend Deniz Tek says Asheton used 100-watt Super Leads and a Marshall Major back in his Stooges days. Photo by Tim Bugbee/Tinnitus Photography
According to Watt, Asheton used a Guild bass (probably a JS II). "They were full scale but they looked like an EB-3," he says. According to Tek, his amp was either an SVT or a Sunn 2000.
"He was a good bass player and took to it," Kathy Asheton says in contrast to rumors that Asheton resented switching to bass. "He was into it. There weren't any qualms. And again, I want to emphasize, a lot of the reason it was okay in that line-up was because Ronny and Scotty were together. That was the impetus to their purpose to continue playing."
But outside factors and drug use also doomed this unit, and by early 1974 the Stooges called it quits. (A live concert from February 1974 was released in 1976 as Metallic K.O. You can hear the audience's hostility on the recording, including bottles breaking and Pop's constant taunting.)
Following the Stooges, Asheton formed the New Order (not to be confused with the '80s post-Joy Division band, New Order) with former MC5 drummer Dennis Thompson. The New Order broke up in 1976. Asheton then joined Destroy All Monsters, fronted by the Detroit-based visual artist and singer Niagara. Later, that band morphed into Dark Carnival.
"Ronny's stance was always, 'I am a musician, that's what I do,'" Kathy Asheton says. "One way or another he kept it going for those 30 years in between. They were also getting royalties from Bug Music [a music publishing company that was sold to BMG in 2011 for $300 million], so Ronny and Scotty had some money from the Stooges. Those albums kept selling, but here's the thing nobody knew: It was James Williamson who reached out and told Ronny and Scotty, 'Hey, you know, there's this company and they're collecting royalties.'"
Asheton also dabbled in acting. His biggest role was in the film Mosquito, which starred Gunnar Hansen from The Texas Chainsaw Massacre. It was also through film that Watt first got the chance to play with him. "The first time I played with Ron was on the soundtrack for a Todd Haynes' movie called Velvet Goldmine," Watt says. "The movie had a David Bowie character and another character kind of based on Kurt Cobain and Iggy. They wanted some music for that character and he had a band called the Wylde Ratttz. They figured, if it's going to be like the Stooges, why not get the real Stooges guy?" That band, which also included Thurston Moore and Steve Shelley (Sonic Youth), Don Fleming (Gumball), and Mark Arm (Mudhoney), recorded "T.V. Eye" for the film, plus an album's worth of material that was never released.
The Stooges Revisited
In 2000, Watt was recovering from a life-threatening illness. "I had tubes in me and I couldn't play bass," Watt says. "When they pulled the tubes out of me and I started hankering to play—to get gigs, not just get better—I asked J Mascis and he got Murph from Dinosaur Jr and we did some Stooges. When it came time for his solo album, J Mascis and the Fog, he asked me to be on bass."
"We did a couple of Stooges songs when Watt was my bass player, and he would sing," Mascis adds. "We were playing in Ann Arbor and I asked Watt, 'Why don't you call up Ron and see if he wants to jam? I know you know him from the Wylde Ratttz.' Ron came down and we played. I kept asking him if he wanted to go on tour, and so he toured with me and Watt for a while. We went to England and did different shows, and SXSW. Then Thurston Moore asked us if we wanted to do Stooges at a festival. He said, 'Why don't you get Scott Asheton, too?' That was the first time I played with Ron and Scott. It was in L.A. at the All Tomorrow's Parties festival that Thurston was curating. Eddie Vedder, Josh Homme, and Kim Gordon all sang different Stooges songs. We went out in the summer and we went on some festivals, and I think that's when Iggy heard about it, because we were playing around."
It was those Asheton, Asheton, Mascis, and Watt shows that piqued Pop's interest. "I remember Ronny told me about the call he got," Watt says. "It was Ig. 'Hey, who is this indie guy stealing my treasure?' Ronny told me that he said to him, 'My treasure? You know where I live.'"
"Scotty was the one who kept pursuing," Kathy Asheton says. "Every now and then, he'd call up Iggy and say, 'Do you want to get the band back together?' Iggy would say no. It would be the decade joke. 'Okay, so 10 years have gone by, what do you think? Do you want to get the band together?' No. 'Twenty years?' No. But it was really J Mascis, Mike Watt, Ronny, and Scotty. When they started playing Europe and doing all kinds of shows, they would do Stooges music and the people would go crazy and yell, 'Stooges! Stooges!' When Iggy heard rumors and saw the success that they were having, that's when he became interested."
Pop had the Asheton brothers play five songs on his 2003 solo release, Skull Ring. Ron played guitar and bass on those sessions. But the big news of that year was the official Stooges reunion—with Watt on bass—at Coachella.
"Ronny told me about making noise with an electric blender, Dave Alexander throwing the amp down to make sounds, and Scotty beating oil drums with their horoscope signs painted on them. It was a whole different thing than what we know from Stooges' albums."
—Mike Watt
"Ron used a Strat for the Coachella Festival that they played," Chris Wujak, Asheton's reunion-era guitar tech says. "I was not at that first show. The story I was told was that it was just a one-off. It was supposed to be a fun gig. But that turned into a tour, which turned into six years of touring, and then continued after Ron passed away."
Asheton's guitars, once the reunion was underway, were two Reverends—and eventually Reverend created a signature model as well. "Ron started using Reverend guitars at the beginning of the reunion," Joe Naylor, Reverend Guitar's founder, says. "He had bought a few Reverends at a music store in Ann Arbor, so he already knew about Reverend. When the reunion was getting ready to start, he contacted us and wanted to know if we could work with him on maybe a couple more guitars for the reunion."
Asheton's reunion-era rig, similar to the gear he relied on in the early days, was simple. He used an Ibanez Tube Screamer or Reverend Drivetrain II as a boost for solos—otherwise his distortion came from the amp—plus a Dunlop Cry Baby Wah and a Boss Chromatic Tuner, which he used as a mute. On tour, he rented amps, which were usually Marshall JCM800 heads powering two 4x12 Marshall cabinets. His strings were GHS Boomers—their standard .010–.046 set—and plastic picks (customized with a Stooges logo) that were the equivalent of a Fender medium.
The reunited Stooges were the real deal and, according to Watt, that different dynamic was noticeable as soon as Pop and the Ashetons got back together. "When me and J were playing with the Asheton brothers, it was different than with Ig and the Asheton brothers, because that's the Stooges. With Ig, they have their own language—their own authentic thing. The Stooges music has lots of dimensions to it, even though some parts seem very simple."
The reunited Stooges were not a nostalgia act. Watch the concert footage and look at the crowds, you won't find many elderly hippies or relics from yesteryear. For the most part, the audiences were young. "The people we were playing for, there were hardly any people our age," Watt continues. "The people seeing the band were much younger, because people wanted to know about this."
"It was crazy," Kathy Asheton agrees. "I had thought, 'Can they really just resurrect the Stooges songs and be successful?' Boy was I proven wrong. That just took off like a bullet. People went crazy. You go into the shopping malls now and you see teenagers wearing Stooges t-shirts. There was a time when you'd go, 'My brother plays with the Stooges.' Who? And now almost everybody knows who you are talking about. That was the coolest, greatest thing ever. The success, oh my God, it was so big for them."
Ron Asheton died of a heart attack in early January 2009. His body was found in his house, the house he grew up in—the same house the Stooges used to rehearse in—a few days later. He was 60. The Stooges soldiered on. They brought James Williamson back from retirement and introduced songs from Raw Power into their shows. That line-up continued to tour and record—the Ron Asheton reunion-era Stooges had recorded an album of new material, The Weirdness, in 2007 as well—until Scott Asheton died, also of a heart attack, in 2014.
In 2010, the Stooges were inducted into the Rock & Roll Hall of Fame. "I didn't want to go," Kathy Asheton says. "I felt a little bitter, I admit it, in the sense that it's too late. Ronny's gone and now you're giving them this award? I was happy for Scotty. I was happy for Jim (Iggy). I cried all the way through it. But I went to ghost him through it. I figured where he'd be in it, how he would be, and everything. That's how I handled that: just thinking that I am ghosting Ronny's position being there. It was the right thing to do, but it was hard."
Over the decades, the Sex Pistols, the Damned, Sonic Youth, R.E.M., Slayer, the Red Hot Chili Peppers, Rage Against the Machine, Cage the Elephant, and many others have covered the Stooges' songs. Kurt Cobain, Slash, and publications like Rolling Stone have listed their albums as among their favorite and most influential. You'd be hard pressed to find a rock band that hasn't attempted a cover of "I Wanna Be Your Dog" at some point in their career. But that recognition was a long time coming.
"I remember Ron telling somebody once that he felt like the old blues guy on the porch," Watt says. "People, like us, coming up to him, wanting to know things. Everybody always knew where he lived, but took him for granted."
---