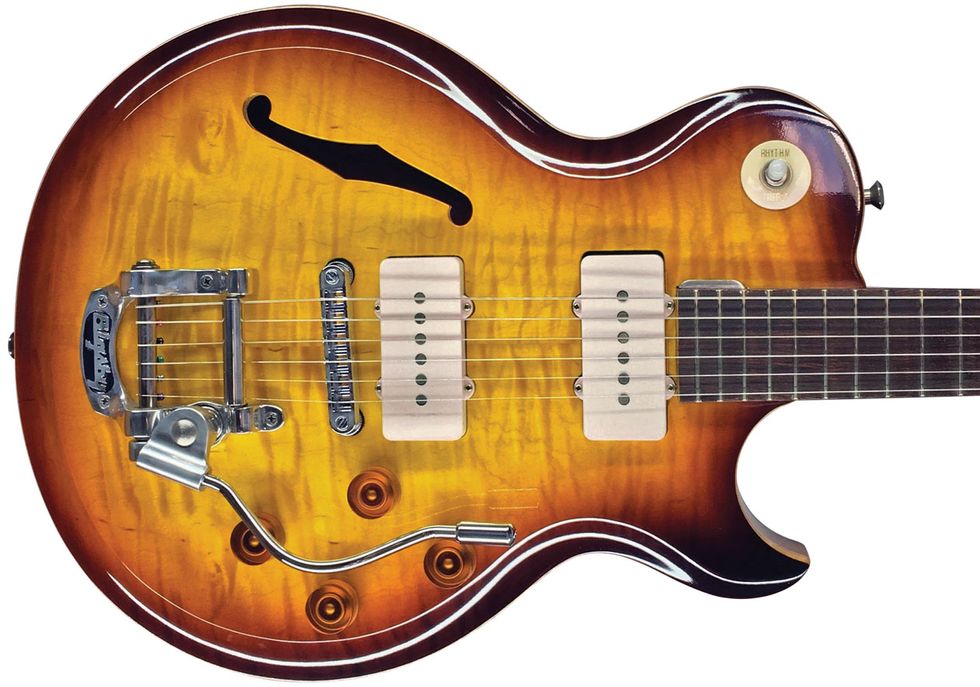 The new Jazzglider by Retrophobe features a vintage-inspired modern mix of handbuilt features, including high-definition handwound Holobucker single-coils that deliver ultra-wide, flat-frequency response and punchy mids, while attenuating 60-cycle interference with boosted bass.
The NAMM show always proves to be a dazzling display, with each purveyor vying for your attention with bright colors and descriptive bait. But what is new? Musicians want great tools to make music, but sometimes wading through the terminology used to describe equipment can get a little—how shall I say this—opaque. As a veteran with over four decades of building, repairing, designing, and breaking musical instruments, I've heard quite a few slang terms and have used them liberally for fun and profit. So, in the interest of saving you a lot of handwringing over the jargon employed by manufacturers and small builders, I present my layman's glossary of gear-manufacturing phraseology.
• '59: We use this to tip you off that we "get" that vintage thing that you people like.
• Amplitude tapering: Some 1950s technology that is common knowledge, but sounds impressive to musicians who don't do homework.
• Backorder list: Number of customers in line waiting for us to learn how to do what they want.
• Blended nitro lacquer: If we ding it in the shop, it will be easy to repair, and if it cracks, we don't have to warranty it.
• Cold checking: Those little crack lines in the nitro finish on a $250,000 Les Paul Standard made in 1959.
• Extended flat response, with punchy mids: So … it's not really flat, is it?
• Fast neck: Sanded by a new employee.
• Game changer: Something that's been done to death, but ours connects to your phone.
• Handbuffed: The employee holds the guitars against the 7 HP buffing machine.
• Handbuilt: We can't fit/afford a CNC machine in our shop yet.
• Handmade: Someone used a hand tool on this somewhere in the workflow.
• Handselected: Selected using someone's hands—and, hopefully, eyes.
• Handwound: We're just testing the market now before throwing down money for an expensive winding machine.
• High-tech: If it malfunctions, you'll have to send it to us to get fixed.
As a veteran with over four decades of building, repairing, designing, and breaking musical instruments, I've heard quite a few slang terms and have used them liberally for fun and profit.
• Limited edition: Unlikely to sell in big enough numbers to be integrated into the product line as a regular item.
• Offset: If we didn't offer a Jazzmaster copy, we'd go belly up in a few months.
• PAF: Patent Applied For: This is a humbucking pickup that everyone wants and very few have actually heard.
• Plexi tone: Tone that sounds awesome on the 1/2" speaker in your phone.
• Preloaded: This sort of effects unit will work as soon as you plug it in.
• Premium frets: Better than non-premium frets.
• Rare: Expensive and difficult to obtain, and therefore not in stock.
• Real world: Our marketing people spent two hours on internet gear forums, and then asked some teenagers what they thought.
• Relic: Oooops. I guess we can charge more for this now.
• Serious sustain: The copywriter really wanted to say, "Sustain as long as a day without breakfast," but he was afraid he'd have to move to Idaho and shoot himself in the head.
• Tap tone: We listen to the wood we use on our acoustic guitar before we make the guitar. It's like smelling cheese before you make the pizza.
• Tribute: We copied it almost exactly, except for our stupid headstock.
• Upgrade: Profit center.
• Vintage inspired: We can't say Les Paul, Telecaster, Gibson, Fender, or Marshall, but you get it, right?
• Wood library: You can check out any time you like, but you'll never be overdue.
As you might imagine, there's an endless supply of industry nomenclature to translate, and I'm sure I missed quite a few. You can add your favorites in the comments section, so I'll have a fresh supply when updating my website text. Thank you all in advance.
---