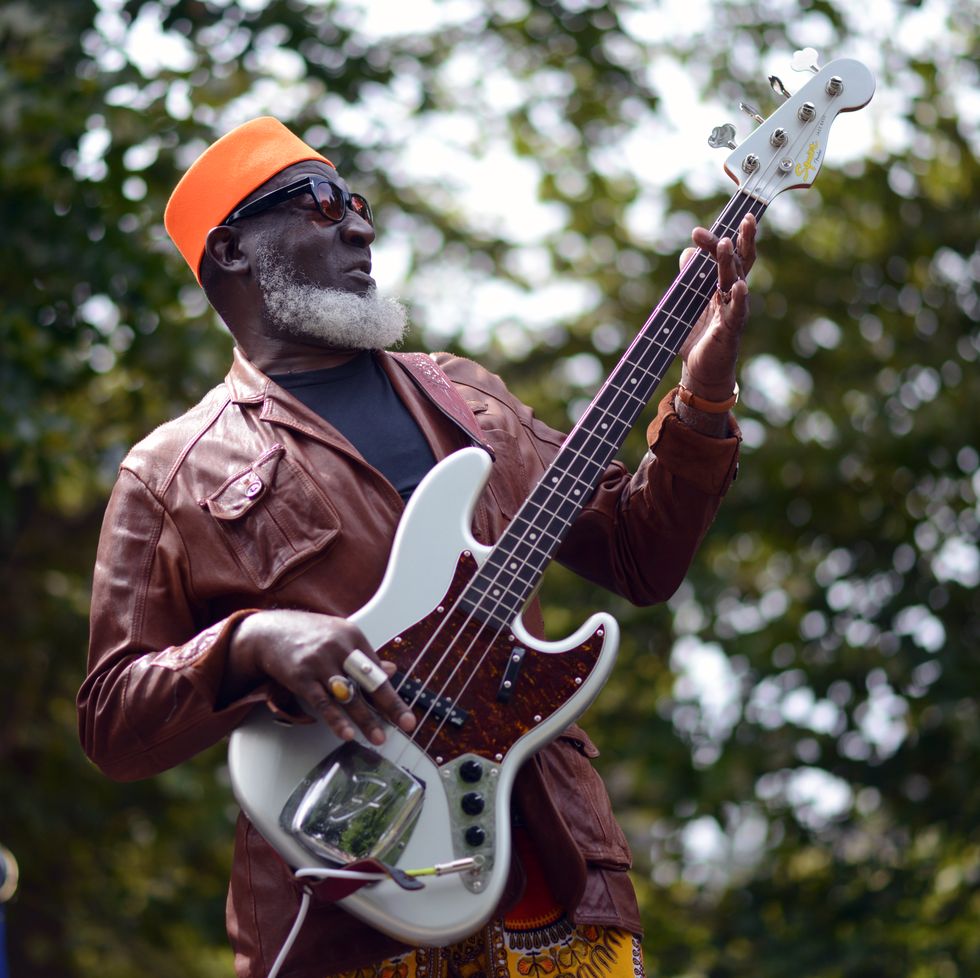 An early adopter of the Steinberger bass in the '80s, Tacuma still plays one decades later. "When I was introduced to Ned Steinberger, I was given one of the prototypes right off the table when they were quite new," he says. "I was touring with that because they were so small, it was nice." Photo by Sound Evidence
"Jamaaladeen Tacuma is the hardest-grooving bass player I've ever worked with or heard," gushes guitarist Marc Ribot. A heavy endorsement and, no doubt, a very sincere one. The two musical iconoclasts have worked together extensively, developing a strong musical rapport over the course of their careers. But it doesn't take a close collaborator to spot Tacuma's unique sound. Whether holding down the groove or bursting at the seams with improvisational energy, the bassist has a signature instrumental voice and infectious feel that's immediately recognizable.
Tacuma developed his risk-taking approach to the bass at an early age. As a young man, fresh out of high school, Tacuma turned down a scholarship to Berklee College of Music, opting to hit the road. He soon ended up getting a call from the pioneering saxophonist Ornette Coleman, who was looking to form a new group with electric funk instrumentation.
Suddenly immersed in the free-jazz innovator's bold musical concepts about improvisation, production, and arranging, Tacuma became a pivotal member of Coleman's Prime Time band and played on a series of unique and adventurous albums, such as Dancing in Your Head, Body Meta, Of Human Feelings, Opening the Caravan of Dreams, and In All Languages.
Tacuma's experience under Coleman's tutelage as well as his willingness to throw himself into new projects with zeal have served as a deep foundation for his own work as a bandleader, producer, and bass player. Ribot explains, "Somehow this huge enthusiasm he has as a person gets communicated through the bass. As an improviser, Jamaal has been through deep training with Ornette in the Prime Time band. Those two things fuse into an entirely original language of the bass—he can improvise with the most out music without losing one ounce of groove."
Jamaaladeen Tacuma's pulsing bass opens "A.M. Project," from Transcending Toxic Times, the new album by the Last Poets. In addition to laying down the low end, Tacuma produced the album and composed all the music.
Outside of his work with Prime Time, Tacuma has led a busy life, releasing a string of solo releases starting in the early 1980s with Show Stopper and Renaissance Man. He also quickly became an in-demand side musician, working with such artists as Ribot, James Blood Ulmer, James Carter, Derek Bailey, Steve Jordan, and Vernon Reid. His eagerness to explore and experiment has led to cross-cultural collaborations with artists from across Europe, as well as Turkey and Morocco.
All the while, he's made time for younger up-and-coming artists. In Questlove's memoir, Mo' Meta Blues: The World According to Questlove, the drummer credits Tacuma for bringing the Roots to a wider audience by inviting them to perform at their first European festival. Tacuma continues that kind of curatorial thread to this day with his annual Outsiders Festival, where he brings together improvisors from various musical disciplines and locations to perform a series of concerts every April in Philadelphia.
This year, Tacuma produced, wrote the music, and played bass on proto-hip-hop pioneers the Last Poets' newest LP, Transcending Toxic Times. The result is a funky take on the legendary group's sound. Tracks like "For the Millions," "A.M. Project," and "If We Only Knew What We Could Do" blend contemporary sounds with vintage grooves and, more than 50 years after the Last Poets' self-titled debut album, the group sounds as powerful and timely as ever.
PG called Tacuma at his Southwest Philadelphia home to discuss his path as an artist, from his work with Coleman to Transcending Toxic Times, and got into a deep discussion with one of the best-dressed men in music.
How did you come to work on the new Last Poets' album?
I've known about the Last Poets since I was about 16 years old. I was very excited about them and what they were talking about at the time—we're talking late '60s, early '70s. They were addressing issues that affected me as an African-American man here in America. Being a little younger, I didn't really know what was going on worldwide, but I think they were responsible for bringing all that sort of information to me, that knowledge.
"Playing compositionally, you're not thinking about these regurgitated kinds of musical gestures, you're thinking about musical ideas, which are endless."
Once I had a concert here in Philadelphia with a local band and they were gonna be coming on, so I introduced myself and told them that I wanted to play this one song with them, "The Creator Has a Master Plan" [by tenor saxophonist Pharoah Sanders]. So we performed that tune.
Some years later, there was this sort of 40th anniversary of the Last Poets tour with all the original members, and with myself, Bobby Irving from the Miles Davis band, drummer Ronald Shannon Jackson, and another percussionist. After that tour, in the musical set I noticed some things I would like to make improvements on. So, we go forward a few years and I had been awarded a grant from the Pew Center for Arts & Heritage in Philadelphia. With some of that money, I went into production for a recording with them.
From the first time I heard the second track on the album, "For the Millions," it's been stuck in my head. I think a big part of that is the way the bass and drum groove gets things started after the spoken word on the first track. It's kind of like that's a mission statement for the album.
I envisioned all the material that they were utilizing in the live show in a very raw and organic stage, and envisioned the idea of sequencing. What is the emotion going from one track to the next? Further down in the album, you have all of these different dynamics and you have a tune like "Young Love," which is more of a ballad, and you have some things that were happening beforehand that sort of brought you to that point.
So "For the Millions" had a certain groove happening that was very contemporary, very upbeat, and also very percussive. I wanted to evoke a certain feeling of an original live band. Aside from a few things I did later in the production, we basically cut all the music for the record in one day with keyboards, guitar, drums, and bass.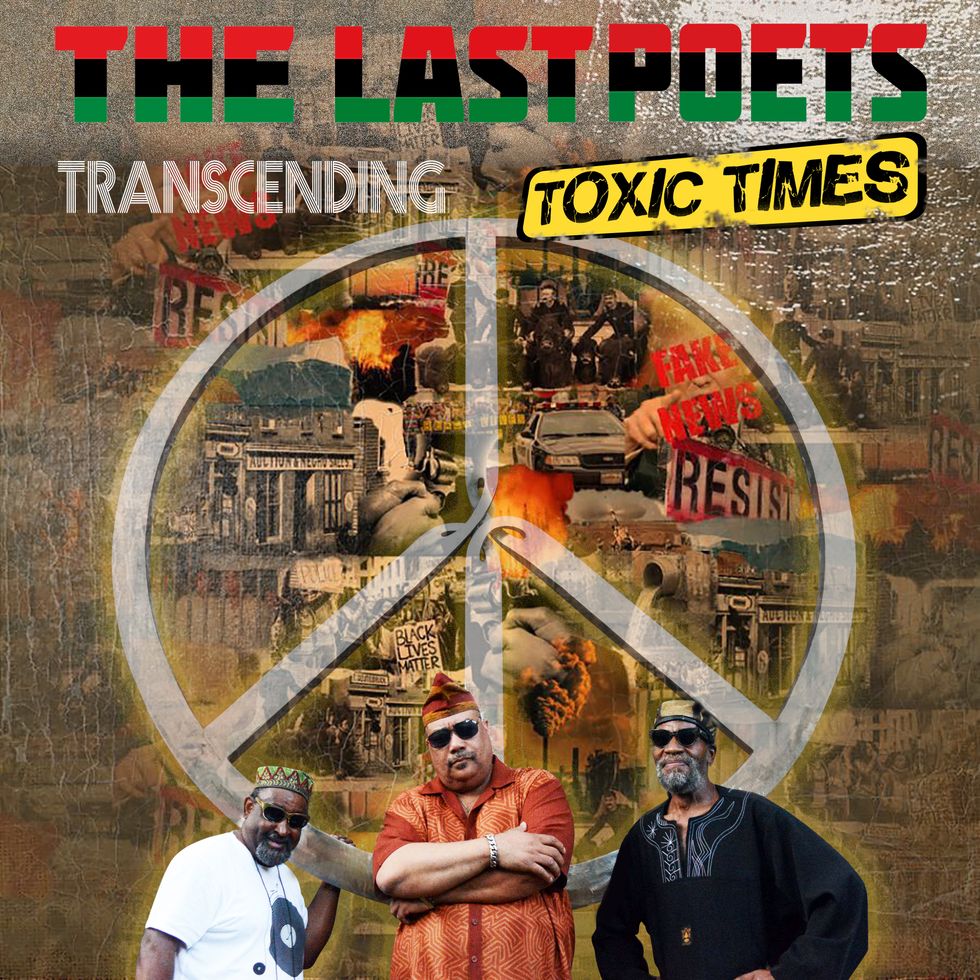 Tacuma produced and played bass on proto-hip-hop pioneers the Last Poets' Transcending Toxic Times, which was released this year. "I wanted to evoke a certain feeling of an original live band," he says. "Aside from a few things I did later in the production, we basically cut all the music for the record in one day with keyboards, guitar, drums, and bass."
You are pretty passionate about the concept of improvisation and the way the improvisation relates to music. How does that translate to production?
Working with Ornette Coleman allowed me to see how a record was done in an improvisational way. You could go to the studio, you can have already done-up compositions and arrangements and approach it that way, or you can go into the studio and you can do a recording where no one has ever rehearsed together and create a certain sound, create a certain movement in the music. In that way, you're depending more on the proficiency of the individual artists that you have curated to perform that record.
When you have a composition, the composition kind of speaks for itself—everybody's playing the chords, everybody's playing the notes. When a person solos, you begin to hear a certain emotion and a certain individuality, and there's more of that in a completely open compositional piece.
Ornette Coleman's music has had a profound effect on so many people, and you spent much of your formative years in his band. What were you doing before you met Ornette and how did you begin working together?
I grew up in Philadelphia. I attended a development project called Model Cities, which was an organization that had after-school programs for youth and provided musical instruction and mentorship. My bass teachers were Tyrone Brown [bassist with Max Roach and Grover Washington Jr.] and [longtime Art Blakey bassist] Jymie Merritt. There were other musicians that were sort of mentors, like Odean Pope, Eddie Green, and Sherman Ferguson. They had a group called Catalyst that were the backup band for Pat Martino.
When I got out of high school, I had an opportunity to go to Berklee College of Music. I had a scholarship. I chose not to go there because I wanted to get into the thick of it and be a touring musician. I would actually say that the information that I was able to pick up off the road is a little bit more valuable than probably what I would have learned at Berklee at that time.
My very first job was with an organ player, Charles Earland, who took me on. After playing with him for about a year, I got a call from Reggie Lucas, the guitar player with Miles Davis. He and James Mtume, who was also with Miles Davis, suggested that I play with Ornette Coleman, so I went on the road with Ornette. We were supposed to go to Europe for two weeks and we wound up staying in Europe for six months.
---
---