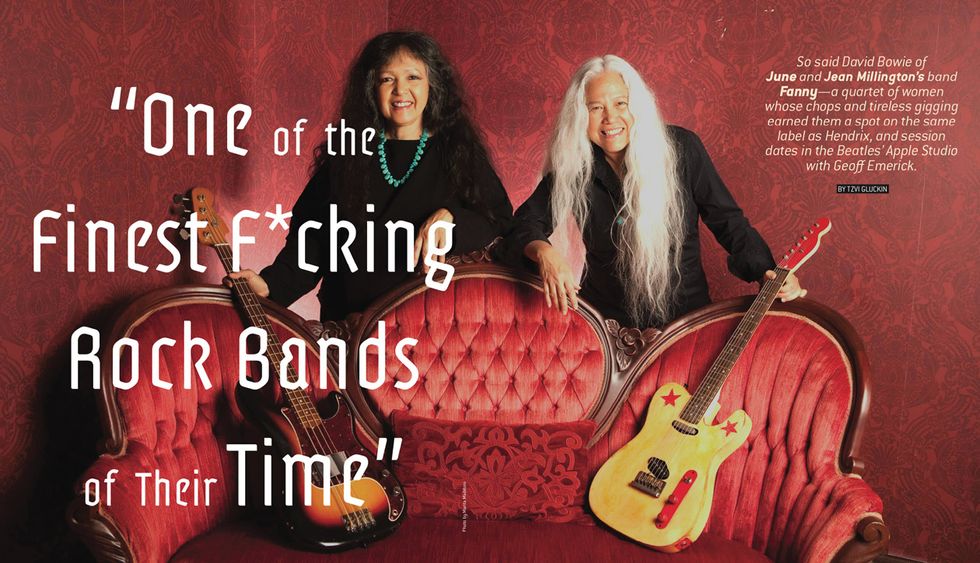 Photo by Marita Madeloni
In the late 1960s, prominent rock musicians were primarily men. Aside from a few notable exceptions—like prolific and highly influential "Wrecking Crew" session bassist Carol Kaye—female musicians weren't given a whole lot of mainstream recognition. They were accepted as vocalists, and sometimes as guitar-strumming folkies, but otherwise often weren't considered "serious" players. We could spend hours detailing how these sexist societal norms unfolded the way they did, but suffice it to say that women didplay instruments—and played them well. Though, until recently, their story was long lost to time, one of the most notable exceptions to the previously stated observation about the golden age of rock and roll is the all-female band Fanny. Consider none other than David Bowie's unequivocal sentiments on the matter.
"They were one of the finest fucking rock bands of their time," Bowie told Rolling Stone in 1999. "They were extraordinary: They wrote everything, they played like motherfuckers, they were just colossal and wonderful, and nobody's ever mentioned them. They're as important as anybody else who's ever been, ever; it just wasn't their time."
Musically, the L.A.-based quartet drank from the same waters as other rockers of the day, like Humble Pie, the Faces, and Grand Funk Railroad. They played guitar-centric, blues-based boogie with hints of Motown. They used open tunings, displayed deft slide skills, and used overdriven amps and Leslie cabinets to get a huge sound. And they were tight. They were so good it's almost criminal they fell under the radar.
Fanny's core was guitarist June Millington and her bass-playing sister Jean. The Millington family had relocated to Sacramento, California, from the Philippines in 1961, when June and Jean were 13 and 12 years old, respectively. In 1964 the sisters joined their first band, the Svelts, which by 1968 had morphed into Wild Honey and featured, in addition to the Millingtons, Nickey Barclay on keys and Alice de Buhron drums. Each band member also sang, taking turns on lead duties. Following a gig at the Troubadourin West Hollywood, Wild Honey caught the attention of legendary producer Richard Perry (Ringo Starr, Carly Simon, Harry Nilsson, and many others), who signed them to Warner Bros. subsidiary Reprise Records—home to artists like Jimi Hendrix, Neil Young, Fleetwood Mac, and the Kinks.
"I don't use too many pedals to get vintage sounds because I've got the fucking vintage gear ... Forget all the rest of it—work with your guitar and your amp!" —June Millington
The women of Fanny were already gritty, seasoned professionals by this point, with nearly five years of steady work in dives, clubs, frat houses, and U.S. Air Force bases under their belts. They'd mastered both their instruments and their ability to function as a kick-ass ensemble, and knew how to dial-in their own sound and work a room to engage audiences. They often played five sets a night and boasted a massive repertoire that included a diverse list of covers—like Buffalo Springfield's "Special Care," the Beatles' "Hey Bulldog," Ike & Tina Turner's "Young and Dumb," Cream's "Badge," and a seriously heavy take on Marvin Gaye's "Ain't That Peculiar."
The quartet's peak period was from 1970 to 1973, when they released four albums and had a few of their singles—like "Charity Ball" and "Ain't That Peculiar"—chart on Billboard'sHot 100. They toured Europe and the States, and appeared on a number of television shows, including The Sonny & Cher Comedy Hour and West Germany's Beat-Club. Through the band's connection to Perry, Fanny even supported Barbra Streisand on her 1971 attempt at heavier fare, Barbra Joan Streisand. In addition, Perry himself produced the band's first three albums, with famed Beatles engineer Geoff Emerick running sound for their third LP, 1973's Fanny Hill, and Todd Rundgren producing their fourth album, Mother's Pride, later that same year.
But for whatever the reason, the world wasn't ready for Fanny. By the middle of the decade, they'd called it quits. June continued to record, and also produced a number of artists. Jean worked less frequently after marrying David Bowie guitarist Earl Slick, and spent most of the '80s and '90s raising her children. These days, Jean is still based in L.A., while June lives in Massachusetts, where she directs the Institute for the Musical Arts, which runs a Rock 'n' Roll Girls Camp every summer. "That's a lot of my life now, passing it on," says June. "It's hard work, but it's worth it."
That might make the Millington sisters' story sound like it's coming to a close, but the internet is a magical thing, and Fanny, once dormant, is enjoying a resurgence of late. Old footage is making the rounds online, and a box set of the band's Reprise catalog (plus outtakes and rarities) was reissued in 2013. In 2018, June and Jean—plus Svelts drummer Brie Howard-Darling (née Brandt)—even released an album of new material, Fanny Walked the Earth. But for all the hype, not much attention has been paid in the guitar community to Fanny's musical prowess, their experiences on the road and in elite studios, and their gear—they still own the vintage axes they bought used back in the '60s and early '70s.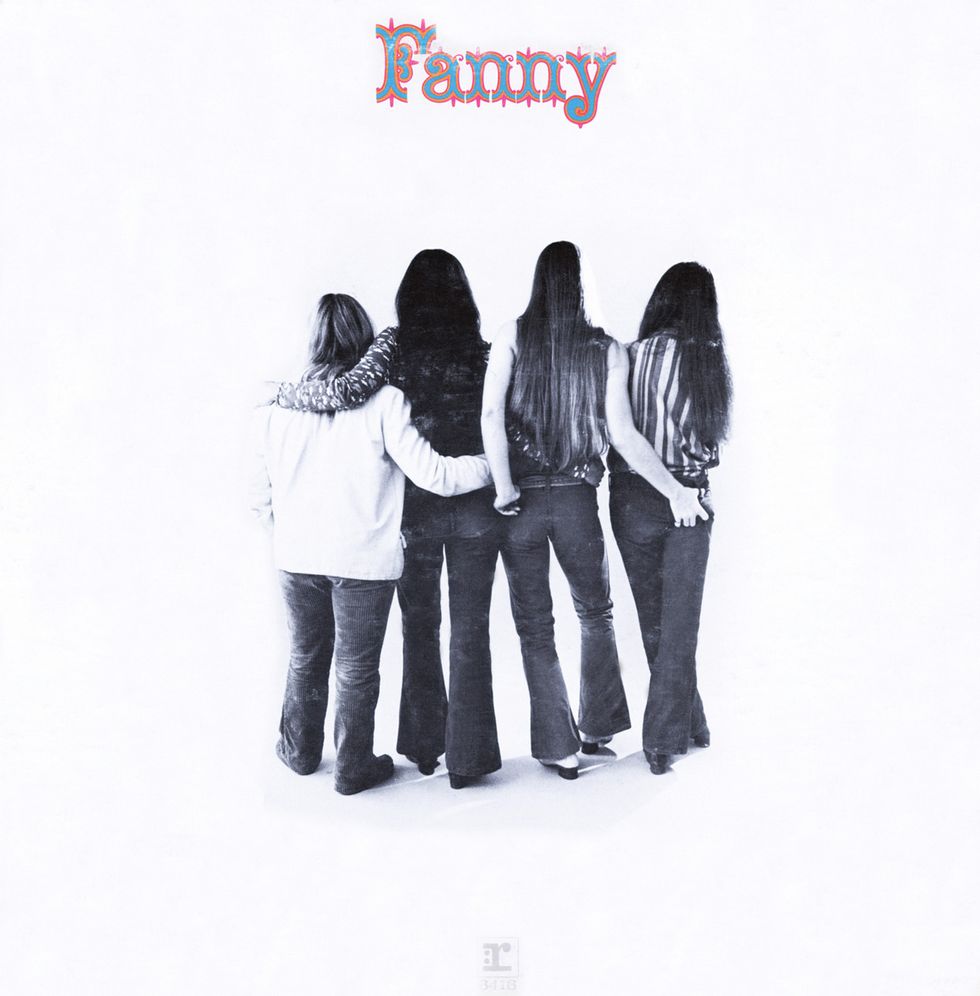 TIDBIT: Fanny's self-titled debut LP came out in 1969. It was produced by Richard Perry and included nine original songs, one tune written by Booker T. Jones and Al Bell, and a cover of Cream's "Badge."
This long-overdue interview with June and Jean aims to rectify that. Sadly, Jean is recovering from a stroke that has, for the time being, made it impossible to play bass, but both she and June were delighted to recently discuss all the aforementioned history and more—including the time they freaked out the host of the hottest TV talk show of the day.
Did you start playing music while you were still living in the Philippines?
June Millington: Yes, ukuleles first, then we started on guitar about a month before we got on the ship [to emigrate to the U.S.]. I heard somebody playing guitar at the Catholic girls school where we went for a year, and was completely smitten. All I had to do was hear it for a few seconds and I knew it was my thing.
Jean, you played guitar as well, but reportedly switched to bass on a coin toss—is that right?
June: Well, that's what our drummer tells us, neither one of us remembers [laughs ]. I won the toss apparently.
Jean Millington:
June has a different story, but the real truth is that she said, "I am playing guitar. Kathy [guitarist in an early incarnation of the Svelts] can't play anything but guitar, so you're playing bass." [
Laughs.
]
And you took to it right away?
Jean: At that time, we didn't read music. We didn't realize, for instance, that if June was playing an A chord on the guitar that there was an A on the bass that correlated with that. It was all by ear. It was a "that sounds right, let's play that" kind of thing. It took us a while before we really figured out that guitar chords and places on the bass correlated.
Were you both playing acoustic guitars when you first started gigging?
June: We did a lot of gigs on acoustic. Hootenanny [a popular 1960s ABC variety show featuring folk artists] was big when we got to the U.S. Peter, Paul, and Mary were on there—they had a big impact on the nation and on us. But after a couple of years, around '64, Jean's boyfriend was a bass player in a surf band and we started to hang out with them. That's when we got bit by the bug. But, yes, we were already doing gigs on acoustic guitar.
So it was surf, not, say, the Beatles' famous 1964 appearance on The Ed Sullivan Show, that got you hooked on rock 'n' roll?
June: No. We certainly heard the Beatles, but it was because we were hanging out with a surf band in particular that we were able to get sucked into it. We talked to our mom and dad about it, and our mom was super into it because she could tell it made us happy. Our dad was not. She went around him and, in secret, went to a music store with us and signed for some gear. That was the actual start of our career.
---
---