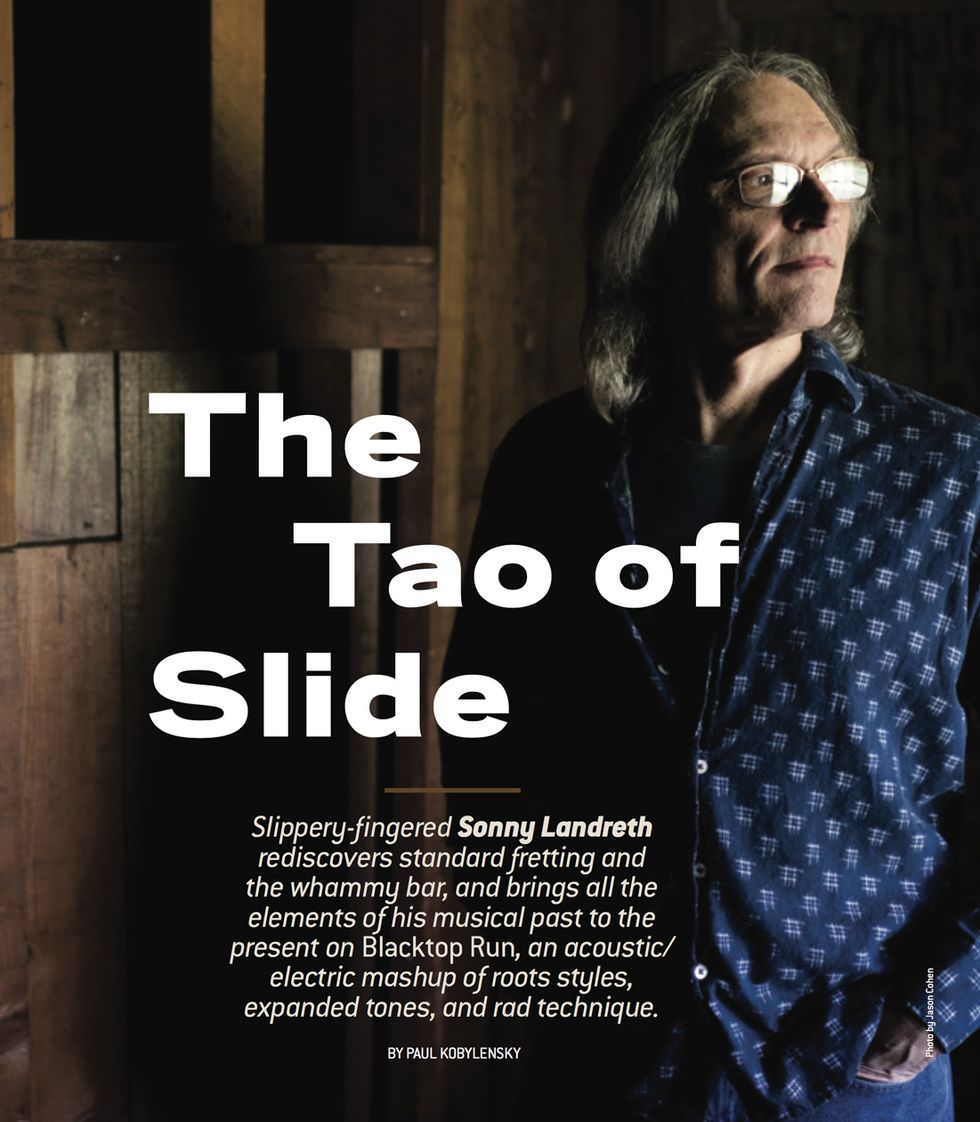 Slide master Sonny Landreth's 18th album is a wickedly woven fusion of the styles he's explored in the past, including zydeco, blues, rock, folk, and pop. He calls it "a combination of combinations." Photo by Jason Cohen
There is a contingent of players who came up in the 1970s and '80s that many see as setting the standard for contemporary electric guitar. Informed by the jazz masters, Jimi Hendrix, the '70s L.A. studio scene, and a shared love of blues, they possess immaculate phrasing, fearless experimentation, deep songwriting chops, and to-die-for tone.
Among these A-list 6-stringers are such icons as Larry Carlton, Robben Ford, Eric Johnson, and John Scofield. But there's one player in this group who, with a slide on his pinky finger, a Strat plugged into a Dumble, and Cajun culture in his veins, carved out a singular sound all his own. That is southern Louisiana's Sonny Landreth.
Landreth hit the scene in the '80s as a session ace, creating a resume that includes work with John Hiatt, Jimmy Buffett, Mark Knopfler, and John Mayall's Bluesbreakers. And it wasn't long before his unique slide guitar style and string of solo albums catapulted him to the upper ranks of guitar heroes. Vince Gill and Eric Clapton regularly sing the man's praises, with Clapton calling him, "One of the most advanced guitarists in the world."
Part of what has kept Landreth at the top is his willingness to take chances and push his signature style in bold and new directions. From all-instrumental albums to half-acoustic/half-electric live recordings, and occasional all-blues releases, he's open to following his muse.
"Slide is adaptable to any style of music," says Landreth. "I think that's really important because, if I can keep it interesting for me, then I feel pretty good."
Landreth's drive to stay inspired has never been more apparent than on his newest release, Blacktop Run. The album showcases his versatility, and with the help of his most trusted musical compatriots, he brings all the best elements of his past into a single recorded set.
From the title track's opening resonator salvo, Landreth's impeccable skill, tone, and songwriting are on full display. But just as you settle into the song's Southern groove, here comes the high-energy and all-instrumental second track, "Lover Dance with Me." In fact, Blacktop Run is rife with new sounds and techniques, from swapping slide for a Strat's whammy bar to foregoing a guitar solo altogether on the album's closing number.
"As I got started using those new techniques, I started writing songs, and one thing rolled into the other," he says. "Like on 'Something Grand,' I thought it was much more intimate with the acoustic creating the underlying vibe of the song, and then we built on that."
Landreth's inspiration struck at the right time. With Derek Trucks and a new breed of electric slide players like Joey Landreth (no relation) and Ariel Posen on the rise and crediting Sonny's influence, Blacktop Run is the perfect way to encapsulate his stellar career.
"If there's one thing I've learned, you have to have the antenna up for when new inspiration happens. You have to recognize it and act on it."
We caught up with Landreth to discuss his new album as he was packing for a performance that night. He talked about making Blacktop Run, the gear he used to elicit his awe-inspiring tones, and why he confidently says the state of slide guitar is "as things should be."
Blacktop Run is your first studio album of mostly original music in a while. What inspired this eclectic record?
All that's come before, in a way, laid the groundwork. I was able to imagine some songs as acoustic, some electric, some as a combination of the two. Then, there are songs with vocals and others that were instrumentals. In a way, it's a combination of combinations [laughs].
I also brought back my old producer [R.S.] Bobby Field. We hadn't worked together for so long. He's so brilliant and so much fun to work with. He and I met back in 1990. He had called me to play on the John Mayall album A Sense of Place. Then he was my producer on my albums, Outward Bound [1992] and South of I-10 [1995].
How did you track the album?
We did a little bit of everything. Typically, I'll start at home to jumpstart the whole process. I'll put down a guitar track or two to get the vibe. Maybe, if it's an instrumental, I'll develop it a little bit more. Then I'll go to my engineer Tony Daigle's studio [Electric Comoland, in Lafayette, Louisiana] to finish those ideas up. That way, I can go ahead and have the guitar done, sing the verses, and take those tracks into the studio. Then I'll have the guys [bassist David Ranson, drummer Brian Brignac, and keyboardist Steve Conn] come in and lay down their parts live.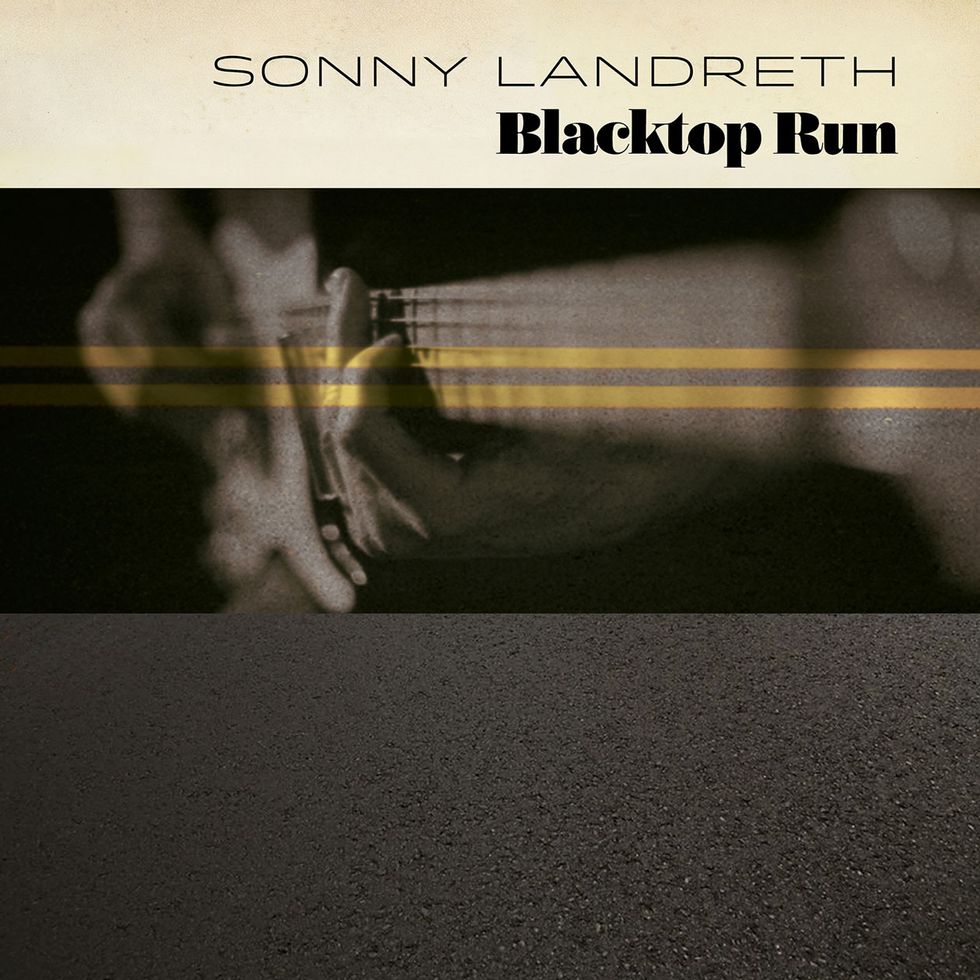 TIDBIT: Landreth starts albums by cutting guitar parts at home. He then takes them to Electric Comoland—a studio owned by his longtime collaborator, Grammy-winning engineer Tony Daigle—to polish before his band tracks the final recorded arrangements.
Blacktop Run covers a lot of stylistic ground. How does it differ from your previous work?
I think the heart of it is a rootsier feel on some songs, while others are going in a more instrumental direction. The acoustic and electric give different types of grooves. I think it's more of an electric album, but it was nice to get back to some more real-deal ballads like "Something Grand," which is one of my favorite pieces. For me, building an atmosphere with a track is one of the best, most rewarding things.
Another way it's different is that some of the songs are by Steve Conn, my keyboardist and buddy. He's played on just about all of my records, and he's a great writer. I've played both of those songs with him over the years: "Somebody Gotta Make a Move" and "Don't Ask Me." I always loved them.
On "Beyond Borders," doesn't Steve play a part that was written for Carlos Santana?
Yes. That was for the guest album, [2008's] From the Reach, where I wrote songs for guest artists to play on. And that was a bit of a gamble. "What if they say no?" Well, that's what happened. We cut all the tracks in the studio, and we sent that to Carlos. It apparently wasn't a good time for him, for whatever reason.
But it was cool to revisit that song. Man, it's got so much energy, and it's very different. It's got a lot of different changes and different colors. So I asked Steve, "What would you think about playing Wurly on it, instead of Carlos?" He thought that was pretty funny. Actually, I think it gave it more of a contrast between the guitar and the keyboards, making it really interesting. It gave each section of the song its own voice.
You mentioned "Something Grand" is one of your favorites. But there's no guitar solo on that song. That might upset a few Sonny Landreth fans.
Well, I didn't set up to go, "Okay, this would be a song without a guitar solo." But when I got through with all the parts, it was really obvious to me that it didn't need it. Sure, I could have put one on there, but I was so sensitive to every aspect that went into creating that atmosphere that a big guitar solo would have taken away from the interplay.I think it's interesting that the piece that I care so much about, it's the only one I never played a solo for. It's cool.
For "Lover Dance with Me," what about that song inspired you to put down the slide?
Back in 2018, John Hiatt called me and he pointed out that it would be 30 years from the time we recorded his album Slow Turning. So we decided to do a 30th-anniversary tour. The only thing was, back in the days of playing with him, I was playing half the songs without the slide. That's how I used to operate in the days of being in a road band. I hadn't played like that in 13 years! [Laughs.]
Now, not only did I have to remember how I played those songs, but I had to get my chops back together without the slide. And I got to tell you, man, that is a strange feeling. It was quite the experience, trying to whip that into shape.
Watch the slide master at work (and show off his gear) in this 2012 Rig Rundown.
---