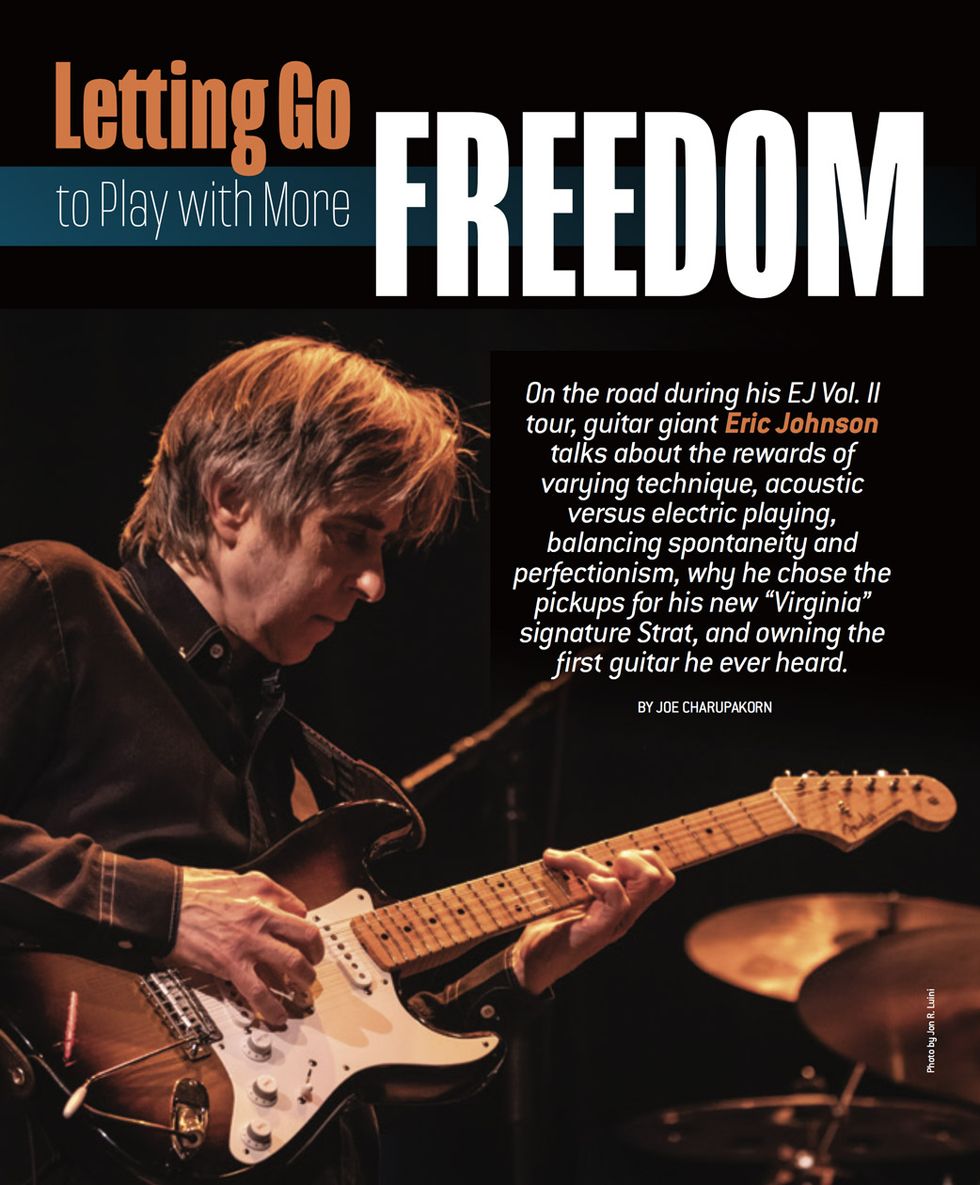 Photo by Jon R. Luini
Anyone who lives in the New York metro area knows that driving across the Long Island Expressway is a punishment reserved for only the most extreme masochists. But the first area appearance of Eric Johnson's Classics: Present and Past Tour at the YMCA Boulton Center for the Performing Arts in Bay Shore was compelling enough for me to make the painful trek.
Determined to avoid traffic, I got a head start and ended up arriving at the venue hours early, when it was eerily empty. There were no signs of life other than the flurry of notes from Johnson doing a soundcheck, and a pair of siblings waiting by the box office. I soon found out that the brother and sister I had just met endured even more torturous travelling conditions than traversing the LIE at any hour of the day. They took a grueling 16-hour flight from Tahiti solely to see Johnson (they even had front row seats!)—and rented a car to get around to four of Johnson's Northeast shows from places as far flung as Fairfield, Connecticut, and Albany, New York. That's the sort of hardcore dedication you see from Phishheads, but might not expect for Johnson, whose fan base was, for a long time, strictly tone-obsessed guitar geeks enamored by Johnson's virtuosity.
Over the decades, Johnson's music has broadened in scope considerably and now has a much wider appeal. The audience at the Boulton Center consisted of a diverse array of folks—hipsters, young kids, rich lawyer types, and musicians who resembled electronics guru Larry Hartke—who, over the course of a three-hour show (with only a very brief intermission), enjoyed hearing Johnson singing and playing electric guitar, acoustic guitar, and piano on everything from classics like "Zap" and "Cliffs of Dover" to vocal-driven songs from his latest release EJ Vol. II. (It's the sequel to the 2016 all-acoustic EJ, and adds in electric elements.)
While Johnson burned through many of the electric selections with his trademark lightning-speed pentatonic sequences, he also captivated the audience equally with his sensitive vocals and jazzy piano playing on "Over the Moon," which also featured rhythm guitarist Dave Scher lightly hybrid-picking volume-swelled, chordal fragments. Of course, Johnson is aware that many in the audience were there for the shred, and though he opened the second set with an acoustic in hand, he started right off the bat with the jaw-dropping "Lake Travis," a burning instrumental highlight of EJ Vol. II.
For this tour, Johnson brought out his new signature "Virginia" guitar, from the Fender Stories Collection. The instrument is based on his favorite 1954 Strat that was used on iconic albums like Tones and Ah Via Musicom, but had, sadly, been sold years back. "Virginia" was released after EJ Vol. II was recorded, so the model doesn't appear on the album, but Johnson is extremely pleased with the instrument, so you can expect to hear it on future recordings. "That was my favorite guitar I ever owned, so with this one being so close, it really fulfills everything I need," he says. Fender's Carlos Lopez, the master builder behind the "Virginia" model, has publicly stated that when he first took on the project he was a little intimidated, which, given Johnson's legendary history of gear neuroticism, makes complete sense.
Decades ago, when guitarists read that Johnson could hear microscopic differences in the batteries used in his pedals, a kind of urban myth was born. And with the advent of guitar forums, many gearheads have come to believe that every single piece—no matter how seemingly unrelated (like a screw)—has an impact on tone. In fact, as I watched Johnson's show I couldn't help but wonder if there was a tonal reason why Johnson's two Bandmaster Reverb heads had different colored power lights—the top head green and the bottom red. This nagged me so much that I had to follow up with Johnson. To which he simply replied that there is "no tonal difference between the amps due to the color of the lights. It's just a way to identify them."
"It's better to be secure, have faith, practice, and just go for that magical performance."
Is the fan of Eric Johnson the virtuoso guitarist the same person as the fan of Johnson the acoustic singer/songwriter?
Yeah, I've had a lot of people that seem to like both things. As there are people that would rather hear me get going and hear a lot of guitar playing, I think similarly there are people that want to hear all the other stuff. There's some crossover, but I'm sure there's some people that just favor one or the other.
Being aware of that, as you worked on EJ and EJ Vol. II, did you worry about what the "Cliffs of Dover" guy would be expecting in an EJ record?
I thought about some of the stuff that some people might not like as much, but I've always enjoyed songs. Trying to write a song has always been a part of my thing since I started playing music. I guess I was fortunate enough to get something working for me and it turned out to be the guitar thing. But I've always enjoyed the whole spectrum.
Live, when going from acoustic to electric, is it a tricky transition in terms of touch?
Yeah, it takes a little different touch on the acoustic. That's true. On acoustic, a lot of times I use my fingers. But there are songs where I use a pick and, yeah, there's a little bit more resistance on the acoustic. It's not too hard of an adjustment if I'm on tour and I'm used to doing it. If I've been playing electric for a few weeks and haven't been playing acoustic, it can be a hard adjustment. But if I'm in the groove of doing it, it's not too hard.
You've released a good amount of albums over the past few years, whereas there were six years between Ah Via Musicom and Venus Isle. Are you clinging less to your perfectionist tendencies?
Yeah, I think it is that. Just kind of realizing that the extra belaboring over the record not only takes an exorbitant amount of time, but it doesn't really produce any better quality. And, in many cases, it makes it worse [laughs]. Or, you know, maybe it makes it better, grammatically, but it makes it not as potent, emotionally. So I'm trying to learn that and practice that more.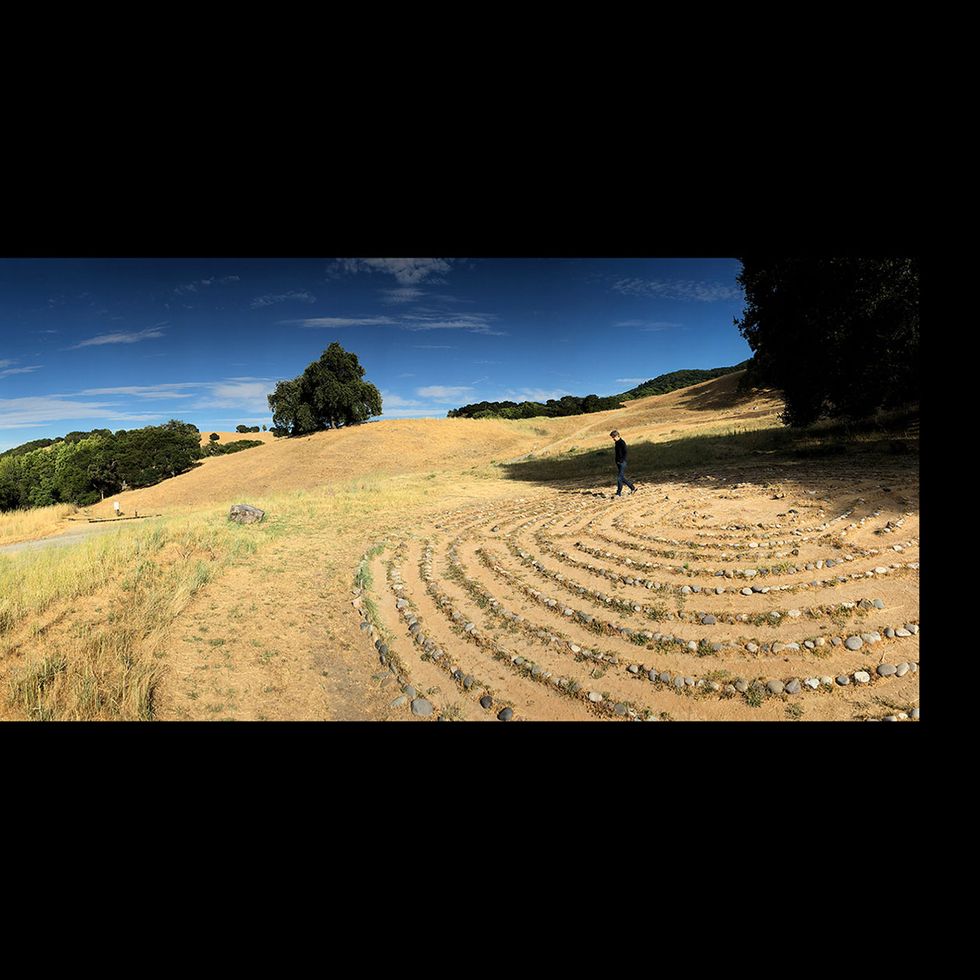 TIDBIT: Johnson prefers recording acoustic guitars with "just a couple of mics," he says. "I prefer not to use the electronics on an acoustic in the studio."
I mean, I wrote "Cliffs of Dover"really quickly. It just came to me. But I had several years to play it live, over and over and over, to get all the notes the way I wanted. Then when I went into the studio … yeah, I really spent a lot of time trying to get the right take.
How much of your live solos are improvised versus composed?
It's probably about half and half. Sometimes they're just completely off the cuff, but sometimes they have certain guidelines to them.
I imagine there are many subtle things you hear that a fan might not pick up on. But if you hadn't labored over "Cliffs of Dover" 30 years ago, looking back, would the result have been that much different?
It's interesting that you say that. I think if you rehearse and you're in shape, and you do the discipline of practice, and then you capture a magic performance—then no, I don't think so. I have that version from Austin City Limits that's totally live, and I guess a lot of people like that better than the studio version. That would be the answer to your question right there. And then it's also just a matter of your mindset and believing you can do it.
Sometimes insecurity is another form of ego because you don't think that you can do something so you have to hands-on everything and try to control the universe, which is impossible to do anyhow. It's better to be secure, have faith, practice, and just go for that magical performance.
Were songs on EJ Vol. II cut live or did you do a lot of overdubbing?
I cut the parts live in the studio. One of the songs, "Black Waterslide," actually did come from a live performance at a gig, and I took it back to the studio and overdubbed percussion to it.
In your live set, you jam on John Coltrane's "Impressions." Are you free enough to push yourself to go for new things, or are you inhibited knowing that someone will likely be filming it and putting it on YouTube?
No, I try to experiment. I'm still learning about all of that so it's definitely not way out and deep and crazy like Eric Dolphy (saxophonist) or Coltrane, but I'm trying to learn more about harmony. I just want to do what I do, but I would like to learn more about harmony, so I'd rather push myself in a situation like that.
Watch our latest Rig Rundown with Eric talking about his signature Thinline Strat
---