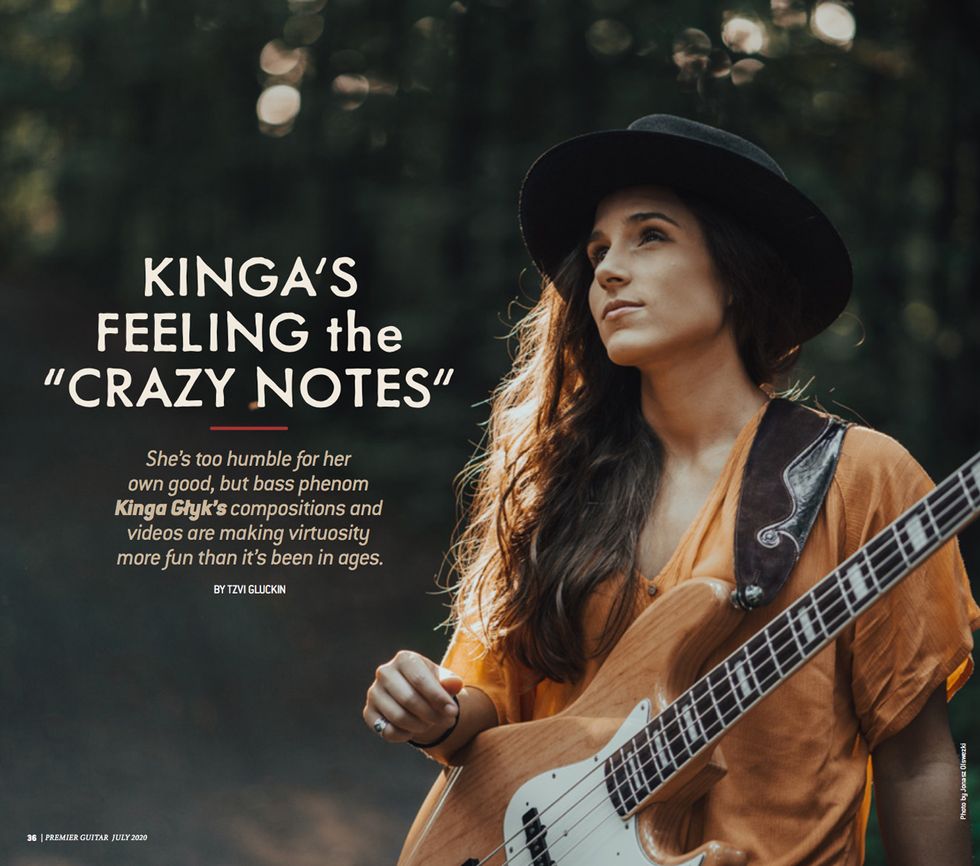 Although she feels a strong connection to her 2006 Fender Jazz bass, Glyk also enjoys playing a Gibson EB-3 which she strings with flatwound strings, "so it sounds really soft and clear." Photo by Jonasz Olszewski
"People usually call me a jazz musician, and that puts huge pressure on me. I feel stressed that people expect something from me, and I am still a work in progress," says Polish bassist Kinga Głyk (pronounced Gwick), who released her first album as a bandleader five years ago, when she was just 18. "Some people write me asking if I give lessons, or make workshops, and I think, hello—I am still in the process of learning myself! I am not ready to do workshops or things like that. I need to learn a lot of things."
Heavily influenced by Marcus Miller and Weather Report-era Jaco Pastorius, Głyk's early playing was a showcase for her metronome-tight sense of groove, transparent ensemble work, and impressive soloing. That only got better as she branched out and developed her own voice, although she is still quick to downplay her abilities despite her formidable accomplishments.
"I prefer a 4-string bass," Głyk says when asked if she's experimented with additional strings or a fretless instrument. "When I am good enough on four strings, I will add one more," she laughs. "I have a fretless at home, too, but I don't play on it for now in public. I practice on it a lot, but I want it to be perfect. I want to feel comfortable with this instrument before I bring it onstage."
Głyk's father, Irek, well-known in Poland as a top-notch vibes player and drummer, not only encouraged Kinga to start playing music, but also played in and booked shows for the fledgling family band—which also featured her brother Patryk on drums—almost as soon as she began playing. As she notes in our interview, those early experiences were key to developing her formidable chops.
Released late last year, Głyk's latest outing, Feelings, features guest appearances by keyboardist Brett Williams (Marcus Miller), Canadian electronica keyboardist Anomalie, and Instagram guitar sensation Mateus Asato. Not coincidentally, it also finds her stepping far out of the jazz box, especially on songs like the infectious "Joy Joy," the unapologetically funky "5 Cookies," and the quasi-classical "Classic."
We recently caught up via phone with Głyk at her home in Poland to discuss her early experiences playing in public, how she ended up onstage trading lines with Miller himself, and how dedication and perfectionism permeate everything she does.
When did you start playing bass?
I started when I was 10 or 11 years old. I don't know the exact time when I started to play, but we had a family band with my dad and my brother and I started on the stage. We were practicing at home with my dad—he showed us how to play—and he practiced with us for a lot of hours, and then he booked a concert and we started playing together. I think that was a great beginning for me, because being onstage taught me a lot from the beginning. It was a great experience to have that opportunity, and I was happy to be with my dad and my brother, because I felt comfortable and safe. We played a lot of concerts in Poland, in clubs. We also recorded a CD together with the family band.
Did he play both instruments with you?
With us he played vibraphone and my brother played the drums. When I was 18, I started to do my own group, but in a way we still have our trio. My dad is my manager—he was always my manager, but before he also was playing in my trio—and my brother is a sound engineer, so he is always with us on tour.
Some people write me asking if I give lessons, or make workshops, and I think, "Hello—I am still in the process of learning myself!"
Why did you choose the bass?
I always knew I wanted to be a bass player. When I was a kid, I would stand in front of the radio and pretend to be a bass player. I love the low sound! When I was 10 or so, I asked my dad if he could bring home a small bass for me. I wanted to try this instrument with my hands. He said, "Are you sure bass is the instrument you want to play? Girls play piano, or violin, or guitar, or they sing. But they don't play bass." I said, "No. I am sure I want to be a bass player." [Laughs.] But then he was really happy, because he could play with me on drums. He is really supportive of me.
How did you end up learning to play?
I've never been to music school. I learned at home, and sometimes I had private lessons, but I usually learn from the internet. Nowadays, there are so many lessons and exercise books, you can find whatever you want. It is really helpful for people who have never been to school. Plus, my dad is a musician, so when I have some questions I can also go to him and ask.
Who are some of your influences?
At the beginning, I was listening to a lot of Jaco Pastorius, of course, and then Marcus Miller, who I had the pleasure to meet face to face—that was crazy! [Editor's note: Miller invited Głyk to perform onstage with him at the jazz festival in Leverkusen, Germany, in November 2017.] It was a huge challenge for me, because I have been watching him on the internet all my life. I was so stressed and excited at the same time. That was a dream for me.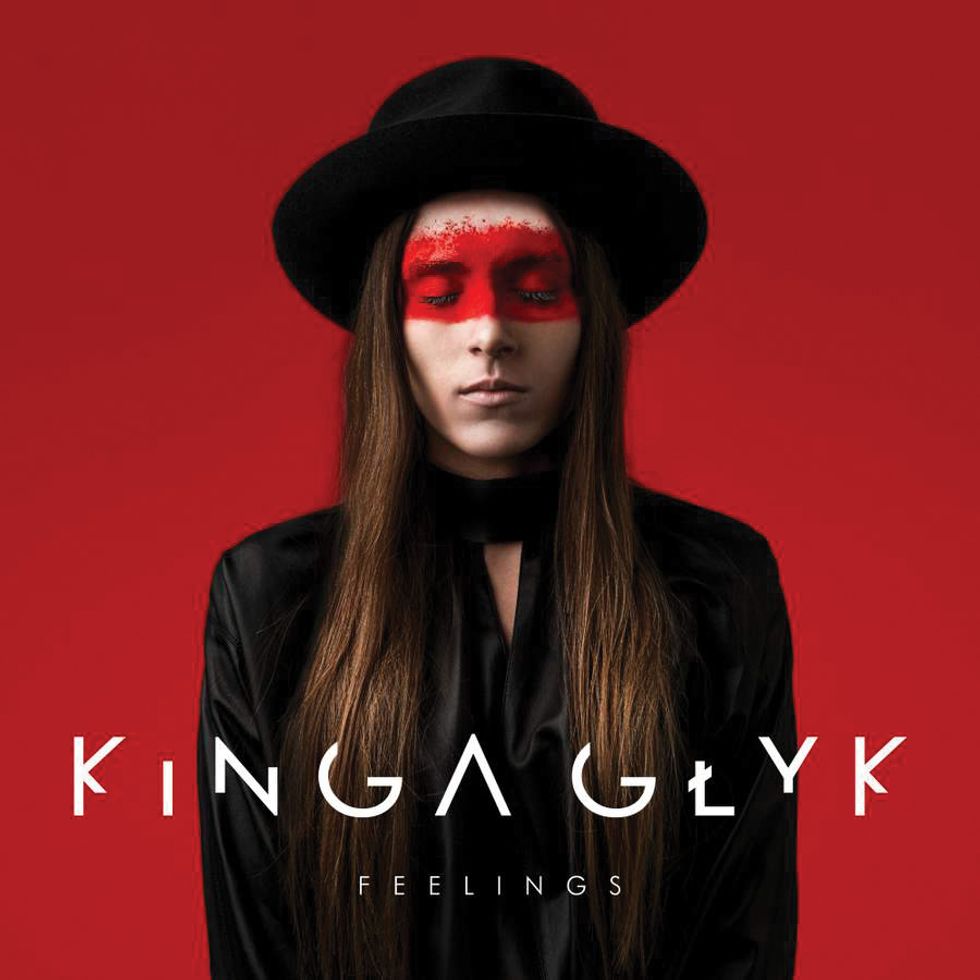 TIDBIT: Her latest album features guest appearances by bass legend Marcus Miller, keyboardist Brett Williams, electronica artist Anamalie, and guitarist Mateus Asato.
Have you studied sight-reading and theory?
I try to develop this knowledge because it is really helpful, and I want to improve my knowledge about music. Sometimes I sit and try and learn it by myself, but it takes a long time for me. I want to be perfect in it. I try to read from sheet music, and it's my goal for now. I am trying to develop my understanding of harmony—I play it on piano and I can read—but just for my ambitions and to feel more comfortable onstage. Maybe in the future I will play with other bands and I will need that knowledge.
So you play piano, too?
I try to, because that is the best way to develop harmony and knowledge about music and to hear the chords together. On bass it is not so easy to play chords. I can do it, but you can't hear the harmony very well.
What are your thoughts on techniques like slapping or tapping?
I am on my way to developing slapping. I am a beginner with this technique, because in the past I was so afraid to try and slap. I figured that there are people who are bass-slapping heroes, so I shouldn't start, but now I want to have fun with it. I try not to compare myself to anybody, and I don't feel pressure, like, "You have to be perfect and you can't make mistakes." I like every "color" on the bass, and I think it is cool when people use different techniques. When bass players take solos in front of the band, it is important to give to the audience different techniques and sound.But, for me, the first place for the bass in the band is in the back with the drums, to glue everything together and to keep the bottom notes. From there we can create lines—melody lines—but the first role of the bass is with the drums, and to not overplay. When we have our chance to show our skills, we can do that, but we have to remember the role of the bass.
---
---