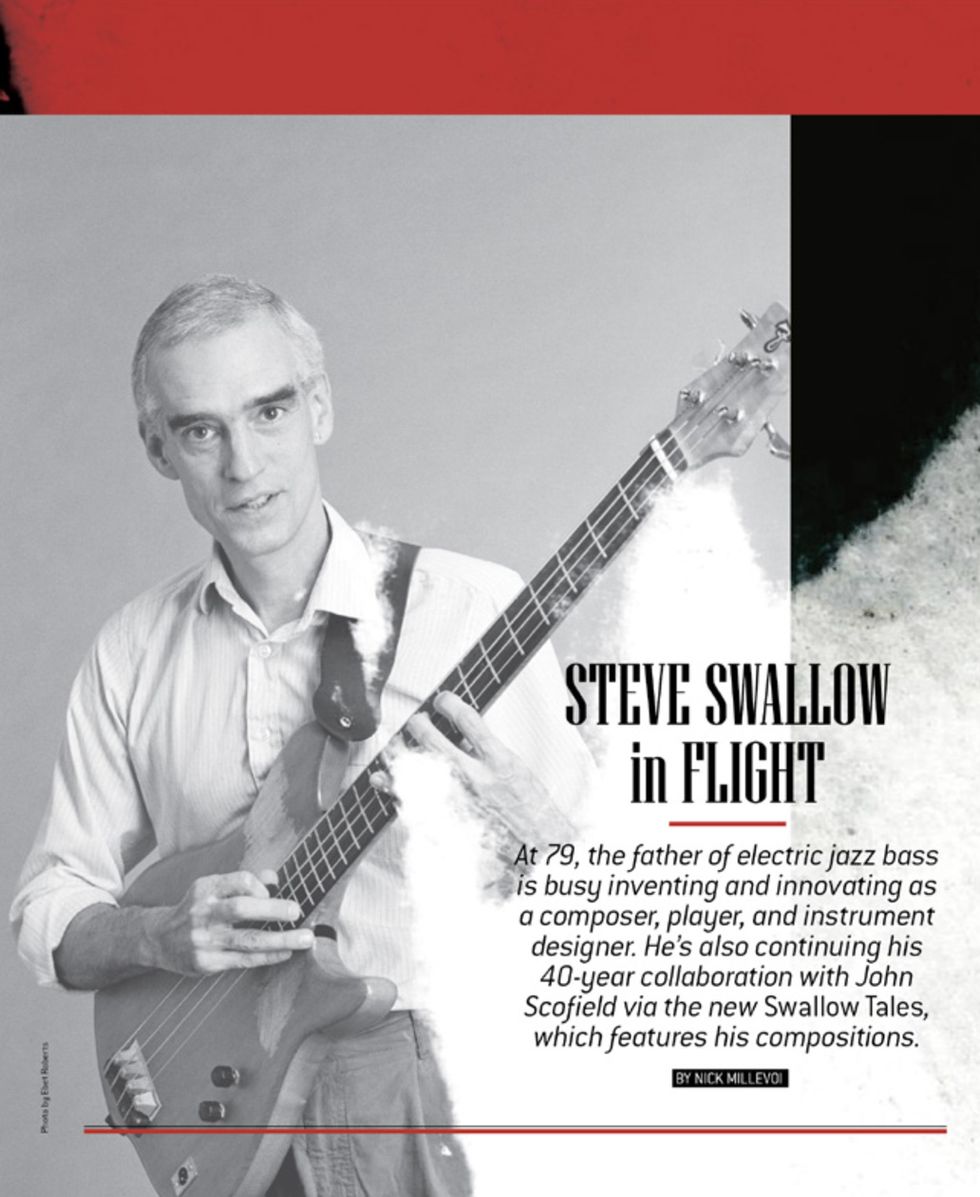 Steve Swallow had a successful career as an upright bassist when he first played the electric bass in 1970 and was inspired to switch. He explains, "That's been kind of an ongoing life's work: persuading members of the jazz community that I grew up in that the electric bass is possible in this music—that there is a place for that voice." Photo by Ebet Roberts
"I'm practicing furiously and finding new ways to be productive," Steve Swallow exclaimed at the beginning of our phone chat. "I've been learning GarageBand, which has been a monumental challenge and a lot of fun as well, but I feel the need to use some of the new technology to continue to be heard. I'm not sure that the old ways will return again."
It's inspiring to hear about this kind of work ethic in the middle of a global pandemic. Of course, the 79-year-old has spent his entire musical career thinking creatively and innovating, as both a bassist and a composer, so there's no reason to think this period would be any exception.
Swallow began his career as an upright bassist working at the cutting edge of jazz, playing as a sideman with artists such as Art Farmer, Jimmy Giuffre, and Gary Burton. By 1970, at the age of 30, he became one of the first jazz players to adopt the electric bass as his full-time instrument, and he's never looked back. Over the course of the last half-century, Swallow has made it his mission to fight for the legitimacy of the electric bass in jazz, from his early uphill battle convincing bandleaders that the instrument would fit in their ensembles to working closely with luthier Harvey Citron to create what he considers the ideal instrument for jazz playing.
With his extensive body of work, it can be hard to know where to start listening to Swallow's recordings. Is it best to begin with his albums as a leader? Or maybe his long-running collaboration with his partner, Carla Bley? There seems to be no wrong place to begin, as every recording exemplifies his uncommon approach.
Swallow's discography with guitarist John Scofield is particularly insightful, due in large part to the close musical relationship between the two musicians. They first met while Scofield was a student at Berklee, when he claims he could "hardly play," though Swallow, a faculty member at the time, seems to disagree and insists he heard something in the young guitarist and knew they would have a long-lasting rapport. "Steve's always been really supportive of me as a composer and as a player," explains Scofield. "He's a wonderful person. He's been a mentor to me, but also to a bunch of other people. He's just that kind of a giving, great guy—really special. It just never stopped after I met him."
Starting with Scofield's 1980 trio record, Bar Talk, they began creating an extensive discography together—most of which finds Swallow holding down the bass chair, though occasionally acting solely as producer. Last year, Scofield decided "it was about time" to dig into a set of Swallow's music and took his trio with Swallow and drummer Bill Stewart into the studio to record a set of music that celebrates the compositions of his long-time friend. Swallow Tales, released this spring, features nine songs that the guitarist and bassist have been playing together informally for years, but have never recorded or performed. The album reveals the depth of musical connection that they share and offers a private masterclass in guitar trio playing and creative jazz composition.
"This music had been part of my life for so long that these are standards," explains Scofield. "I feel like some of them are how I learned about harmony. They're little lessons in themselves, each one. I wanted to record them just how you would record an album of standards if you were a jazz guitarist. Because you'd played that music so much, something can happen when you're that familiar with the music—where you kind of get past knowing the song and you can really be free. And that's what I felt like we could really do on Steve's tunes. Beyond all that, they're great songs."
We caught up with Steve Swallow on the phone from his home in upstate New York to discuss Swallow Tales and his musical relationship with Scofield, and took plenty of time to discuss the development of his sound, the sound of the electric bass in jazz, his approach to composition, and much more.
You've seen a lot of changes in jazz though your career, and our current situation is unprecedented. Do you believe that new creative processes can emerge from all of this?
They can and must. The one thing I'm certain of through all of this is that the music—and I guess I mean jazz, because that's what I do—will be here when the dust settles. Jazz music is not going to go away. It's just going to transform itself however it needs to in order to accommodate the changes in the world we're living in.
"I just happened to touch the electric bass when I was 30 years old, and a lightning bolt descended from the sky and that was the end of it for me."
I've watched the music do that already, over the years. I've seen several major changes in the way jazz music related to the world, and I've watched it transform itself and proceed onward. When I first began playing, jazz was played in nightclubs and the gigs were long. You went to work at nine at night and played until three in the morning. It was a wonderful way to learn to play. It was a wonderful environment to serve your apprenticeship. It was trial by fire every night, six hours of immersion in the music. But then in the late '60s, I watched that structure for the music collapse and I watched it gradually replaced, for the most part, with a concert format. Even the clubs went to two sets a night, with a kind of rapt and silent audience listening to you instead of a bustling, hard-drinking, loud-talking audience. I watched the music change as the audience changed, and I watched that process unfold until almost all of the gigs I did were in small concert halls. And I watched as the music headed for the academy—as jazz music became a university course of study offered by schools everywhere.
When I was learning to play, that was not the case, and when I needed to know something about playing the bass, I asked Percy Heath or I asked Paul Chambers. That was what was available. Now there are really remarkable curricula for learning the music quickly and efficiently and, of course, that's had an effect on the way the music is, the way the music sounds, the way it's played. But through it all, there's the music, and its core remains what it is. Jazz music is still what it was when I was drawn irresistibly to it in the 1950s.
Throughout each of those changes, did it seem really dramatic and as if you were going into the unknown?
I always felt I was going into the unknown with the music, and I think that's a remarkable and healthy aspect of having a life in music. Inevitably, it changes under your feet every day. I go down to pick up the bass and my fingers don't feel the same way they felt last night when I last played, and the things I play don't sound to me exactly the way they sounded before. It's an ever-shifting field. I've come to value that.
There was a time when that caused me a lot of anxiety. I wanted the music to stand still so I could master it and walk away and say, "Okay, nailed that," and now I realize that that's just not going to happen. That change is a constant in my life in music, and I've come to embrace that. I've come to really love that.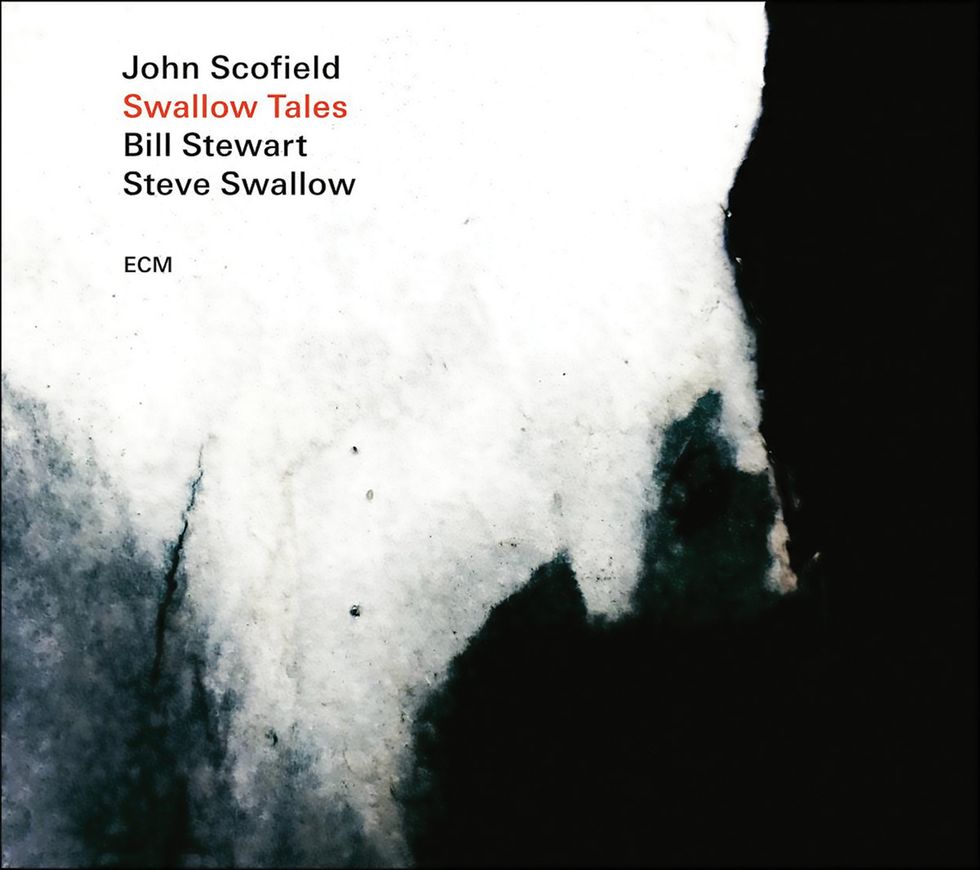 TIDBIT: All nine songs, composed by Steve Swallow, were recorded in a half-day live-in-the-studio session. "I wanted to record them just how you would record an album of standards if you were a jazz guitarist," John Scofield says.
These kind of seismic shifts in the location of the music in the world have definitely made their mark on how the music is played and what it sounds like, but the shift has been gradual enough that it's been a question of confronting it a day at a time.
It's really inspiring to hear you talk about the way you feel about the instrument from one day to the next. It's good for me to remind myself that I'm not going to get rid of that feeling!
Good luck! I'm afraid we're stuck with it. It's possible to enjoy it and kind of get a good laugh out of your fingers' inability to play one day what was so easy the day before, because then you're just kind of forced to find something else to play and you stumble on something that delights you and all of a sudden you're off again on another musical adventure. I love that aspect of it.

I'm also happy to exploit that in the process of developing a style as a player and, more particularly, in the process of writing songs. I really relish the point I reach at about dinner time, and I say, "Well, I'd better step back from this and I'd better go eat and sleep." I look forward to the next morning and, in a way, I kind of hope that what I see when I wake up and look at what I did yesterday makes no sense to me. Then I get to start all over with the same materials. All the certainties that I had the night before evaporate and I have this fascinating new arrangement of materials to work with.
It's a great process. For me, the difficulty in the process is knowing when to stop fiddling around and say, "This is it." That's hard to know when you're there, but very important.
How does playing the bass relate to your composition process? Do you write on the bass?
No, I don't. Playing the bass is only a presence in the background of my writing process. I write at the desk and I use the piano as a means of checking what I'm doing. I used to just sit at the piano and noodle and wait for something to strike me and then write it down and develop it and that would be a song, but I stopped doing that. I sit near the piano when I'm writing music now, but not at it, and I've made a conscious decision to keep my hands off the instrument until I get something I'm interested in. I found that when I wrote down what I had noodled and developed that, I was essentially playing what I already knew, the kind of vocabulary that came easiest to me. For me, songwriting should be, at its best, a discovery. Every tune you write, you could label, "This is what I learned in March of 2020."
I sit very still, away from the piano, with a pencil and a piece of music manuscript in front of me and wait for an idea and use the piano only to verify that I'm hearing stuff correctly. At a point I'm well into writing a tune, I sit at a piano and explore harmonic possibilities and that kind of stuff.
Meanwhile, the bass is just sitting there in the corner, and it's a big problem because there aren't enough hours in the day. When I'm absorbed in writing a tune, the practicing goes out the window and vice versa. If I'm intrigued by the Bach cello suites, or if I have some gigs coming up that require me to have steely chops, then I know I'm not gonna write tunes for a while. It's always a trade-off, and I'm always leaving songwriting or bass playing behind to focus on one or the other. If somebody were to invent a 30-hour day, I'd go for it immediately.
---