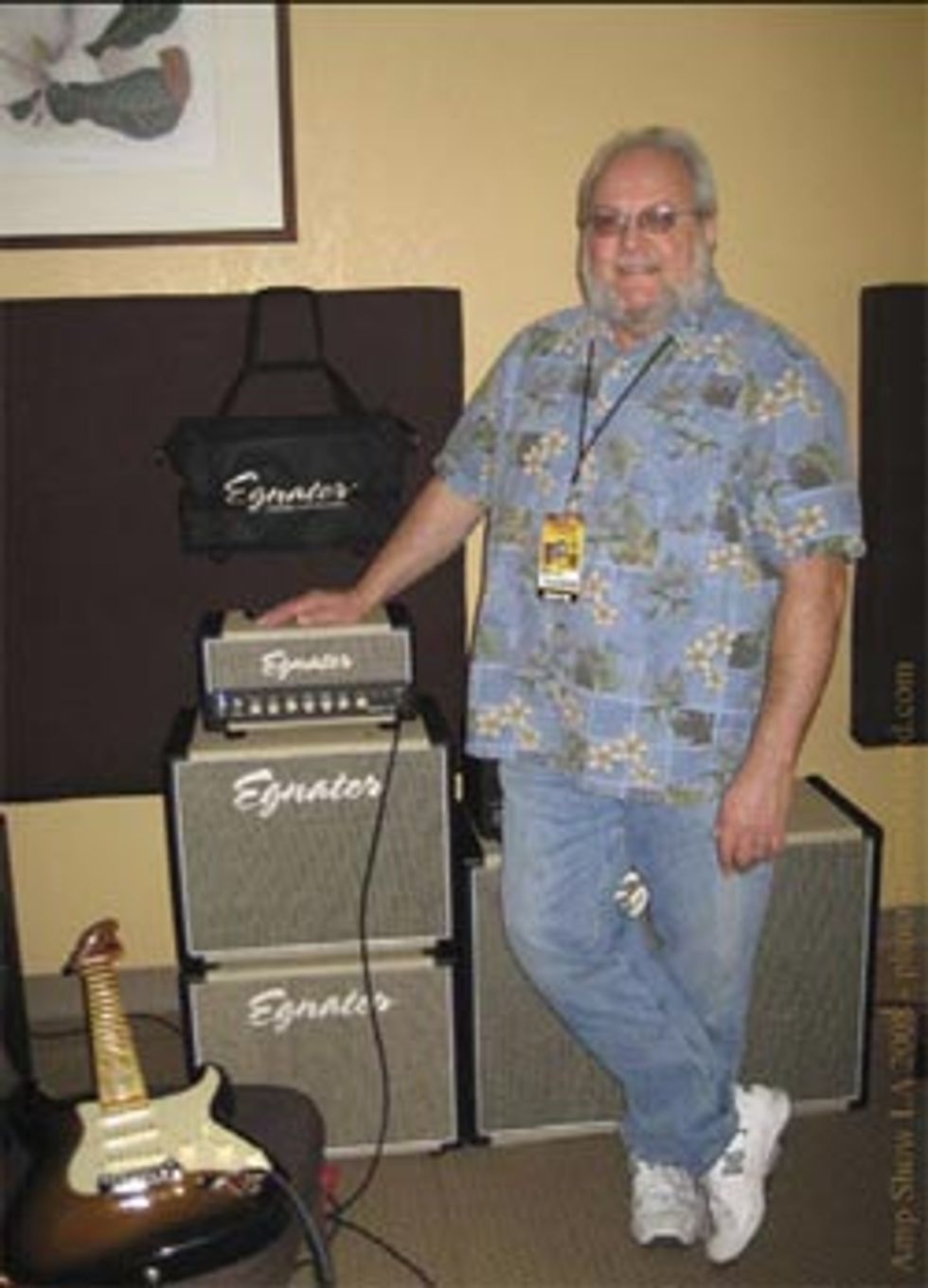 Egnater
Mini-stacks are indeed in right now, and nothing proved this more than Bruce Egnater's Rebel 20 head. Although we first ran into it at the N.Y. Amp Show back in May, this was the first time we've heard the final version. This 20 watter has undergone some changes since its initial release in January of this year, and is now ready for prime time with variable wattage and the company's unique tube mix feature. It comes equipped with three 12AX7s and both EL84 and 6V6 power tubes, which can be blended with a dial instead of simply being switched from one set to the other. Rebel cabs are equipped with a custom-voiced Celestion Elite 80 12" speaker that provides plenty of heft in a half stack configuration— but you might as well get a full stack to hear this rig in its element. The Rebel has plenty of pop but allows you to match your guitar's pickups and your own taste like no other amp can—pick your own wattage (1 to 20 watts) and blend of tubes, not to mention your own 3-band EQ and tight/bright settings. See our
first-on-the-block review
for more information. Guitar Center is selling the head for $600 and the cabs for $250
Also of note was Bruce's new Renegade 50 amp, which made its debut at the show. It features a 50-watt, 2 channel setup with blendable 6L6s/EL34s, separate EQs and all the Egnater touches you should be used to by now. Look for this amp to make a big splash at NAMM early next year.
Video Demo
egnater.com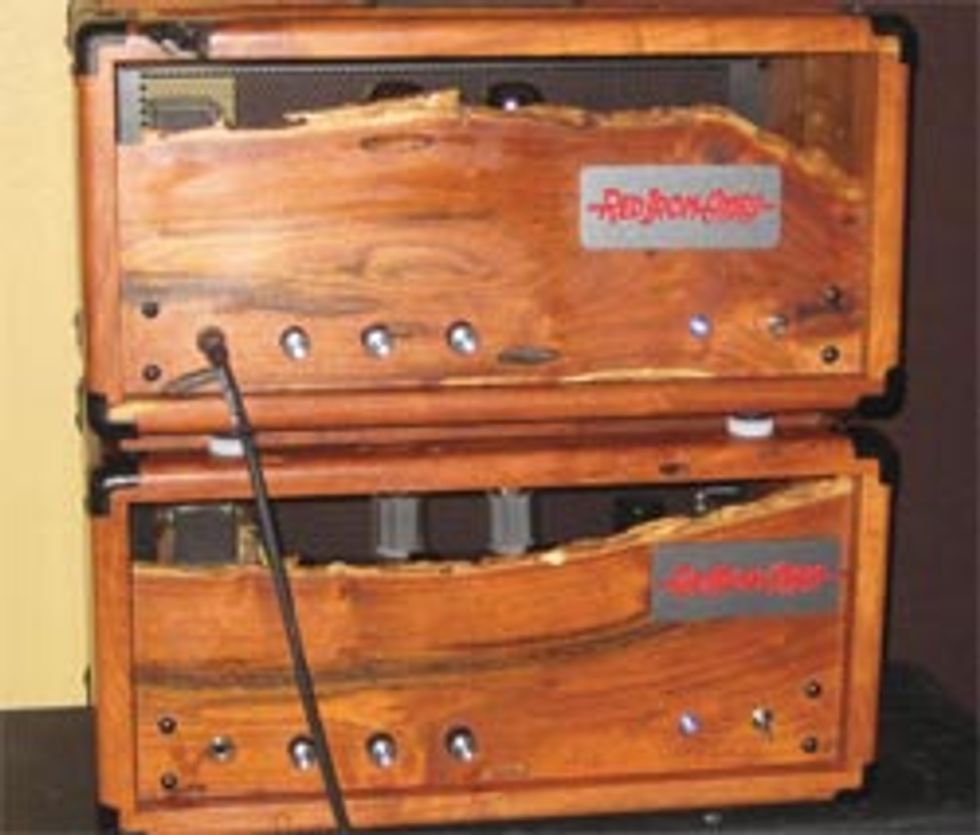 Red Iron Amps
Red Iron Amps have one of the coolest, freshest looks we've seen in a long time. Made from mesquite, a squatty little tree commonly found in Texas and mostly known for its ability to smoke ribs, you'd think they had sent a guy out into the middle of nowhere to bring back the oldest, most distressed chunks of wood they could find. The wood has a burnt orange look to it and features natural knots, rips and crevices that truly make each amp unique. Red Iron Amp maker Paul Sanchez joked with players that you can even see worm trails in the wood and that the worms were specifically chosen for their ability to enhance tone.

With that kind of a setup, you know that the amp is destined for burnin' in one way or another, and we're happy to report that people did so with their axes and not their matches. These amps are unlike anything you've heard before—the highs were fat, the upper-mids had girth and the lows had a crisp richness to them. We found ourselves looking at each other in disbelief as each demo punched us square in the chest. Burnin', indeed.
Video Demo
redironamps.com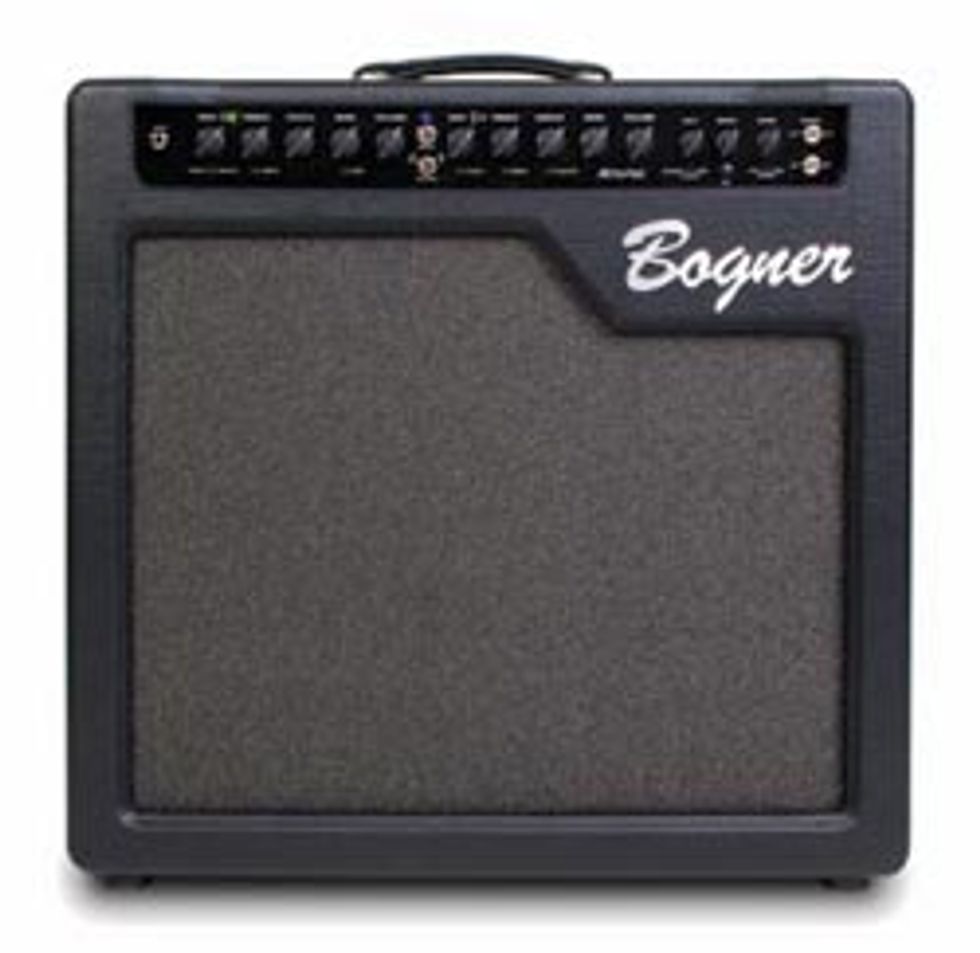 Bogner Amplification
The Bogner room stayed pretty busy as people stood in line to fire up the Alchemist amp. The huge sounding amp is an affordable import that Reinhold Bogner tricked out with built-in reverb and delay. Other notable happenings in the mood-lit room include demos of Reinhold's amps made in North Hollywood, which are now being referred to as his Custom Shop line. We found ourselves geeking out over some new tweaks to the Duende. The Duende Sequese Mojado takes a 1x12 combo, and makes it a 1x12/2x8. In addition to the 12" speaker it has two 8"s pointing out of the left and right sides of the amp. They can be adjusted to handle different parts of the signal, like the echo-only part of reverb, and the effect is amazing. The amp can fill a room with three-dimensional sound that's out of this world. We looked at an 18-watt unit that had a second power amp for driving the built-in 'verb or an external effect. The rest of the amp was traditional Duende: 6V6 tubes, two channels that can be used separately or blended and built-in trem/reverb.