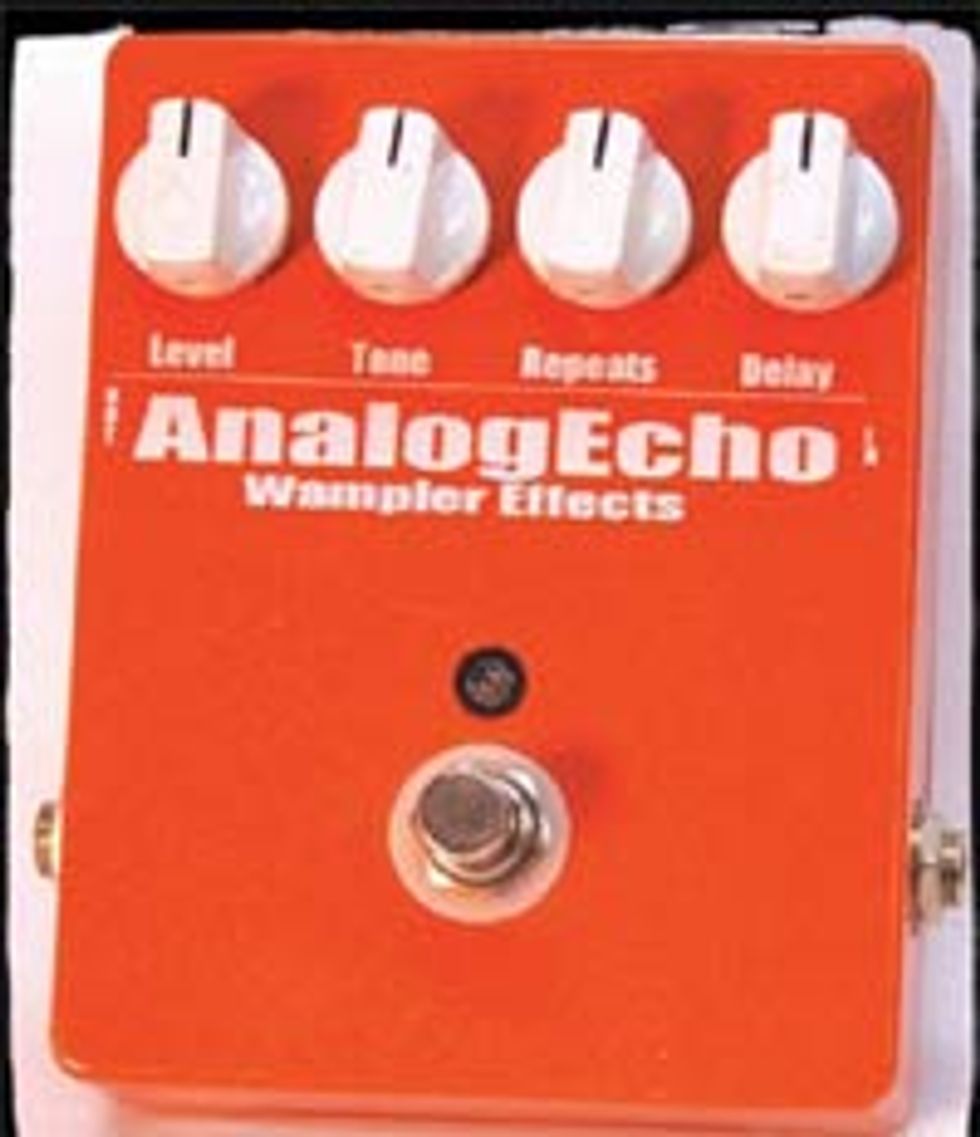 Brian Wampler's "Analog Echo" is loaded with a digital delay chip, but with pure analog circuitry surrounding in order to achieve tape echo or Echoplex-type delay tones with a 650ms maximum delay time. It's true bypass and housed in a very cool "fire orange" powder coated box (3.5 x 4.5) with white knobs and graphics. It offers the typical controls for Level, Repeats and Delay Time, plus a unique tone control for the tonality of the echoes, making it possible to get a warm analog tone or a fat tape echo tone without resorting to modulation on the echoes. Besides the status LED right above the footswitch, the Delay is equipped with a second, flashing LED indicating the delay time, which I found very useful. Inside you can find professional craftsmanship at its best; Brian only used the finest parts— low-tolerance metal film resistors, stacked metal film and silver mica caps, gold plated IC sockets, etc. I wish all boutique pedals would look like this! The pedal can be powered by an internal 9V battery or an external wall-wart (barrel plug like Boss/ Ibanez) and can handle power up to 18V for some more clean headroom if needed.
After plugging in my Tele, I was suprised how good this pedal sounded. It reminds me a lot of the old TC Electronic Analog Delay—smooth and clear at the same time, with tons of tonal potential. With the tone control, you can dial in all shades between warm analog and a fat tape echo tone and with a slapback setting, you can easily mimic the old famous Sun Records "tiled bathroom" rockabilly tone we all love so much. Compared with my old Boss DM-3, the Wampler Analog Echo sounds fuller and warmer, more focused and without any signal degeneration at longer delay settings. This pedal is a keeper and a "must try" for everyone who is serious about a good delay tone. – DW
Buy If...
you want an excellent analog-sounding delay, with an extended delay time without any signal degeneration
Skip If...
you need a cold, sterile, digital-sounding, ultra-versatile stompbox with a lot of knobs, presets, tap tempo, reverse delay and other gimmicks
Rating...