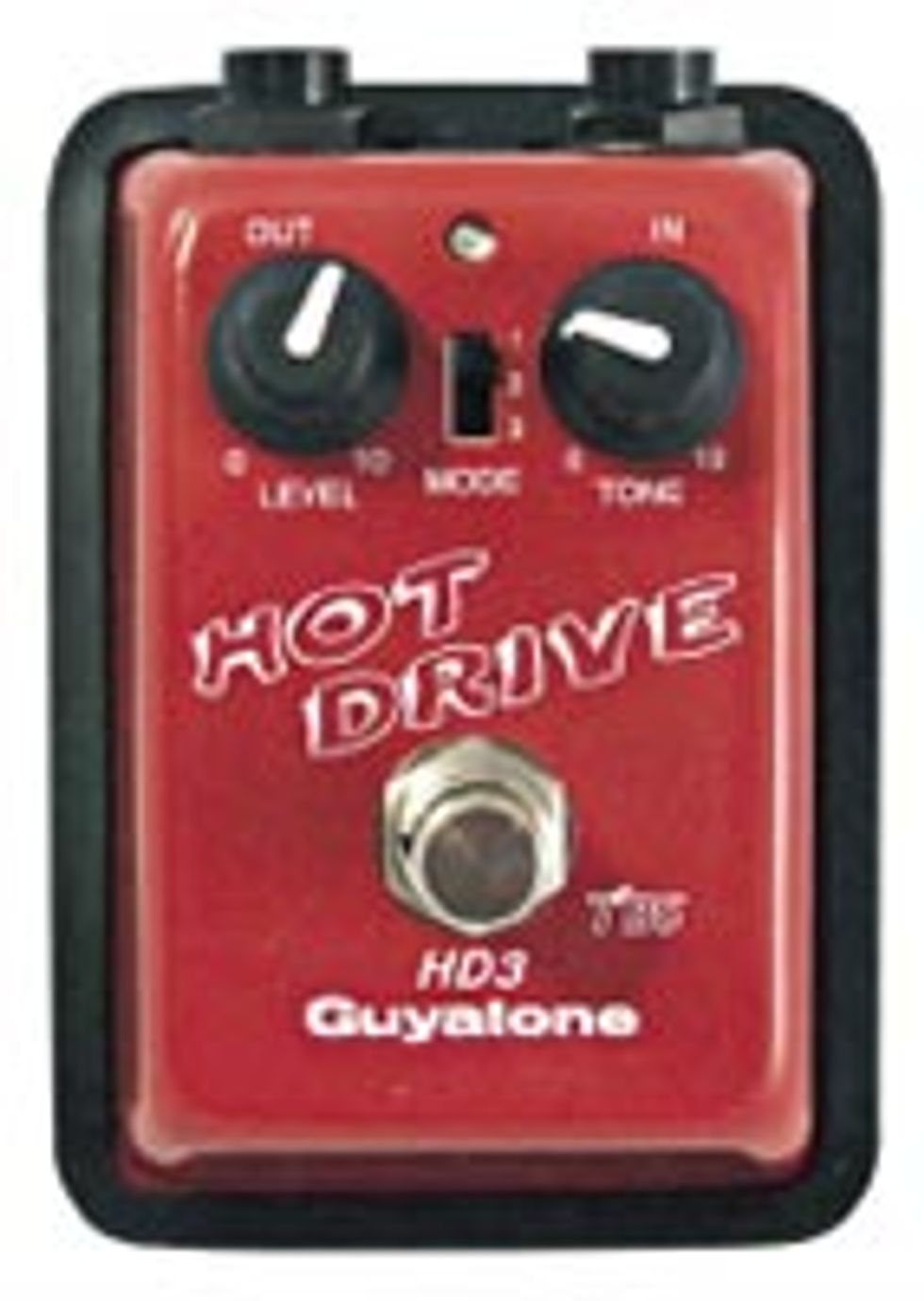 HD-3 Hot Drive
The HD-3 provides an edgy, hot distortion with the potential for mimicking a nice Marshall stack, albeit with no ability to adjust the amount of dirt present. The Tone control and 3-way Mode switch (representing three different peak frequency settings for its High Cut Filter) are all that are available for sonic shaping. The first setting, M1, is what I consider to be the core sound of the pedal – a silky yet bright overdriven sound. The second setting, M2, adds some higher frequencies for a brighter sound with more bite, while the third setting, M3, cuts some of those highs for a deeper and darker tone.
This pedal has the marbles to take a small combo and turn it into a virtual stack, but I did have a few minor bones to pick with it. Rather than cutting some of the higher frequencies to accentuate the lower tones, it would have been nice to actually boost the lower frequencies to avoid some of the fogginess in the M3 setting. Also, the inability to control the pedal's gain may be a deal-breaker for some, but overall, the Hot Drive has the potential to fall into that rare "fell in love from the moment we met" category for some players. If you plug into this box and get that feeling, rest assured that it was meant to be.
Buy if...


you love the sound of an edgy Marshall stack


Skip if...


you need the ability to adjust the amount of distortion


Rating...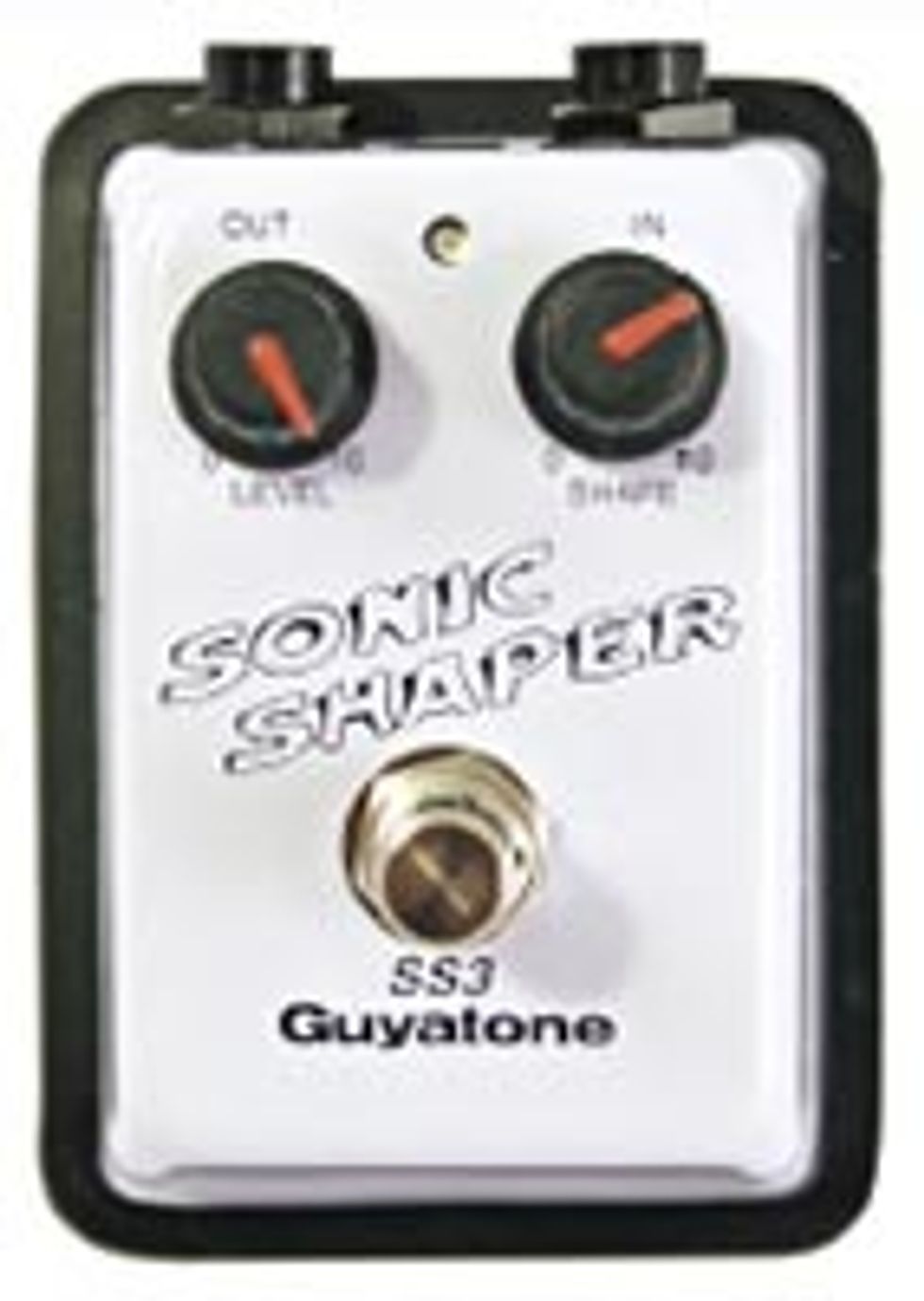 SS-3 Sonic Shaper
Years ago, I remember purchasing a chorus pedal with no other reason than people insisting that I needed one. At the time, I felt that I had to get my money's worth out of each pedal, so I made sure to apply as much effect as possible. As you can imagine, the unmistakable sound of too much chorus left me unimpressed. Eventually, someone hipped me to the seemingly common knowledge that a small amount of chorus can really fatten up an acoustic guitar sound, and my first lesson in understanding that not all pedals are meant, or should be used, to completely change your sound was complete. With a lot of pedals, the keyword is "enhancement," and the Sonic Shaper best fits into this category.
The SS-3 has the subtle ability to emphasize different harmonics generated by the input signal – the spec sheet indicated that the pedal can be used as an acoustic simulator or to merely boost your overall output volume, without the ability to add gain like the Cool Booster. Of course, trying to make an acoustic guitar sound like an acoustic guitar after amplifying it is fraught with enough technical issues, so it's unrealistic to expect one pedal to appropriately simulate an acoustic while using an electric. That said, the Sonic Shaper can gently fatten up certain frequencies of your sound and seems to compliment acoustics nicely – the instructions even recommend coupling the pedal with a chorus for more dreadnought impersonations.
Sure, you could simulate this pedal's effects if you have a 31-band EQ sitting around by adjusting the higher frequencies and adding or removing presence in the sound, but the SS-3 makes doing so a significantly more compact proposition.
Buy if...


you need to add a little presence to fatten up your guitar


Skip if...


you already have a good EQ and a chorus pedal


Rating...
3.0