Debashish Bhattacharya Pays Tribute to His Guru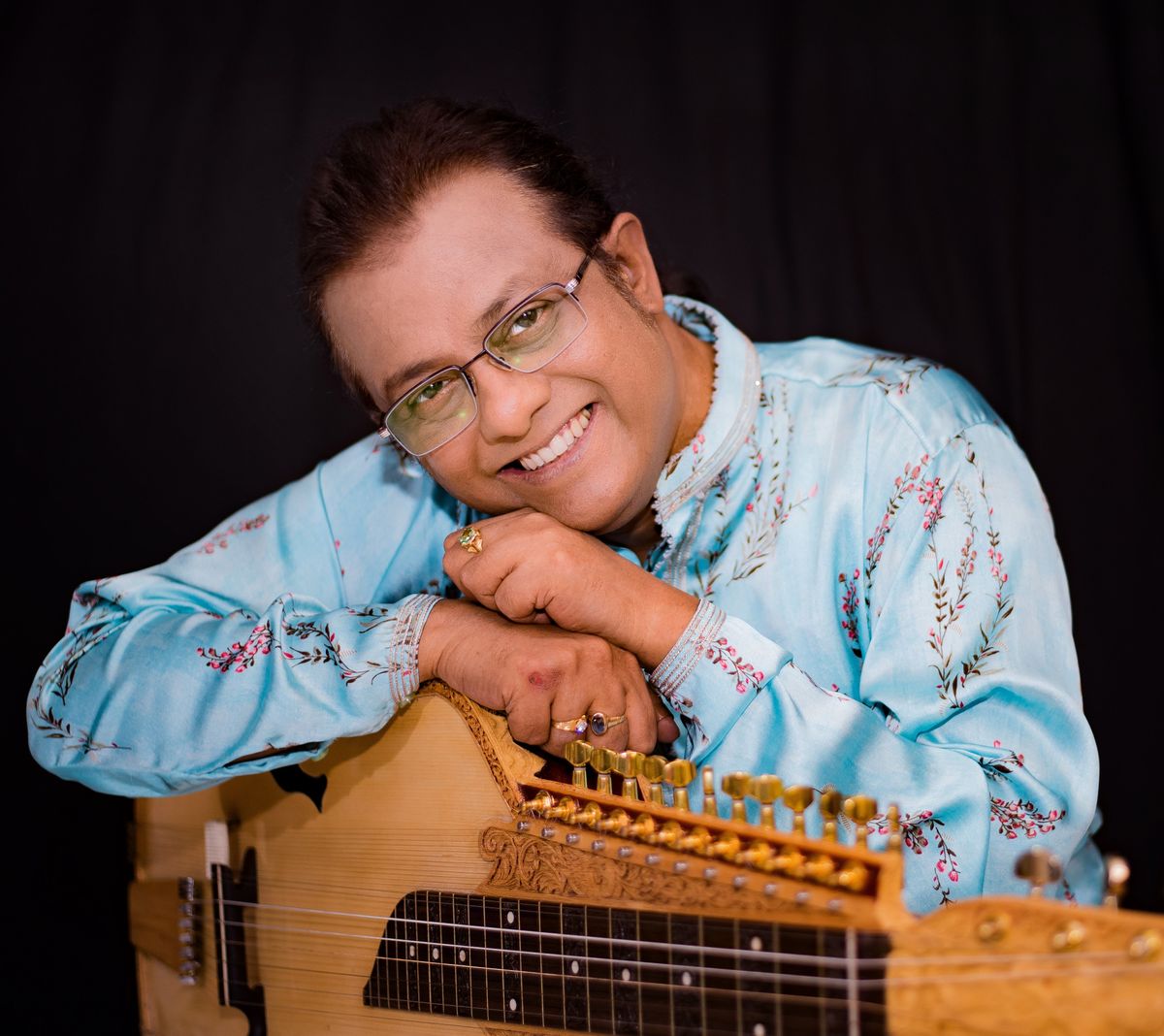 The Hindustani slide guitar master and instrument inventor pays tribute to the legendary Ali Akbar Khan on The Sound of the Soul.
Hindustani slide guitarist Debashish Bhattacharya first heard the music of legendary sarod player Ali Akbar Khan when he was just 2 years old. It was 1965, and Bhattacharya's parents brought him to one of Khan's concerts in Calcutta that ran almost all night. Thousands crammed into the pandal to hear him play, and tens of thousands more sat on the tram lines and stone roads outside, listening.
---
That experience of hearing Khan for the first time never left Bhattacharya's memory, and he would hear the virtuoso's sarod on the radio constantly while growing up. Bhattacharya calls it soul-stirring music, crediting Khan with creating a sort of "melodic kingdom. For me, my shelter, my bedroom of music, was Ustad [an honorific title meaning 'master'] Ali Akbar Khan's music," says Bhattacharya.

"It's about how this music develops and connects your life: how your muscles, your mind, your spirit, your blood, and your tensions all are connected to your music."

In his 20s, seeking a closer relationship to Khan's mastery, Bhattacharya sought out Brij Bhushan Kabra—pioneer of Indian slide guitar and one of Khan's disciples—and asked to study under him. He spent 10 years living with Kabra, his guru, learning his theory and approach to playing music. It was during that time that Bhattacharya met Khan, who asked Kabra to send Bhattacharya to his Calcutta residence to perform for him. For the next decade, Bhattacharya would visit Khan each year and stay with him for a month, absorbing his teachings.
Uttarpara Sangeet Chakra 2023 Father Son Duet | Raag Madhuvanti | Pdt Debashish Bhattacharya
With astounding virtuosity, Bhattacharya combines Indian classical music and Western slide guitar technique to create a singular, stirring sound.
Today, like his gurus, Bhattacharya has become a musical legend, with a career that spans nearly 50 years. He's shared stages with jazz-fusion guitarist John McLaughlin, Derek Trucks, and Jerry Douglas, earned two Grammy nominations, and released over a score of full-length recordings. And this January, Bhattacharya has built upon that legacy with the release of The Sound of the Soul, a four-song, 66-minute album dedicated to Khan.
"In this performance, since it was fully improvised, it was like a dialogue, a dialogue between the melody and the rhythm."
Bhattacharya describes the creation of The Sound of the Soul as a pure, elemental experience, reminiscent of what he calls a sacred and total relationship with his gurus. "It's not learning note-for-note music," he says. "It's about how this music develops and connects your life: how your muscles, your mind, your spirit, your blood, and your tensions all are connected to your music. This cannot be passed on without a guru and disciple relationship.
"[This release] doesn't have any clicks or pops to please any ear, whether it's Eastern, Western, Southern, or Northern," he continues. "I just closed my eyes and I lost myself in the studio. When I finished, I woke up like, 'What happened? What am I doing?' I thought this album would be the humbly best thing I can offer. My soul is connected to [Khan]."
In performance, Bhattacharya guides the music fluidly, focusing on the dialogue between melody and rhythm.
Unlike Khan, Bhattacharya doesn't play sarod; his performance on The Sound of the Soul is entirely on the chaturangui, a hybrid slide guitar of his own design that mixes traditional Indian and Western guitar styles. The work is a celebration of his teacher, and also of cultural exchange, of borderless musical exploration.
On the album, Bhattacharya is accompanied only by percussionists Swapan Chaudhuri and Akhilesh Gundecha. The centerpiece of the release is the 39-minute saga "To His Lotus Feet." Its title epitomizes Bhattacharya's devotion to Khan. In the piece, the trio takes listeners on an odyssey as they glide through movements and moods, from serene, nighttime soundscapes to thrilling, up-tempo melodic sprints. Nothing was orchestrated ahead of time; the entire track is improvised. How does Bhattacharya know when the song is finished, when enough has been said?
"If you're a story writer or script writer for a film, you know where to stop, and you know where to end it. It's under your control," he says. "You can end three minutes later or five minutes earlier. Unless you are satisfied, you won't leave it. In this performance, since it was fully improvised, it was like a dialogue, a dialogue between the melody and the rhythm. I almost drowned in that raga. But when it ended, it ended."
That approach and everything else about Bhattacharya's musical foundation can be traced back to Calcutta, his hometown. The sprawling West Bengal capital is home to scores of different cultures and traditions—in particular an intense blend of European and Indian cultures, a result of British colonization.
The guitarist's latest release is dedicated to Ali Akbar Khan, under whom Bhattacharya studied.
Late at night, after local radio programs had gone quiet, syndicated shows from the BBC and other stations would come in faintly to Calcutta's radios. When Bhattacharya was as young as two or three, these airwaves exposed him to European classical music and Hawaiian slide guitar, and the sounds lodged themselves in his brain alongside classical Hindustani ragas played on sarods and sitars. He came to realize that they complemented one another: the Hawaiian slide style paired strikingly well with the Hindustani tradition's melodies, which were characterized by seamless changes in pitch.

"I was almost dragged in this path. 'I have to make this; I have to learn this.'"
When Bhattacharya was just 3 years old, his father bought him his first guitar. It was made of local plywood, with a small sound box and a 24" scale length—and Bhattacharya instinctively wanted to mix the Hawaiian and Hindustani musical traditions. From a young age, he learned not just Hindustani music and ragas, but also Western notation. His guitar teacher had learned how to play American slide guitar styles from a local European musician and passed this on to Bhattacharya. But the 6-string guitar, while useful for Hawaiian slide music, didn't have the same range and power of traditional Indian instruments. The reverse was true of the sarod and sitar; they weren't optimized for slide playing.
Still, Bhattacharya pursued a brave, brash mixing of the two sounds. His vision is revered now, but he says this wasn't always so. "Western guitarists thought I played good slide guitar, but I played Indian classical music," he says. "Indian classical music fraternity thought, 'Okay, he's a very nice classical musician, but why is he playing slide guitar?'" Bhattacharya calls these feelings his "triggers": "I was almost dragged in this path. 'I have to make this; I have to learn this.'"
Debashish Bhattacharya's Gear
When Bhattacharya was just a toddler, he listened to Hawaiian slide guitar and classical Hindustani ragas, both of which informed his musical vision.
Guitars
Mics
Strings and Slides
John Pearse strings
John Pearse slide
Diamond Bottlenecks crystal tone-bar
Through his 20s, he worked to develop what would become the chaturangui: an instrument which would capture the breadth of influence he carried within him. Early attempts included a jumbo body with a round soundhole, then an archtop-style with f-holes, but neither yielded the depth of sound Bhattacharya was chasing. During a trip to the U.S. in 1993, Mary Faith, the owner of John Pearse Strings, gifted him with a Weissenborn slide guitar, a rare hollow-neck model created by the luthier Hermann Weissenborn. Bhattacharya took it home, opened it up, and experimented with it, adding elements from the construction to his own guitar.
In 1994, after years of prototyping and trial-and-error, Bhattacharya completed his masterpiece. The chaturangui lap-steel guitar had a hollow neck and a normal 6-string configuration along with three extra sets of strings: two additional rhythm strings just past the high strings, two drone strings on the bass side of the neck, and 14 sympathetic strings—like those on a sitar—just past the drones. (For those counting, that brings the chaturangui's total to 24 strings.)
"Art is not the same everywhere … but if you look at everything in nature, it's connected. The same air you breathe, I breathe."
Today, the chaturangui is but one of Bhattacharya's primary instruments (standing alongside his later slide-instrument inventions, the anandi, gandharvi, and most recently, the pushpa veena). In concert, he and his accompanists operate in a similar way to how he approached the improvisation of "To His Lotus Feet." He and his daughter Anandi Bhattacharya, a vocalist, and his brother, tabla player Subhasis Bhattacharya, performed music from The Sound of the Soul for audiences at La Folle Journée, a classical music festival in Nantes, France. He says in a performance, as in the studio, the story of the song starts from one point, then slowly develops, involving more characters and building energy before reaching a narrative peak. It gently decrescendos—the sound of "people going back home, leaving."
Bhattacharya performing live on the pushpa veena, a 25-string slide instrument built from a single piece of teak, plus goat skin, and a deer-horn bridge.

Bhattacharya's goal with his music is not to be "the best," or to satisfy some notion of what his music should be. It is simply to communicate and share what he has learned from his teachers, from his whole world of influence and openness. He laments that with music, we're raised in small pockets of influence, without much access to other musical traditions and appreciations.
Music streaming services have allowed distinct cultures to spread and mingle around the world, but Bhattacharya says we still have a way to go in bridging music traditions. "Art is not the same everywhere … but if you look at everything in nature, it's connected," he explains. "The same air you breathe, I breathe. The same water is flowing into the oceans, it's the same sunlight we're receiving. Our cultures are only different because we were ignorant about each other."
But being raised in Calcutta taught Bhattacharya an important lesson: There is no such thing as bad music if it is created intentionally and caringly; all musical practices are connected. "Every music is divine," he says. When we create music, we are interpreting and exploring the universe: mystery, beauty, fear, joy.
"We are the divine pieces of gods and goddesses," Bhattacharya continues. "That is why we should accept everything as beautiful, accept it and let it come in our door. That is what I have learned in my 40 years of traveling all over the world. It's such a beautiful life we can make through accepting other cultures and finding the way in between."