James Williamson: Return to the Raw
Photo by Heather Harris
Punk pioneer James Williamson discusses the Stooges seminal years and why, after a 30-year hiatus, he dusted off his Les Paul Custom, left his Silicon Valley career, and helped his old friends bring new life to the band—including on their latest LP, "Ready to Die."
James Williamson may very well be one of rock's most enigmatic guitarists—a "forgotten boy," if you will. As lead guitarist for iconic proto-punk band the Stooges in the early 1970s, he helped pioneer a new, rawer music that would heavily influence future legends such as the Sex Pistols' Sid Vicious, Johnny Marr, Kurt Cobain, the Red Hot Chili Peppers, and Rage Against the Machine's Tom Morello and Tim Commerford. But when the group's incendiary third album, Raw Power, flopped upon release in 1973, Williamson decided to leave the music world behind. He earned a degree in electrical engineering, moved to Silicon Valley, and eventually became a vice president at Sony. Meanwhile, as the Stooges' influence increased over the years, many were left to wonder, "What ever happened to James Williamson?"
After the untimely passing of Stooges co-guitarist Ron Asheton in 2009, fans got their answer when Williamson decided to trade in his mouse pad for a Les Paul so that the band might live on. And despite the tongue-in-cheek humor of the group's newest offering, Ready to Die, Williamson says, "I feel like I have more music in me … I'd still like to do another album or two."
Williamson joined the Stooges in 1971, shortly after the release of their second album, Fun House. "After I graduated high school, I moved up to Ann Arbor [Michigan] and ended up living in a house with a couple of guys in the band. The guy that was playing rhythm guitar for them at the time, Bill Cheatham, wasn't really that good of a guitar player—he knew it and they knew it, so eventually they just asked me to join." Williamson stayed on with the group for another year or so before the band called it quits … or so he thought.
Williamson observes from the stage as Iggy Pop works a stunned crowd in 1973. Photo by Heather Harris.

In 1973, legendary Stooges frontman Iggy Pop invited Williamson to England to work on his new solo album for Columbia Records. "He called me up with very short notice and said, 'Hey, I got a record deal. Why don't you come with me in a couple of days to London and let's do it?' I was staying on my sister's couch at the time, so my options were to stay on the couch or go to London—it wasn't too hard to figure out."
Once the two were overseas, one thing led to another and it ended up being a full-on Stooges reunion. "Our idea was to start a new band with an English rhythm section, but when we got over there we didn't like the way any of those guys played," Williamson says, "so we called the Asheton brothers [Scott and Ron] over and made Ronnie switch to bass."
Initially, the band ran into problems with management over the direction of the music. "We tried a bunch of different demos, but management didn't like them so we kept writing new material," Williamson says. "I would sit in my room, working out riffs and things on my Gibson B-25 acoustic guitar, and ended up with a whole bunch of stuff. Eventually, the management got sort of consumed with breaking David Bowie in the U.S., and they quit paying attention to us. It was great, because we were then able to go into the studio on our own, without a producer or anything, and make Raw Power."
Armed with a 1969 Gibson Les Paul Custom driving a Vox AC30, as well as a Martin D-28 acoustic—the latter two of which he borrowed from the studio—Williamson dove headfirst into the recording process. Although he hadn't previously tried the Vox-and-Paul combo, he was delighted after plugging in. "That driving sound on the record is a combination of the way I play and the sound I was able to get with the combination of that instrument and that amp. It's definitely a good sound."
Despite its latter-day recognition as a milestone record in the history of popular music and a forerunner to the punk movement, upon initial release, Raw Power was a flop. The band continued on for another year and a half or so before calling it a day after a show at the Michigan Palace in Detroit on February 9, 1974. "We've always been good live, but we weren't very professional," says Williamson. "Eventually, nobody had any stomach for it anymore, so we broke up."
After the Stooges disbanded, Pop headed to Germany to record with David Bowie. Meanwhile, Williamson briefly tried his hand at studio engineering in Hollywood. "I found out very quickly that the only thing worse than playing in a band you don't like is recording bands you don't like!" Williamson also worked with Pop on 1979's ill-fated New Values before hanging up the hat on his music career. He had no idea what his next move might be, but fate seemed to intervene. "By chance, I ran across one of the new personal computers that was just coming out and it was so exciting for me, so I said, 'You know what, I want to do this for real.' So I got a degree, moved to Silicon Valley, and had a great ride for a whole bunch of decades."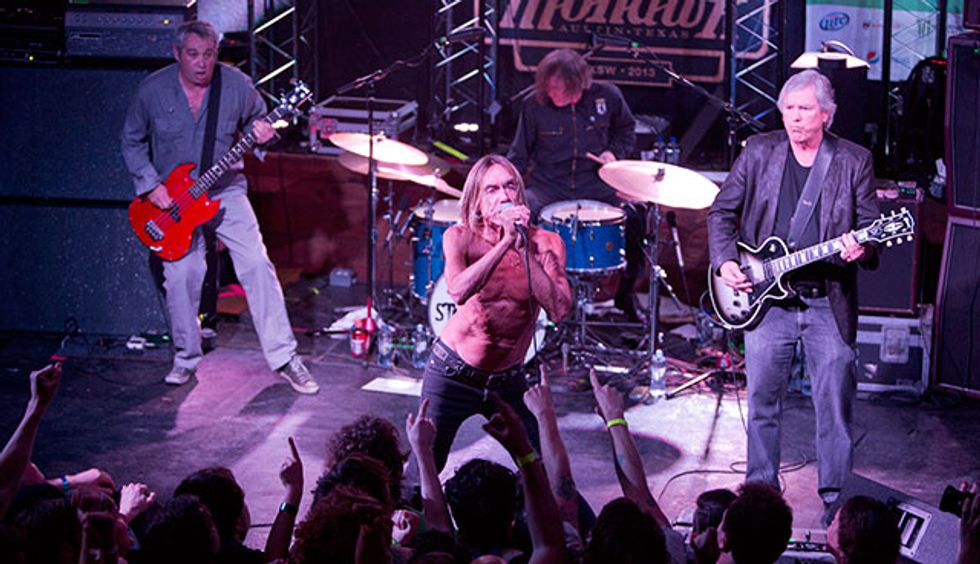 A still-shirtless Iggy Pop writhes onstage backed by Williamson, bassist Mike Watt, and drummer Scott Asheton
Williamson never anticipated a second act in the music business, but when Ron Asheton died on New Year's Day in 2009 and his old bandmate came calling, it was an offer he could hardly refuse. "Iggy called me up and we had several conversations," says Williamson. "Initially, I told him no—because I wasn't even sure I could do it. I hadn't played guitar in 30 years. But once I retired from Sony, I was free to do whatever. I thought, 'I owe it to those guys.' We go back to our 20s and they needed me, so I said 'What the hell' and I signed up."
He spent months relearning his old parts by gigging with a local group called Careless Hearts prior to rehearsals. The Stooges' first gig with Williamson back in the fold was in front of 40,000 people in Sao Paolo, Brazil—quite a leap from his previous largest audience, which was somewhere in the neighborhood of 2,000.
After a few years on the road, they'd worked up new material and decided to take it to the studio. The resulting record, Ready to Die, is an eclectic mix of the classic, overdriven Stooges sound with tracks like "Sex and Money," "Gun," and "Ready to Die" interspersed with tunes that verge on balladry ("Unfriendly World," "Beat that Guy")—albeit with a fair dose of grit.
The band's creative process involved jamming on riffs that Williamson had worked up on his own, just like the old days, before heading into the studio. "We finished up the jams we wanted to record—it was about 15 altogether—and we ended up with the 10 on the record," he says. "It felt good and I think the album sounds good. Our goal going in was to sound like us, and I think we achieved that."
James Williamson's Gear

Guitars
1969 Gibson Les Paul Custom, 1962 Fender Jaguar, 1963 Martin D-28, Gibson B-25
Amps
1964 Vox AC30 Super Twin (studio), 1957 tweed Fender Deluxe (studio), Blackstar Artisan 30 (live)
Effects
Advanced Pedal Workshop Treble Boost, Durham Electronics Sex Drive
Strings, Picks, and Accessories
D'Addario EXL110 (.010–.046) electric sets, D'Addario medium-gauge acoustic sets, D'Addario medium-gauge picks
Gear-wise, Williamson elected to use the same recipe that led to his iconic tone on Raw Power: a 1969 Martin D-28 acoustic guitar along with his trusted 1969 Gibson Les Paul Custom played through a 1964 Vox AC30 Super Twin amp. "The Les Paul Custom I use has a very specific sound that is unique to it," he explains. "In the early days, the pickups were all handwound so each one was different. This one has a relatively low DC resistance, so it has a certain kind of sound to it." Williamson takes two backup Les Paul Customs on the road, and both are equipped with pickups reverse-engineered by Jason Lollar to match the set in his '69 Paul.
In addition to playing guitar on Ready to Die, Williamson served as producer—and he was determined to forestall the types of knocks he'd previously gotten as a producer. "Sometimes people criticize me and say I don't favor my guitar as much as I should. This time I said, 'You know what, you want guitar? I'll give you guitar!'"
YouTube It

This 2010 version of "Search and Destroy"—probably Williamson's most well-known tune—finds the ex-Sony V.P. rocking his trademark black Les Paul Custom through a trio of Blackstars.

In this live rendition of "Gimme Danger," Williamson employs a goldtop Les Paul outfitted with a Fishman Powerbridge to produce the opening acoustic tones before launching into full electric onslaught.

Need evidence of how Williamson, Iggy Pop, and the Stooges presaged punk in 1970? This clip begins with a network-TV talking head marveling at how "the kids seem to be enjoying" Pop's repeated ventures into the crowd, as well as his rubbing of peanut butter on his chest.