Interview: Ramblin' Down the Road with Todd Snider
Armed with some good stories and a J-200, Americana's favorite troubadour keeps a storied tradition alive.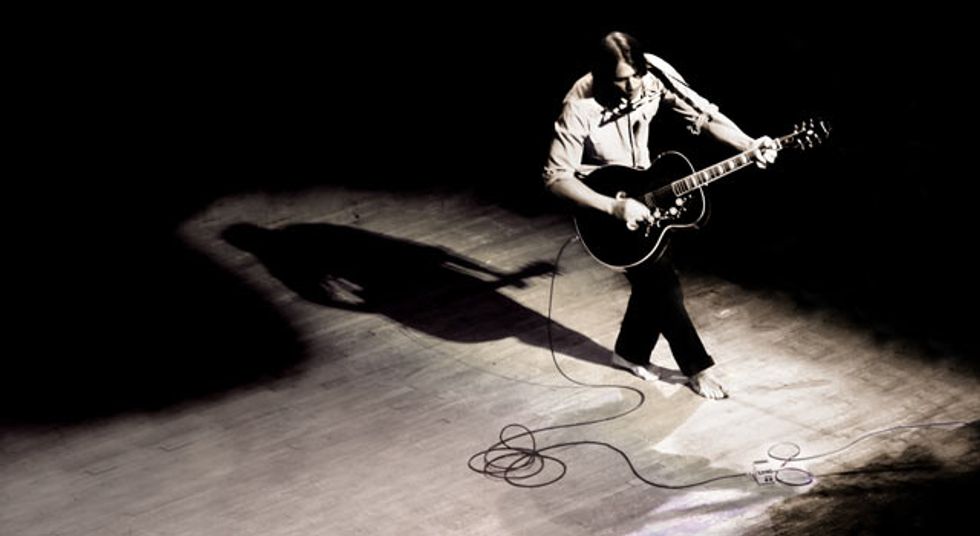 An Epiphone J-200, cable, and tuner are all Snider needs to grab the crowd. Photo: Max Flatow
Todd Snider is the closest thing we have to Johnny Cash these days. Not that his music sounds anything like Cash's (because it doesn't), and not because his songwriting yields gems of a similar lyrical style or cadence (because it doesn't). Performing with a band or solo, large or small venue, entertaining dignitaries or criminals—Cash always owned the room because he was a storyteller. He wasn't a blazing picker or the kind of singer who is celebrated for his technical ability, but when you gave Cash a guitar and a room, he'd intimately connect with the people in it and leave them wanting more. Ask anyone doing anything in front of an audience for a living—this is not an easy feat.
Todd Snider has been on the road doing the gypsy troubadour thing for nearly 20 years. While his audiences are full of folkies and singer-songwriter fans that listen to the likes of John Prine and Steve Earl, Snider's shows attract the gamut, from country music fans to frat boys. Like Jon Stewart, he goes from silly and sarcastic to political and poignant in two seconds flat. Check out a Todd Snider show and you'll get the feeling he's flying a flag few other artists care to wave with conviction anymore—that of a critical observer who has something to say about the human condition as it plays out in America.
Snider is on to something. Not taking anything away from the musicians who stun us with their tones and technical prowess, but our brains need more than that sometimes. Johnny Cash taught us that people need to escape into a good story every now and then—with or without music.
Snider's new live album,
Todd Snider Live: The Storyteller
, is the first recording that truly represents what he is out there doing across America almost every night—it commands your attention and takes you along for a ride. Before you know it, you're examining truisms, understanding sketchy characters a little better, laughing your ass off and reaching for your guitar to pick up on Snider's catchy rhythms that carry entire songs.
Snider is in the middle of a cross-country tour, as usual, but took some time to chat with
Premier Guitar
about the new live album, working with a different sound guy every night, and of course, his gear.
When people describe you, the word "storyteller" usually comes up right away.
Ramblin' Jack Elliott and Jerry Jeff Walker were my main heroes when I was starting out. There's a long tradition of storytelling in that vein. Then there's Arlo Guthrie and all those guys, you know. I've studied them all and love their stories. They're all true, too. [
Laughs.
]
There's a way this stuff works, you see—I get free wine. But if I get about a half a bottle in me before a show, things do get a little loose in the turn. The storytelling is something I like to do as much as the singing and the performing. But some nights, the storytelling thing just doesn't present itself well and that's okay. I like to just sing and play, too.
You get lumped in with those three-name Texas guys a lot—Jerry Jeff Walker, Robert Earl Keen, Townes Van Zandt, Billy Joe Shaver, etc. You know the list. What do you think of that?
[
Laughs.
] That's funny because I love those guys. That also happens to be a new song I'm working on.
No kidding?
Well, it is now. You could make a five-minute fucking list-song about that! [
Laughs.
] Yeah, Jerry Jeff… all those guys. Robert Earl means a lot to me. He doesn't do the story thing quite as much, but you know, he's just as important. It's fun. I love it and it's what we do. Hell, if I came out and they were throwing shit at me I'd find a way to like it. I know I could like that. I'm here for a certain reason but I'm not at all thinking about holding anyone's attention. What is it they say about surfing? You just go out. You don't get to tell the ocean what to do—I'm out there just to be in the water.
Tell us about your gear.
I play Epiphone J-200s—keeping one in normal tuning and one in open B. I use medium D'Addario strings and like it when the strings aren't new, but aren't dead yet.
Amps? Effects?
I run my J-200s through the DI right to the house. I try not to put too much on it, maybe just a little reverb from the board if it's a particularly dead room. I just like a big bright acoustic guitar and those big jumbos are all I need.
What is it about the Epiphone J-200?
I've always liked the way the J-200 sounded. The Stones used J-200s. Emmylou Harris plays a J-200. They sound great alone or with a group.
I go through 'em, too. They get smashed at the airport a lot but Epiphone is great. When the airport smashes another guitar, Epiphone sends me a new one right to the gig. And they set them up for me so well. I should probably go buy them a drink more often than I do.
Snider's dog, Cowboy Jim, accompanies him onstage from time to time. Photo: Stacie Huckeba
Anyone ever tell you that wear your guitars almost as low as Slash?
[
Laughs.
] No, that's a first! [
Laughs.
] I guess I'm a rock 'n' roller deep down. I've got long arms and people are always telling me I'm lanky, so it makes sense.
But you're a rhythm guy.
I've been playing seriously for 16 years—what I call seriously anyway—and I've never really worked at playing lead. I can do a little, because I know scales and things here and there, but I practice the rhythm guitar parts that end up on the record. I'm usually learning some rhythm guitar part or trying to make one up—like a riff you can hang a song on, or a chord progression you can base a whole song on. I've always worked on that, and tried to be a good rhythm player who can play that stuff in time, and be effective.
I have another band I play lead in—the Bull Dogs. It's not embarrassing, I wouldn't say, but I don't think players in Nashville are sitting around thinking they could call me for a sub gig. [
Laughs.
]
Talk about the role of your guitars when you're writing.
I play every day for a good three hours or so, working on songs and singing them. If I get some lyrics, I'll make up a bunch of different kinds of music. But songs come at you all kinds of different ways. Maybe it's a chord progression—I've got this one chord progression that I've had for 12 years but I'm just now getting to the point where I'm comfortable with the words for it. And then I've got another song I made up about a week ago, where a whole bunch of words just flowed right out of me, but I haven't begun to think about the music for that song yet.
For my side band, the Bull Dogs, I try to come up with… umm… I'll just call it what it is… I try to come up with Stones-type riffs. And that's fun, especially when I feel like I've been working a lot on my own songs. It's fun to sit around and try to make up a Bull Dog riff.
What advice do you have for guys trying to tell stories with their guitars?
Three things. Robert DeNiro told me it was really uncool to drop names, but I'm gonna do it anyway. Kris Kristofferson said if you're in the whole troubadour thing for the right reason, there's not a chance you will fail.
I'd also say the same thing I tell my nephew—don't get caught up too much in the gear. I'm not saying you don't want to sound good. What I'm saying is don't be the capo or strap collector who tells everybody at the bar he's a songwriter. You know the type—he goes down to the bar and criticizes everybody, mostly just pontificating on songwriting, and then tells everybody that later in the year he's gonna get serious and do some
real
songwriting. People tend to not want to buy drinks for that guy.
And the third thing is that I am probably the
last
guy you need to be asking for advice on this subject.
What's it like on the road, doing what you do?
I've learned to be ready for anything. One time the electricity went out in the theater with 10 minutes until show time, so we sat and played a capella for about three songs before we said okay, seriously, we need an electrician.
You have those nights for some reason or another, where you're sitting there playing and you can't hear yourself at all—so the only way you can keep your singing in pitch is when you hear the front row singing along, hoping they're loud enough to give you something to sing to. Your voice is just going out into the world and you can't hear it so you've gotta wait for them to fix it. I've just learned to sit there and enjoy that. I always think its funny when you go out and see young kids perform, have an issue, and start yelling at the monitor guy. That's how you know when somebody hasn't been out on the road very long—it's a young guy thing to do. They'll kick the monitor, the real cool guys, you know—kicking it like they're mad at it. "Yeah, that way the young girls know it's not my fault I'm playing bad." [
Laughs.
]
What's the biggest difference between where you're at and who you are now, compared to when you started out?
I'm humbler. Looking back, I wonder if my first couple of albums got a little preachy at times. I'm older now, creakier and older—I think I'm turning into Fred Sanford out on the road.
You've been compared to comedians Mitch Hedberg and Bill Hicks. Did they influence your songwriting or performing?
George Carlin, too. I like Bill Hicks and George Carlin and think of those guys as writers. They didn't do fart jokes or shit jokes. I've always thought of Steve Earl and Bill Hicks as being very similar guys. I felt such a kinship with Mitch Hedberg the first time I saw him and even wondered if he had ever seen me. I'm by no means saying he copied anything I did, not at all. Hell, as soon as I saw him I started copying
him
. It wasn't too much of a stretch! [
Laughs
] He was great—just a stoned guy who writes. I get that. It's very similar.
I actually get to meet comedians a lot, and it always makes me think about how they would make such good country writers, with all due respect to country songwriters. It feels like a similar thought thing to me, like thinking in verses. If you're doing it for more than just making people laugh, well that's very much like songwriting. I should mention Lenny Bruce, too. A brilliant guy who really influenced me.
So what's next for you?
Well, I'm excited about the live album. Oh, and next year when Jerry Jeff turns 70, I'm putting out an album of about 15 of his songs. I've already recorded about half of them.
I'm also working on an album of agnostic hymns and I'll be opening a church—The Agnostic Church of Hope and Wonder. It's kind of based on … umm… look, I went and saw Al Green, you know. He does the church thing and it seemed like he's a little more addicted to the grift than he is Jesus. [
Laughs.
] I'm not against Jesus, but I like grifty shit and thought, "man, I gotta get in on that action."
Weren't you named the rightful heir to the title of Chief Poet of the Church of Buffett Orthodox a while back?
[
Laughs
] Hey, that's right! I heard that a long time ago. I wonder, is there still a Church of Buffett Orthodox? There's gotta be grift in that!