Remembering Jeff Hanneman: 1964 - 2013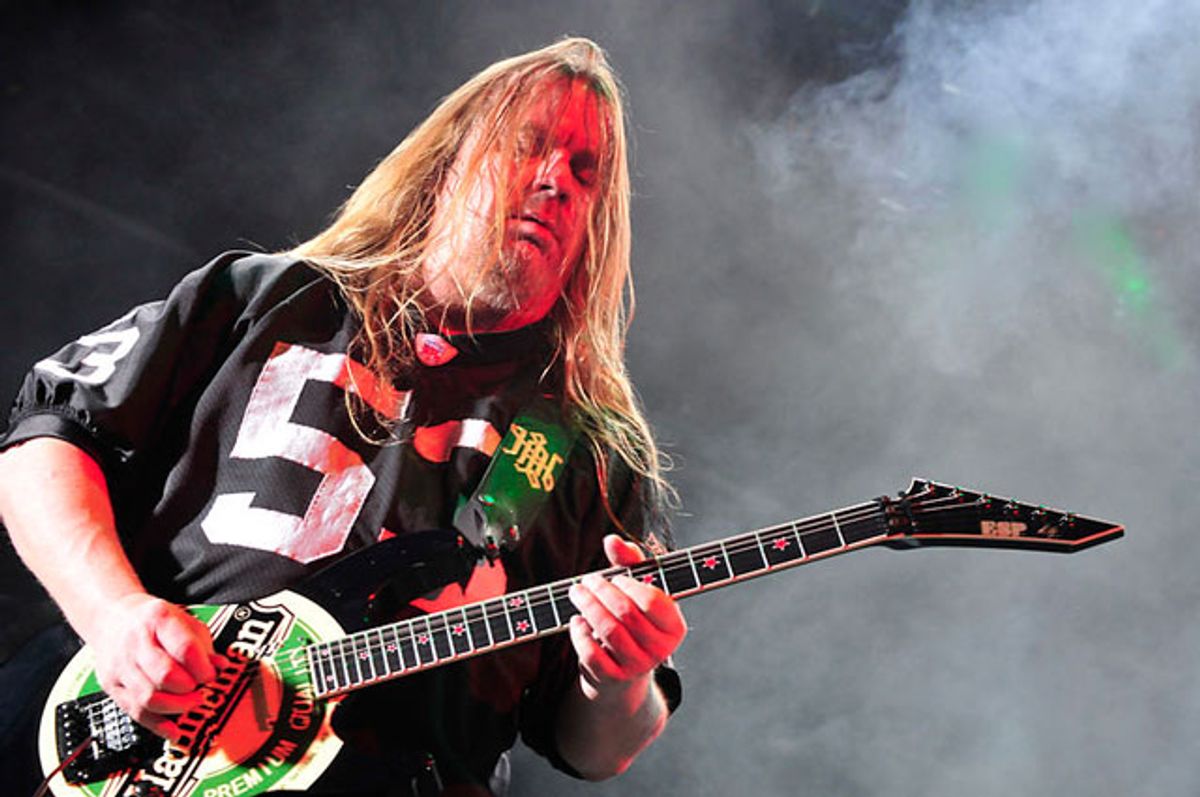 What separated Jeff from the rest of the metal pack was his rhythm technique, his songwriting, and that for which he will be most remembered—his riffs.
It was L.A.'s hottest day of the year, soon to segue into one of metal's biggest nights—the Revolver Golden God Awards fifth-anniversary show—when a very sad rumor spread amongst those of us in town to attend the event. Soon it would be confirmed as true via an official statement from Slayer: Founding guitarist Jeff Hanneman—who'd suffered from a tragic necrotizing fasciitis infection that prevented him from playing with Slayer since early 2011—had passed away a few hours earlier from liver failure. The world had just lost a voice hugely influential in metal and beyond.
Jeff had a subtle sense of humor that was all his own, and though he was a bit more reserved than the rest of the Slayer camp, he viewed life as a party to be enjoyed to its fullest. Much of what Jeff's loved ones and fans appreciated about him was his steadfast and genuine style—the fact that he didn't stray from his own vision. In Jon Wiederhorn and Katherine Turman's Louder Than Hell: The Definitive Oral History of Metal, Jeff is quoted, "I tried to emulate what [well-known shredders] did and really grow as a guitarist. Then I said, 'I don't think I'm that talented, but more important, I don't care.'" But as legions of dedicated Slayer fans the world over would attest, Jeff's portrayal of himself as marginally talented is completely inaccurate. A more apt description could be summed up in one word, "immense."
What separated Jeff from the rest of the metal pack was his rhythm technique, his songwriting, and that for which he will be most remembered—his riffs. But his frenzied, turbulent solos were also an important part of the package. They weren't about showing off. They served a greater artistic purpose—to sonically channel the qualities of Slayer's lyrical content. They were sometimes abrasive, sometimes jarring, and at times disturbing. They had less in common with typical rock-guitar virtuosos than they did with the sonic collages of avant-garde improvisers such as Derek Bailey and John Zorn, the latter of whom is a self-professed Slayer fan who has cited the band as an inspiration. Though Jeff's wider, more holistic guitar approach didn't garner the same accolades as some of his more technically proficient contemporaries, Jeff never waivered from his original approach. And the fact that he continued to attack his guitar with relentless abandon—as though he were a linebacker on his beloved Oakland Raiders (whose logo adorned some of his signature ESP guitars)—is without a doubt a big part of why Slayer's music will always be deemed one of metal's high watermarks.
If you've ever seen Slayer live, you've felt exactly what propelled the band's popularity past those of Venom and other classic-metal influences. In fact, prior to Hanneman and his bandmates' groundbreaking albums—including 1986's bar-setting Reign in Blood—many believed metal could never reach such levels of popularity and fan dedication. Before Slayer, metal had never had such razor-sharp articulation, tightness, and balance between sound and stops. This all-out sonic assault was about the shock, the screams, the drums, and—again, most importantly—the riffs. And it was Hanneman who brought so many of the band's timeless riffs.
Of course, one cannot dismiss the voracious riff and song output of co-guitarist Kerry King, who, with his giant spiked wristbands, goatee, and shaved, tattooed head, essentially became the "face of Slayer." But if you took a poll of the band's fans—from dedicated concertgoers to peers and professional music journalists—their favorite Slayer songs would likely be dominated by pulverizing Hanneman gems like "Angel of Death," "Raining Blood," "South of Heaven," "War Ensemble," "Dead Skin Mask," "Seasons in the Abyss," and "Die by the Sword." To many fans of heavy music, these songs and riffs aren't just definitive of the band, but of metal itself.
Had Jeff recovered from his medical challenges, one can fully envision him confronting his demons head-on with songs about spider bites, skin grafts, and flesh-eating bacteria. Tragically, all we are left with is his memory and monumental songs and riffs that will reign in metal fans' blood forever. By being true to himself and expressing his own unique style, Jeff Hanneman ended up doing what most musicians will never do—he impacted music in such a way that an entire genre will never be the same.