Photo by Nathan Salsburg
The Kurt Vile sideman steps out of the shadows to talk about his evolution from suburban skate punk to world-wise roots Renaissance man.
Around the time he graduated high school in the mid '90s, Steve Gunn didn't exactly have the most catholic musical tastes. Like many of his skateboarding cohorts in a Philadelphia suburb, he listened almost exclusively to punk and hardcore. But then he moved out of his parents' place and into a house in the city that he shared with a bunch of eclectic music fans. Their listening sessions turned Gunn on to the experimental jazz, old blues, and world music that he's since distilled into his own explorative style on acoustic and electric guitar—a style that is, in a way, all about collecting records.
Many listeners know Gunn from his work as sideman for singer-songwriter Kurt Vile, a friend and collaborator. But Gunn, now in his late 30s and based in New York, has trafficked in a variety of situations over the course of his 15 years as a professional musician. He's often been found in more intimate settings, like solo-guitar excursions that take country-blues to strange new places, and an experimental duo with drummer John Truscinski.
Since his 2009 solo album, Boerum Palace, Gunn has been honing a vocal style that perfectly complements his idiosyncratic approach to the guitar. His 2013 album, Time Off, expanded the concept to a trio with bass and drums, and for the recent Way Out Weather—his most ambitious album to date—Gunn assembled a band that highlights his guitar mannerisms with harp, banjo, and other colorful instrumentations.
I'm pretty much a Craigslist-gear-bargain guy.

We recently spoke with Gunn about his transformation from a punk rocker to a multifaceted musician with far-flung influences, the methodology behind his playing, and his fondness for bargain acoustic guitars and expensive electrics.
What was the writing and recording process like for Way Out Weather?
Last year I traveled a ton, and I was really thinking about a lot of things while I was on the road. Basically, most of this stuff was written in airports or in vehicles driving to the next show—during the small window of time I had to do some thinking and jot down ideas in my notebook. I also carried a handheld recorder for documenting ideas on the guitar, just jamming and coming up with licks. When I got home, I devoted large blocks of time to digging through the massive amount of ideas that I'd compiled, to make sense of it all. Then I cut some demoes at home to send to the people that I envisioned being in the studio with to make the record, and we began a dialogue about how to work out the instrumentation. People started coming up with ideas, and some even recorded parts over the demo to email and discuss. Things sort of changed naturally during the recording process—a lot of great ideas definitely happened while we were on the fly—but the bedrock of the tracks were essentially already in place when we began working in the studio. We pieced through everything and cut all the tracks pretty quickly. It was a much different process than on the last album, because those were songs I had been playing for a long time, but never with a band. Back then we rehearsed together by playing five or so live shows before going into the studio. We didn't so much talk about engineering or arranging, we just went in and cut the album live. In any case, there were no snags with recording the new record. No egos were flung around, and—thanks to all the preparations—it all went really fast. It was such an awesome experience.
Photo by Constance Mensh.
Can you talk about your coconspirators on the record?
An old friend of mine, Mary Lattimore, played harp. She's from a lineage of great harpists. She was a big part of the recording process and improvised a lot on the record. It was pretty loose, since all of the musicians are great improvisers. Nathan Bowles played banjo and piano, but he plays drums in our touring band. He lives in Virginia and is a really incredible bluegrass musician who wins all these competitions. He's also in an experimental band called Pelt. Jason Meagher, who owns Black Dirt—the studio in upstate New York where we recorded the album—played bass on the record and is also in the live band. He was really important in talking about the engineering and how we wanted everything to sound. Justin Tripp, an old friend from Philadelphia, played piano and bass. I've played with John Truscinski for years in various outfits, and there was also this guy named Jimy SeiTang who did a lot of synth stuff to add textures. Then there was James Elkington, who lives in Chicago and works with Jeff Tweedy—he played lap steel and acoustic guitar.
What guitars did you use on the album?
I mostly play a Guild guitar—a D-35 from 1970. I like these guitars because I'm pretty much a Craigslist-gear-bargain guy—though I do have an expensive electric that was custom made for me. I'm afraid to get a really valuable acoustic for the amount of touring I do—I'd be afraid to kick it around. Guilds are perfect for me: They're well built but not expensive, and they sound so good and are especially easy to come by in the Northeast. I've been using them for a long time and will definitely continue to do so.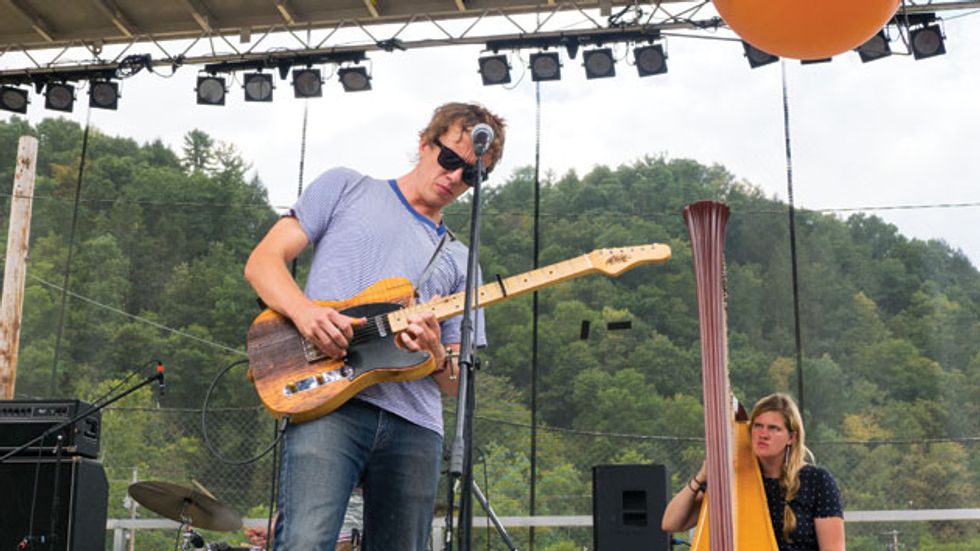 Photo by Constance Mensh.
Tell us about that custom electric.
It's by Rick Kelly—one of his great Bowery Pine series instruments. Rick owns this really awesome guitar store [Carmine Street Guitars in New York's West Village] that I've been going to for years. He's just an awesome, humble guy, and I wanted to support him. So I saved up for a while for this guitar. It has a solid neck—really big and with no truss rod—that just feels really sturdy. It's got these great handwound Lindy Fralin pickups. For the body, Rick picked out this raw wood that he knew I would like. He evacuates beams from different buildings in lower Manhattan, and he knows the histories of the trees, when the buildings were built. It's so cool that he's made guitars from these historical structures.
Speaking of history, your musical tastes went through a pretty big transformation once you went off to college in Philadelphia. Besides becoming a more diverse listener, what were some big moments in your musical evolution?
In college, I took some music courses, learned the history of American music and all different kinds of other stuff. I really broadened my horizons very quickly in my freshman year. Fast forward five or so years, and I was playing in various bands—all different kinds of music. At the same time, I was starting to work on solo music, really homing in on unaccompanied guitar and starting to stretch out.
That's probably the best practicing you can do: going to Europe, traveling all around and playing to a lot of people whom you don't know, always honing your craft and gaining performance chops.

How'd you get into playing solo?
A big inspiration for that was Jack Rose, a friend in Philadelphia who, sadly, passed away about five years ago when he was only in his late 30s. He was just an incredible musician, a little older than me, always doing his own thing. I learned a lot from him. He was such a hard worker and really supportive of me, as well. At a certain point, I wanted to see if I could make a record of songs that people would enjoy listening to, and I took my cues from Jack. I decided to try my hand at playing solo, and I set about developing as a guitar player and as a singer. I was willing to push pretty hard on the road, and I always believed that it would pay off if I were smart about it.
What did you learn from Rose, and did you study formally with him?
I didn't study with him per se, but I watched his musical progression happen. It was inspiring to see him play in these chatty rooms at clubs, but command this great respect from the audience. Jack treated his guitar playing very seriously. He hit the road really hard, toured and performed a lot. He would make the money that he deserved. He got taken care of. This gave me the confidence to work in a solo setting, to create a strong work ethic and continuously improve my playing. In a way, that's probably the best practicing you can do: going to Europe, traveling all around and playing to a lot of people whom you don't know, always honing your craft and gaining performance chops. Luckily, I really enjoy traveling—it's one of my favorite things to do.
Steve Gunn's Gear
Guitars
1970 Guild D-35
Custom Rick Kelly Bowery Pine T-style
Amps
1960s Sano 10-watt
1970s Fender Twin Reverb
Effects
Dunlop Jimi Hendrix Cry Baby wah
MXR Carbon Copy
Maxon AD999 Analog Delay
Strings and Picks
D'Addario EXP14 string sets (.012–.056)
Fred Kelly banjo picks
You've lived in Brooklyn for years now. How has that impacted your music?
My last album was sort of indirectly about observing people in my neighborhood. I've lived in the same apartment for years, and some of the songs were about people I see every day. A lot of folks are surprised to hear where I live. Judging from my music, they think I live out in the country somewhere. Hopefully someday I will, but whether or not they sound like it, all my songs reflect my dealing with my environment.
Let's talk about some other facets of your style. On the new record, the song "Wildwood" seems to reveal a country-blues influence.
Country-blues is certainly a big influence on my playing. That particular song actually came about through my reading about and trying to figure out how to emulate some African players. It has a strange tuning that I was playing with, and it's sort of a mixture of things. I'm kind of working around an African style of cyclical structure—circular guitar lines that I repeat and sing on top of—but of course it also has this country-blues feel.

Photo by Constance Mensh.
What's the tuning, and how did you learn about it?
It's straight standard, but with the low E cranked all the way up to G—which is a far reach for that string. I learned that a lot of players in Mali use that tuning, often with a capo. The tuning removes some of the bass from the sound and places an emphasis on the midrange. Also, in my research I came across this documentary that features Ali Farka Touré, the great Malian musician. There are some close-ups of his playing and the tuning is very clear. This was all very helpful.
There are also moments on Way Out Weather that seem influenced by ragas and the Indian classical tradition.
That kind of playing runs throughout a lot of the single-note parts I do within songs—like the leads on "Milly's Garden," for instance, and some of the more subtle stuff just beneath the surface on "Way Out Weather."
YouTube It
Steve Gunn takes to the woods to perform "Wildwood" on solo acoustic for Seattle's KEXP radio.
Where did you learn that?
I learned a lot of this stuff just by listening to records, listening deeply to sitar. Nikhil Banerjee is a player I love in particular. I did the same with a lot of Middle Eastern music, really checking out oud players like Hamza El Din, who did a couple of records in the '60s for Vanguard and was the guy that Sandy Bull studied under. Speaking of Sandy Bull, he did an amazing guitar raga piece called "Blend" with Billy Higgins, the great jazz drummer, an album-length piece that also made a strong impression on me.
Earlier you mentioned that improvisation was a big factor on this record. How does it feature into your own playing?
I have a lot of experience improvising. It's really helped with my playing songs in a band. Songs tend to take on lives of their own after they've been played for a while. I've always anticipated that changes will come to my songs, and I try to keep them loose. Somehow, the songs never fall off of the tracks. My musicians and I are always able to land on our feet.