Benedetto "I Tre Fratelli" (The Three Brothers)
"I Tre Fratelli" were completely handmade in Robert Benedetto's private workshop in historic Savannah, Georgia. Commissioned by a private collector, the instruments were completed in July 2007. This commission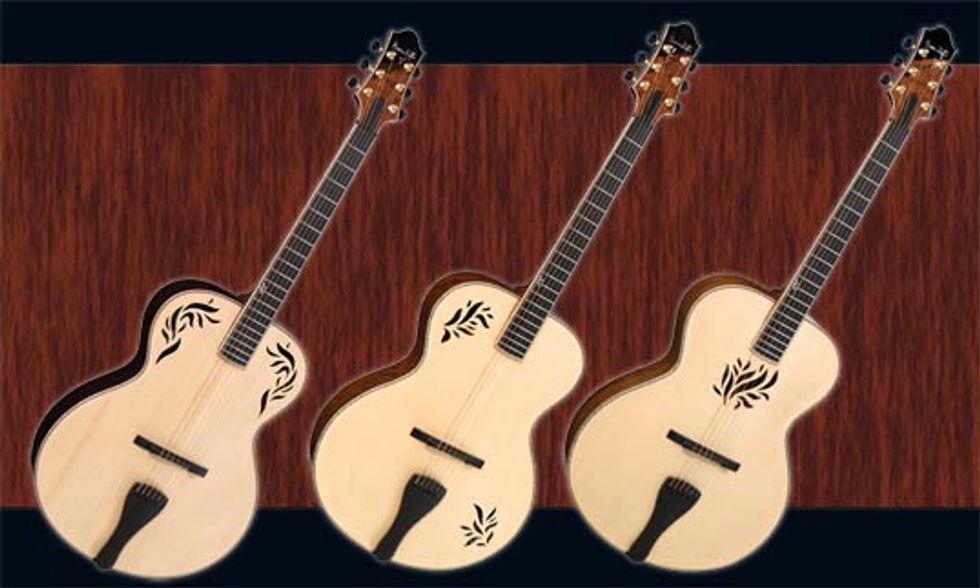 "I Tre Fratelli" were completely handmade in Robert Benedetto's private workshop in historic Savannah, Georgia. Commissioned by a private collector, the instruments were completed in July 2007.
This commission gave Benedetto artistic license to create a trio of guitars that are, per the customer's guidance "obviously related but individually unique." He chose a 16" body with no cutaway, tops carved from his finest, aged European spruce sets, and necks from rare one-piece curly mahogany, set to a 25" scale with a 12" radius ebony fretboard. The 3" deep bodies, along with the fretboards, are all bound with curly koa, the edges of which continue into a fine line purfling. The trio boasts highly figured exotic hardwood backs and sides.
Each top is unique and original, with Benedetto's signature delicate floral sound-hole clusters. Likewise, each has similar but unique abalone floral inlays in the headstock and at the base of the neck, exotic amboyna burl from Southeast Asia on the headstock faceplate (which transitions into ebony) and exotic hardwood veneers sampled from the backs and sides.