The PG Dawner Prince Pulse review.
Deep, thick, luxurious rotary simulations—particularly in stereo. Super intuitive and easy to use.
Side mounted output gain pots are useful but awkward to access.
5
4.5
5
4.5
When you think about David Gilmour's guitar sounds, you tend to think of big Hiwatts, creamy Big Muff or blazing Fuzz Face tones, and Echorec delays bouncing infinitely off the columns of Roman amphitheaters.
But modulation has always been an equally foundational part of Gilmour's outsized sound picture. And while he's probably most famously associated with the Electro-Harmonix Electric Mistress when it comes to signal wobbling, he has embraced rotary speakers regularly since 1969. For much of his career, Gilmour used Leslie 147s or Yamaha RA-200s in this role. But at some point, he started to work with the Maestro Rover—an unusual stand-mounted rotating speaker that his technicians would use as inspiration for his more powerful, custom Doppola units. By the mid '90s—a period that looms large for Gilmour tone hounds of a certain breed—the Maestro and Doppolas were elemental parts of his sound.
If the name wasn't hint enough, Dawner Prince's Pulse pays homage to this sound in a loving and well-executed way. But even if you aren't out to replicate Gilmour modulation textures from The Division Bell and Pulse, this Croatian company's exceptional rotary simulator is a fine way to introduce the immersive, extra-liquid textures of a rotary speaker to your signal chain without hauling a cumbersome antique and its own team of mechanical medics.

Surprising Simplicity
With five staggered knobs, two footswitches, stereo outs and an expression input, the Pulse looks more complex than it is. In reality, it's very intuitive to use. And even superficially esoteric controls like the distance knob (which shifts the proximity of the virtual "mic" picking up the rotary speaker signal) and the inertia knob (which regulates the rate of the virtual speaker's acceleration or deceleration) have a very organic, natural feel and are simple to add and modify to taste. The more straightforward controls are satisfying to use, too. The slow and fast speed controls have great range (the modulation rate spans .4 to 8 virtual speaker rotations per second). You can toggle between fast and slow rates using the fast-slow footswitch and you don't have to worry about "progamming" a fast or slow preset—the switch simply ramps up or down (at a rate prescribed by the inertia control) between whatever speeds you've set on the respective knobs.
Dawner Prince also accounted for the possibility of perceived volume loss at some of the most intense modulation levels by mounting small gain pots adjacent to each output jack. You need a small flathead screwdriver to adjust them. Obviously, top-mounted knobs would be user friendly, but I was generally pleased with the output level at maximum modulation intensity. And on the whole, I'd venture that Dawner Prince made a smart compromise between cluttering the main control panel and concealing these pots inside the enclosure.
Worlds of Whirl
If you had to briefly characterize what sets the Pulse apart from lesser rotary simulators, it would be the deep and real sense of motion that pedal communicates. This quality is especially apparent if you take time to set it up for stereo output, which I did through two amplifiers as well as a DAW.
The Pulse's output very effectively replicates the complex interactions between fundamentals and overtones that occur when moving air and speakers are added to a tone equation.
These highly kinetic qualities don't just come from bouncy stereo pictures, however. Even in mono, the Pulse's output very effectively replicates the complex interactions between fundamentals and overtones that occur when moving air and speakers are added to a tone equation. At the right settings, you can almost see and feel the rise, dissipation, and passing of sound as bodies and particles (entirely without pharmaceutical assistance, I might add). It's a very visceral way to experience a guitar sound, and it comes pretty close to the thrill of parking your head right by a rotary speaker in motion.
The harmonic complexities and kinetic sensations generated by the Pulse are best enjoyed, at least to my ear, at slower settings where it's easier to perceive the bloom of these sounds. And even though the Pulse's fast modulation settings generate very rich, throbbing pulses, I preferred to keep my fastest modulation sounds on the slower side so I could bask in the dimensionality of the sound picture.
The Pulse also excels at walking the fine line between the practical and the ridiculous. Even the most modulation-heavy mix settings are never overbearing. And while you can generate relatively extreme metallic high-mid peaks in the modulation by bringing the virtual mic proximity in close and cranking the mix, these sounds still have a full-spectrum richness and help the Pulse achieve some of the funkier sounds you hear from Leslies and Fender Vibratones.
The very-well-made Pulse is also super quiet, by the way. I wouldn't hesitate to try it on other instruments or vocals in a mix situation.
The Verdict
If you're chasing realistic rotary speaker tones in a stompbox, the Pulse will likely pay back the extra money you'll spend. The sense of real mechanical motion and dimensionality is perceptibly stronger than a lot of digital rotary simulations I've played. And while the Doppola/Rover-based tone emphasis does give the Pulse a unique voice, it rivals the best high-end Leslie emulators I've encountered in terms of realism and atmosphere.
The Nashvillian's interstellar pop rock soars on the backs of a futuristic 12-string, a Gibson-Fender hybrid, and a "new" pedal that makes "old" sounds.
Aaron Lee Tasjan's metamorphosis from solid sideman (New York Dolls, Alberta Cross, Drivin' n' Cryin' and Everest) to a modernistic '70s-revivalist, psych-pop, songwriting frontman has been a thrilling transformation.
While making the musical transition from the shadows to the spotlight in the early 2010s, Tasjan left New York for slower-paced East Nashville. 2015's self-released debut In the Blazes was bouncy and buoyant like anything Newman or Nilsson put out. The following year New West signed him, and he dropped the humorous, charming, rootsy, alt-Americana Silver Tears.
Still mutating, still refining, 2018's Karma For Cheap psychedelically honors the music that first drew him to 6-strings—Beatles and the Heartbreakers. And 2021's Tasjan! Tasjan! Tasjan! mixes his tongue-in-cheek storytelling with '70s production sheen and spacy-pop jaunts. Needless to say, wherever Tasjan musically goes next, we're along for the ride.
In this episode, the good-vibes artist shows off some main rides—including a funky 12-string and a marriage between a Firebird and Telecaster—tells a heartwarming backstory on a sentimental 335, and shows how a modern pedal is the key to his vintage-sounding sonic disintegration.
[Brought to you by D'Addario Pro Plus Capos: https://ddar.io/ProPlusCapo.RR]
Gorsuch 12-String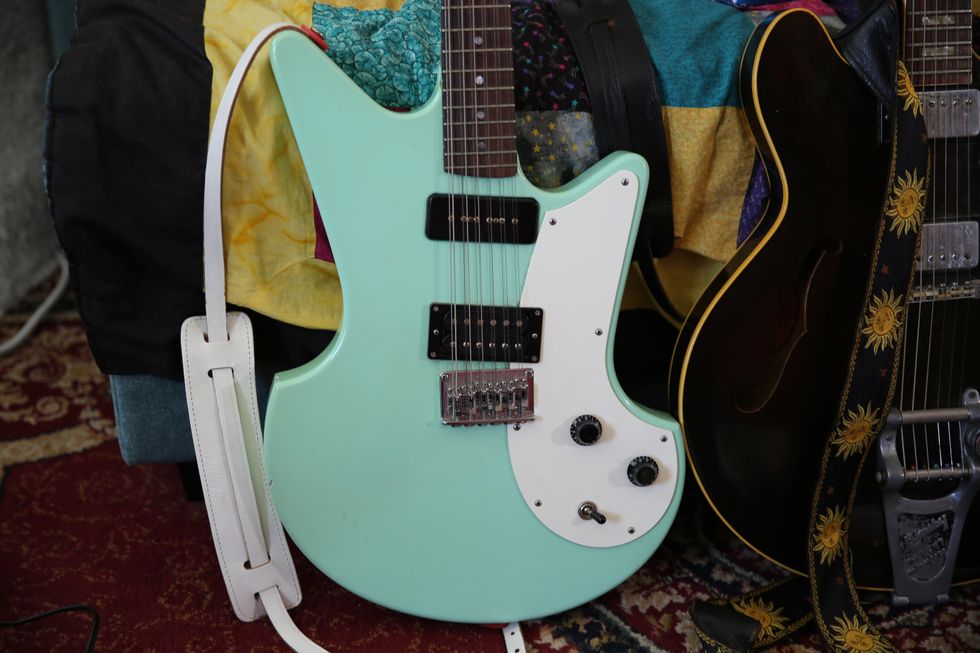 This space-age 12-string was built by luthier Scott Gorsuch who hails from Columbus, OH (one of ALT's former stomping grounds). Gorsuch specializes in modular doubleneck instruments that are secured by magnets. As you can see above, Tasjan has opted for the chambered, single-neck 12-string.
A hidden weapon on the 12 is the bridge humbucker that can be split, when the tone knob is down, unlocking single-coil chime and jangle. And as for the neck P-90, Aaron Lee loves throttling into a solo with it because it creates a unique grind and purr with single-note runs.
Gorsuch Headstock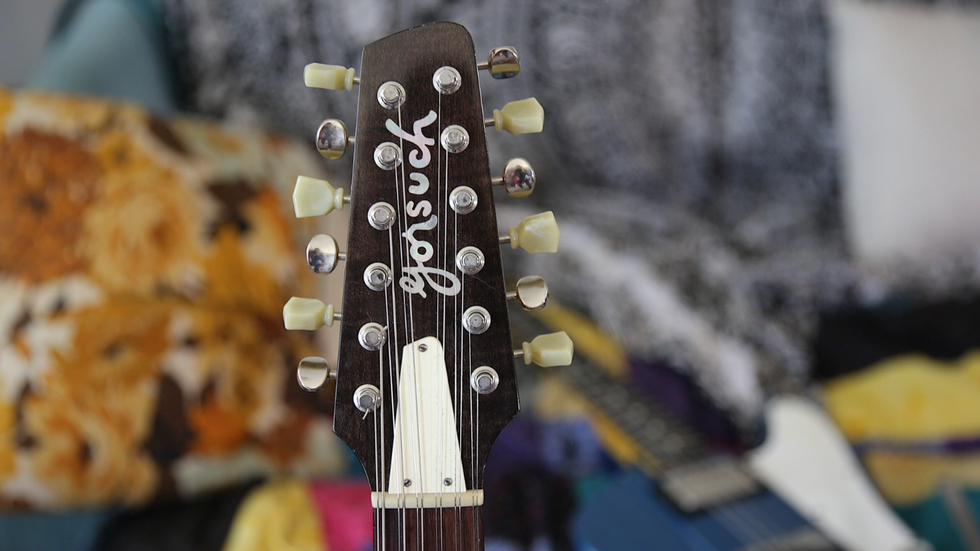 An oversight on the ingenuity of the 12's design might be the headstock utilizing two different style of tuning pegs. The Fender-and-Kluson-style keys allow for blind tuning (feeling for the key while talking to the crowd or staring at the tuner) and increased spacing so fingers don't unintentionally knock other keys out of whack.
Southside Custom Guitars Firebird-Tele Hybrid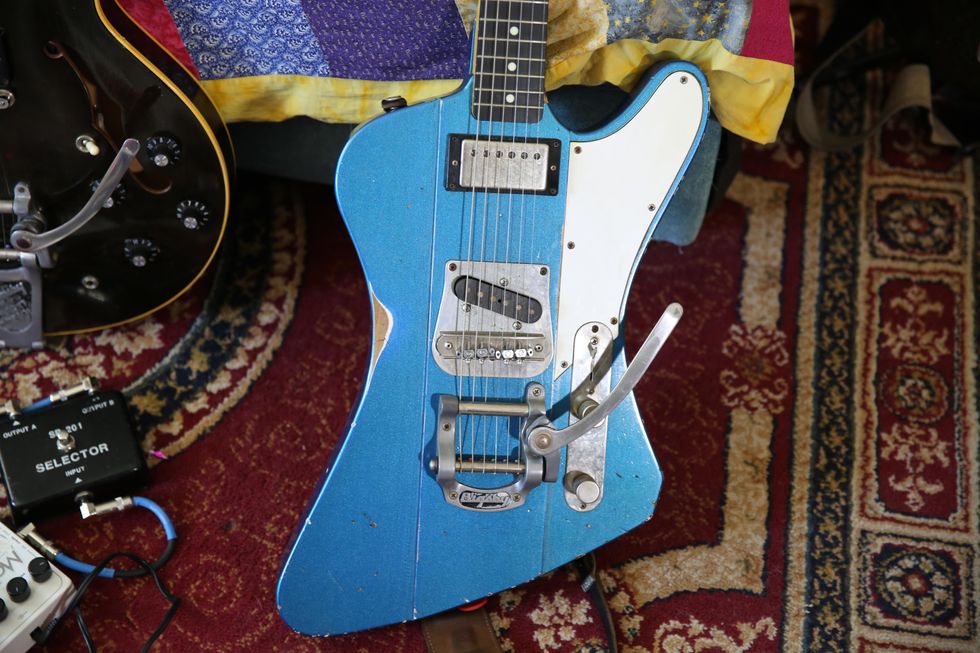 Depending on your opinion, this mash-up could either be a match made in heaven or a divorce forged in hell. This Southside Custom Guitars (built by luthier Tom Gauldin in Birmingham, AL) model combines a Gibson Firebird with a Fender Telecaster (and a little Jazzmaster touch with the bridge/saddles).
ALT got turned onto Gauldin's creations by way of St. Paul and the Broken Bones' guitarist Browan Lollar who rocks several Southside T-styles.
Tasjan typically cruises in either standard tuning, a full step down, or drop D.
Southside Custom Guitars JM Model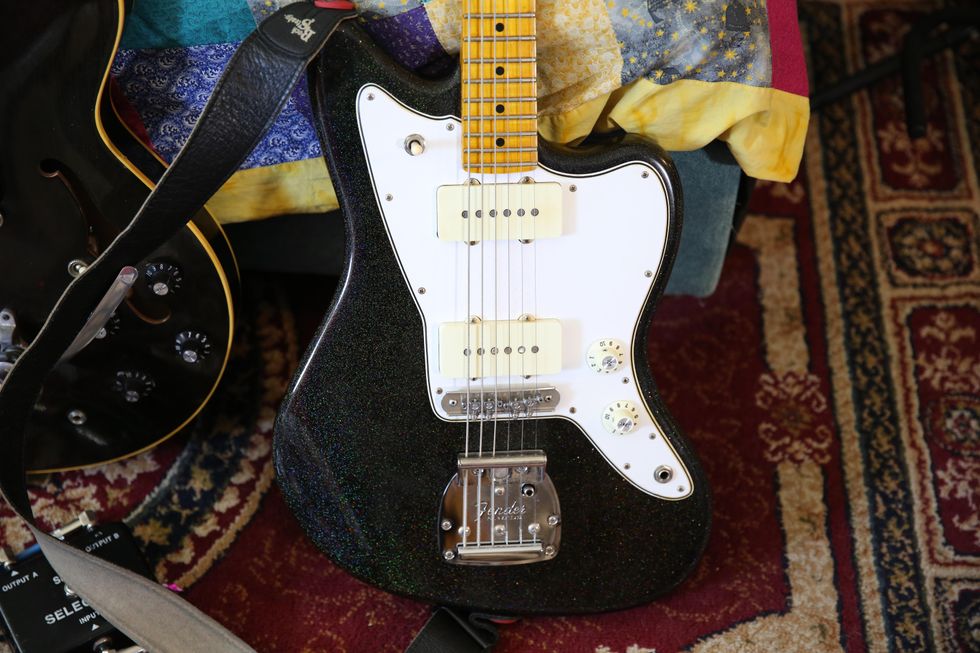 Here's another one-off from Southside Custom Guitars—a JM-style offset with black prism flow finish, a set of Seymour Duncan Antiquity Jazzmaster pickups, and Offset Mastery bridge.
1969 Gibson ES-335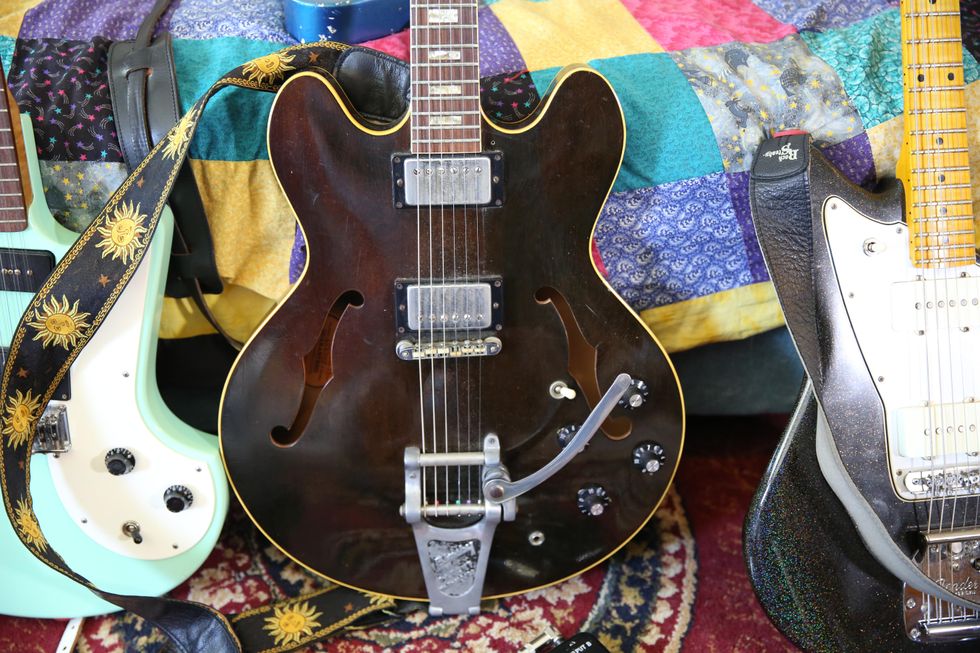 Here is a special instrument to Aaron Lee. It was a gift from his friend Ken Rockwood (of Rockwood Music Hall fame). Earlier in 2021, Tasjan told PG why it's so important to him: "My biggest gear regret would have to be a 1967 Gibson B-45 12-string that was stolen from me at SXSW in 2012. It was the first fancy guitar I could ever afford, and by "afford," I actually mean, "spend every last cent I had on it," [laughs]! There is a silver lining to this story though.
When I returned home to NYC a few days later (I lived there from 2005-2014), my old friend Ken Rockwood (of Rockwood Music Hall fame) had heard about my guitar being stolen and insisted he give me his 1968 ES-335. Obviously, it's not an acoustic 12-string, but it is an equally incredible guitar to the one that was taken and having a friend in your life who treats you the way Ken Rockwood treats people is a gift I wouldn't trade for anything."
Fender '68 Custom Princeton Reverb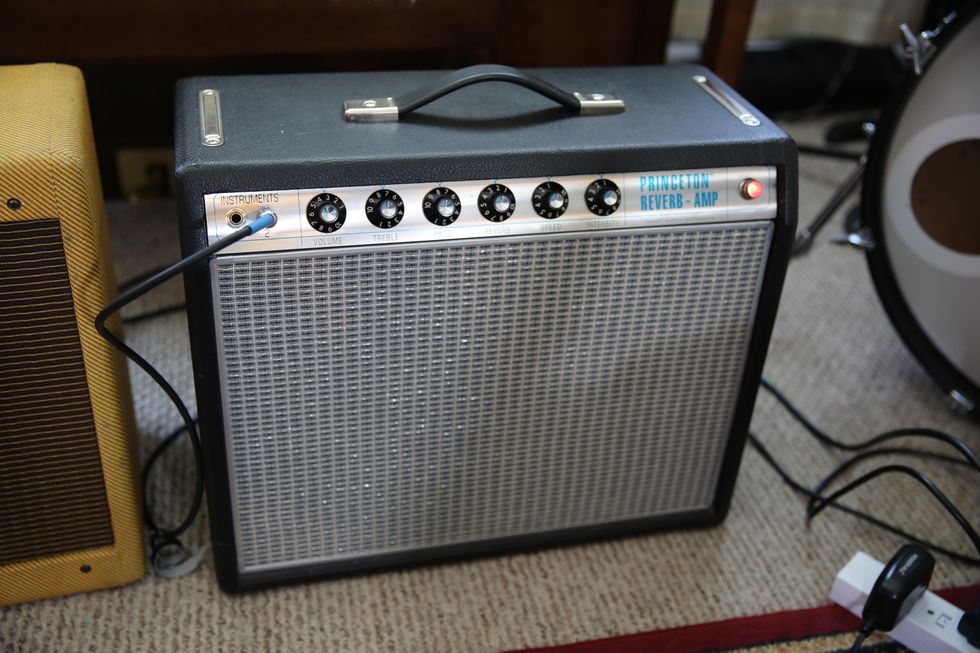 Aaron Lee Tasjan is two-amp kinda rocker. The first part of Fender pairing is the above '68 Custom Princeton Reverb that has a few mods up its sleeves. Both the bass and treble knobs independently pull out for their own boost function. This gives ALT added bass and increased midrange when the time feels right. He typically uses the 12-string with this one because it's cleaner and has onboard reverb.
Fender '57 Custom Deluxe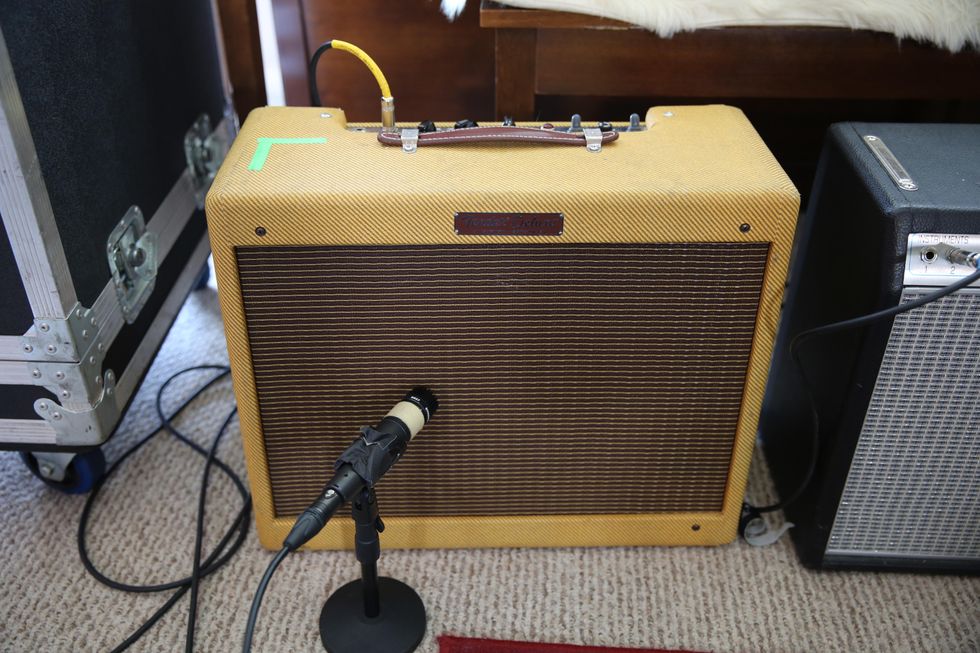 "This thing is full on rock 'n' roll, man," says Tasjan when referring to his handwired Fender '57 Custom Deluxe that's used for his dryer, hard-rocking songs.
Aaron Lee Tasjan's Pedalboard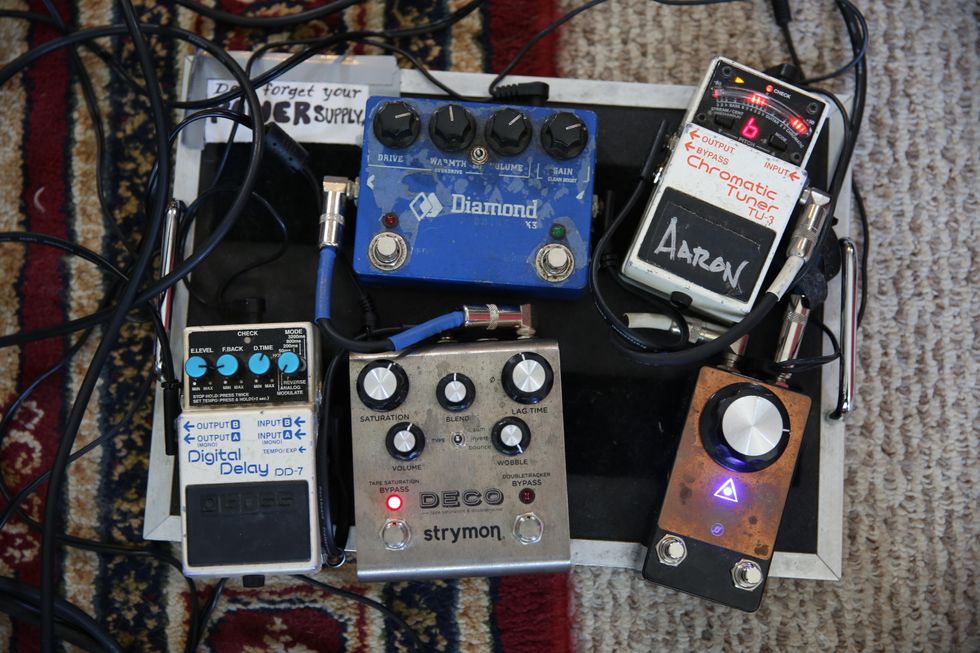 "The Strymon Deco is a perfect pedal for sounding like something is being destroyed as it's being made, [laughs]… and that was a big part of Karma For Cheap," says Tasjan. Reverse and deeper oddball delays are twisted by the Boss DD-7 Digital Delay. The Diamond Pedals J-Drive MkIII is there for added midrange-focused, overdrive crunch, while also offering an independent clean boost side, too. The single-knob jobber is an octave fuzz that was built by a Norwegian friend who gifted it to Tasjan. And a Boss TU-3 Chromatic Tuner keeps his guitars in check.
EHX Mel9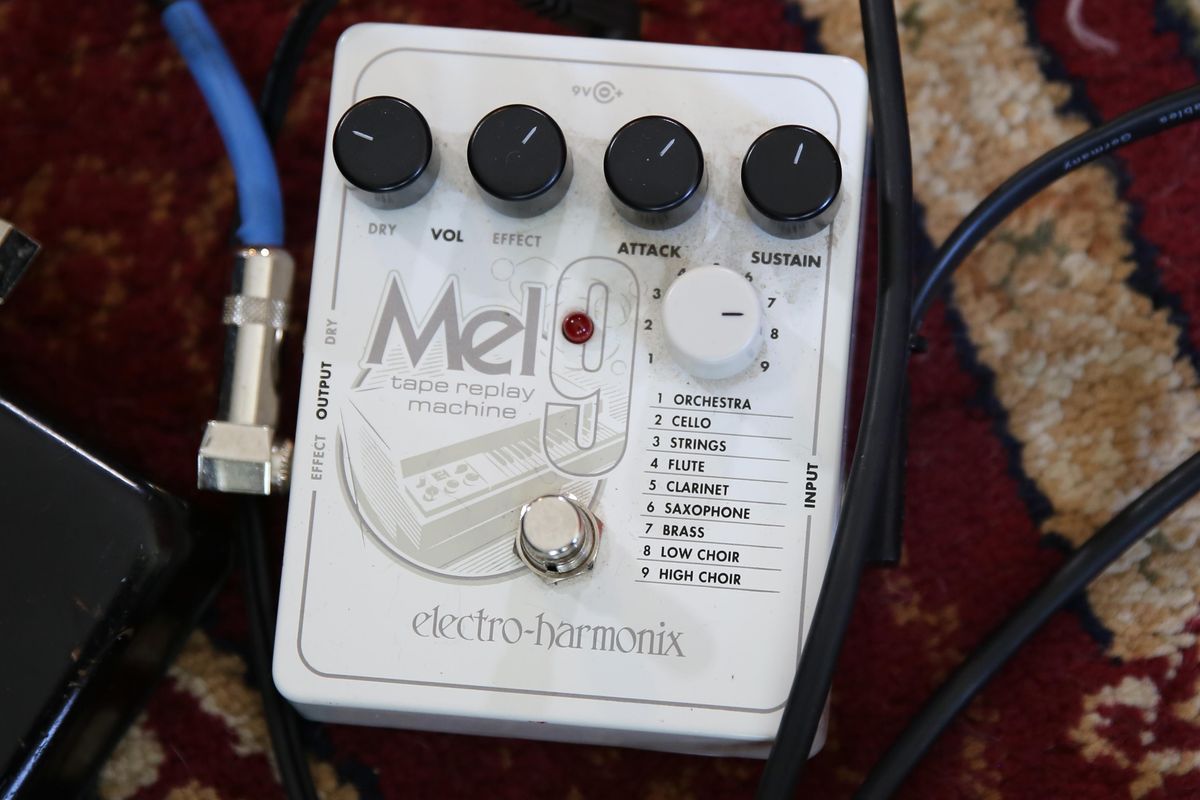 "I use this really cool pedal in really dumb ways," smirks Tasjan. The Electro-Harmonix Mel9 emulates nine classic Mellotron sounds, but ALT uses it as a synth-like fill in for songs like "Sunday Women" that feature keys on the recording but is typically performed as a guitar-bass-drums power trio.
Plus, the rock-guitar legend recalls the Seattle grunge scene, talks 6- and 12-string acoustics in big arrangements, how she wrote the iconic introduction to "Crazy on You," and playing "Stairway to Heaven" for Led Zeppelin.
Nancy Wilson on Playing "Stairway" for Led Zeppelin
The progressive metalcore thrasher remembers how spite for a high school classmate triggered his guitar journey and the song's difficult playing continues pushing him to write challenging songs.
Proceeds from the sale of the pickup will be donated to further enhance research and education in hearing loss.
From classic cars to vintage guitars, short-lived designs are often the most sought-after. Sheptone goes the distance to achieve true vintage tone with the introduction of the Miles single coil bass pickup. Designed to accurately reproduce the tone of the milestone Fender 1951 Precision Bass, Sheptone's Miles bass pickup stays true to the original design specifications and can transform a contemporary bass guitar into a living legend.
Sheptone's construction begins with vintage-accurate fiberboard flatwork and Alnico 5 magnets for excellent performance. Plain enamel magnet wire, 42 AWG, is scatterwound for great harmonics and string-wrapped to protect the single coil. Average resistance is 7.32kohms.
The single-coil design of the Miles bass pickup has a dynamic response that delivers classic, smooth sound with a fat, yet tight, low-end. By simply rolling back the tone, players can walk right into a classic upright bass riff. This is vintage bass tone at its finest.
Introducing the Miles Pickup from Sheptone
The Sheptone Miles 1951 P Bass Pickup Demo by Steve Cook
The single-coil design of the Miles bass pickup has a dynamic response that delivers classic, smooth sound with a fat, yet tight, low-end. By simply rolling back the tone, players can walk right into a classic upright bass riff. This is vintage bass tone at its finest.
While the classic P Bass served as the true-vintage inspiration for the Miles bass pickup, a special cause is the true heart and soul of Sheptone's design. The son of Nashville bassist Steve Cook, 4-year-old Miles, was diagnosed with hearing loss and recently received life-changing cochlear implants. Miles and the Cook family are staying the course and overcoming obstacles on their journey, and Sheptone wants to help others do the same. Proceeds from the sale of the namesake Miles bass pickup will be donated to further enhance research and education in hearing loss.

$109.00 USD
For more information:
Sheptone
Enter for your chance to win a Michael Kelly Guitars Patriot Instinct Bold, Custom Collection in a Partial Eclipse finish.