This collection includes the Limited Edition Suona Stratocaster Thinline, the Limited Edition Suona Telecaster Thinline, and the Limited Edition Suona Jazz Bass Thinline.
Designed to inspire and captivate, the Limited Edition Suona models are intended to offer a refined elegance that echoes the masterful work of a legendary artisan. An adaptation of traditional Fender design, its warm, resonant tones and unmatched beauty are a testament to the dedication and artistry poured into every detail.
Here's what's different about this series:
Adaptation of traditional Fender design
Warm, resonant tones

Custom Shop '69 and Custom-Designed Suona Strat® Pickups
Custom Shop Twisted Tele® and Custom-Designed Suona Tele® Pickups
Custom-Designed Suona Jazz Bass® Pickups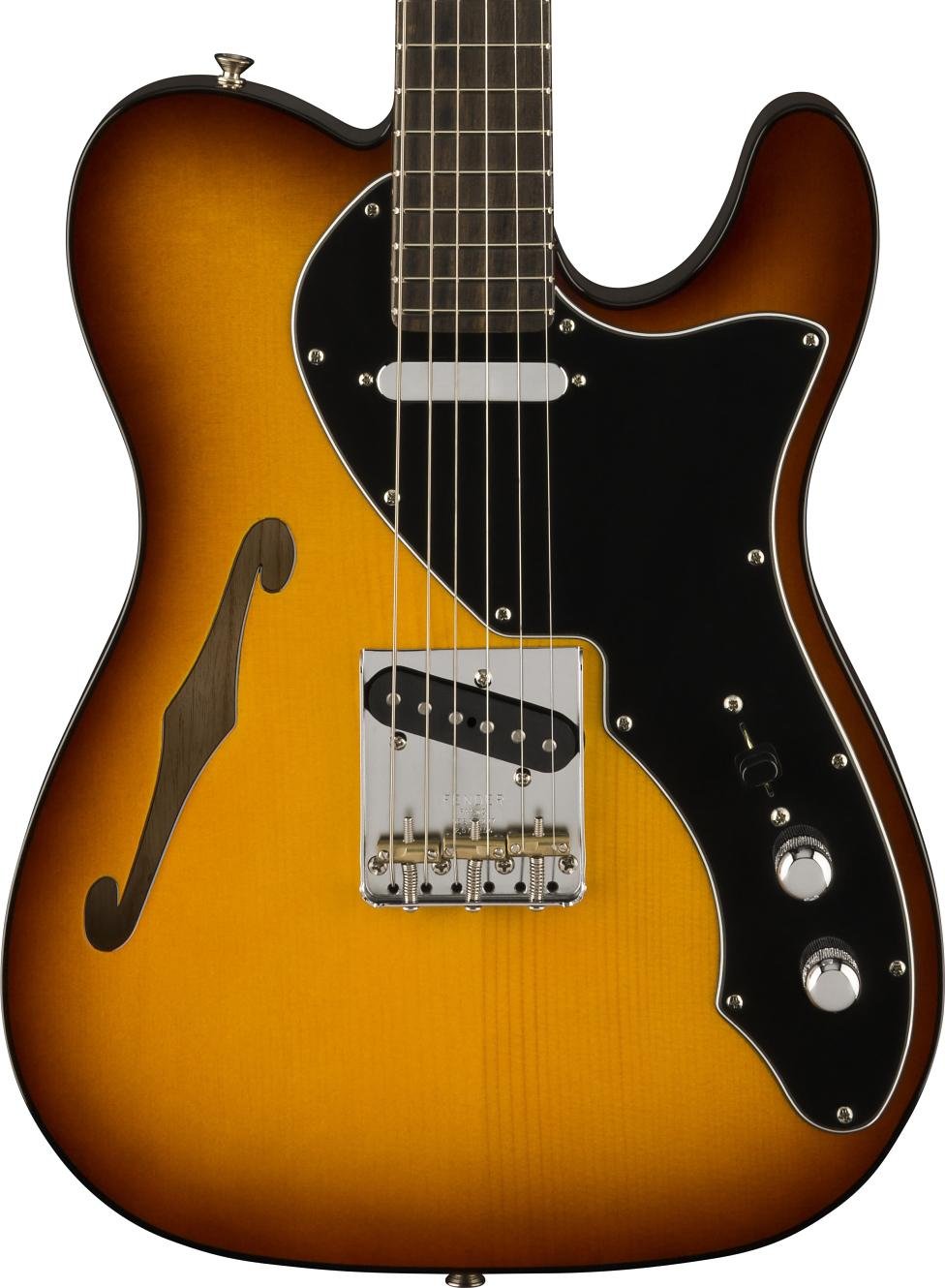 Fender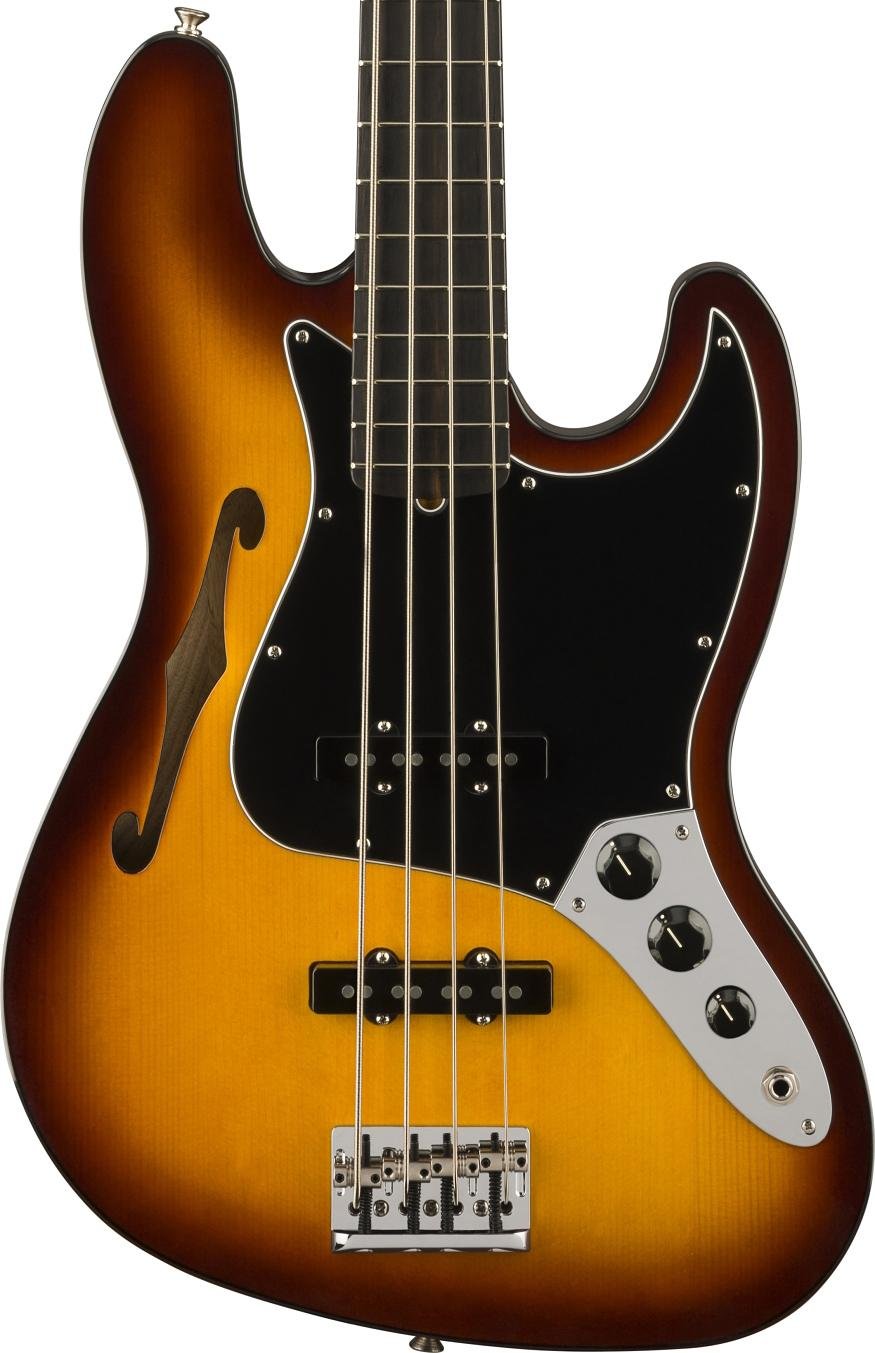 Fender
The Limited Suona Collection | Fender
See how this badass Texan uses her signature Epiphone Sheratons to create pop-music earworms that get wrapped in barbed wire thanks to a "patent-pending," 3-pedal-combination trademark.
Emily Wolfe doesn't play guitar. She bends it to her will. Like a bronco buster taming a stallion, she saddles up on her signature Sheratons and lets it rip. Much of the magic felt and heard on her self-titled debut was pure adrenaline hitting your speaker. Her second album, 2021's Outlier, incorporated Wolfe's love of Motown grooves and modern-pop stickiness, both of which refreshed her songwriting with backdrops of more polished, waxy tones, but tumbleweed oscillation, helicopter, square-wave chops, and barbed-wire fuzz are still howls welcomed in this Wolfe pack.
"When I go up there, something could hit me at any point—an emotion that I felt 10 years ago could come out in a bend on the low E. There's so much rawness [to classic rock]; the edges are not perfect, but there's a magic in that," Wolfe told PG in 2021.
But how do you marry earworm poppiness with a gunslinger's approach to guitar?
"Some of my rock friends say, 'Pop isn't relevant,' and I'm like, 'What are you talking about—it's everywhere!' It's so sticky for people, and that's really fascinating to me. I want my music to have that quality … but also the realness of a raw guitar tone. [With Outlier] I wanted to make something that would be classic 10, 20, 30 years from now," she explained in our profile. "That was the goal, and I think we achieved it."
Before Wolfe's headlining show at Nashville's Blue Room (located inside the Third Man Records compound),
PG
's Chris Kies joined the shredding songwriter onstage to talk shop. The resulting conversation covers the development behind her Epiphone Sheraton, how a boring night in Cleveland spent with her "Chex-mix-crushing, brother-in-tone" bass player Evan Nicholson convinced her to play a doubleneck guitar, and we discover what three pedals work together to make what she describes as "the sound that belongs to me."
Brought to you by D'Addario XPND.
Signature Steed
Emily Wolfe's first "real" guitar was an Epiphone Sheraton. (She really wanted a Gibson ES-355 like blues hero B.B. King, but Wolfe was just a strapped college student.) That first experience with a semi-hollowbody guitar had a seminal influence on her guitar-playing journey, contributing to her singular sound. "Every decision I made with my gear was as a result of building my tone around that first Sheraton." Now honored with a signature Epiphone Sheraton of her own, the Stealth is a modern take on John Lee Hooker's longtime favored ride. It has a layered maple body with a mahogany neck, signature bolt inlays, a Tune-o-matic bridge, CTS pots, two volume controls and one tone control, and Epiphone's Alnico Classic PRO pickups. She discreetly put her John Hancock on the back of the headstock. She uses Ernie Ball Slinky Cobalt strings (.010–.046) and strikes them with Dunlop Tortex Jazz III .88 mm picks. This one stays in either standard or drop-D tunings.


The White Wolfe
The "White Walker" edition of Emily's signature Stealth features all the same specs of the black model aside from the aged bone white finish. This one does take a custom set of Slinkys (.012–.060) and holds a Wolfe-tweaked open-C tuning (C–G–C–E–A–D).
You could win your own if you enter this giveaway before October 20, 2023. Click here to enter
Double Trouble
How does a boring night in a Cleveland hotel lead to Wolfe owning a doubleneck Epiphone? Well, her bass player (and best friend) Evan Nicholson wondered if Wolfe had ever tried a doubleneck guitar. She said 'no,' and so started the quest to prove that women can rock a pair of necks, too! She acquired this Epiphone G-1275 and uses it mainly for her cover of T. Rex's "The Slider" by using the lower 6-string (in drop-C) for the rhythm parts and the 12-string for the song's solo. The two necks tuned separately allow her to put both guitar parts under her hands with one guitar.
Dancing with the DeVille
Saying an amp has "no character" might be seen as negative by some, but Wolfe prefers the "middle-of-the-road" base tone in this Fender Hot Rod DeVille 410 III. It packs plenty of volume, and Wolfe adds, "I get to pick what character I want with my pedals."
Emily Wolfe's Pedalboard
"If I get a new piece of gear, I have to figure out every single part of it before I can really use it," Wolfe confessed to PG while talking about Outlier. That sensible curiosity has led her to dialing in precise parameters on the pedals and creating colossal combos with singular Wolfe gain staging. Her silver bullet is the EarthQuaker Devices Tentacle analog octave-up pedal, running into a Fulltone OCD, and an MXR Six Band EQ. She claimed to PG, "That's the sound that belongs to me." The sequence creates a "crazy fuzztone" from the overdrive. Then she uses the EQ to reduce some of the lows and boost the mids for a sound she says will get her guitar to cut through any mix.
Other spices in the rack include an Analogman King of Tone, an EarthQuaker Devices Dirt Transmitter fuzz, an Ibanez Analog Delay Mini, an Origin Effects Cali76 Compact Deluxe, a Walrus Audio Julia chorus/vibrato, and a Strymon Flint. The Empress Buffer puts the Delay Mini and Flint outside the RJM Mastermind PBC's control.
But Wait... There's More!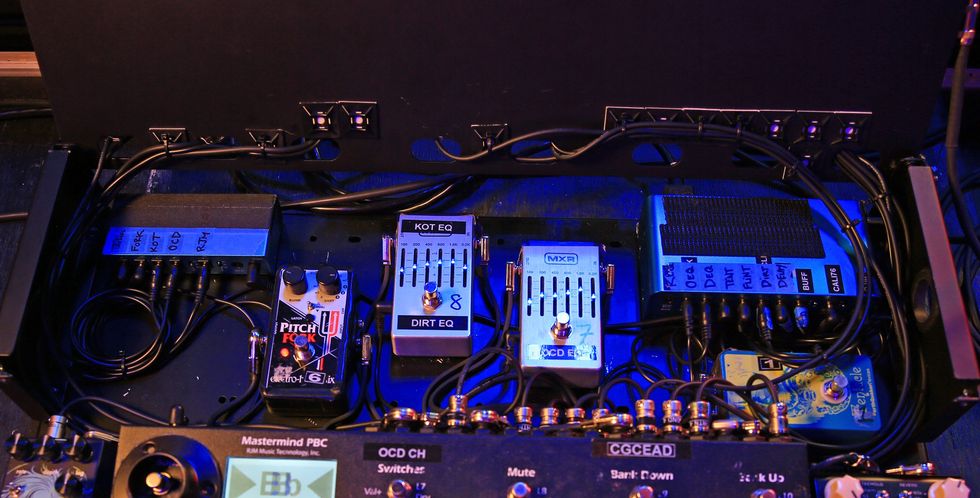 Underneath the hood, Wolfe has tucked in a pair of MXR M109S Six Band EQ pedals (one hitting the King of Tone and the other hitting the OCD), an Electro-Harmonix Pitch Fork, an EarthQuaker Devices Tentacle analog octave up, and a couple of Strymon power supplies (Ojai and Zuma).
Pedalmania 2023: Week #4
Another week, another 5 chances to win! Enter here for your chance to win pedals from Fishman, Mojotone, Revv Amps, Walrus Audio, or Voodoo Lab!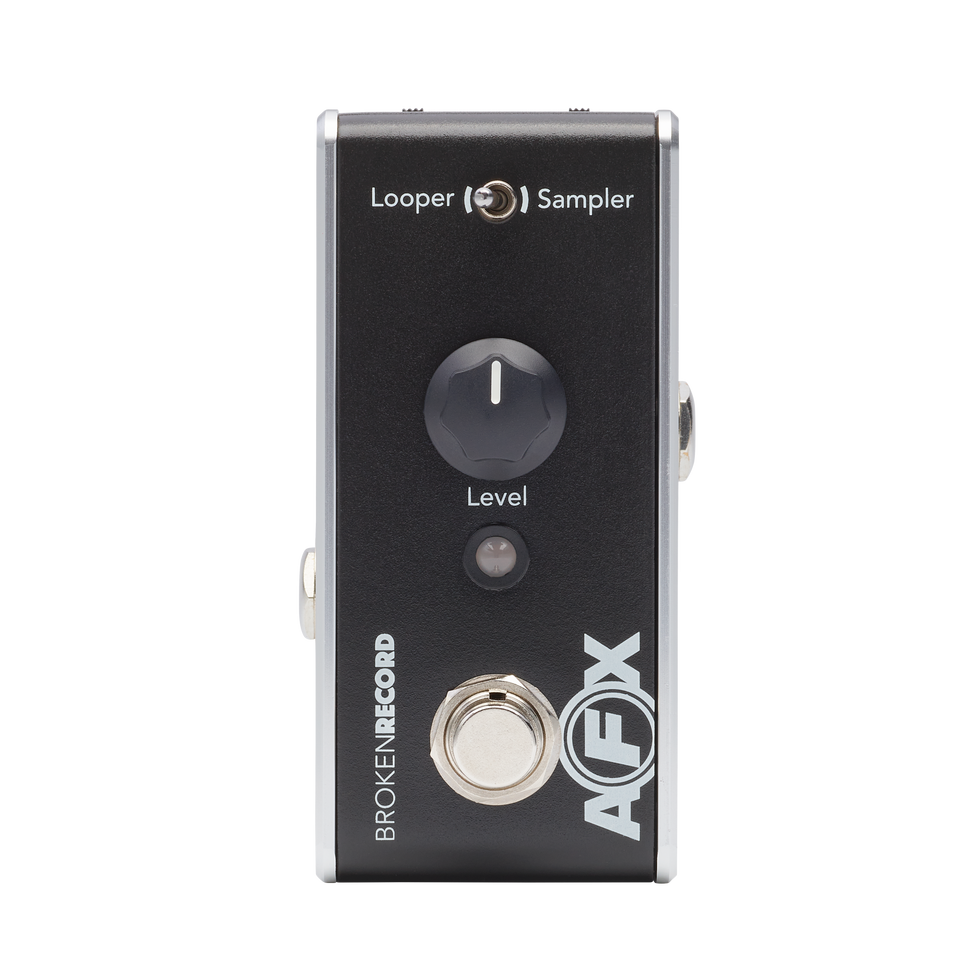 Looper and Sampler Pedal with 6 Minutes of High-Quality Audio Recording!

AFX Broken Record packs high-quality audio looping and sampling into a tiny, yet deceptively-simple, stompbox package. It features intuitive one-button operation, endless overdub capability, and offers easy transfer to a computer.

Featuring high-quality 24-bit, 44.1kHz audio recording of up to 6 minutes, AFX Broken Record let's you capture cool ideas and build on them, or even play along with audio you pre-load from a computer. Built-in memory will retain what you recorded even after the power is disconnected. So, you can unplug at your gig and move your loop to your computer later. This also means that this backing track will be ready and waiting for you to play at your next performance.

A free AFX PhraseTransfer app is downloadable at fishman.com
Fishman
BB-OD: Smooth transparent gain from boost to overdrive. 3 way voicing switch lets you dial in the articulation from this British born modern legend. The BB-OD is one of four all new pedal kits by Mojotone. Inspired by the classics, created by the leaders in gear kits, and delivered in an easy-to-assemble package. Pre-populated circuit boards minimize soldering and make these DIY kits fast and easy. Unleash your creativity and experiment with the internal diode clipping switches that set our pedal kits apart.
Mojotone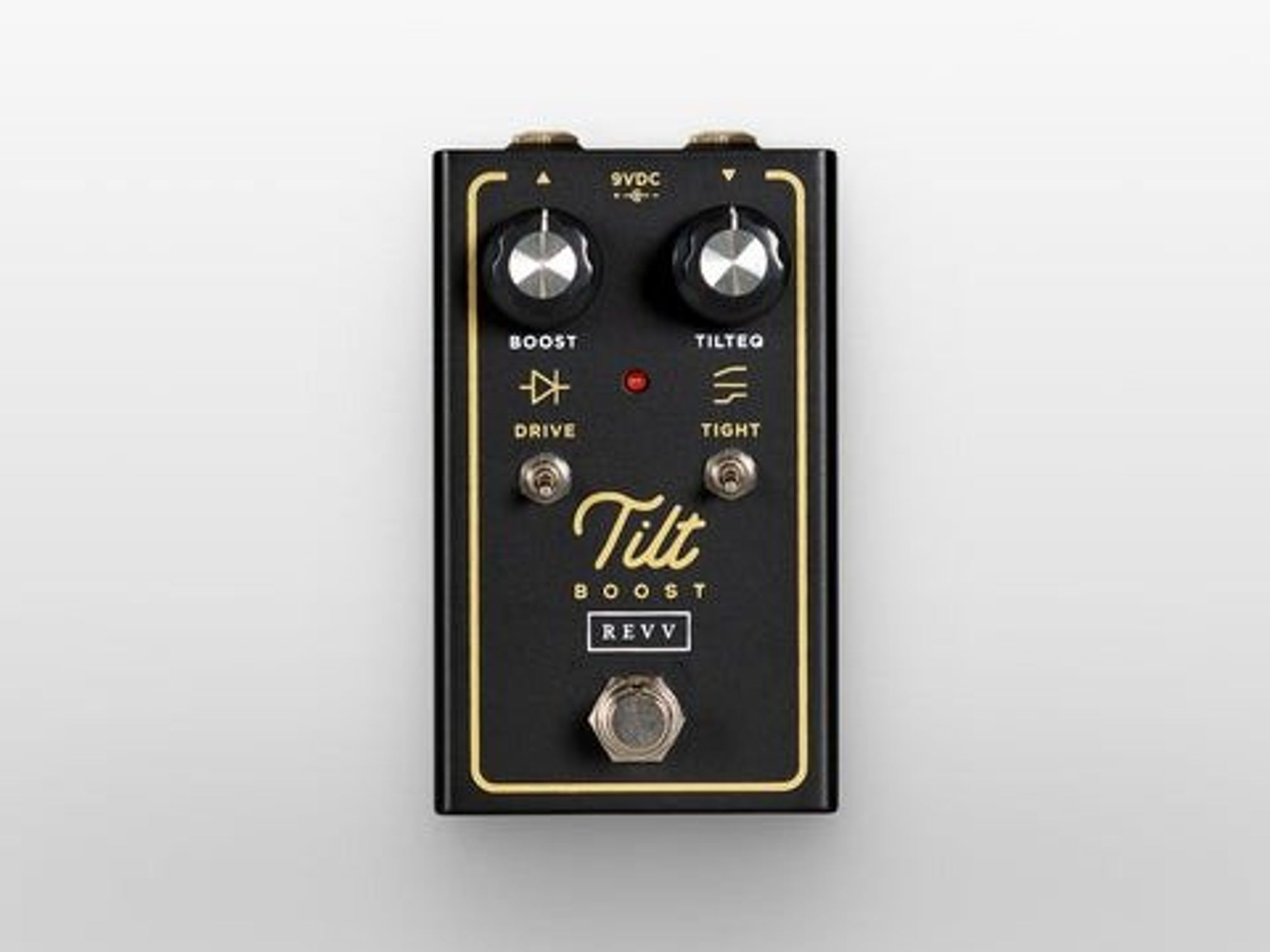 Pulled directly from Tilt Overdrive's Boost circuit, Tilt Boost provides up to 20dB of organic level with an intuitive Tilt EQ control that simultaneously increases treble & decreases bass (or vice versa). This allows you to instantly fine tune your feel & tone, & combined with the strategic frequency choices of the independent 3-position Tight Switch, means you can use one knob to add fidelity, recover body, or maintain exact control of low end build up when adding level for an authentically clean boost without bloat. A new Drive Switch allows you to engage a fat overdriven tone reminiscent of Shawn's favorite setting on the full-sized Tilt Overdrive. Perfect for putting your solo over the top, or giving you a bolder, brasher always-on voice.
Revv
The Slöer Stereo Ambient Reverb builds on our popular Slö lineup but adds two additional reverb algorithms, stereo width control, two additional modulation wave shapes, and the ability to control the sample rate. Now you can create immersive, lush, modulated, sleepy, and ambient soundscapes with more width and depth than ever before.

Save your favorite dreamscapes with three onboard presets by simultaneously pressing and holding down on the bypass and sustain switches. Scroll through them by simultaneously pressing and releasing bypass and sustain.

The five-way rotary dial allows five different reverb modes - the three you know and love from the Slö: Dark (Lower Octave), Rise (Ambient Swell), and Dream (Latching Pad); and the addition of two new modes: Rain (Delay Tap Diffusion) and Light (High Octave Shimmer). Secondary functions on the dial change between five different wave shapes for modulation on the reverb trail.

Combine deep modulation, long washy trails, and an immersive stereo field to experience Slöer.
Walrus Audio
Setting new benchmarks for clean, noiseless power, Pedal Power® 3 PLUS ensures all pedal types, from vintage favorites to modern DSP effects, sound and perform their best. Pedal Power is the industry standard, delivering legendary performance and reliability that professional musicians worldwide trust to power their tone.

• 500mA from every output
• Compatible with battery-operated & high-current DSP pedals
• Audiophile-quality power, even under poor AC line conditions
• X-LINK expansion ports allow up to 16 additional outs with Pedal Power X4 & X8
• 100-240VAC operation for international touring
Voodoo Lab