Learn to focus your accents and make your lines more listenable.
John Bohlinger gives his best advice to aspiring musicians. Spoiler: Wear those earplugs!
If you knew the amount of chaos, heartbreak, and frustration in my white-knuckled career, you'd understand my reluctance to advise anyone on being a professional musician. That said, I've been doing this music scam for a long time and, much to my surprise, it's actually worked out pretty well. I make a decent living and have a lot of fun. If you're an aspiring musician, here are a few tips that might help you toward that modest goal.
1. When you play with a new drummer, or a new song, or a weird environment that makes the groove not feel natural, try standing with your foot actually touching the face of the kick-drum head. When you feel every kick with your foot, you can't help but know exactly where the drummer is putting the groove. Warning: This makes some territorial drummers uncomfortable, and it's dangerously loud … which segues nicely to tip #2.
2. Until stem cell magic or an Apple implant can fix hearing damage, it's up to you to protect your ears. Be careful or wind up like that poor dude in Sound of Metal. Two musicians I work with regularly have developed tinnitus so bad that their ears are constantly ringing, so much that they can't sleep and are dealing with depression. To try and avoid this, set your tone without earplugs pre-gig, then put in earplugs and leave them in the entire time. What I actually do is set my tone, put in earplugs until I suspect I have turd tone, then I take out my non-drummer-side plug, tweak on the fly, then plug back up and gig. The problem is, even that short amount of time can do real damage.
I purchased two wildly expensive sets of molded plugs and five different pairs of mildly expensive plugs, but ultimately the cheap foam plugs work best for me. They're comfortable, easy to get in and out, effective, and I always lose the expensive ones. (I can't have nice things.) Every pair of pants I own has used but clean-ish, mismatched plugs in their pockets that have gone through the wash. I not only wear earplugs on gigs, but whenever I'm in a loud environment, like walking down Broadway in Nashville.
"Two musicians I work with regularly have developed tinnitus so bad that their ears are constantly ringing, so much that they can't sleep."
I'm a hypocrite with many guitars, amps, and piles of pedals. If I played as much as I looked at gear, I'd be a better player, have more money, and maybe be happier. For 2021, I'm not buying anything * in hopes of building a closer relationship with the gear I have. Love is love; you gotta put in the time to get to know your object of affection. (*Disclaimer: If somebody has a bargain, '50s- era Les Paul with PAFs, hit me up and make me break my promise.)
3. More gear will not make you sound better—playing will. Compare Bonamassa on a new Epiphone and a vintage 'burst and they both sound amazing, regardless of the amp.
4. Pay attention to your body when you play. I recently noticed that I hold my pick way too tight. That tension jacks with the groove and my body. I used to think Stevie Ray Vaughan was just bludgeoning his guitar with his right hand all the time. Watch his old videos and you'll see he sledgehammers that Strat at times, but for the most part, he is loose, smooth, and effortless. Loosening up that death grip helps mitigate hand cramps, tight shoulders, and neck pain after long gigs.
5. Try learning something new every month. If you're an electric player who always uses a pick, make yourself learn a Tommy Emmanuel arrangement, like "One Mint Julep" from his PG Riff Rundown. If acoustic is your thing, take a course in Angus 101 and learn his "Highway to Hell" solo. Notice his tone (not that dirty). Notice his notes (not that fast). Notice how hard it rocks (nothing rocks harder). If you've never tried slide, check out my PG lessons. It's remarkably easy. Music always has new mysteries if you dig. You dig?
6. Music isn't a competition, but if it were, the person who has the most fun while playing should win. Get comfortable with the fact that we all have limitations, but they're only weaknesses if we let them be. Miles Davis couldn't play as fast as Coltrane, so he went the other way, playing slow, melodic lines surrounded by space. In doing so, he steered jazz away from bebop toward cool. Django had finger injuries that led him to develop a style with long glissandos and a melodic swing that changed guitar music forever. Enjoy the journey as you find your own way.
7. They say the secret to success in the arts is sincerity. If you can fake that, you got it made. I maintain you fake it long enough, and it becomes authentic. We're all making this up as we go.
Classy custom-rod looks and an overflowing buffet of tones set this straight-ahead Jag' apart.
Copious tone options. Substantial, comfortable neck. High quality for the price.
No vibrato. Clarity and headroom comes at the expense of some generic tones.
4
4
5
5
It's funny to think the Jaguar was once derided by alleged guitar experts and collectors. For all its quirks, a good Jag' is a beautiful playing guitar in just about any incarnation—thanks largely to its short scale and curvaceous shape. In a way, the Squier Contemporary Jaguar HH-ST distills that recipe to its essence.
There are no synchronized floating tremolos here, nor any bass-cut switches or a second set of volume and tone controls. And while the Squier Contemporary Jaguar HH-ST has scads of tone-shaping options in the form of coil-split and series/parallel switches, this Jag' feels built to deliver the most uncluttered and elemental playing experience possible: a nice neck, a comfortable body, and accessible, intuitive controls that deliver tone colors by the bucketload.
Bridge single/split coil setting followed by bridge humbucker setting, followed by neck single/split coil setting and then neck humbucker setting.
Subsequent bridge/middle combined settings are in series and then parallel.
Stripped Down, Sped Up, and Tripped Out
If the previous paragraph suggests that I crave a less complicated Jaguar, you'd be mistaken. The Jaguar/Jazzmaster vibrato is among my biggest guitar-playing crutches, and picking up a Jag' without one leaves me feeling a bit exposed. What offsets that fear, if you'll pardon the pun, is how otherwise familiar and cozy this guitar will feel to any Jaguar fan. Those comfortable proportions are intact and, in fact, enhanced by some very thoughtful design decisions.
The satin roasted maple neck, for instance, feels uncannily like a nice broken-in vintage example. It also has a chunkier profile. Fender generically calls the neck a "C" profile. But it's much fatter than the Squier C necks I've encountered in recent memory—many of which felt pretty slim. This C-shape variant is a handful in just the right way—evoking fatter late-'50s and early-'60s Fender necks—but it still feels super-fast (one of the real joys of short scale Fenders). If you like Fender's curvier 9.5" and vintage-style 7.25" fretboard radii, it has a way of making you notice the flatter 12" feels a lot less flat. The carved heel facilitates unimpeded access to the 22nd fret and the rest of the highest notes. And the fretboard edges, while not super-rounded, are contoured enough to be discernably more comfortable than most affordable electrics.
The fretboard is cut from Indian laurel. It's grayer in hue than rosewood—an effect that's offset a bit by the slick, glossy black pickguard with silver overlay—though I suspect a few years of continuous playing will darken the laurel in a lovely way. The jumbo frets are great for bends, obviously. But they can also pull notes out of pitch if you have a heavy touch, use irregular pressure from finger to finger, or tend to really squeeze chords—a phenomenon that sometimes seems exacerbated on short-scale instruments. On the whole, however, the neck is a lovely thing: the kind I would happily swap out to another guitar if I didn't like the rest of the whole package so much.
The "C" shape variant is a handful in just the right way—evoking fatter late-'50s and early-'60s Fender necks.
Pickup Options Open the Field
Two Squier alnico SQR humbuckers are the engines that generate the Jaguar HH-ST's many tones. But this deviation from Jaguar tradition is not as transgressive as it seems on the surface, thanks to coil-split wiring that turns the humbuckers into single-coils. The single-coil sounds are zingy in the bridge unit and smooth and bell-like in the neck position. Both are a bit cleaner with less bite than a vintage Jaguar's. To my ear, the HH-ST's single-coil tones evoke a Stratocaster's clear, concise snappiness as much as anything. But coaxing garage, jangly, and surfy sounds was pretty easy to accomplish with a touch of amp or pedal gain and reverb. And in general, these pickups seemed voiced for pedal enthusiasts, with lots of headroom and a relatively even harmonic profile that lets effects bloom with more clarity.
In humbucking mode, the SQR pickups sound distinctly fatter but retain the sweetness and agreeable evenness of the single-coil settings. The bridge pickup, which registers a surprisingly hot resistance of 15.3k ohms, still communicates some of a Stratocaster's spanky cleanliness in humbucker mode, while the neck humbucker, at a more modest 10k ohms, is sweet, relatively touch-sensitive, and capable of clean to mildly crunchy dynamics—producing some of my favorite tones from the guitar. Middle position humbucking tones are sweet, too, though I typically found the series setting a bit muddy and preferred the parallel mode. On the whole, the humbuckers are less growly than, say, a vintage PAF. But in achieving a nice balance between warm, clear, and not-too-wooly or dirty, they end up inhabiting a pretty unique tone zone that leaves lots of room for coloration from playing dynamics and pedals.
The Verdict
Short scale guitars may not be your bag. But the comfort of the Squier Contemporary Jaguar HH-ST's proportions, and the effectiveness with which it works as a platform for humbuckers, validates the integrity of Leo Fender's basic design. The substantial neck is a treat and feels like it was borrowed from a more expensive instrument. And while vintage Fenderphiles may fault the SQR humbuckers for sounding relatively generic, they're capable of an uncluttered sweetness that make a great platform for exploring effects—particularly when you factor in the versatility of coil splitting. At less than $450 bucks, the Squier Contemporary Jaguar HH-ST qualifies as a steal. Heck, the combination of price, quality, and versatility is almost enough to make me forget there's no vibrato.
Steel Panther's Satchel tells Dweezil Zappa about how his pursuit of Eddie's mods turned his own early axes to cordwood.
The 30-episode podcast will be available exclusively through dweezilzappa.com and packages will include listening parties, Q&A sessions, "Brown Sound" bonus episodes, custom Axe-FX, Helix, and Kemper presets, a 1-year subscription to Premier Guitar, and much more.
A portion of the proceeds will go to benefit Mr. Holland's Opus Foundation and Feeding America.
Presented by Walrus Audio
The legendary distortion is revived after being shelved for 30 years with a buffered circuit, noise-floor reduction, and expanding the maximum level by 3 dB.
BOSS announces the HM-2W Heavy Metal, the latest in the growing lineup of Waza Craft pedals that recreate classic BOSS designs with detailed craftsmanship, premium components, and extended features. Based on the HM-2 Heavy Metal pedal from the 1980s, the HM-2W delivers the true analog sound of the original in all its glory, coupled with numerous modern refinements for enhanced performance.
Produced from 1983 to 1991, the BOSS HM-2 Heavy Metal is a legend in the history of distortion pedals. Its signature "chainsaw tone" with all knobs maxed is the defining voice of Swedish death metal music, and the slightly milder sides of its personality can be heard on tracks from mainstream to shoegaze. Over time, the pedal's uniquely aggressive sound and focused midrange have become highly sought after by players around the world. After years of requests from hardcore HM-2 fans, BOSS is pleased to reintroduce the iconic stomp three decades later in a special Waza Craft edition.
Like all Waza Craft models, the HM-2W features selectable modes for different sounds. BOSS engineers have also added audio performance improvements without affecting the original tone, including reducing the noise floor and expanding the maximum level by 3 dB. The HM-2W features a premium Waza Craft buffer as well, providing improved sound when the pedal is bypassed.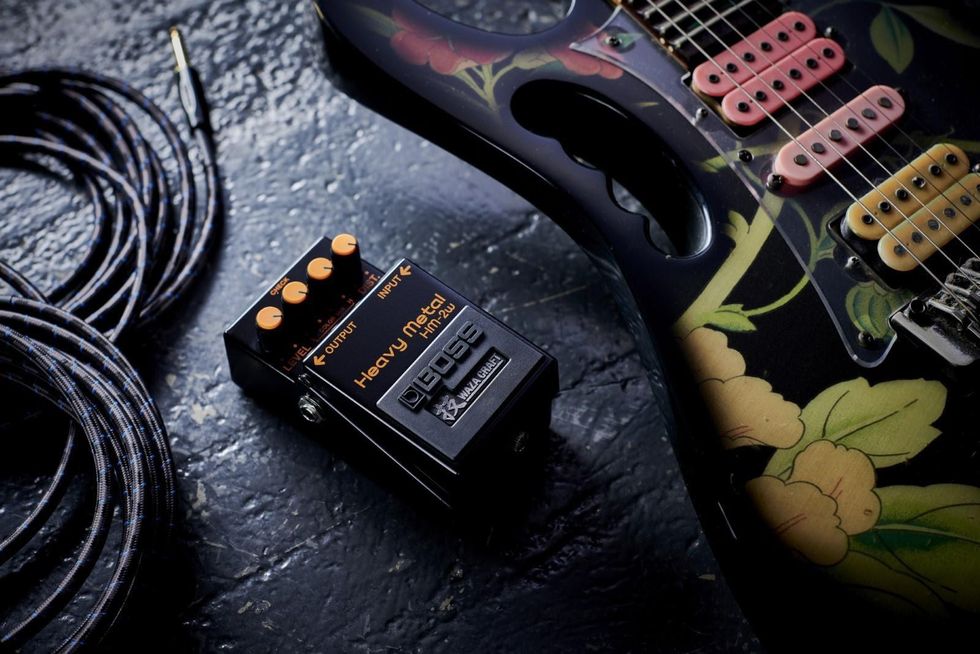 When the HM-2W is in Standard mode, the tone and response of the original HM-2 pedal are reproduced with 100-percent authenticity. Cranking every knob all the way up delivers the genuine sound of Swedish death metal, and users can conjure a wide range of tones for other styles with the sensitive distortion and color controls.
The HM-2W's Custom mode offers a similar sound character to Standard mode, but with just a little more of everything. The drive stage has more gain and includes more of the fundamental guitar sound for extra attack and sharpness. In addition, the low and high-mid characteristics have been tweaked for increased fullness and definition.
Along with the vintage HM-2 sound, BOSS has captured the original pedal's distinctive orange and black appearance, right down to the size and position of lettering on the panel. And while the mode switch on most Waza Craft pedals is positioned on the face, it's been moved to the top on the HM-2W to preserve the control layout from the HM-2.
BOSS HM 2W Heavy Metal - INTRO
A Metal Legend ReturnsProduced from 1983 to 1991, the BOSS HM-2 Heavy Metal is a true legend in the history of distortion pedals. Its signature "chainsaw ton...

The BOSS HM-2W Heavy Metal will be available in the U.S. in August 2021 for $179.99.* To learn more about the HM-2W Heavy Metal and other pedals in the Waza Craft series, visit www.boss.info.
Fiery Hiwatts (literally), an aluminum bari, and a common drive forge the tonal backbone for the Norwegian Grammy-winning metal mystic brewing sounds somewhere between Melvins' metallic chug, Neurosis' pulsing grind, and Swans' celestial moods.
In this episode, founding Norwegian metal visionary Kjetil Nernes details why he switched to a tuned-up, Electrical Guitar Company baritone, why he runs more Hiwatts than Pete at Leeds (and how they've caught fire … multiple times), and explains how a big-box-store drive sharpens his massive tone.
[Brought to you by D'Addario XL Strings: http://ddar.io/XL.RR]
Custom Electrical Guitar Company Baritone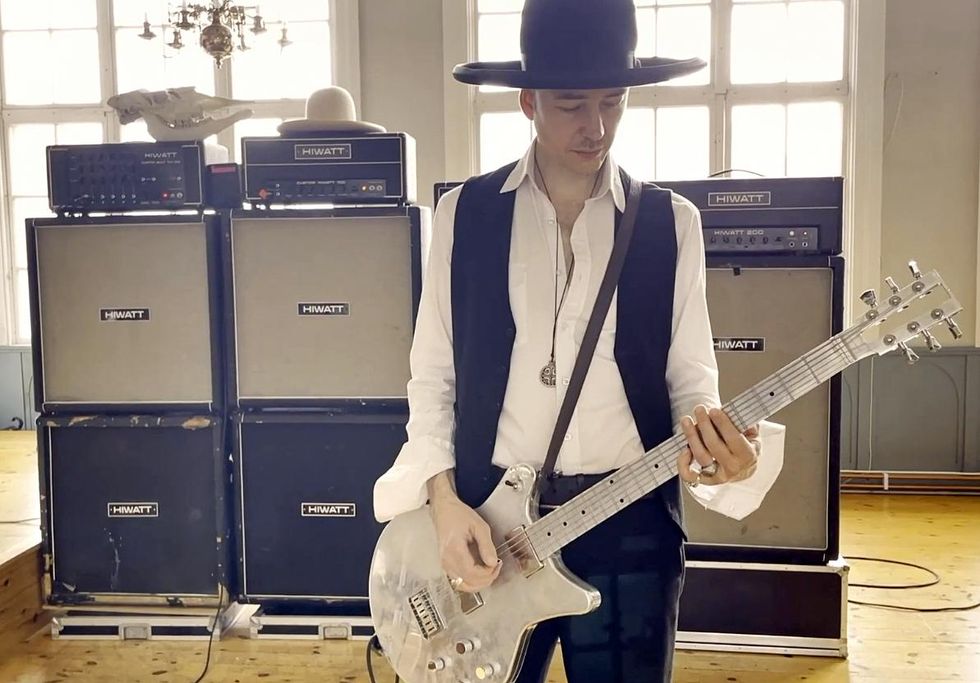 Årabrot artistic leader Kjetil Nernes owns several custom Electrical Guitar Company instruments, but the one he's been using the most currently is EGC's baritone model. He tunes it to drop C and says the bari mixes well with bandmate Karin Park's Moog bass analog synth. He employs a custom set of Black Harbor strings (.012–.060).
Kjetil Nernes' Pedalboard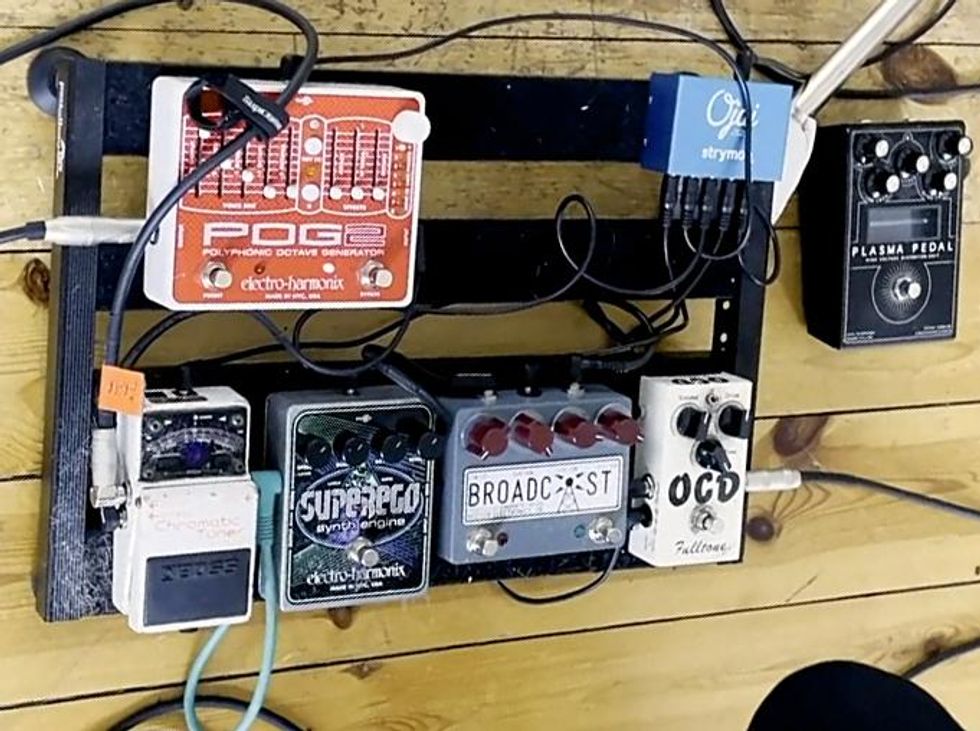 "I actually have a pedalboard these days, which is remarkable for a guitar player like me," says Nernes. "For years, I was only using the Fulltone OCD and it's became the backbone of Årabrot's sound."
He still prefers the OCD for its "sharpening" touch to his metallic EGC tones. The Electro-Harmonix POG2 hits his Hiwatt (Custom 200 DR201 bass amps) for an added signal boost. (As you can see, he's dialed out most of the octave effect.) His second Electro-Harmonix stomp is the Superego, but it's used simply as a glorified synth-y reverb to cover material on 2021's Norwegian Gothic. Heavier, chunkier, repulsive gain happens when the Hudson Electronics Broadcast runs into the Fulltone OCD. And while it wasn't plugged in for the Rundown, Nernes enjoys getting filthy with the Gamechanger Audio Plasma Pedal. Everything is powered by the Strymon Ojai.
Hiwatts Galore!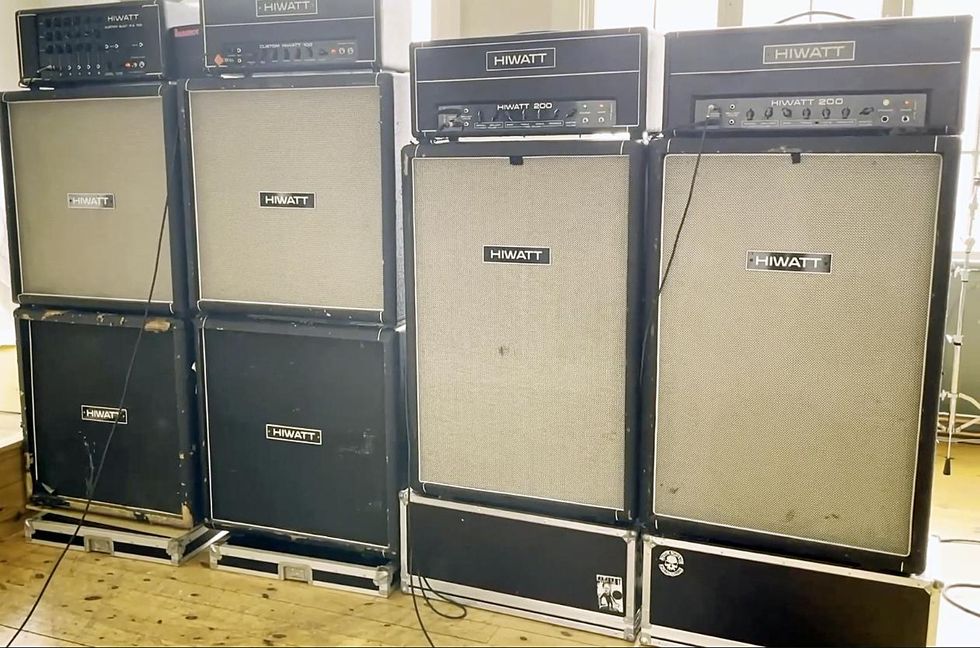 Using more Hiwatts than Pete at Leeds, Nernes blends vintage guitar heads with modern bass pillars. The guitar stacks on the left are comprised of two 1970s Hiwatt models—a DR112 Custom Built PA 100 head (left) and a venerable Custom 100 DR103. Both heads run through their own pair of Hiwatt 4x12 cabinets: one is loaded with Celestions and the other with Fanes. Nernes likes the blend of speakers with the guitar heads because he feels the Celestions add a current complement to his monstrous roar. The right half of the British-voiced battalion features Hiwatt Custom 200 DR201 (KT88) heads matched with Hiwatt SE115410F cabinets loaded with four 10" and one 15" Fane Sovereign speakers.