A light and tight bass powerhouse with an impressive design pedigree.
When David Nordschow has produced bass gear, the results have historically been significant. The design veteran's credits include stints with SWR and Eden Electronics—both hugely respected names in the bass universe. Now manufacturing under his DNA brand, each chapter of Nordschow's bass-amp legacy and 40-plus years of developer knowledge are built into each one of his meticulously crafted amps and cabinets. We recently looked at the class-D DNA-800, a small but mighty 800-watt head with loads of personality and taste.

The DNA of It All
The DNA-800 is a small bass head, but it's not in the micro family. I'd say it's more like a micro amp's beefy cousin, since it maintains some size yet only weighs a hair under 5 pounds. I appreciate that the DNA-800 is rackmountable, since I like to properly protect an investment as well as keep my load light.
In easing this control up, my Jazz became more robust and sounded lively and active without added volume.
The front panel of the DNA-800 is straightforward: gain, shape, a 4-band EQ, a 2-knob compressor section, and master volume—with pull switches controlling even more under the hood. The gain control doubles as an input pad, the shape control can be activated to post-DI when pulled, and pulling the threshold control disengages the compressor. The knobs are tight and precise, and the six LED indicators tucked under the knobs are super bright, which we like for the dark stages.
The back panel is a lot busier than the front. The DNA-800 sports two Speakon speaker connections and a 1/4" speaker out. There is a DI with level control as well as an auxiliary input with level control. (I was a little baffled that the DNA-800 sports RCA connectors for the auxiliary, since I suspect most folks have a lot more 1/8" cables lying around than RCA cables.)
The back panel rounds out with a footswitch in, a slave in that allows a player to use the DNA to power an external preamp, effects send and returns, a tuner in, and, lastly, a secondary instrument input. The additional input can be handy in keeping the front panel clean when using wireless units and other rack effects. The only downside I see to this is if one needs to unplug or bypass a troubled unit in a hurry.

DNA-Mite!
When it was time to hear the DNA-800, I plugged it into an Eden D410XLT (the irony is not lost here) and employed both a Fender '75 Jazz reissue and a fretless Music Man StingRay. I started out with the J, the amp's shape control off, and the EQ dials set at 12 o'clock, which usually means at zero. The controls, however, are labeled 0 to 10, which can be a little confusing. There is a cut and boost for each EQ control, so don't be misled: Straight up means inactive.
Ratings
Pros:
Great sounding, portable, and efficient.
Cons:
A headphone out would be nice. Controls could be numbered/labeled differently for easier reference.
Tones:


Ease of Use:


Build/Design:


Value:


Street:
$749
David Nordschow Amplification DNA-800
dnaamps.com
With everything set flat, I was able to get a true representation of my passive Jazz, which is the mark of a great amp. There was no tone coloration with the DNA—yet. The shape knob is the secret sauce here. When I rolled it up, there was a subtle mid roll-off with a bass boost. It's essentially a very detailed "smile" on an EQ that brings out subtleties of the tone. In easing this control up, my Jazz became more robust and sounded lively and active without added volume. The clarity was fantastic. I then eased on the compressor by setting the threshold and ratio about halfway, and found a vibrant slap tone. Somehow my bass sounded more alive, rich, and articulate. And I hadn't even touched the EQ yet.

Speaking of EQ, a little goes a long way with the DNA-800. Adjusting the controls just a couple notches in either direction, the cut and boost were pretty significant. I found a very nice setting with both the bass and high-mid controls up one notch. Was I Marcus Miller? In my mind I was. Every nuance of the bass could be heard. Another great feature of the amp is that the EQ can be toggled on and off via the optional footswitch, which can add another dimension to your playing, approach to the bass, and overall tone.

The DNA-800 was just as at home with the fretless StingRay. The shape control was its friend here as well, but not as much adjustment was needed. The shape circuit was almost like an exciter at a lower setting—just enough to miss if it's not on. Again, the EQ controls are effective, but with any and all bass, too much can muddy the waters and leave your tone fighting with lower frequencies and not being heard with the clarity it deserves. Such was the case with the Music Man. Too much shape or low EQ adjustment and, yes, I was shaking the ground, but the delicacy of the tone was lost. That said, I played my Music Man a lot longer than I have in a while, because the amp/bass combo sounded really, really nice once I had it dialed in. I even got a little crazy with the compression by setting the threshold high to squash my signal to a place I wouldn't normally play, but I had a lot of fun with some percussive/tonal passages. The sign of great gear is that it inspires, right?

The Verdict
The DNA-800 packs power, punch, and personality. I love its light weight, and in the class-D range of amps, the DNA-800 is among the better ones I've heard. It's crafted from top-quality components, which means the amp should serve a player for years to come. I personally would shuffle a few options around on the amp (and maybe include a headphone out for practice), but overall, the DNA-800 is a fine piece of bass amplification that will serve any level of player well if he or she is looking for an earth-shaking tone monster with great, yes, DNA.
Watch the Review Demo:
Looking for more great gear for the guitar player in your life (yourself included!)? Check out this year's Holiday Gear Finds!
Outlaw Effects introduces their next generation of NOMAD rechargeable battery-powered pedal boards.
Available in two sizes, NOMAD ISO is a compact, versatile tool that offers the convenience of a fully powered board plus the additional freedom of not having to plug into an outlet. NOMAD ISO is ideal for stages with limited outlet availability, quick changeovers, busking outdoors, temporary rehearsal locations, and more!
NOMAD ISO builds upon the legacy of the ultra-convenient and reliable NOMAD rechargeable pedalboard line originally launched in 2018. The brand new NOMAD ISO editions feature eight isolated outputs (1 x 9V DC, and 1 switchable 9V/12V DC) for even more versatility and clean, quiet power. With an integrated lithium-ion battery pack boasting 12800mAh capacity, NOMAD ISO can fuel a wide array of pedals, and will last over 10 hours* on a single charge.
Each NOMAD ISO pedal board includes adhesive hook & loop pedal-mounting tape, eight (8) standard DC connector cables, and one (1) reverse polarity DC cable, giving you everything you need to build your ultimate "off-the-grid" rig. A rugged, road-ready padded gig bag with shoulder strap is also included, to safely protect your gear while you're on the move.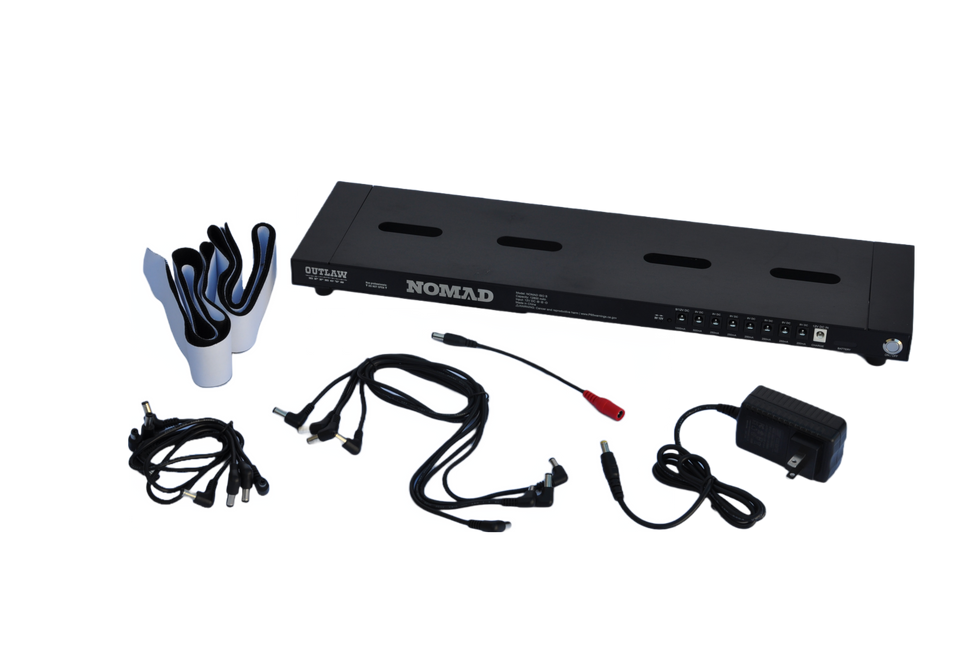 Dunable announce new Minotaur model featuring Grover Rotomatic Keystone tuners.
The Minotaur's DNA is rooted in their classic Moonflower model, which Dunable discontinued in 2017. However, they have long since wanted to create a fresh take on a carved top guitar design, and various attempts to rework the Moonflower led them to a brand new concept with the Minotuar.
Dunable's goal is to give the player a guitar that plays fast and smooth, sounds amazing, and gives maximum physical ergonomic comfort. The Minotaur's soft and meticulous contours, simple and effective control layout, and 25.5" scale length are designed to easily meet this criteria.

Dunable Minotaur!
Features
25.5" scale length
Dual Humbucker
one volume, one tone, push pull for coil splitting
Grover Rotomatic Keystone tuners
Grover Tune O Matic bridge with brass Kluson top-mount tailpiece
jumbo nickel frets
12" fretboard radius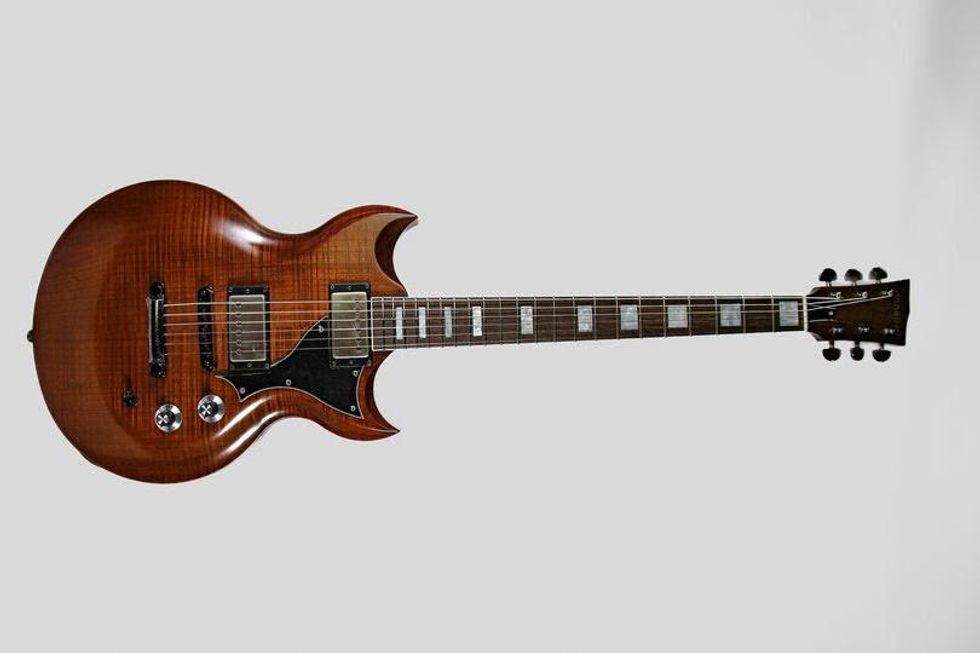 Dunable
This full-amp-stack-in-a-box pedal brings a new flavor to the Guitar Legend Tone Series of pedals, Missing Link Audio's flagship product line.
Adding to the company's line of premium-quality effects pedals, Missing Link Audio has unleashed the new AC/Overdrive pedal. This full-amp-stack-in-a-box pedal – the only Angus & Malcom all-in-one stompbox on the market – brings a new flavor to the Guitar Legend Tone Series of pedals, Missing Link Audio's flagship product line.
The AC/OD layout has three knobs to control Volume, Gain and Tone. That user-friendly format is perfect for quickly getting your ideal tone, and it also offers a ton of versatility. MLA's new AC/OD absolutely nails the Angus tone from the days of "High Voltage" to "Back in Black". You can also easily dial inMalcom with the turn of a knob. The pedal covers a broad range of sonic terrain, from boost to hot overdrive to complete tube-like saturation. The pedal is designed to leave on all the time and is very touch responsive. You can get everything from fat rhythm tones to a perfect lead tone just by using your guitar's volume knob and your right-hand attack.
Features 
Three knobs to control Volume, Gain and Tone
Die-cast aluminum cases for gig-worthy durability
Limited lifetime warranty
True bypass on/off switch
9-volt DC input
Made in the USA
MLA Pedals AC/OD - Music & Demo by A. Barrero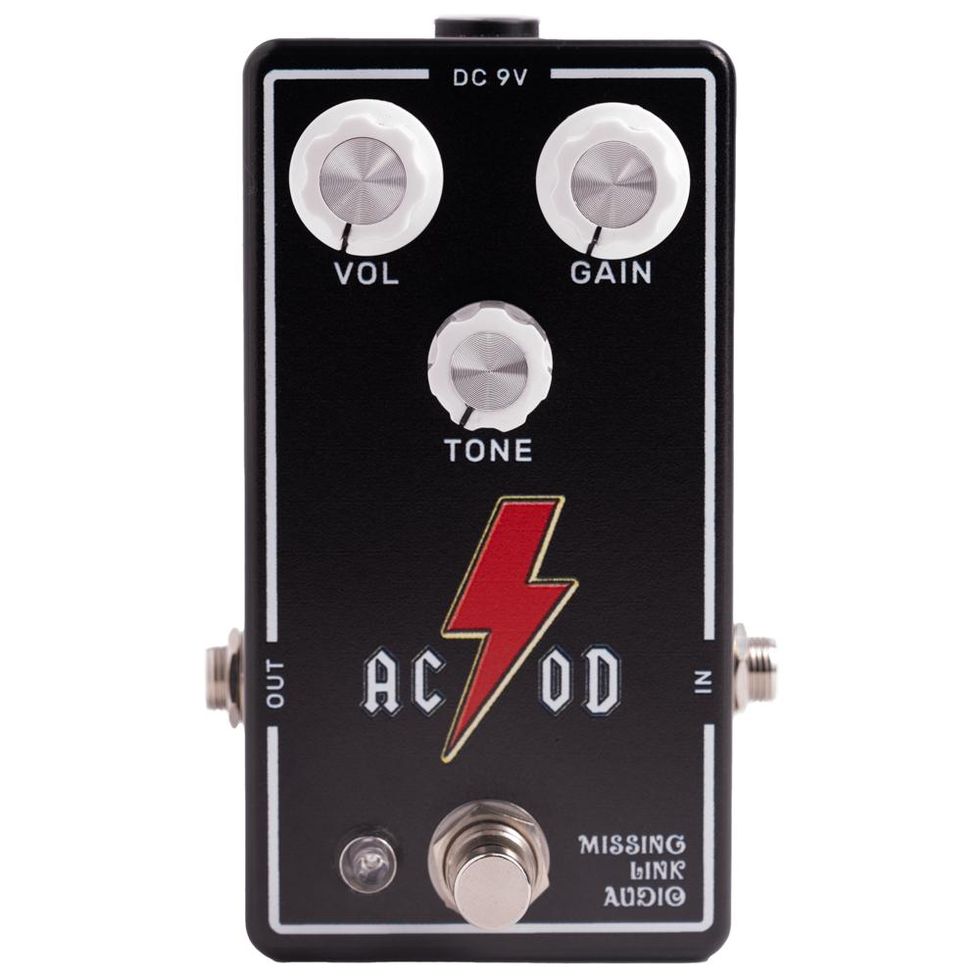 www.mlapedals.com.