eJamming AUDiiO allows musicians all over the world to jam and record together online
Anaheim, CA
(January 15, 2010) -- eJamming Inc. and Fender Musical Instruments Corporation are proud to announce an exclusive agreement, highlighted by eJamming AUDiiO, eJamming Inc.'s breakthrough software technology. eJamming AUDiiO provides patented synchronized streaming live audio over the Internet in real time, enabling musicians and singers anywhere in the world to create, play and record together live and online, while experiencing no discernible latency on their instruments. Now, any musician, for example a guitarist and bassist—acoustic or electric; beginner, student or professional—can collaborate, create and record music with other musicians and singers in a real-time online session over eJamming AUDiiO.
"Fender is a company that has always been known for innovation, and this is another important way for us to connect with our customers and their evolving needs by offering them the ability to musically connect with each other online in real-time," said Richard McDonald, Fender senior vice president of global marketing. "We're very proud of this association, and we look forward to all of the creative collaboration that musicians worldwide will be able to experience through this exciting product."
"eJamming's AUDiiO software is game-changing technology for music creation and collaboration," said eJamming Inc. CEO Gail Kantor. "We know there's a great need and desire among musicians to use the Internet to collaborate in real-time, and AUDiiO delivers the experience in compelling ways with an easy-to-use interface and high-fidelity features. We're thrilled to have joined forces with the legendary Fender Musical Instruments Corporation. Fender's highly regarded products and eJamming's innovative software form a powerful team to bring this new music creation service to musicians everywhere."
eJamming AUDiiO provides a virtual rehearsing and recording studio for the estimated 150 million broadband-enabled musicians and singers worldwide. With eJamming AUDiiO, musicians can write, rehearse, arrange, learn, practice, play and even record with each other over the Internet in real time and in sync. All they need is access to a computer, a broadband connection, an audio interface device and a microphone.
"Now, Fender guitarists and bass players can plug into a G-DEC3 and get that signature Fender sound when gigging with musicians through eJamming AUDiiO," noted Alan Jay Glueckman, eJamming chairman and president. "No matter how great the distance separating players, eJamming AUDiiO instantly connects them over the Internet to a world of musicians, empowering them to collaborate, compose, record and express their creativity. The spirit of innovation thrives in both Fender and eJamming, and we're very excited about the revolutionary impact that the two companies' work together will bring to music making around the world."
eJamming AUDiiO achieves long-awaited real-time synchrony by incorporating sophisticated algorithms that effectively resolve the delays associated with transmitting data over the Internet (which have prevented efficient real-time online music collaboration in the past). eJamming AUDiiO achieves real-time synchrony among multiple musicians in different locations, enabling musicians to keep solid time, which is essential for quality musical performance.
By wrapping a social network around a peer-to-peer connectivity client software with patented technology that synchronizes live audio streams from multiple locations—even continents apart—up to four musicians can play together in an eJamming session in real time for maximum creativity and enjoyment.
eJamming AUDiiO is now available through
fender.com/eJamming
for a 30-day free trial. Subscriptions to eJamming cost U.S. $9.95 (monthly), U.S. $24.95 (quarterly) and U.S. $89.50 (annually; equivalent to three months free). Other key eJamming AUDiiO features include:
* Near zero-latency feel in Jam Mode
* Peer-to-peer live audio streaming
* 16 audio tracks and 16 MIDI tracks for recording and playback
* Exportable 48kHz 16- and 24-bit wav files
* Flexible player search/connect with friends of friends feature
* Upload mp3s of your work and listen to music by other players
* Forum, extensive help, video tutorials and offline messaging
* Live eJamming support
For more information:

eJamming AUDiiO
Looking for more great gear for the guitar player in your life (yourself included!)? Check out this year's Holiday Gear Finds!
Outlaw Effects introduces their next generation of NOMAD rechargeable battery-powered pedal boards.
Available in two sizes, NOMAD ISO is a compact, versatile tool that offers the convenience of a fully powered board plus the additional freedom of not having to plug into an outlet. NOMAD ISO is ideal for stages with limited outlet availability, quick changeovers, busking outdoors, temporary rehearsal locations, and more!
NOMAD ISO builds upon the legacy of the ultra-convenient and reliable NOMAD rechargeable pedalboard line originally launched in 2018. The brand new NOMAD ISO editions feature eight isolated outputs (1 x 9V DC, and 1 switchable 9V/12V DC) for even more versatility and clean, quiet power. With an integrated lithium-ion battery pack boasting 12800mAh capacity, NOMAD ISO can fuel a wide array of pedals, and will last over 10 hours* on a single charge.
Each NOMAD ISO pedal board includes adhesive hook & loop pedal-mounting tape, eight (8) standard DC connector cables, and one (1) reverse polarity DC cable, giving you everything you need to build your ultimate "off-the-grid" rig. A rugged, road-ready padded gig bag with shoulder strap is also included, to safely protect your gear while you're on the move.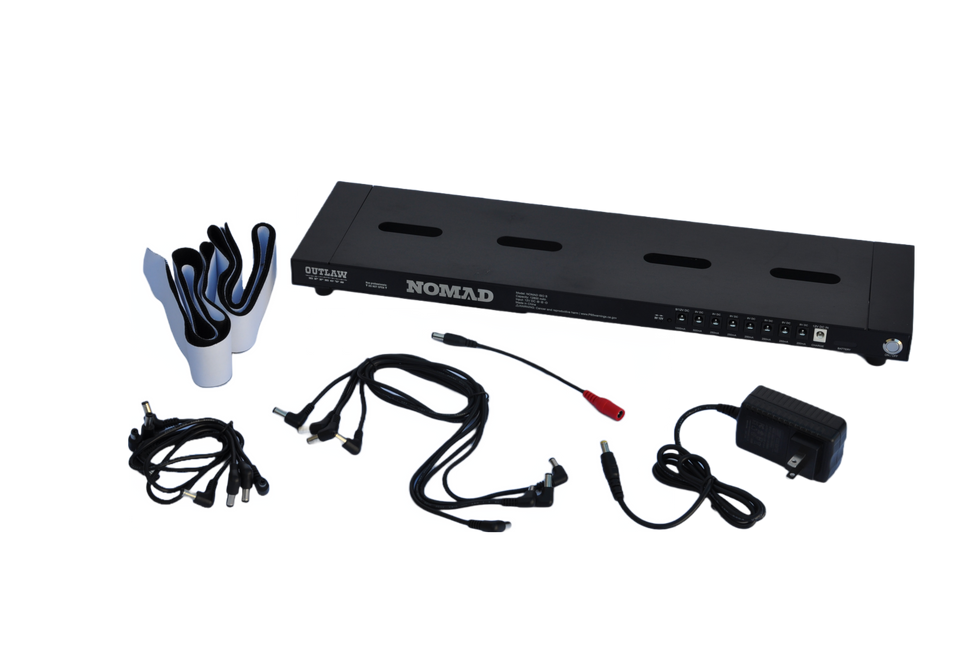 Dunable announce new Minotaur model featuring Grover Rotomatic Keystone tuners.
The Minotaur's DNA is rooted in their classic Moonflower model, which Dunable discontinued in 2017. However, they have long since wanted to create a fresh take on a carved top guitar design, and various attempts to rework the Moonflower led them to a brand new concept with the Minotuar.
Dunable's goal is to give the player a guitar that plays fast and smooth, sounds amazing, and gives maximum physical ergonomic comfort. The Minotaur's soft and meticulous contours, simple and effective control layout, and 25.5" scale length are designed to easily meet this criteria.

Dunable Minotaur!
Features
25.5" scale length
Dual Humbucker
one volume, one tone, push pull for coil splitting
Grover Rotomatic Keystone tuners
Grover Tune O Matic bridge with brass Kluson top-mount tailpiece
jumbo nickel frets
12" fretboard radius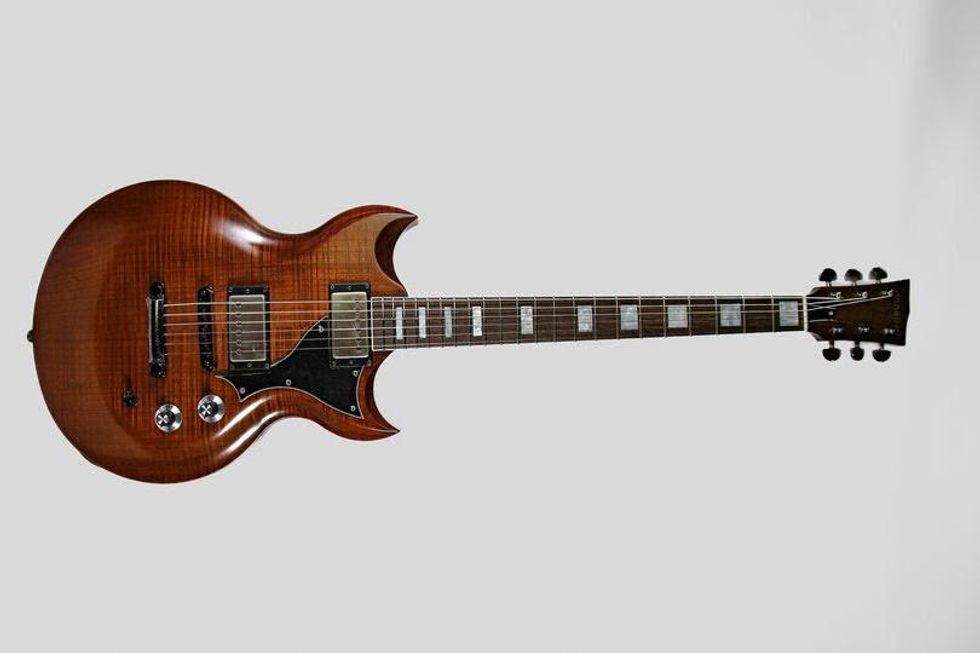 Dunable
This full-amp-stack-in-a-box pedal brings a new flavor to the Guitar Legend Tone Series of pedals, Missing Link Audio's flagship product line.
Adding to the company's line of premium-quality effects pedals, Missing Link Audio has unleashed the new AC/Overdrive pedal. This full-amp-stack-in-a-box pedal – the only Angus & Malcom all-in-one stompbox on the market – brings a new flavor to the Guitar Legend Tone Series of pedals, Missing Link Audio's flagship product line.
The AC/OD layout has three knobs to control Volume, Gain and Tone. That user-friendly format is perfect for quickly getting your ideal tone, and it also offers a ton of versatility. MLA's new AC/OD absolutely nails the Angus tone from the days of "High Voltage" to "Back in Black". You can also easily dial inMalcom with the turn of a knob. The pedal covers a broad range of sonic terrain, from boost to hot overdrive to complete tube-like saturation. The pedal is designed to leave on all the time and is very touch responsive. You can get everything from fat rhythm tones to a perfect lead tone just by using your guitar's volume knob and your right-hand attack.
Features 
Three knobs to control Volume, Gain and Tone
Die-cast aluminum cases for gig-worthy durability
Limited lifetime warranty
True bypass on/off switch
9-volt DC input
Made in the USA
MLA Pedals AC/OD - Music & Demo by A. Barrero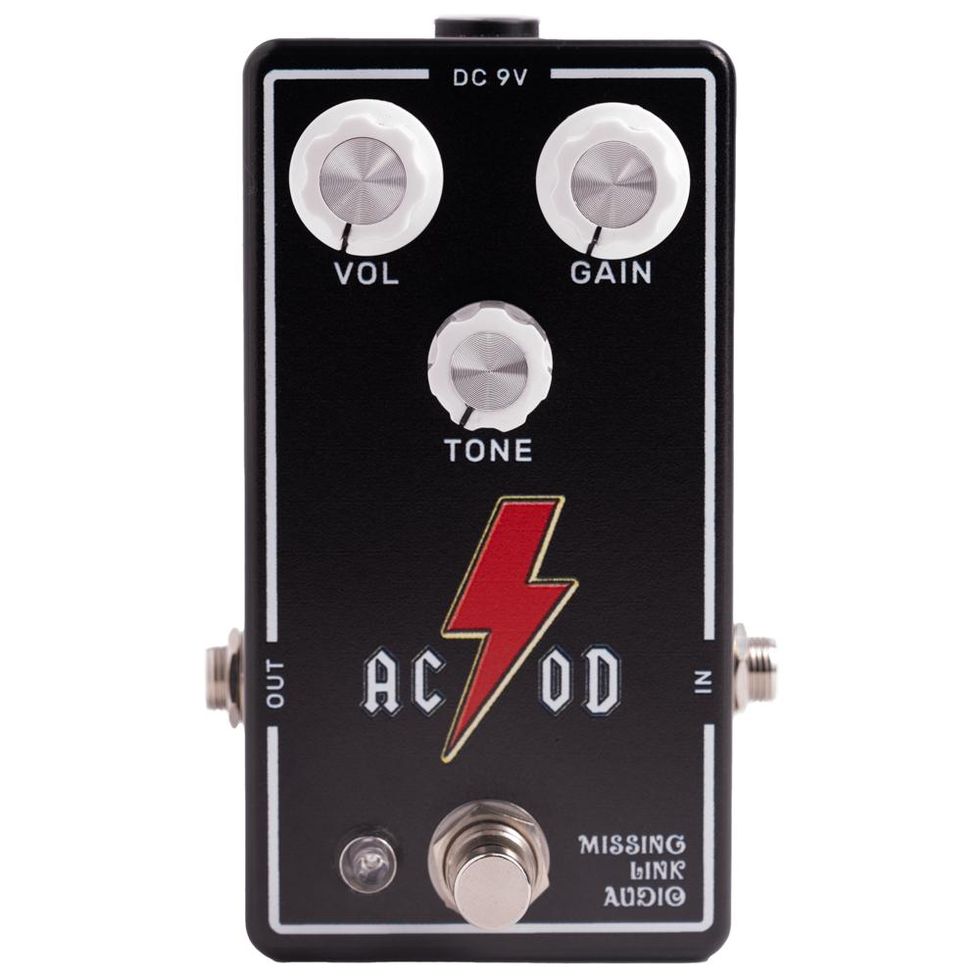 www.mlapedals.com.