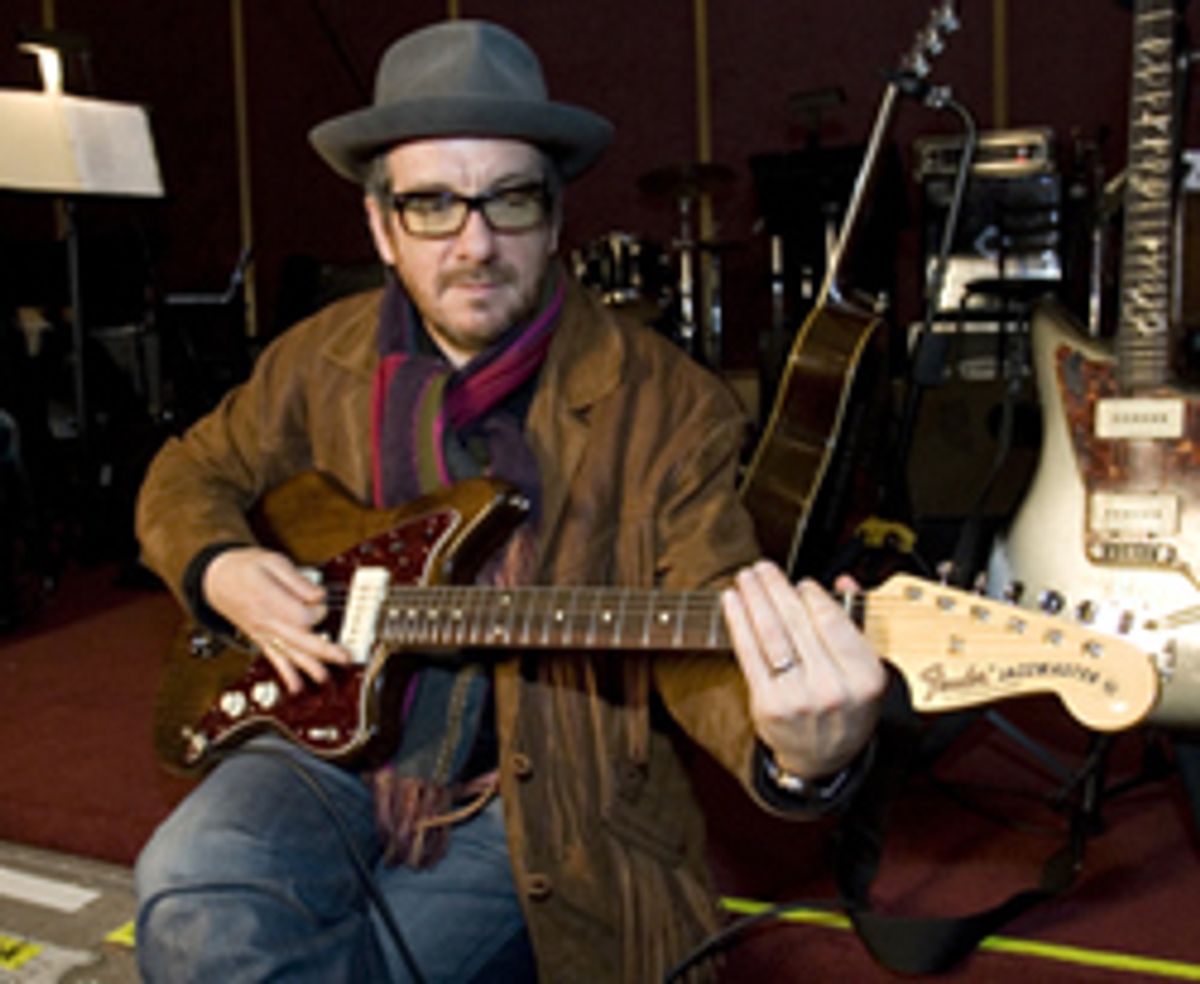 Costello''s Jazzmaster reflects his personal preferences, and is available now.
Scottsdale, AZ
(May 6, 2008) -- Fender announced today a new Elvis Costello Signature Jazzmaster guitar, honoring one of the most recognized Jazzmaster players in music history. The iconic electric guitar, produced in Fender's manufacturing headquarters in Corona, California, is a detailed replica of Costello's original instrument -- a guitar that has continually accompanied the famed British singer/songwriter over an extraordinarily versatile and prolific career spanning four decades. This signature release comes during the 50 year anniversary of Fender's introduction of the Jazzmaster guitar model, which first appeared in 1958.
Costello came snarling out of the U.K. in the mid-1970s with an edgy talent and image that immediately set him apart from the punk masses -- impeccable pop songcraft, caustically literate lyrics, an angular stage presence, black horn-rimmed glasses -- and an ever-present Fender Jazzmaster. At the time, the Jazzmaster guitar had largely fallen from fashion until Costello's phenomenal
success seemed to lift it to new and previously unknown heights of appreciation. Throughout the 1980s, 1990s and right up to today, legions of new-wave, alt-rock and indie-rock players prized the resurgent Jazzmaster for its versatile tone and subversive cool.
"This is a brutal-sounding guitar," Costello said of his Jazzmaster. "It suits the way I play. But this guitar -- it's had a funny life. And I've just always stuck with it; I always come back to it. I've done all sorts of different music, but whenever it's involved electric guitar, I don't think there's one record I've made on which the Jazzmaster doesn't feature somewhere."
Costello's original instrument has undergone many changes in the past 30 years, and Fender's new Elvis Costello Signature Jazzmaster replicates the guitar as it existed at the time he recorded his acclaimed 1977 debut album,
My Aim Is True
. Uniquely Costello-inspired features include a post-'68 neck design, a walnut stain finish and a tremolo with easier and greater travel, essential for that "Watching the Detectives" tone, or what Costello calls that "spy movie" sound.
"The original guitar this model is based upon has been refinished, rebuilt, and has a new neck with Elvis' name inlaid into the fingerboard, so we had to reference a lot of seventies-era photography, as well as Elvis' personal anecdotes, to get it right," said Justin Norvell, Fender marketing manager for electric guitars. "Elvis dialed in the finer details -- the points that photos can't tell you, like the feel and setup and the exact hue and luster of the finish -- things only he would know."
The new Elvis Costello Signature Jazzmaster guitar will be available through authorized Fender dealers beginning this month with an MSRP of $2149.99.
Costello remains as busy as ever today, touring this summer with the Police and debuting in December 2008 as the host of
Spectacle: Elvis Costello With ...
, a Sundance Channel television series in which Costello plays host to artists and other personalities for an hour of discussion and performance.
For more information on Elvis Costello and his Jazzmaster guitar:
fender.com/jazzmaster50th
Looking for more great gear for the guitar player in your life (yourself included!)? Check out this year's Holiday Gear Finds!
Created in collaboration with legendary guitarist George Lynch of Dokken and Lynch Mob fame, the Mr.Scary Mod adds an adjustable tube gain stage and an onboard Deep control, which together are designed to enable an amp to have increased sustain while still retaining note definition and dynamics.
LegendaryTones, LLC today announced production availability of its new Mr. Scary Mod, a 100% pure tube module designed to instantly and easily expand the capabilities of many classic amplifiers with additional gain and tone shaping. Created in collaboration with legendary guitarist George Lynch of Dokken and Lynch Mob fame, the Mr.Scary Mod adds an adjustable tube gain stage and an onboard Deep control, which together are designed to enable an amp to have increased sustain while still retaining note definition and dynamics.
Originally released as the Lynch Mod in February 2021, the updated Mr. Scary Mod features the same core circuit as the Lynch Mod but is now equipped with a revised tube mix combo per George's preference as well as a facelift in a newly redesigned electro-galvanized steel enclosure. As with the Lynch Mod, each run will be limited and the first run in Pumpkin Orange with Black hardware is limited to just 150 pieces worldwide.
​The Mr. Scary Mod adds an adjustable tube gain stage on top of the cathode follower position, keeping note definition and articulation while further increasing sustain. Each Mr. Scary mod is meticulously built by hand in the USA, one at a time, and tuned using high-grade components. Equipped with a single ECC81 (12AT7) in the first position and ECC83 (12AX7) in the second, the Mr. Scary Mod can clean up beautifully when rolling down your guitar's volume, and still adds scorching gain when you roll it back up. This is a gain stage that's been tuned and approved by the ears of the maestro George Lynch himself.
"The Mr. Scary Mod excels with dynamics and is incredibly touch-responsive, allowing me to shift from playing clear, lightly compressed cleans to full-out aggressive sustain and distortion –and control it all simply by varying my guitar's volume control and picking," said GeorgeLynch. "In many ways, it's an old-school approach, but it's also so much more natural and expressive in addition to being musically fulfilling when you can play both the guitar and amp dynamically together this way."
The Mr. Scary Mod installs in minutes, is safe and effective to use, and requires no special tools or re-biasing of the amplifier. Simply insert the module into the cathode follower preamp position of compatible amplifiers (includes Marshall 2203/2204/1959/1987 circuits) and

immediately get the benefit of enjoying a hot-rodded amp that delivers all the pure harmonic character that comes with an added pure tube gain stage. The handmade in the USA Mr. Scary Mod is now available to order for $319.
For more information, please visit legendarytones.com.
October Audio has miniaturized their NVMBR Gain pedal to create two mini versions of this beautifully organic-sounding circuit – including an always-on gain device.
The NVMBR Gain is a nonlinear amp that transitions gracefully from clean boost to overdriven tones. Volume increases from just over unity to about 10db before soft-clipping drive appears for another 5db of boost. Its extraordinary ease of use is matched by outstanding versatility: you can use it as a clean boost, push a stubborn amp into overdrive or create a just-breaking-up sound at any amp volume.

October Audio's new family of mini NVMBR Gain pedals includes a switchable version that allows you to bypass the effect: one option features brand logo pedal graphics, while the other sports a fun "Witch Finger" graphic with a Davies knob as the"fingernail".
The second version in the new lineup is an always-on device featuring the Witch Finger graphic and Davies knob, with the same NVMBR Gain circuit that lies at the core of the switchable version.
Features:
Knob controls gain and clipping simultaneously
Stunning silver hammertone finish
Switchable versions are true-bypass, available with classic or witch finger graphics
Authentic Davies knobs, including the "fingernail"
9V center negative power supply required
Dimensions: 3.63 x 1.50 x 1.88 in​
Witch Finger (always on NVMBR Gain) demo
​All October Audio pedals are assembled in Richmond, VA, and available for purchase directly through the online shop. Street price is $109 for NVMBR Gain footswitch versions and $89 for the always-on device.
For more information, please visit octoberaudio.com.