Enter here for your chance to WIN a Pedal Pad DEEP III in Black Tooled Leather! Giveaway Ends October 22, 2021.
DEEP III Pedal Board in Black Tooled Leather tolex. Left side has standard AC inlet/outlet plus 2 -1/4" double female jacks. The right side has 3 -1/4" double female jacks. The DEEP III Pedal Board series have an extra inch of height below (perfect for players using a switcher and feature a slotted hinged pedal deck with Velcro style loop fastener, which is permanently mounted to its surface. Cables are routed neatly under the pedal deck where additional components such as power supplies or additional effects can be stowed.
Pedal Pad
A vastly underrated overdrive gets even more rating worthy.
Great capacity for balanced detail across gain range. Sweet growl in low mids. Silky smooth. Useful EQ section.
20 bucks more than the original—but who's countin'?
4.5
4.5
4.5
4.5
Were TC Electronic stomps not already abundant in our Killer Pedals Under $100 feature, the original MojoMojo would have been a shoo-in. I've had one for years, used it in recording situations, and watched other artists select it in place of more exotic and expensive overdrive fare. In general, the original MojoMojo's flexibility, liveliness, capacity for detail, balance, and organic amp-ish gain textures made it a hit. All of those qualities live on in the new Paul Gilbert version, but with more available gain, higher headroom, and a robust low-mid bump that impressively adds airiness rather than flab.
The Gilbert edition retains its silkiness and capacity for detail at the most saturated settings too.
Recorded with Fender Telecaster, black panel Fender Tremolux, Universal Audio OX with Marshall 4 x 12/Greenback cabinet emulation.
TC Paul Gilbert Mojo Mojo: all controls at noon for rhythm track, progressively advanced gain, treble and bass settings as lead track develops.
Played side-by-side and at equivalent settings, the original MojoMojo sounds comparatively boxy and thinner. But the Paul Gilbert version's extra low mids don't just add mass. They make the output sound more full-spectrum and a lot silkier—a tone picture that really flatters single coils but is just as detailed with all but the muddiest humbuckers. The Gilbert edition retains its silkiness and capacity for detail at the most saturated settings too—even with the toggle in extra-gain "11" mode and the gain knob up high. Predictably, such settings make solos sing, but it's easy to dial in acerbic early-Jimmy Page tones with enough treble. Full chords sound balanced and sparkling across the gain range too—exhibiting a deep growl in the low-mids and lots of assertive top end.
In describing this new version of a company classic, EHX founder Mike Matthews stated: "The new Nano Deluxe Memory Man delivers the lush bucket-brigade delay and modulation of our classic large-format pedal. We simply shrunk it and added some features for modern players including both Rate and Depth knobs for enhanced modulation control. Now, you can have the Memory Man in our time-honored standard chassis, or our new, compact, nano design."
Features
Rich analog delay, chorus and vibrato
Maximum delay time of 550mS
Compact, rugged, pedalboard friendly enclosure
Internal user-accessible switch to turn delay tails on or off
True bypass when tails feature is off
9.6DC-200 power supply included
Electro-Harmonix Nano Deluxe Memory Man Analog Delay / Chorus / Vibrato Pedal (Demo by Bill Ruppert)
The Nano Deluxe Memory Man features a U.S List Price of $203.10 and is available now.
For more information:
Electro-Harmonix
Witness how the self-proclaimed World's Best American Band values pragmatic workhorses over rock 'n' roll excess.
Tired of pretentious music? Are you looking to just have fun and rock out? The good-time, make-you-move-and-groove medicine you're after is what White Reaper dispenses.
The band's core was formed in 2012 when Louisville high schoolers Tony Esposito (guitar/vocals) and Nick Wilkerson (drums) started jamming as a duo. Then Nick recruited his twin brother Sam (bass) and Esposito added friend Ryan Hater (keys). And the fearsome foursome released their rowdy, ripping 2015 debut, White Reaper Does It Again, on Polyvinyl Records.
Carrying forward their blend of lo-fi garage rock and pop-punk hooks, the quartet added second guitarist Hunter Thompson in 2016, before recording 2017's (tongue-in-cheek) The World's Best American Band. The glee blossomed with shinier, poppier melodies that soared over harmonized guitars—think crossing Cheap Trick with Thin Lizzy.
The World's Best American Band graduated them to major label Elektra, where they earned studio time with producer Jay Joyce (Cage the Elephant, Halestorm, Eric Church, Carrie Underwood, Emmylou Harris). With Joyce providing a slicker, tighter sound, the quintet unveiled an even catchier package that employs the sheen of peak Cars and early Maroon 5 in danceable tracks like "Might Be Right" and "Eggplant." (The former earned them a No. 1 slot on the Billboard Alternative Songs chart.) But rock purists still got to stomp and howl with the hard drivin' "Headwind" and redlining "Raw."
Hours before their headlining gig at Nashville's Exit/In, White Reaper's Esposito and Thompson checked in with
PG
to talk tone. The guitar duo showed us how the rigors of the road have impacted their touring gear decisions and why COVID-19 handcuffed one of them to the digital life.
[Brought to you by D'Addario XPND Pedalboard: https://ddar.io/xpnd.rr]
Come Fly With V
It's said rock 'n' roll is a young person's game. And while the garage-rocking gentleman of White Reaper have no plans of slowing down any time soon, guitarist/vocalist Tony Esposito already knows the importance of a strong back. The combination of lumbar-compressing Les Pauls and thin leather straps resulted in soreness and welts that have forced Tony to keep his Lesters at home.
Above is the first of his lighter Gibsons: a 2000 Flying V he bought on his birthday in 2015. During the Rundown, he refers to it as the School of Rock guitar, since fictional student Zack Mooneyham played one in the film. Aside from Esposito's sweat, skin, and some dust, this guitar is completely stock.
This V stays in E-flat-standard tuning and rides the stage with either a custom set of Augustine Spectras (.011–.052) or Ernie Ball 2226 Burly Slinkys (same gauge).
Light as a Feather and Ready To Rock
Not wanting to show favoritism, Esposito is quick to note that this 2000s Gibson ES-335 isn't a backup. He's actually used it the most since playing live shows again, because the fly-date-heavy schedule worried him about the angular fragility of the V. He even revamped his amp and pedalboard setup to mesh better with the 335 (more on that in a minute).
Who You Calling Runt?!
Vox have been a big part of White Reaper's DNA, and both Esposito and guitarist Hunter Thompson (not from Louisville and no relation to Dr. Gonzo) have used them live and in the studio for years. "I loved the reliability of the AC30s, but I was using more pedals (than now) to essentially turn it into a plexi," says Esposito. "I had a compressor, Tube Screamer, and EQ pedal that were always on, but when I switched to the Friedman Runt 50 it was already that thing."
While touring with the Struts he noticed how much
guitarist (and Rig Rundown alumnus) Adam Slack
loved his Friedman Small Box 50, so he did some research and landed on the 50W, EL34-glowing Runt. The Runt 50 hits a stock Fender Super-Sonic 60 2x12 extension cab that has its original Celestion Vintage 30s.
Dials for Dimebag
Passing time in the van by listening to Pantera's Cowboys from Hell, Esposito wondered how Darrell "Dimebag" Abbott set his Randall for the nasty breakdown during "Domination." He lucked out and found an old '90s Guitar Magazine article displaying Dimebag's Randall settings. He's since loosely adopted those for his own live tone, as seen here.
Simplifying Esposito's Stomp Station
With less purposes for pedals, Tony Esposito's pedalboard has shrunk. Basically, he has the Way Huge Green Rhino MkIV for additional drive, and a Boss DD-5 Digital Delay and Jacques Meistersinger chorus for spacier sounds and occasional leads. The pair of Boss pedals—an NS-2 Noise Suppressor and GE-7 Equalizer—are in place to squelch any unwanted feedback from the 335 and to supplement any anemic backline amps he encounters on fly dates. Everything comes to life via a Voodoo Lab Pedal Power 2 Plus.
This Baldwin Baby Bison Burns
When White Reaper started, guitarist Hunter Thompson toured the world with this 1965 Baldwin Baby Bison. He stumbled across the guitar on Reverb.com and, after some homework revealed it was a choice instrument for Jeff "Skunk" Baxter when recording with Steely Dan, pulled the trigger.
His favorite part of this peculiar 6-string is its Burns Tri-Sonic pickups (
similar to the ones in Brian May's Red Special
). They're stacked single-coils. Additionally, Thompson enjoys how the "tone" knob acts more like a presence control that "blends in the bottom pickup, allowing you to make the guitar's sound really gain-y or really clean." To take things to another level of weird, Thompson added a Roland GK-2A Divided Guitar MIDI pickup to have fun at home.
Can I Interest You in a Strat, Sir?
Aside from the aforementioned Bison, Thompson normally rocks Les Pauls or Teles. However, he recently scored this lightly worn Nash S-63. For its speaking voice, he opted for the Lollar Sixty-Four single-coils. And you'd think the tonal differences would throw off Thompson a bit, but he said the biggest transition to a 3-pickup guitar is being careful to not rake the middle single-coil with his hand and/or pick. This S-63 stays in E-flat-standard tuning, but Thompson goes with a lighter set of D'Addario NYXLs (.010–.046) and hits the strings with Dunlop Tortex Flow .73 mm picks.
Ready for Your Profiler?
White Reaper was in the middle of a U.S. tour supporting 2019's You Deserve Love when COVID-19 struck and the world shut down. The band's gear went with the Kentuckians back to Louisville, but Thompson retreated to his home in Austin. For the first few months, he hunkered down in the Lone Star State with his one electric and some crappy desktop sims. Longing to play proper electric and be creative, he ordered a Kemper Profiler. Its diverse sounds and intuitive interface prompted Hunter to play guitar more than ever. Everything he needs is backed up on a thumb drive and his entire rig fits in a laptop bag.
"When it came to touring again, the use of the Profiler was a practical decision," admits Thompson. "It's not the coolest rock 'n' roll decision [laughs], but until someone else is setting up my gear, I'll probably be taking the Profiler." And most of his profiles are built off a Divided by 13 model that's brighter than Tony's and sits a bit higher in the mix.
Caution: Cab at Work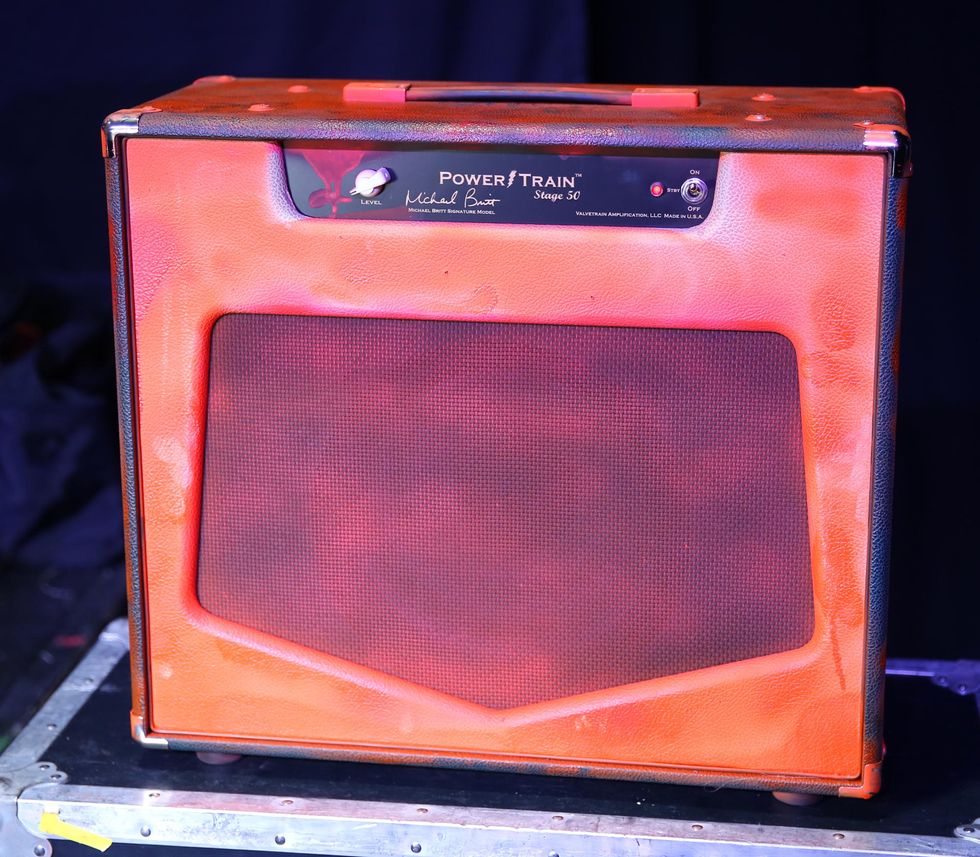 Thompson does run a direct line to FOH, but he also craves stage volume, so he splits the Profiler into this ValveTrain PowerTrain Stage 50—an all-tube (6L6GC) powered monitor designed to work with digital modelers. It has a flat EQ, a single level knob, and comes stock with an Eminence Legend EM12.
Luna Guitars is pleased to announce the addition of the folk sized body shape acoustic guitar to the popular Wabi Sabi Series. The guitar features a folk body style (in-between a parlor and grand concert) a solid spruce top, and Luna SL3 preamp with tuner and built-in EQ.
Commonly depicted using Japanese aesthetics, Wabi Sabi is a world view that embraces imperfection and appreciates beauty that is incomplete in nature. Like the philosophy, the Wabi Sabi Series is for players looking to improve their playing abilities and perfect their craft without worrying about errors.
The Luna Wabi Sabi Folk Acoustic-Electric guitar features a solid spruce top, mahogany back and sides with black binding, a mahogany "C"-shape neck with a 20-fret 15"-radius laurel fretboard and a Bone 1 11/16"-nut. In addition, it has a satin natural finish, a "Zen Brushstroke" rosette, pau ferro bridge, sealed die-cast chrome tuners, dual-action truss rod and D'Addario EXP16 (.012-.053) coated strings.
Wabi Sabi Folk Solid Top Acoustic-Electric Guitar
"The Wabi Sabi Folk A/E makes an excellent beginner and intermediate guitar at an affordable price," said Adam Gomes, Brand Director & Artist Relations at Luna Guitars. "It features a solid spruce top, which is a favorite among many traditional guitarists and allows players of all skill levels to hear strong acoustic tones with crisp projection."
The Luna Wabi Sabi Folk A/E – Solid Top sells for $299.00 at authorized Luna Guitars dealers. For more information, go to www.lunaguitars.com.
The pinball-obsessed Barenaked Ladies' songwriter reflects on his band's grassroots beginnings, pop culture and social media's influence on songwriting, and the similarities between country and hip hop production.
Ed Robertson Plays Lyrical Tetris | Wong Notes Podcast