Stompbox Gear Finds Fall 2022
Check out the ALL-NEW PRS Pedals and more in this edition of our Stompbox Gear Finds!
---
PRS Guitars
The PRS Horsemeat transparent overdrive pedal is designed to enhance your sound without coloring your tone. Horsemeat adds harmonic midrange richness and overdrives without cutting out your high notes – all while giving you more available headroom. It features a robust EQ section so you can dial in your tone and has a wide range of gain on tap. Depending on the setting, Horsemeat can be used as a clean boost, straight overdrive, or even enhance your amplifier's distortion by slightly pushing the front end of the amplifier's preamp section.PRS pedals were created to be high-end pieces of audio gear. Designed by PRS Guitars in Stevensville, MD, USA. Made in the USA.
Maestro Pedals
Maestro created the world's first fuzz pedal – the Maestro Fuzz-Tone FZ-1. Introduced in 1962, the Fuzz-Tone became the sound of rock and roll and a must-have accessory for guitarists everywhere after the success of 1965's (I Can't Get No) Satisfaction by the Rolling Stones, which prominently featured its cutting edge sound. Now Maestro is bringing the fun and sonic fury of those early Fuzz-Tones back with the new Maestro Fuzz-Tone FZ-M. This all-analog pedal boasts a Mode toggle switch that provides two pedals in one functionality for increased sonic versatility with both an FZ-1 inspired fuzz sound and a thicker, more modern fuzz tone. Its 3-knob control layout gives you intuitive control. The Attack knob controls the amount of fuzz. The Tone control lets you adjust the timbre from bright and raspy to warm and wooly and anywhere in between.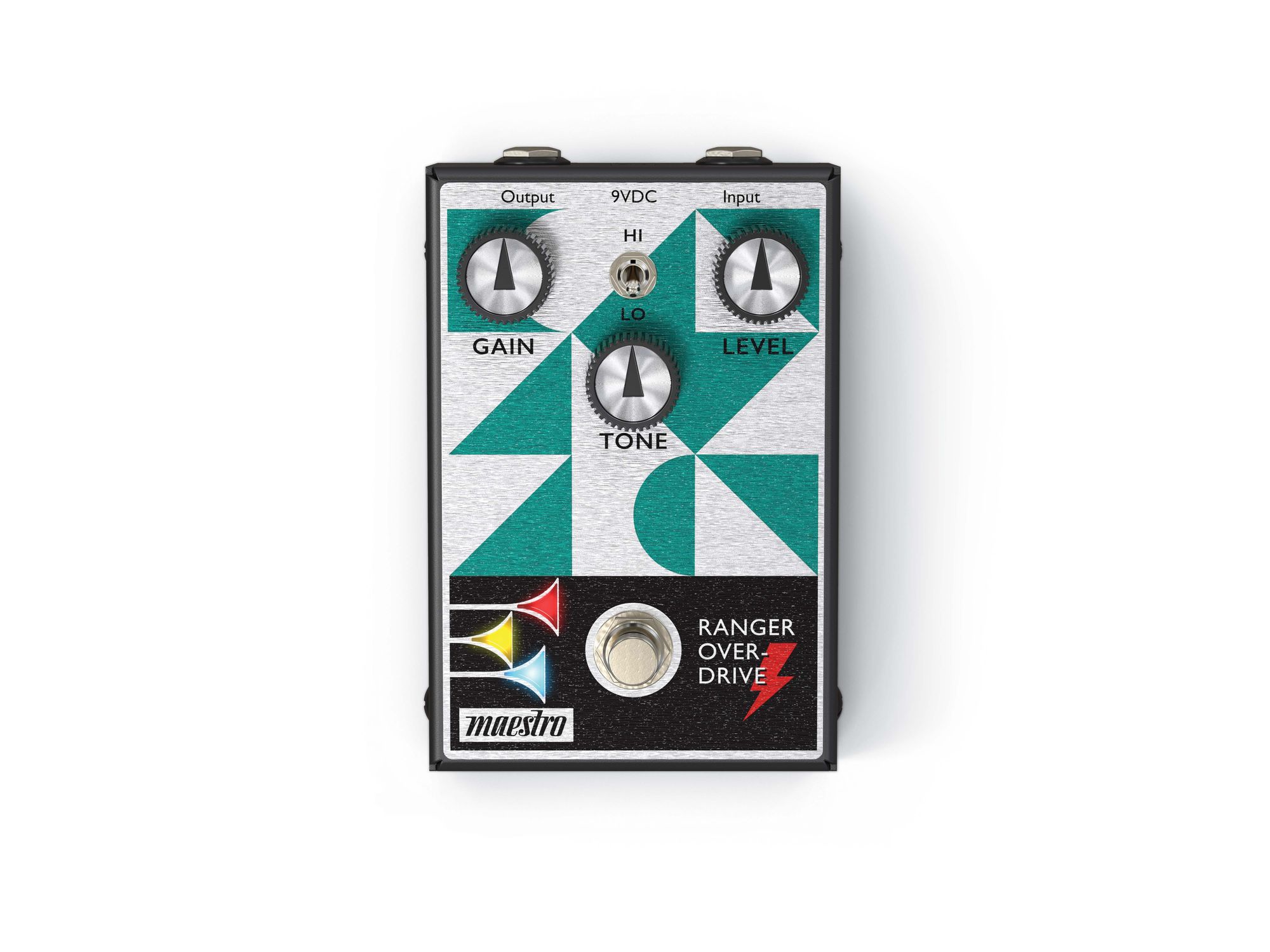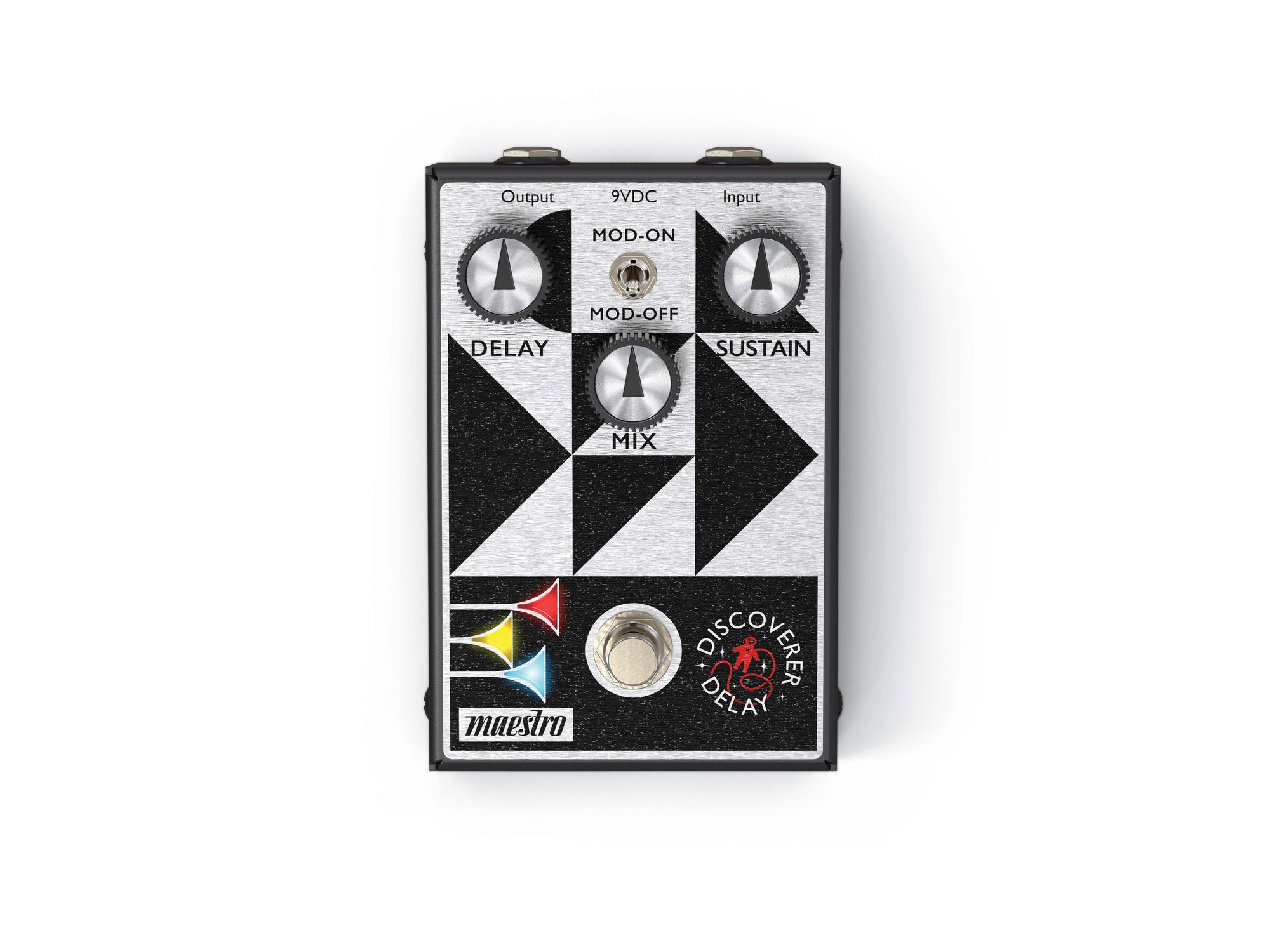 Tech 21
The SansAmp Character Plus Series celebrates the unique chemistry between specific historic amplifiers and specific historic pedals, and cleverly unites them together in single packages:

Screaming Blonde = Fender-style + Tube Screamer-style
English Muffy = HiWatt-style + Big Muff-style
Fuzzy Brit = Marshall-style + Fuzz Face-style
Mop Top Liverpool = Vox-style + Rangemaster Booster-style
Each of the individually-voiced Character controls sweep through an entire spectrum of eras within their particular amp style. Screaming Blonde tones range from the '50s Fullerton to blackface and silverface. The English Muffy spans from classic UK rock to prog rock. Fuzzy Brit goes from classic hard rock to all current rock genres. The Mop Top Liverpool embodies the British invasion through "Bohemian" rock.
These 2-channel multi-function pedals are each like having a stompbox within a stompbox. You can use the SansAmp amplifier emulation on its own or just the effect on its own. The all-analog SansAmps Character Plus Series pedals can be used as stand-alone pre-amps to drive a power amp, a studio mixer, or a PA system, or to complement your existing amp. Other features include built-in speaker simulation individually tuned to match each of the speaker/cabinet configurations associated with each amplifier type; 3-band active EQ, XLR Output, included 9V DC Power Supply. Rugged all-metal housing measures 7.75"l x 2.5"w x 1.25"h and weighs just 12 oz.
EARTHBOARD Music
Never before has an effects pedalboard been so effortless to build and painless to change or rearrange on the fly - So you can Focus on the Music, Not the Set-Up!

Our game-changing design incorporates Rare Earth Magnets ("cupped" so there is no risk to your pedals!) and a long-lasting Battery to give you the neatest, cleanest sounding and looking rig! All of the hassles of using a traditional board are gone. No more messy cobweb of cords and cables. No need to look for outlets and extension cords. No need to deal with dirty noise at gigs. Increase voltage and isolate those "picky" pedals without adding more mess and expense of separate power bricks and adapters. NO MORE SOUND OF RIPPING VELCRO!!!

Here's what's possible with EARTHBOARD:
- Your choice to use our Battery or AC Adapter
- Jacks are on both sides to accommodate YOUR style and the unknowns of the gig space
- All of our power supplies have built in circuit protection to safeguard your pedals
- Built-in cross board audio patch cable saves you money and the hassle of finding the right length cable to connect your top and bottom rows of pedals
- Ability to power large pedals off the board to maximize board real estate - make room for one more pedal!
- The built-in, under mounted, Blue LED lights enhance visibility and the "cool factor"
- Daisy-chain multiple boards and power them all with a single battery
- Rearrange or add pedals on the fly, between sets, in a matter of seconds
Large tour grade pedal board and flight case for 10-14 pedals with removable 24″x11″ pedal board surface and inline wheels

Features:
Pro-grade shock absorbing EVA foam interior
Removable pedal board surface 24" x 11"
Two (2) rubber-gripped handles for easy lifting in and out of the case
3M Dual Lock» hook and loop fastener for pedal installation
Cable and accessory storage under the removable pedal board
Retractable tow-handle and inline wheels
Plywood construction with aluminum edging to create a secure closure between lid and base
Protective ball corners at vulnerable points
Commercial grade Gator red signature hardware
Lockable latches
Spring-loaded rubber gripped handles
George L's Effects Cable Kits
Enhance the tone and clarity of your pedalboard with award winning sound.
The George L's effects kit.
The kit comes with 10' of cable, 10 right angle plugs and 10 stress relief jackets.
Available in black, vintage red and purple.
As easy as 1, 2, 3 no soldering!
Cut, poke and screw your way to 47 years of sound excellence.
George L's
Designed and built in Saskatchewan, Canada, the Cortado features four reverb programs designed to go from short and minimal reverb to long and ambient soundscapes.
Coffee Shop Pedals announces its new CortadoReverb, a versatile multi-reverb that offers many features not often found in a small pedal format. With features like three presets, trails and spillover between different reverb types, andMIDI input, the Cortado delivers a surprisingly powerful range of options.
​Trails and spillover between presets and programs open up a world of possibilities with the Cortado. Trails allow for smooth transitions when changing sounds as well as playing over infinite trails as a backing track.
Changing presets Cortado can be accomplished simply by pressing the pedal's Preset and Bypass footswitches simultaneously – the same format as Coffee Shop's Affogato Fuzz. Presets are now even easier to use with the added MIDI input. With MIDI, you can save and recall up to 20 presets and load them in any order you want. As well, you can save any reverb program to any preset - allowing for so much customization.
Cortado Reverb key features:
Four unique reverbs (hall, spring, tremolo verb, and octave) selectable by Program knob
Preset spillover (between presets and reverb types)
3 savable presets to save your favorite sounds
MIDI input for saving and recalling up to 20 presets
True stereo inputs and outputs
9-volt standard external power; no battery compartment
Soft-switches and true-bypass option
The Cortado Reverb is available now at coffeeshoppedals.com at the retail price of 249 CAD, approximately $ 182 USD..
For more information, please visit coffeeshoppedals.com.
Cortado Reverb: Demo
Two Boss pedals based on the legendary Roland SDE-3000 Digital Delay, including a standard model and a special edition model developed with EVH.
BOSS announces the SDE-3000D and SDE-3000 EVH Dual Digital Delay pedals, two advanced effect processors based on the legendary RolandSDE-3000 rackmount digital delay from the 1980s. The SDE-3000D provides two authentic reproductions of the much-loved SDE-3000 in a modern floor-based pedal with independent delay parameters, versatile signal routing, and many other enhanced features. Developed in close collaboration with EVH, the SDE-3000EVH model is designed to go even further, providing curated presets and expanded I/O to authentically recreate the dual SDE-3000 setup at the heart of Eddie Van Halen's massive three-cabinet live stage guitar sound.
SDE - 3000D Dual Delay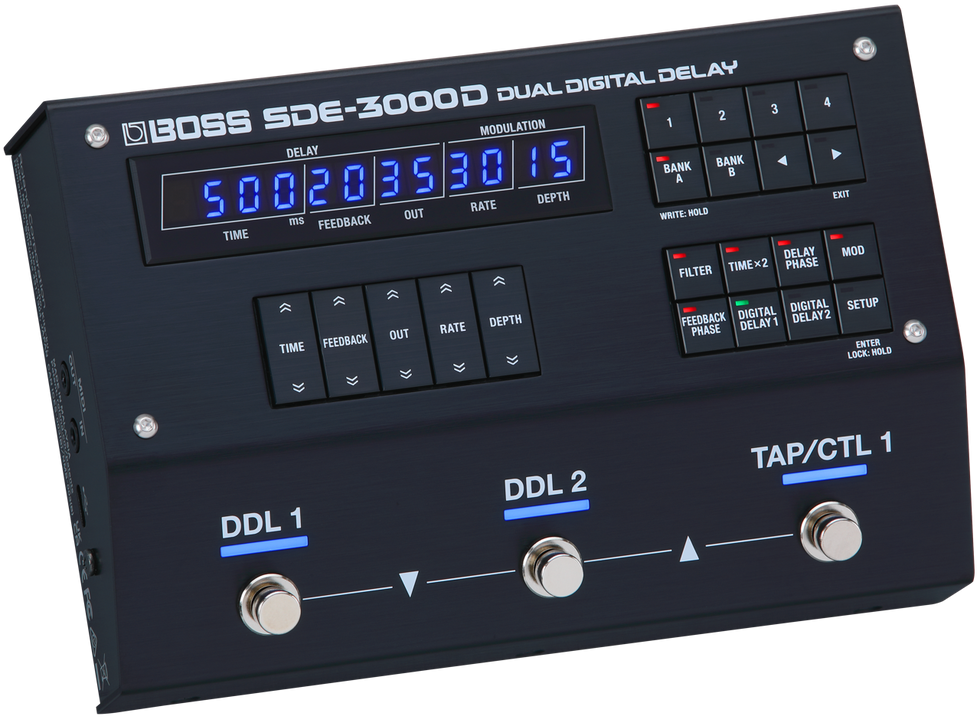 ​Released in 1983 at the dawn of the digital effects era, the Roland SDE-3000 is a hallowed icon among fans of classic gear. Its rich voice became an integral part of music in the 1980s and1990s and remains a source of inspiration for tone seekers and effect builders everywhere. With the SDE-3000D, today's players can now access the authentic delay sounds used to produce one of the most iconic music tracks of all time.
The SDE-3000's beautiful warm sound and inviting musicality were the result of clever and complex internal digital processing coupled with nonlinear behaviors from the supporting analog circuitry. Adjustable delay phase, unique modulation response, and other elements also contributed to the effect's distinctive sound. BOSS engineers deeply analyzed these many factors in creating the SDE-3000D, bringing the complete character of this time-honored classic alive for the modern era.
While the SDE-3000 was mono, the SDE-3000D provides two discrete delays with series or parallel operation, independent settings, and mono or stereo modulation on each. Nearly every parameter from the original is available, accessed via a retro interface derived from the vintage hardware. And with enhanced features such as 100 user memories, flexible I/O, MIDI, and a wealth of onboard and external control options, the SDE-3000D offers much greater versatility than its rackmount inspiration.
SDE - 3000EVH Dual Delay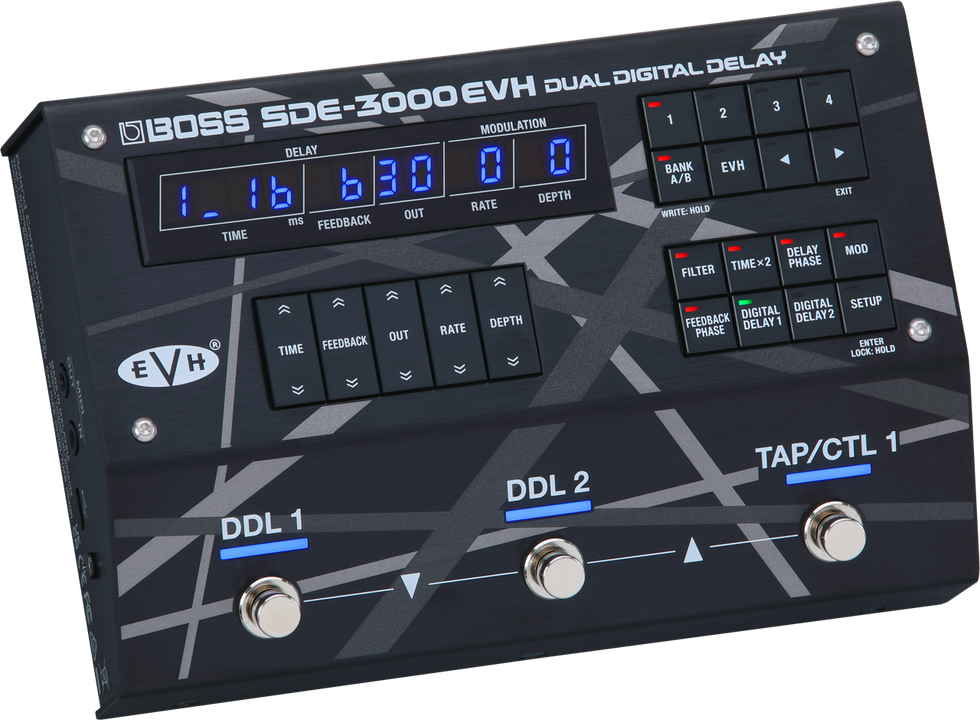 Jointly developed by EVH and Boss, the SDE-3000 EVH delivers an authentic recreation of the stereo delays at the heart of Eddie Van Halen's live three-cabinet wet/dry/wet stage guitar sound. The legendary guitarist pioneered this approach in the early 1990s, using a dry path from a single amplifier in the center cabinet and left and right cabinets amplified with wet-only delay effects for a wide, multi-dimensional soundstage. The Roland SDE-3000 delays were perfect for his needs and remained core components of his stage rig throughout his long career.
A few years ago, EVH and Boss began discussing the idea of bringing the master's distinctive approach with the vintage SDE-3000s to everyone. "Ed always really enjoyed seeing what people did with certain things he created," said Matt Bruck, EVH Managing Director. "We thought it would be cool to enshrine his unique delay approach and let others find their own inspiration with it."
EVH and Boss worked closely in the development of the SDE-3000EVH to ensure it delivers Eddie's personal delay tone with complete authenticity. After a long process of testing and feedback, both companies proudly bring the finished product to guitarists everywhere, filled with exact sonic replicas of his presets and emblazoned with the signature EVH stripes.
Eddie used two SDE-3000 units with unique settings to achieve his live sound. With the dual delays, multiple outputs, and versatile routing modes in the SDE-3000EVH, it's possible for any player to recreate this setup with their own amps. Eight EVH presets include four presets designed for a wet/dry/wet setup plus four presets adapted for a standard stereo amplifier setup."The EVH presets are exactly like the presets in Eddie's rack," Matt Bruck relates. "There's no difference in mix levels, input levels, or delay times—it's one-to-one."
The Boss SDE-3000D and SDE-3000EVH are available in the U.S. now for $499 and $599 respectively.

For more information, please visit boss.info.
How a used Guild D25C became the keys to the cosmos—and a better life in music.
I should probably name my acoustic guitar. After all, my dog Dolly has a name, and while she's an old pup, I've known that guitar much longer. And like Dolly, that Guild D25C I got in the mid-'90s has given me many gifts.
I bought the guitar after borrowing it from a friend's music store to play some acoustic radio gigs. I'd always felt awkward on acoustic before, but this '80s Guild was an immediate joy to play, with a very electric-like, thin-profiled neck and a surprisingly even and ringing tone hampered by just a bit of boominess via its dreadnought body. When the radio gigs were over, I paid $400 for it.
I installed a pickup and then beat the hell out of the guitar, playing some acoustic shows, but mostly letting the instrument's comfort and playability take me down a rabbit hole from which I've never fully emerged. You see, at the same time as I got my D25C, I began chasing the blues of North Mississippi Hill Country. And after logging many trips to be at the feet of R.L. Burnside, Jessie Mae Hemphill, Junior Kimbrough, and others, the pull was irresistible. Burnside's style was especially magnetic, and I found myself drawn to fingerpicking, slide, and open tunings.
The summer shortly after I got the guitar, I began spending a few days a week at the beach with my Guild, slowly developing my own Burnside-inspired idiosyncratic fingerstyle approach—really delving into slide and playing in open D and G. It was slow going, and the Guild received no mercy. Whether I was on the fretboard or in the water, the guitar spent six hours or more of every beach day unprotected from the baking sun and hot sand.
We all encounter instruments that play a special role in our lives. They inspire us to become better songwriters and players, and maybe even better people.
I had gigs and a day job, so my conversion from rock plectrist to blues yeti was slow. It took three summers of beachy Guild abuse until I felt like I could play the style in public. But along the way I did learn some of the intricacies of primal slide and how to control dynamics and be fleet and nuanced with my fingers. I emerged a different player, and the Guild became a different guitar. After all that time in the sun, it felt and sounded lighter and airier, with a brighter, more balanced palette. Despite all the warnings about exposing guitars to punishing elements, it had gotten better, and the instrument continues to reward me with its comfort and tone.
My Guild taught me that a guitar doesn't have to be a special instrument to be a special instrument. It's a humble model that many players I know dismiss in favor of pricier or more boutique 6-strings, but because of when it arrived in my life, it became the keys to the kingdom of my playing style—a kind of blind cave fish approach built on archaic blues and my instinct for psychedelia and improvisation.
We probably all have an instrument like this—an unfancy guitar that nonetheless helped us grow and become ourselves. For me, the benefit of learning a new approach to the instrument on acoustic and then transferring it to the faster, more sonically flexible world of electric guitar was immensely gratifying. But I still love that Guild for itself, and it still yields songs, compositional ideas, and an endless supply of good vibes. And when I'm cranking a Les Paul through a pair of amps in stereo, I can feel the raw DNA of the Guild in what I'm playing.
Instruments that play a special role in our lives inspire us to become better songwriters and players. Maybe even better people, because in formulating a personal approach as a guitarist, we establish a kind of equilibrium that gives us confidence to play and perform, and confidence in our own place in the world.
Sure, guitars are wood and wires—mostly—but when we work to bond with them and play them for all they're worth, they can be as rewarding, faithful, and inspiring as a good dog. Or a good friend. They take us on journeys within ourselves and in the real world. They create opportunities for learning, adventure, and joy. And who doesn't want more joy?
Hopefully you have at least one guitar you love as much as I love my battered Guild D25C. And if you don't, maybe you'll adopt that instrument soon. Because every guitar can be a door to the cosmos. All you need to do is open it and, to paraphrase Timothy Leary, tune up and turn on!