Stompbox Gear Finds Fall 2022
Check out the ALL-NEW PRS Pedals and more in this edition of our Stompbox Gear Finds!
---
PRS Guitars
The PRS Mary Cries optical compressor pedal is intuitive and sounds incredible. Based on the storied LA-2A, Mary Cries will thicken your tone, help control signal peaks, lengthen sustain, and push your tone without losing definition or clarity. Depending on your settings, it can be used as a boost as well as a straightforward compressor.

PRS pedals were created to be high-end pieces of audio gear. Designed by PRS Guitars in Stevensville, MD, USA. Made in the USA.
Maestro Pedals
Maestro created the world's first fuzz pedal – the Maestro Fuzz-Tone FZ-1. Introduced in 1962, the Fuzz-Tone became the sound of rock and roll and a must-have accessory for guitarists everywhere after the success of 1965's (I Can't Get No) Satisfaction by the Rolling Stones, which prominently featured its cutting edge sound. Now Maestro is bringing the fun and sonic fury of those early Fuzz-Tones back with the new Maestro Fuzz-Tone FZ-M. This all-analog pedal boasts a Mode toggle switch that provides two pedals in one functionality for increased sonic versatility with both an FZ-1 inspired fuzz sound and a thicker, more modern fuzz tone. Its 3-knob control layout gives you intuitive control. The Attack knob controls the amount of fuzz. The Tone control lets you adjust the timbre from bright and raspy to warm and wooly and anywhere in between.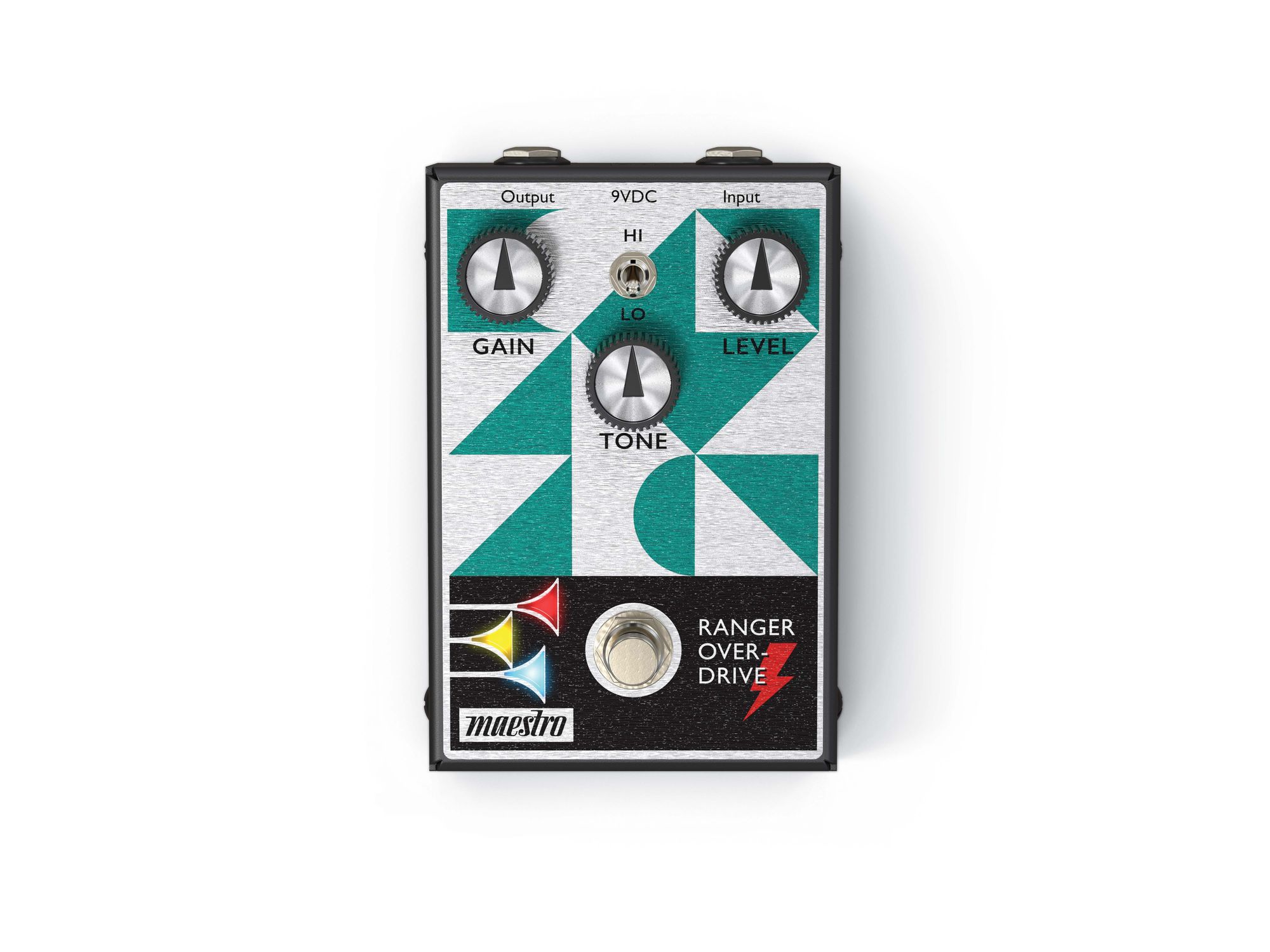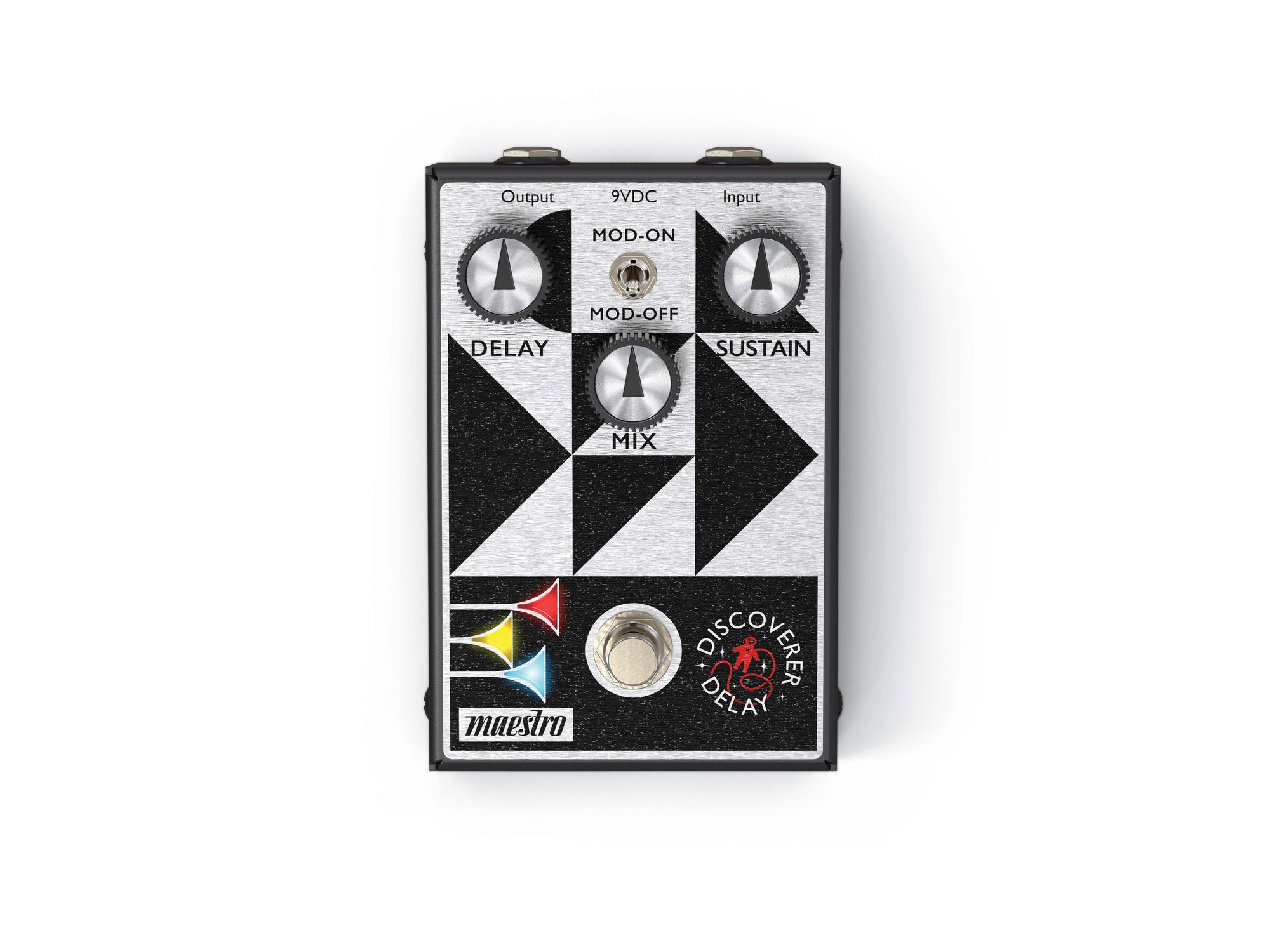 Tech 21
The SansAmp Character Plus Series celebrates the unique chemistry between specific historic amplifiers and specific historic pedals, and cleverly unites them together in single packages:

Screaming Blonde = Fender-style + Tube Screamer-style
English Muffy = HiWatt-style + Big Muff-style
Fuzzy Brit = Marshall-style + Fuzz Face-style
Mop Top Liverpool = Vox-style + Rangemaster Booster-style
Each of the individually-voiced Character controls sweep through an entire spectrum of eras within their particular amp style. Screaming Blonde tones range from the '50s Fullerton to blackface and silverface. The English Muffy spans from classic UK rock to prog rock. Fuzzy Brit goes from classic hard rock to all current rock genres. The Mop Top Liverpool embodies the British invasion through "Bohemian" rock.
These 2-channel multi-function pedals are each like having a stompbox within a stompbox. You can use the SansAmp amplifier emulation on its own or just the effect on its own. The all-analog SansAmps Character Plus Series pedals can be used as stand-alone pre-amps to drive a power amp, a studio mixer, or a PA system, or to complement your existing amp. Other features include built-in speaker simulation individually tuned to match each of the speaker/cabinet configurations associated with each amplifier type; 3-band active EQ, XLR Output, included 9V DC Power Supply. Rugged all-metal housing measures 7.75"l x 2.5"w x 1.25"h and weighs just 12 oz.
EARTHBOARD Music
Never before has an effects pedalboard been so effortless to build and painless to change or rearrange on the fly - So you can Focus on the Music, Not the Set-Up!

Our game-changing design incorporates Rare Earth Magnets ("cupped" so there is no risk to your pedals!) and a long-lasting Battery to give you the neatest, cleanest sounding and looking rig! All of the hassles of using a traditional board are gone. No more messy cobweb of cords and cables. No need to look for outlets and extension cords. No need to deal with dirty noise at gigs. Increase voltage and isolate those "picky" pedals without adding more mess and expense of separate power bricks and adapters. NO MORE SOUND OF RIPPING VELCRO!!!

Here's what's possible with EARTHBOARD:
- Your choice to use our Battery or AC Adapter
- Jacks are on both sides to accommodate YOUR style and the unknowns of the gig space
- All of our power supplies have built in circuit protection to safeguard your pedals
- Built-in cross board audio patch cable saves you money and the hassle of finding the right length cable to connect your top and bottom rows of pedals
- Ability to power large pedals off the board to maximize board real estate - make room for one more pedal!
- The built-in, under mounted, Blue LED lights enhance visibility and the "cool factor"
- Daisy-chain multiple boards and power them all with a single battery
- Rearrange or add pedals on the fly, between sets, in a matter of seconds
Large tour grade pedal board and flight case for 10-14 pedals with removable 24″x11″ pedal board surface and inline wheels

Features:
Pro-grade shock absorbing EVA foam interior
Removable pedal board surface 24" x 11"
Two (2) rubber-gripped handles for easy lifting in and out of the case
3M Dual Lock» hook and loop fastener for pedal installation
Cable and accessory storage under the removable pedal board
Retractable tow-handle and inline wheels
Plywood construction with aluminum edging to create a secure closure between lid and base
Protective ball corners at vulnerable points
Commercial grade Gator red signature hardware
Lockable latches
Spring-loaded rubber gripped handles
George L's Effects Cable Kits
Enhance the tone and clarity of your pedalboard with award winning sound.
The George L's effects kit.
The kit comes with 10' of cable, 10 right angle plugs and 10 stress relief jackets.
Available in black, vintage red and purple.
As easy as 1, 2, 3 no soldering!
Cut, poke and screw your way to 47 years of sound excellence.
George L's
The Juice Bar is a 2000mA power supply with line in fuse designed to offer huge amounts of safe power to your board.
"The Juice system is an innovative and versatile approach to how players power their boards," says Chris Van Tassel. The Juice Bar is a 2000mA power supply with line in fuse allowing huge amounts of safe power to your board. "Mostmusician's rigs typically draw 1,000mA or less and that typically includes a large draw digital pedal like a StrymonTimeline so you'll have plenty of bandwidth with the Juice" Chris continues "For players looking for real versatility theJuice Bar has it all. First, it can be powered with a standard wall wart supply, USBC 5v device charger like an iPhone base or if you have a power bank like those for charging phones you can even go wireless with it. We tested this on a large board and it powered the entire night and was still on in the morning! You can power the Juice Bar with anything from 9V to 24V as long as they do not exceed a maximum of 2 amps (2,000 mA) and a negative tip polarity. The filtered power is quiet and you can easily see your mA draw with the built-in mA tester. The Juice Bar and Juice Jointare expandable within the 2 amp limit so you can power even the largest boards".
Juice Bar Features:
​9, 9v Outputs
1, 12v Output
1, 18v Output
2, USB Outputs
mA tester to ensure your are drawing proper power for your board
Can be powered by any wall wart style power supply (negative tip 9v), cell phone battery bank to create a wireless system, or USBC (5v mobile device charger)
For more output needs connect a Juice Joint to the output of a Juice Bar to expand outputs (9v to add more 9v, 12v to add more 12v, and 18v to add more 18v)
Juice Power Supply Features:
2000ma switching Power Supply
Line in Fuse
Juice is available now for $29, Juice Bar for $259 and Juice Joint for $99 via select dealers.
For more information, please visit rockettpedals.com.
Juice System
Juice, Juice Bar, Cable Bundle
J. Rockett Audio Designs
The MXR Distortion + isn't the sexiest OD pedal on modern 'boards, but it's durable, affordable, moddable, and gets the job done with dispatch. All hail the D +!
This is an homage to a nasty little pedal with a long history, so basic and overshadowed by the endless fiesta of overdrive and fuzz boxes that have come in its wake that, today, despite being in production for nearly 50 years, it is often snubbed. At least until the hunt is on for gritty, vintage '60s through '80s tone. Because that's where the MXR Distortion + does its dirty deeds. And, at less than $100, they're still done dirt cheap.
For many of us, our first pedal was the Distortion +. I have fond memories of stomping on mine—which I bought used at Cambridge Music in Cambridge, Massachusetts, for about $20—in my early stage days at Boston-area clubs like the Rat and the Middle East. When I tapped the switch, my Twin Reverb grew hair. (I was looking for a Big Brother and the Holding Company vibe.) And when I gamed up to the Twin and a Marshall plexi with a 4x12, running parallel, the extra gain pushing the Super Lead was fil-thee. What I loved, I later came to realize when I had more distortion device experience under my belt, is how—regardless of the settings—the essential sonic qualities of both of those amps remained intact … mostly.
At minimum, the distortion dial lays out about 3.5 dB of gain, and maxed there's roughly 46.5 dB.
I still own my Distortion +, and it even did time on my pedalboard last year, alongside an '80s RAT, when I was looking for my inner Ron Asheton and hoping not to buy a bunch more fuzzes. (I failed!)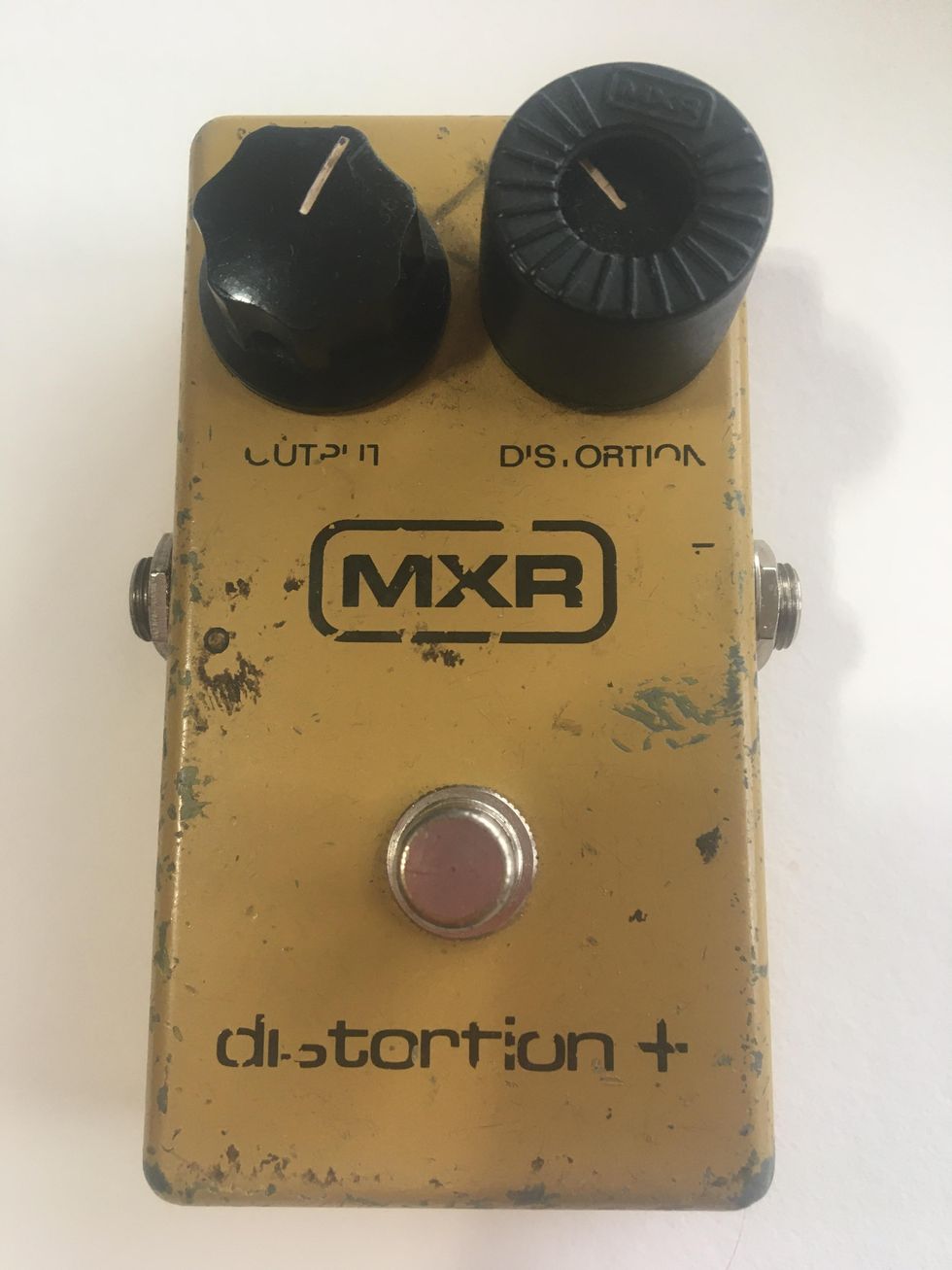 My Distortion + is from 1979. But the device first emerged from the MXR shop in 1974. It is very simple—which appealed to me in my beginner days and, honestly, still does—inside and out. It has an output and distortion control, and, under the hood, a single op-amp and a pair of germanium diodes. That setup is key to its old-school sound, which also delivers some juicy compression. Crank up the distortion and the D + also boosts treble a bit, to preserve some punch. Gain ain't shabby, either. At minimum, the distortion dial lays out about 3.5 dB of gain, and maxed there's roughly 46.5 dB, according to the folks at Catalinbread, who extol the Distortion +'s virtues on their website.
There are filthier pedals, and boxes with a lot more headroom—since this is a hard clipping device—but this humble stomp gets the job done on a budget. And because of its low price and simple innards, it appeals to pedal modders, who have an easy menu of options to alter the compression, add more bass, provide better control gain, put the diodes in parallel, add a tone control, and other tricks. Brian Wampler's PG article "MXR Distortion Plus Mods," from 2008, provides details.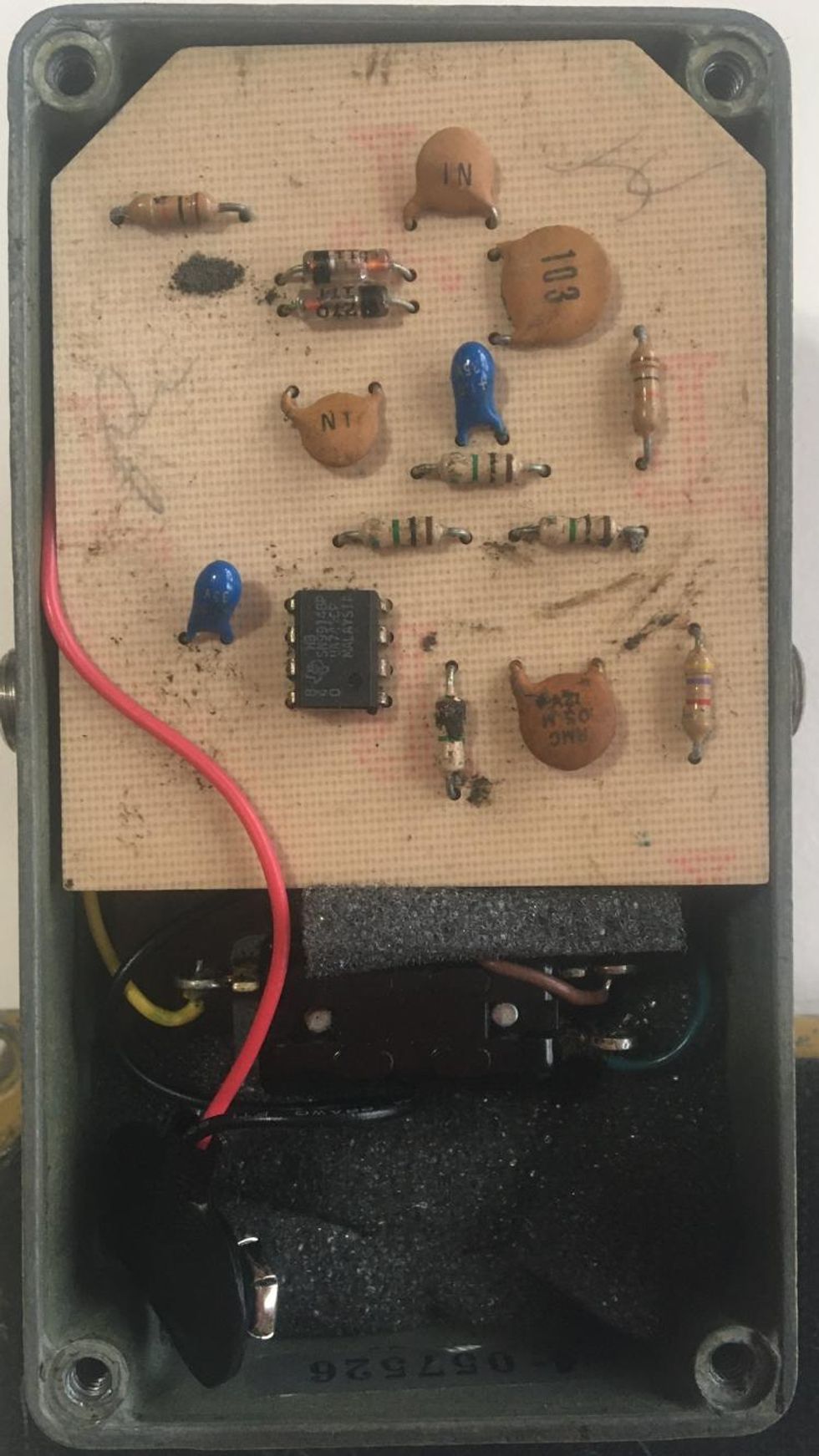 Here's a look at the crusty exoskeleton and simple innards of Ted's well-worn 1979 MXR Distortion +.
Perhaps the best-known Distortion + user is Randy Rhoads, who set the output dial to 10 and the distortion level at 4, reportedly, during the Blizzard of Ozz era, minting the riffs for "Crazy Train" and "Mr. Crowley." Other prominent devotees include Jerry Garcia (who fanboyed the device in the late '70s), Bob Mould of Hüsker Dü, Dave Murray of Iron Maiden, the Dream Syndicate's Steve Wynn, and Thom Yorke of Radiohead. Even Slash was known to use this proletarian pedal in the early days of GNR. So, take that, boutique pedal snobs! The MXR Distortion + is good stuff, indeed.
The new MARK VII is designed to offer the simplest, most versatile, and smallest 90-watt Mark series amplifier ever.
The MARK VII is the Magnum Opus, the flagship of Randall Smith's 50+ year career in one visionary amp design. The new MARK VII takes the knowledge, history, innovation, and performance and distills it into the simplest, most versatile, and smallest 90-watt Mark series amplifier ever. The 3 Channel, 9 Model Preamp, coupled with our legendary Simul-Class Power section that offers three distinct characters across its three wattage ranges, creates a new MARK icon in terms of adaptability, soulful tube tone, and magic. Joined by iconic features that put Boogies at the top of every player's dream list, such as on-board Graphic EQ, lush reverb, a seamless effects loop, and innovative power switching, the MARK VII features a CabClone IR™ DI Direct Interface. With identical features and great sounding IRs from our standalone Cab Clone IR, this built-in version allows individual assignment of 8 Rectifier Boogie Cabinets per channel for unmatched tunability of direct sounds.
The long-awaited "Simul-Seven," aka the new MARK VII, leapfrogs its predecessor, the Mark Five, and the secret Mark Six prototype to arrive at the most power-packed Boogie Mark model ever created in terms of tone, flexibility, compact design, and interfacing. The MARK VII is a do it all tone machine that delivers legendary Mark performance and adds two new sounds. Within the MARK VII's 3-channel, 9-mode preamp is the iconic circuits of the Mark IIB, Mark IIC+, and Mark IV, the legendary Mark Series Clean, Fat, and Crunch modes, and a new modern high-gain Mode full of character and attitude (more shredding than previous Mark amps and more vocal than a Recto), aptly named MARK VII.
The Mark VII has been a goal of ours and discussed for years, well before joining Gibson, and part of our concentrated R&D efforts since 2016 although under the Mark VI moniker," says Randall Smith, founder of Mesa/Boogie. "I finished the preliminary great-sounding circuit board in 2018. Refinement continued from that moment on until late '22 when release preparation began. It became obvious about halfway through the R&D we had a Mark amplifier worth skipping a generational number for. We had leapfrogged our beloved prototype Mark VI mule by such a large margin, it was truly fitting to rename it the Mark VII.
The VII is by far the best amplifier I've ever done in terms of good design and editing, our Design Team at MESA is great at that, and it's created an amplifier that not only contains the best of our entire Boogie history but also manages to do so with a purer signal path and 2 fewer preamp tubes than its predecessor the Mark Five! The first comment players we've shared the VII with have made throughout development, is how incredible the Tone is and how they 'can't believe an amp with this much going on can sound so pure and legit in all Modes'. The key to that is signal path optimization, the knowledge, and tricks I've accumulated over the last 55 years, and near impossible-to-please cohorts here like Doug West, Steve Mueller, and Jim Aschow, who've been doing this with me for four decades. I also have to say that Cesar Gueikian at Gibson's steadfast belief in us and the Mark VII assured at every step it got the highest level of support and priority. At almost 77 now, I still love what I do, pursue it daily, and foresee doing it as long as I can, but I have to say ...after the VII, I've been enjoying working on some easier projects, Ha!"
MESA/Boogie Mark VII Demo
The MARK VII offers discerning players analog, all-tube sound, soul, and feel in a smaller more compact, yet more comprehensive package. With a focus on perfecting icons, bringing back beloved classics, and introducing new realms of modern high gain, all while improving the interface and the performance across all mediums, the MARK VII offers inspiration and freedom across all musical styles. The MESA/Boogie MARK VII is now available in Head, 1x12 Combo, and Rackmount Head formats.
For more information, please visit mesaboogie.com.