1956 Gretsch Chet Atkins Hollow Body Model 6120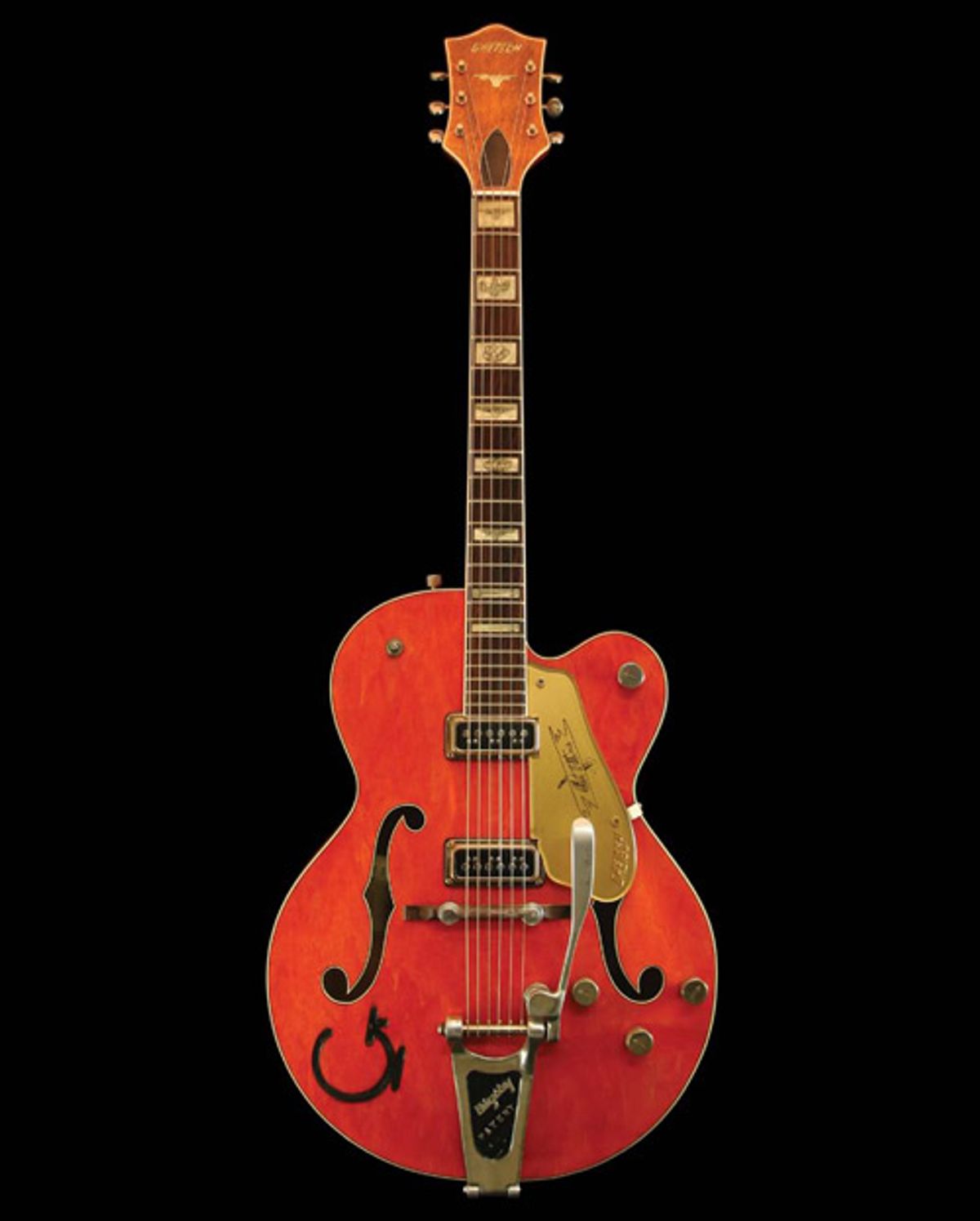 The 1955 Model 6120 included features requested by Atkins, as well as a 22-fret neck (a few early examples had only 21 frets) and a 24.5" scale.
By the early '50s, guitar virtuoso Chet Atkins was a well-known Nashville studio musician on his way to becoming a successful recording artist in his own right. Seeing his potential, the Gretsch Company asked him to work with them to create an Atkins signature model.
In the middle of 1954, Atkins received his first prototype, which was based on Gretsch's existing Streamliner hollowbody model. He approved, but requested the addition of a Bigsby vibrato and a brass nut to improve sustain. After Atkins received a second prototype with those revisions, Gretsch began producing his signature-model guitar in late 1954 to be ready to sell in early 1955.
The 1955 Model 6120 included those features requested by Atkins, as well as a 22-fret neck (a few early examples had only 21 frets) and a 24.5" scale. The body was 15.5" wide and 2.75" deep. The transparent amber red (orange) finish and kitschy Western designs were intended to appeal to country music fans. Atkins disliked the extra cosmetic decorations and had them gradually removed as he and the guitar became more popular.
The 1956 Chet Atkins 6120 pictured this month—serial #18527—has features common to the first two 100-unit batches of 6120s made for the 1956 retail year. (These guitars were actually built in late 1955.) The distinctive features include a large truss-rod cover (which replaced the "bullet" cover), a fixed-arm aluminum B6 Bigsby (replacing the gold-anodized version of '55), a steer-head headstock inlay, a rosewood fretboard with steer and cactus inlays, and a "G" brand near the bass-side f-hole.
If you'd like to dig deeper into Gretsch 6120s, you'll find a wealth of detailed information in the 2010 book
Gretsch 6120—The History of the Legendary Guitar
by Edward Ball. More on Gretsch guitars can be found in
The Gretsch Book: A Complete History of Gretsch Electric Guitars
by Tony Bacon and Paul Day, and also in
Gretsch: The Guitars of the Fred Gretsch Company
by Jay Scott.
---
Dave 's Guitar Shop
Dave Rogers' collection is tended by Laun Braithwaite and Tim Mullally and is on display at:
Dave's Guitar Shop
1227 Third Street South
La Crosse, WI 54601
davesguitar.com
Photos by Mullally and text by Braithwaite.