A Ludwig without its "yoy"
Greetings, gearheads! Welcome back to Stomp School. Seeing as we specialize in vintage and rare effects, we get a lot of repair work in our shop. We've had a lot of interesting pieces come through, but we recently got one that I thought would be great to share with you. A good customer and collector friend of ours, Gino, recently acquired a Ludwig Phase II Synthesizer. Readers of Analog Man's Guide to Vintage Effects will recognize this as the second-most rare and collectible vintage effect of all time.

The Ludwig Phase II we received was in pretty sad shape. Although I happen to have an excellent working example in my collection to use for reference, Ludwigs still pose a lot of problems in terms of repair. This unique and complex device was manufactured and sold around 1970, before integrated circuits were readily available. The circuit is entirely discreet, which means that it accomplishes all of its electronic voodoo without the use of IC chips. Looking at the main circuit board is somewhat reminiscent of an aerial view of a densely populated city. There's a lot going on in this thing. That also means there's a lot that can go wrong.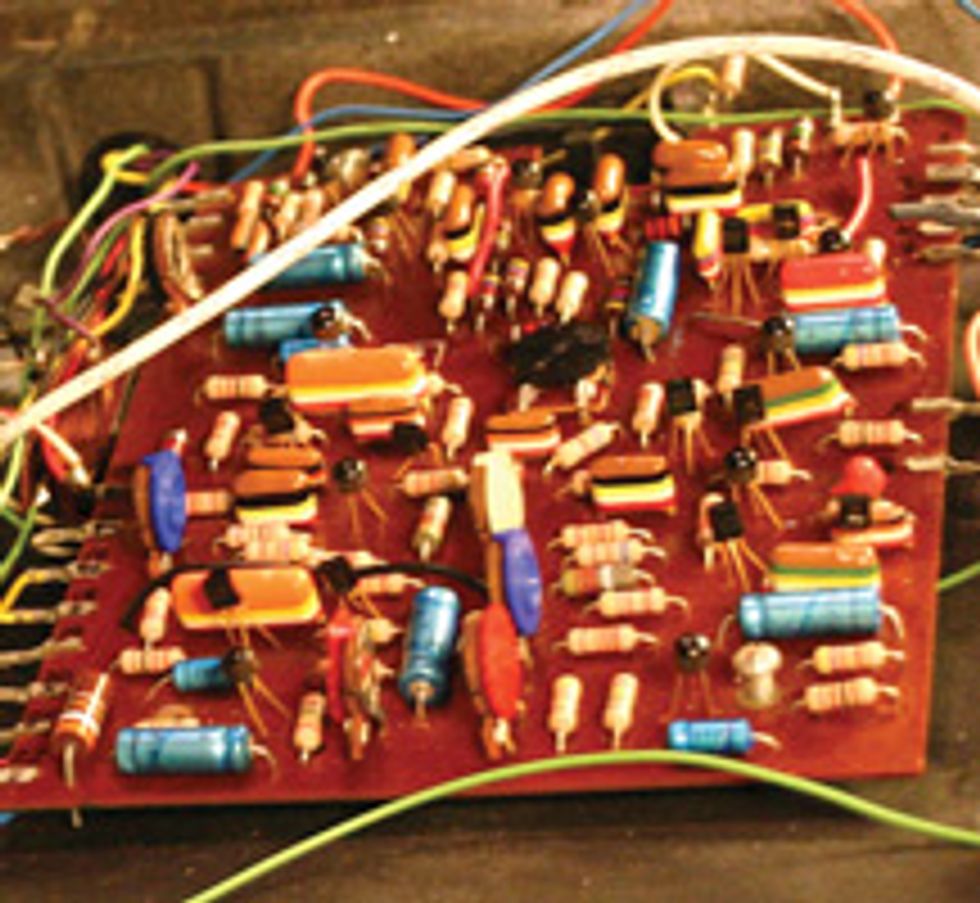 Left:
My properly functioning Ludwig Phase II bares it all for the cause.

Middle:
A close-up of the main board, with a plethora of juicy components and tasty tropical fish capacitors.

Right:
Our tech, Greg, holds the top assemblies to both Ludwigs for comparison (mine is the bottom one).
A Yoy-Less Toy
I have owned a few Ludwig Phase II Synthesizers over the years, and I've had the opportunity to play several more. Every one of them sounded slightly different, which was likely the result of the many discreet components drifting out of spec. The defining sound is the phased, modulated effect that, when properly calibrated, sounds like someone saying "yoy yoy yoy yoy yoy." The Ludwig Phase II we received from our friend had many problems but, saddest of all, it had no "yoy."
The initial issues we identified were that the lights on the top panel, as well as the Animation and Formant Trajectories controls, were not working properly. The stereo output switch didn't work, either. And only a slight phase-like sound could be heard when you used the expression pedal. We quickly got under the hood to see what was going on.
Undoing Abominable Work
The first thing we noticed was that someone had been in there before. This is usually not a good thing. Over the years, hundreds of vintage effects have fallen prey to amateur electronics hobbyists and well-intentioned radio and TV repairmen, resulting in many heartbreaking abominations of electrical ineptitude. In most cases, the person doing the repair had no reference point, and no established outcome that would let them know if the unit was properly calibrated. More often than not, they were in way over their heads.
One of the major obstacles to this repair was that the top board no longer had its original quick connects—the entire board was hardwired. This made it difficult to work on, because all the connections had to be unsoldered (so we could work on the board) and then re-soldered for testing. We reflowed some questionable-looking solder joints, tweaked several trim pots for a quick and dirty calibration, and repaired a few of the quick connects on the main board. We also replaced a couple of dead indicator bulbs with colored LEDs, but we needed to add resistance to keep the LEDs from burning out. Finally, we replaced a faulty jack and footswitch for the stereo output.
I wish I could say at this point that our repairs have been successful. However, at the time of this writing, the patient is still on the table after an operation that has already lasted two-and-ahalf working days. That's okay. We'll just keep working until it's finished. Wish us luck! Until the next time, keep on stompin'.
---
Tom Hughes
(a.k.a. Analog Tom) is the owner and proprietor of For Musicians Only (
formusiciansonly.com
) and author of Analog Man's Guide to Vintage Effects. Questions or comments about this article can be sent to:
stompschool@formusiciansonly.com
.
Analog Man
(
analogman.com
) is one of the largest boutique effects manufacturers and retailers in the business, and it was established by "Analog" Mike Piera in 1993. Mike can be reached at
AnalogMike@aol.com
.