Book Excerpt: "Rolling Stones Gear"
If you've ever wondered what instruments and gear the Stones have used to make their iconic music over the years, Andy Babiuk's new photo-rich book tells all.
When a band's career careens past the 50-year mark, it's hard to imagine how much gear it took to get them there. Not for author Andy Babiuk. He's made a name for himself by tackling the herculean task of documenting and detailing all the gear used by some of the world's most iconic bands. His latest book, Rolling Stones Gear: All the Stones' Instruments from Stage to Studio, is an exhaustive 650-page opus detailing nearly every piece of musical equipment the Stones used when performing or cutting records.
In his quest to discover what the Stones made music with over the years, Babiuk obtained first-hand accounts from various engineers, road managers, and producers. Still, for him the definitive proof is in the photos. "I always say that the best information is photographic evidence," he says. "You can pinpoint things. If you know guitars and the history of instruments, you can realize and see what's there."
Babiuk's book offers nearly 6,000 photos—many of them previously unpublished. The motivation behind this project was both personal and ambitious: Babiuk wanted to leave a document for future generations. "Fifty or 75 years from now some kid is going to stumble on the music of the Stones and wonder how they did what they did."
In this exclusive excerpt from Rolling Stones Gear, we look at three snapshots of Stones history: Brian Jones' first "real" guitar, the story of the "Satisfaction" sessions, and finally a unique Gibson SG that Keith Richards used in the early '70s.
Keith Richards' Gibson Les Paul TV Junior
Keith named this guitar "Tumbling Dice" (or "Dice" for short) after a decal of a pair of dice that once graced the front of the guitar near the control knobs. Note that the remnants of the white dice decal near the knobs that has been worn off. A set of Grover tuners and a Leo Quan Badass adjustable bridge have replaced the original factory parts. "Dice" has been one of Keith's main guitars over the decades. A pair of Fender Tele knobs replaced the original Gibson volume and tone knobs.
This was the same model as Keith's 1960 wine red Les Paul Junior with one black P-90, the main differences being its TV yellow color and a tortoiseshell pickguard instead of a black one. Keith used this guitar in standard tuning, usually with a capo on the seventh fret.
Ron Wood's Zemaitis "Metal Front" Guitar
Ronnie commissioned Tony Zemaitis to build this guitar for the '78 North American tour. Note that the engraved metal top has references to the Stones and the American tour. The black plate on the guitar's back is for a 9-volt battery to power the guitar's power boost circuit.
This guitar is very similar to his original Metal Front, but with a different control knob arrangement on the lower bout. The truss rod cover at the headstock is engraved "Custom Ron Wood 1978." This Metal Front Zemaitis remains one of Wood's main guitars to this day.
Ron Wood's "Disc Front" Zemaitis Guitar
Tony Zemaitis custom-built this guitar for Ronnie with a pirate's treasure map engraved into the round metal plate. The mahogany body is hollow and stuffed with cotton. This has been—and remains—Wood's go-to guitar for playing slide, and it's always set up in open-E tuning. Wood has used this iconic guitar on a multitude of Faces and Stones recordings and live performances.
Zemaitis built guitars with glued set necks, but Ronnie requested that this guitar be built with a bolt-on neck. Zemaitis built the guitar with a set neck anyway, adding a neck plate with bolts to visually accommodate Ronnie's request. Zemaitis also added a smiling skull to the neck plate to make a joke out of it.
Keith Richards' 1954 Fender Telecaster – "Micawber"
When Keith first acquired the guitar it had a stock single-coil Telecaster pickup in the neck position. He has since modified the guitar with a neck humbucker. Keith has used Micawber for countless recording sessions and live shows, and it's still one of his go-to guitars. The finish on the top bout has been worn away by Keith's years of strumming with his pick. Note that the black inlay dot on the 17th fret is missing. The original tuners are long gone, replaced by a set of modern Sperzel locking tuners.
Keith later had the original Fender bridge replaced with an aftermarket solid brass bridge. The bridge saddle for the sixth string has been removed because the guitar is set up as a five-string in an open tuning. The Telecaster bridge pickup had also been replaced with a Fender lap steel pickup. Notice that the pickup is held in with only two screws.
Bill Wyman's Framus 51/50 Star Bass De Luxe
Bill Wyman nicknamed this bass the "Humbug" bass because its wood stripes looked like a popular striped English candy of that name. The hollowbody bass was like Bill's first Framus bass, with the same pickup configuration but with a smaller body and no f-holes.
It had an arched laminated top and back with white binding, a multilayer laminated neck with a bound rosewood fingerboard, and an adjustable rosewood bridge, with "Star Bass" engraved in the tailpiece. The Star Bass De Luxe had the same style of black Framus pickguard/pickup and electronics assembly as Bill's larger cherry sunburst Star Bass. It came in what Framus called their "New Line" finish, a natural finish that showed off the brown and yellow stripes of the instrument's laminated top. Bill's "Humbug" bass didn't appear much until January 1965, when it became his guitar of choice on stage and in the studio.
Brian Jones' Vox MK III "Teardrop"
This guitar was custom built for Jones by Mick Bennett at the Jennings factory in Kent, England. It was a one-of-a-kind prototype with some very unique features. The back originally had a black cloth pad that attached with eight metal snaps. The Fender tremolo block on the back of the guitar had to be carved down to compensate for the thickness of the guitar's body.
The bridge for Brian's Vox guitar is actually a Fender Stratocaster tremolo bridge with the side of the metal bridge cut off where the hole for the vibrato arm would usually screw in. The visually striking six-string, a follow-up to the popular coffin-shaped Vox Phantom, became Brian's trademark guitar; like his distinctive hairstyle, the Teardrop was part of his image throughout 1964 and 1965. Brian first used his Teardrop at a July 11th performance at the Spa Royal Hotel, Bridlington, Yorkshire. From this point the Vox Teardrop was Brian's guitar of choice, which he alternated with his Gretsch Anniversary during the next few months.
Brian Jones' Harmony Stratotone Mars H46 model was a semi-hollow flattop single-cutaway with a bolt-on neck, two basic Harmony pickups, a white pickguard, and a sunburst finish. It was a budget model in the Harmony range, with a cheap plywood body and a maple neck with a maple fingerboard stained black to emulate more expensive ebony.
The 1962 Harmony catalog description of the Stratotone Mars H46 read: "Provides outstanding value in its price class. Hollow 'tone chamber' construction. Ebonized maple fingerboard. Straightline hardwood neck with built-in steel reinforcing rod. Finely finished in warm sunburst effect showing the grain of the wood. White celluloid bindings. Adjustable bridge. Hinged tailpiece. Twin built-in pickups, each with tone and volume control. 3-position selector switch permits playing forward pickup for rhythm, bridge pickup for takeoff or solo, or both pickups at once, for maximum tone variation. $85.00. Carrying case, $10.00." Harmony produced the Stratotone H46 from 1958 through 1966.
From the Author:
Brian and Keith both had Harmony guitars. It wasn't the same price point as a Gibson, so it was much more affordable for the everyday guy. You have to remember that these guys had no money. They would pick up girls to get them to buy them food, so the term "starving musician" would be an understatement. Brian was initially the leader of the band, and I think he fancied himself as the guy who should have "real" equipment. Since these guys were huge blues fans and Harmony was a Chicago-based company, they thought if it was good enough for their blues heroes, it was good enough for them. Brian was working as a clerk in some department store, and the story goes that he pilfered some cash just so he could buy some amps and quit the job. It was a real "whatever it takes" attitude.
I do a lot of authentication, and wood is always the best fingerprint of a guitar. Again, it goes back to photographic evidence. Christie's had it up for auction, and they had contacted me to check it out. The wood grain matched.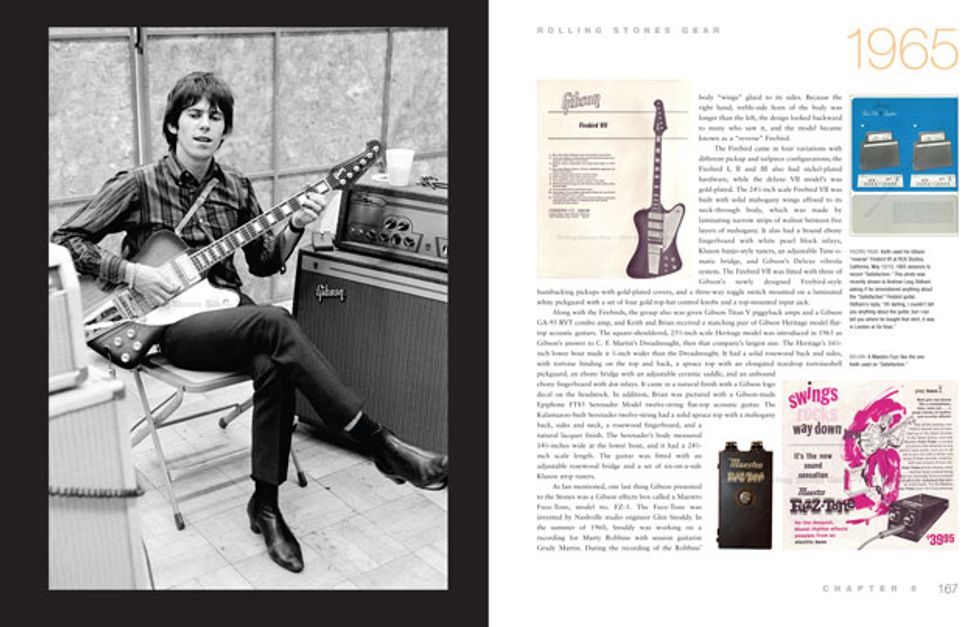 The Gibson Firebird came in four variations with different pickup and tailpiece configurations. The Firebird I, II and III had nickel-plated hardware, while the deluxe VII model's was gold-plated. The 24 3/4"-scale Firebird VII was built with solid mahogany wings affixed to its neck-through body, which was made by laminating narrow strips of walnut between five layers of mahogany. It also had a bound ebony fretboard with white pearl block inlays, Kluson banjo-style tuners, an adjustable Tune-o-matic bridge, and Gibson's Deluxe Vibrola system. The Firebird VII was fitted with three of Gibson's newly designed mini-humbucking pickups with gold-plated covers and a 3-way toggle switch mounted on a laminated white pickguard with four gold top-hat knobs and a top-mounted input jack.
One additional item Gibson presented to the Stones was an effects box called a Maestro FZ-1 Fuzz-Tone. The Fuzz-Tone was invented by Nashville studio engineer Glen Snoddy. In the summer of 1960, Snoddy was working on a recording for Marty Robbins with session guitarist Grady Martin. During the recording of the Robbins' song "Don't Worry," Martin's Danelectro 6-string bass guitar was plugged into a Langevin tube amp module that malfunctioned and started to distort. The novel effect was left on Martin's guitar for the lead break, and when the single was released, it became a No. 1 hit.
Snoddy immediately realized the commercial potential of this studio mishap and set out to build a device that could reproduce this sound. "Later, when I found out what it was, I set about trying to develop that sound using transistors," Snoddy recalled. "We fooled around with it and got the sound like we wanted. I drove up to Chicago and presented it to Mr. Berlin, the boss at the Gibson company, and he heard that it was something different. So, they agreed to take it and put it out as a commercial product."
Gibson introduced the Fuzz-Tone FZ-1 pedal under the Maestro brand in 1962 and produced more than 5,000 units, which were all sent to their dealers that first year. Unfortunately, consumers didn't understand the device, and the Fuzz-Tone pedals sat idly on dealers' shelves. Gibson intended the Fuzz-Tone to be used with a bass guitar to emulate the sound of a tenor or baritone saxophone, and the company even added the Fuzz-Tone circuit to some of their bass guitars. When Keith Richards used the Maestro Fuzz-Tone on the soon-to-be released "(I Can't Get No) Satisfaction," he revolutionized the gadget, making it a mandatory piece of equipment for nearly every lead guitarist.
From the Author:
The sound that launched a million effects pedals. Anything small in the Stones camp back then was handled haphazardly. Maybe it was put in a locker in London or just left somewhere. Ian Stewart, who was an original band member and later their road manager, was in charge of their equipment until his death. We were able to find Dave Hassinger, who was the engineer at RCA studios, and interview him at length a number of times.
Although Dave was older, he was sharp and remembered quite a bit. The Firebird that Keith is holding in the picture was given to Dave, and then it was stolen. According to Dave, he had to really work the EQ on the board to get a certain tone from the Maestro for it to stick out in the mix. Even when you grab an old Maestro fuzz and plug it into an amp–and I've tried it with a Firebird and everything–it will sound close, but you really have to EQ it to get that "Satisfaction" sound. We were very fortunate to have Dave tell us that story. There are other pictures from the same session in the book where you see the box that the Maestro came in sitting under Keith's chair. When you watch him on Ed Sullivan you can see him turn it on before "Satisfaction."
Two new electric guitars added to Richards' collection at this time were used as well, the first being a white Gibson SG Custom. A 24 3/4"-scale, all-mahogany guitar, it had a set neck with a bound ebony fretboard and pearl block inlays, a triple-bound headstock, diamond peghead inlay, and an inlaid Gibson logo. It came with gold-plated hardware and was equipped with three "Patent Number" humbucking pickups, two volume and two tone knobs, a white pickguard, a 3-way toggle switch, a Tune-o-matic bridge, and a Maestro Vibrola with a lyre and logo on the coverplate.
The SG Custom was also rewired with an additional non-factory toggle switch mounted to the pickguard. Richards used this SG at the L.A. Forum show and during the subsequent tour, particularly on "Midnight Rambler," which he played in standard tuning with a capo on the 7th fret. The guitar disappeared from his arsenal soon thereafter and now resides at a Hard Rock Cafe in Florida, which acquired it from Marshall Chess.
The second new guitar was a custom electric 5-string made by Ted Newman Jones III, the first of several 5-strings he would construct for Richards. Built of solid mahogany with a laminated rosewood top, the guitar resembled a smaller "non-reverse" Firebird. The bolt-on maple neck had a dot-inlaid rosewood fretboard with only 19 frets, while the headstock had two gold Schaller tuners on the bass side and three on the treble side. The guitar was equipped with a black neck-position P-90 and a gold-plated bridge-position Gibson humbucker with a black surround ring. It also had a chrome-plated Leo Quan Badass bridge with individually adjustable saddles.
From the Author:
One of the unique features is an additional toggle switch on the pickguard. It has something to do with the third pickup. The guitar has been modded quite a bit and now is a part of the Hard Rock collection. Keith gave it to one of the Chess brothers, who was working for the Stones at the time for their new record label. It's a cool guitar that he used only for a brief time in 1973: the L.A. Forum benefit show and the Pacific tour. Soon after that tour, Keith gave the guitar away.