Crazy Tube Circuits Review: Black Magic, Starlight and Ziggy
We review a line of hand built Greek stompboxes from Crazy Tube Circuits.
Crazy Tube Circuit pedals are the brainchild of Chris Ntaifotis of Athens, Greece, whose first circuits were the modded clones of boosters, fuzz and distortion pedals he built for himself when he couldn't find the right sound for his live rig. In 2004, he began designing his own pedals, orientated somewhere in between vintage and modern and aiming for tube-like warmth and harmonic richness. He also began putting together a team of talented gearheads, and since then, Crazy Tube Circuits has seen a continually expanding line of effects—and Ntaifotis now also spends a good deal of time building custom amps and preamps for a variety of Greek bands and solo artists. All standard Crazy Tube Circuit pedals are built by hand on high-quality PCB, using Wima and Panasonic capacitors, precision metal film resistors, Alpha pots, Neutrik/Cliff jacks, high-quality 3PDT switches for true bypass, hand-selected transistors and Burr Brown/Texas Instruments opamps. Pedals operate on either batteries or external 9V DC power supply.


Clips coming soon!
Black Magic
One look at the Black Magic should signify that it was intended for harder forms of rock, with a three-band EQ section, Presence control, mid-boost switch, and devil woman graphics. Figuring that the Flying V would be the right tool for the job, I ran it into the Black Magic and then into a Marshall 2555 halfstack. Tonally, the Black Magic falls more into the high-gain Marshall area than anything else, as the gain has a very nice upper-mid quality to it. While it doesn't quite have that sharp JCM800-esque bite to it, the sound is highly muscular in comparison. Think Celtic Frost instead of Slayer. Kicking on the mid-boost toggle switch didn't seem to have much of an effect, really. There wasn't enough of a difference that I could see myself using it. I certainly didn't expect the Black Magic to have anything in common with either the Starlight or Ziggy, but it also shares some of the same darker qualities of those pedals, and the high degree of touch sensitivity. Most high-gain rock pedals have a problem with either ice pick highs, harsh mids or farty lows when the volume is cranked. I didn't notice this at all with the Black Magic—cranking the Marshall just made it sound thicker, meaner, and more responsive. It literally sounds better through a raging tube amp, which is the exact opposite of the experience I've had with pedals like this. The Black Magic reacts like an overdrive, but sounds like a European metal beast.
Buy if...
you're looking for great British-styled high-gain rock tones and excellent touch response.
Skip if...
you have no need for high gain or larger EQ section.
Rating...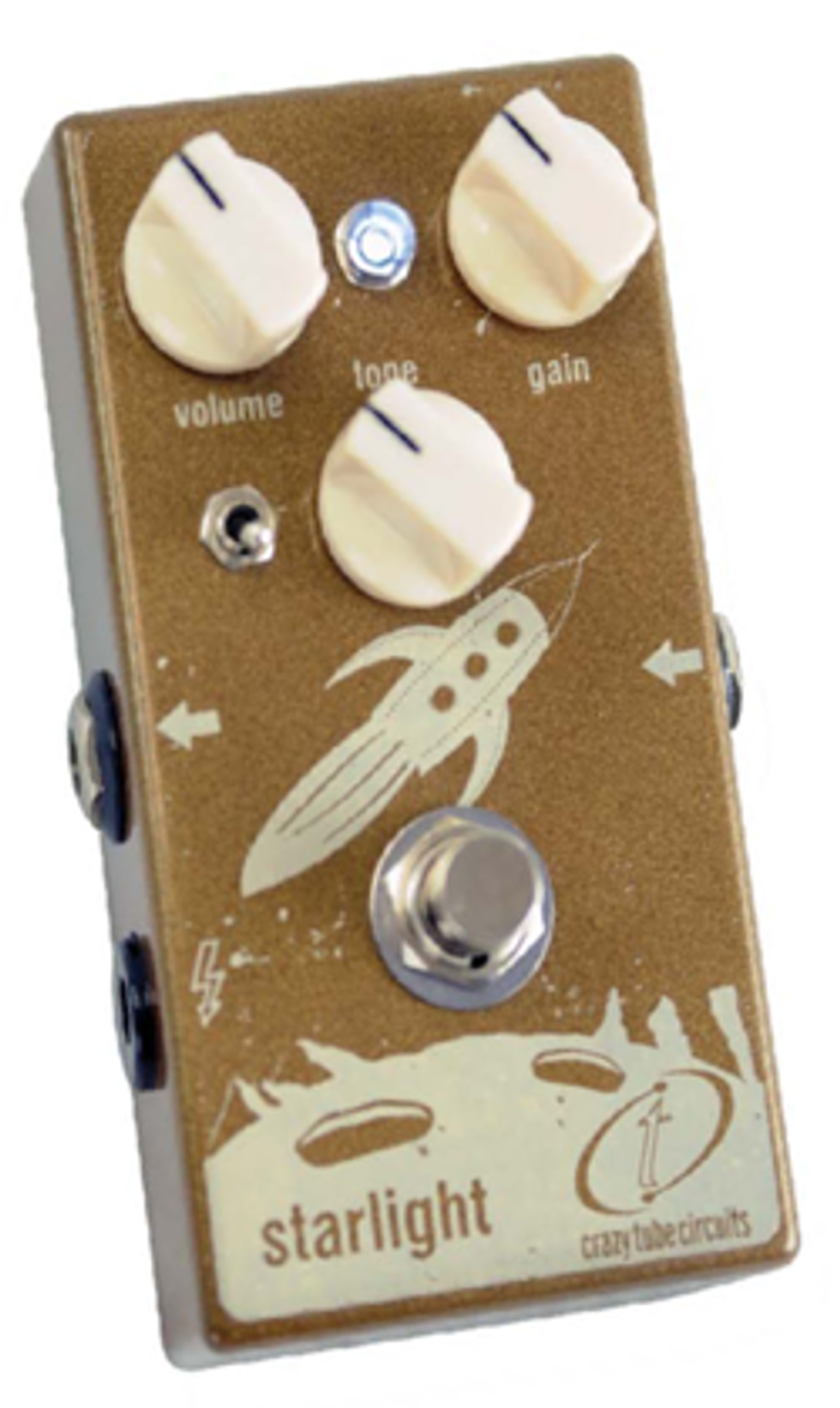 Clips coming soon!
Starlight Overdrive
Masquerading as a simple overdrive pedal adorned with 1930s-era sci-fi movie graphics, the Starlight offers a very smooth overdrive using a mix of JFET and MOSFET gain stages. The layout is relatively simple, with the standard array of Volume, Tone and Gain controls. In addition to the familiar controls, a mid-boost switch is nestled close to the Volume and Tone knobs. Using a 2007 Gibson Flying V into a Fender Twin Reverb Reissue, I followed the recommended setting of placing the Gain control somewhere between 7 and 9 o'clock (I had it at 8:30). The first open G chord was infused with an impressive, clear tone. I was taken back a little at how much gain it added at this low setting. Normally, this particular Flying V has a brighter edge when using distorted sounds, but the Starlight wasn't about to let that happen. Even with the Tone knob maxed, the sound was relatively dark.
The tone is certainly not on the bright end of the spectrum, but it's a good one. Switching to a 1996 Fender USA Stratocaster helped bring the highs out into the forefront a little bit, but not in any extreme sense. It's a great tone, but its subdued nature might turn off some players. Coupling it with a bright amplifier (such as the Twin that I was using) can help alleviate that if it's an issue. Now that the pedal had proven to me that it was capable of restrained, cultured tones, it was time to push it further. Keeping the Strat connected to the Starlight, I started to play around with some higher gain settings. While lead lines and fills kept a snappy, responsive punch, riffing at any setting higher than 2 o'clock caused the tone to loose its consistency. However, even when higher settings caused the tone to muddy up, the attack was brazenly present. This is certainly one of the Starlight's strong points, if not its strongest. Players with characteristically brighter amps will want to take notice.
Buy if...
you're seeking a lower gain '70s rock machine.
Skip if...
you need a bright high-gain overdrive.
Rating...
 
Clips coming soon!

Ziggy Overdrive
A discrete overdrive engine consisting of MOSFET-cascaded gain stages mixing the voicing of two British amps, the Ziggy (anybody else instantly think about The Spiders From Mars?) shares much in common with the aforementioned Starlight, with a simple, customary control layout of Volume, Tone and Gain. It also shares the dark tonal qualities that the Starlight exhibits, but with a different gain structure performing the work. According to Crazy Tube Circuits, the Gain control moves between two distinct British tones—from 7 o'clock to noon aims at a top-boosted sound, and past noon a crunchier sound with added low frequencies— providing a one-two-punch mix of Vox AC30 and Marshall JTM45. A Gibson Les Paul Custom (a 1978 model, and not a natural finish one like Mick Ronson's, regrettably) into a 1973 Marshall Superbass halfstack seemed the like the right recipe for a pedal bearing this namesake.
From striking the first chord to running down a gypsy fill, the Ziggy certainly had that dark, spongy feel that I noticed with the Starlight, but with a lot less gain. The Ziggy really seems like a traditionalist's overdrive pedal, one for the player that understands that tube amps open up and react more when cranked. I can't say that I noticed any issues with congested drive tones, but the bass response was a little on the weak side, even with the guitar and amp that I was running it with. Beyond the Ziggy's inherent, great-sounding tone is its sensitivity to attack. By slightly backing off a bit, I was able to get some very usable clean but very lightly overdriven tones, and never had to touch my volume knob. Those old amps that the Ziggy is nodding to exhibited this quality in spades, and it performs admirably well in this department.
Buy if...
you want a great sounding, mixable light overdrive with notable sensitivity.
Skip if...
you're not looking for darker tones, or you need more gain and stronger bass response.
Rating...