DigiTech's New "Hot-Rodded" RP90 and RP70 Mulit-Effects Modeling Processors
Modeling processors hot-rodded from the ground up, offering expanded capabilities, authentic models, and enhanced accuracy, dimension and dynamics
Anaheim, CA (January 26, 2008) - DigiTech rolled out two beefy RP Series modeling guitar processors at NAMM: the RP90 and RP70. Each RP guitar processor features brand new models based on classic and coveted amplifiers, distortions and effects, classic stompboxes, modulation effects, delays, reverbs and also includes special effects like DigiTech's renowned Whammy pedal. A slew of options for creating high quality tones and connectivity makes these RP Series processors perfect for guitarists of all genres.
At the heart of the RP90 and RP70 is DigiTech's AudioDNA 2 DSP engine, offering four times the power as the previous AudioDNA processor. AudioDNA2 is a proprietary audio ASIC used to provide maximum accuracy in the tone and dynamic response of these new RP Series processors.
Using DigiTech's newly added Tone and Effects Library buttons, it is easy to dial in the perfect sound using a simple three step process, however the RP90 and RP70 are also infinitely "tweakable" using the RP's intuitive interface. With pre-designed combinations of models that are accessible as fast as the user can hit the button, the RP90 and RP70 are guaranteed to find sounds that fit a multitude of playing styles including some of the most aggressive sounds on the available.
The RP90's feature set includes:
• Tone and FX Libraries, with FX Level and Master Level
• 100 presets (50 factory, 50 user)
• 12 amp/ 8 cab models
• 6 distortion stompbox models
• 32 effects types including step filter
• 5 seconds delay time
• 40 High quality drum patterns
• Separate 1/4" Left and Right Outputs
• Amp/Mixer Switch
• Built-in chromatic tuner
• Built-in expression pedal
• Included 9VDC PS200R power supply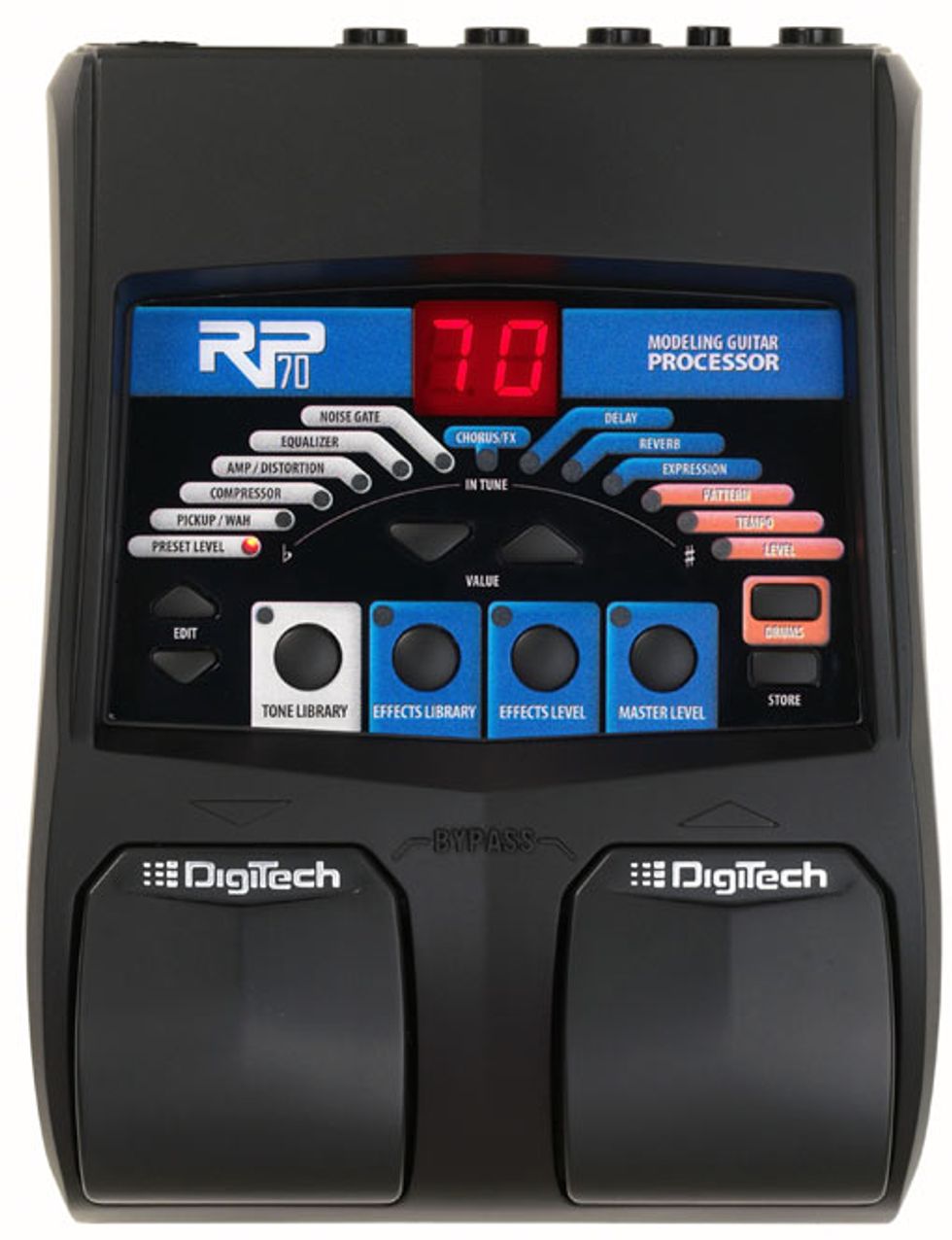 The RP70's feature set includes:
• Tone and FX Libraries, with FX Level and Master Level
•100 presets (50 factory, 50 user)
• 12 amp/ 8 cab models
• 6 distortion stompbox models
• 32 effects types including step filter
• 5 seconds delay time
• 40 High quality drum patterns
• Separate 1/4" Left and Right Outputs
• Amp/Mixer Switch
• Built-in chromatic tuner
• 1/4" Expression pedal input
• Included 9VDC PS200R power supply

For more information:
DigiTech.com