Fender EC Tremolux Amp Review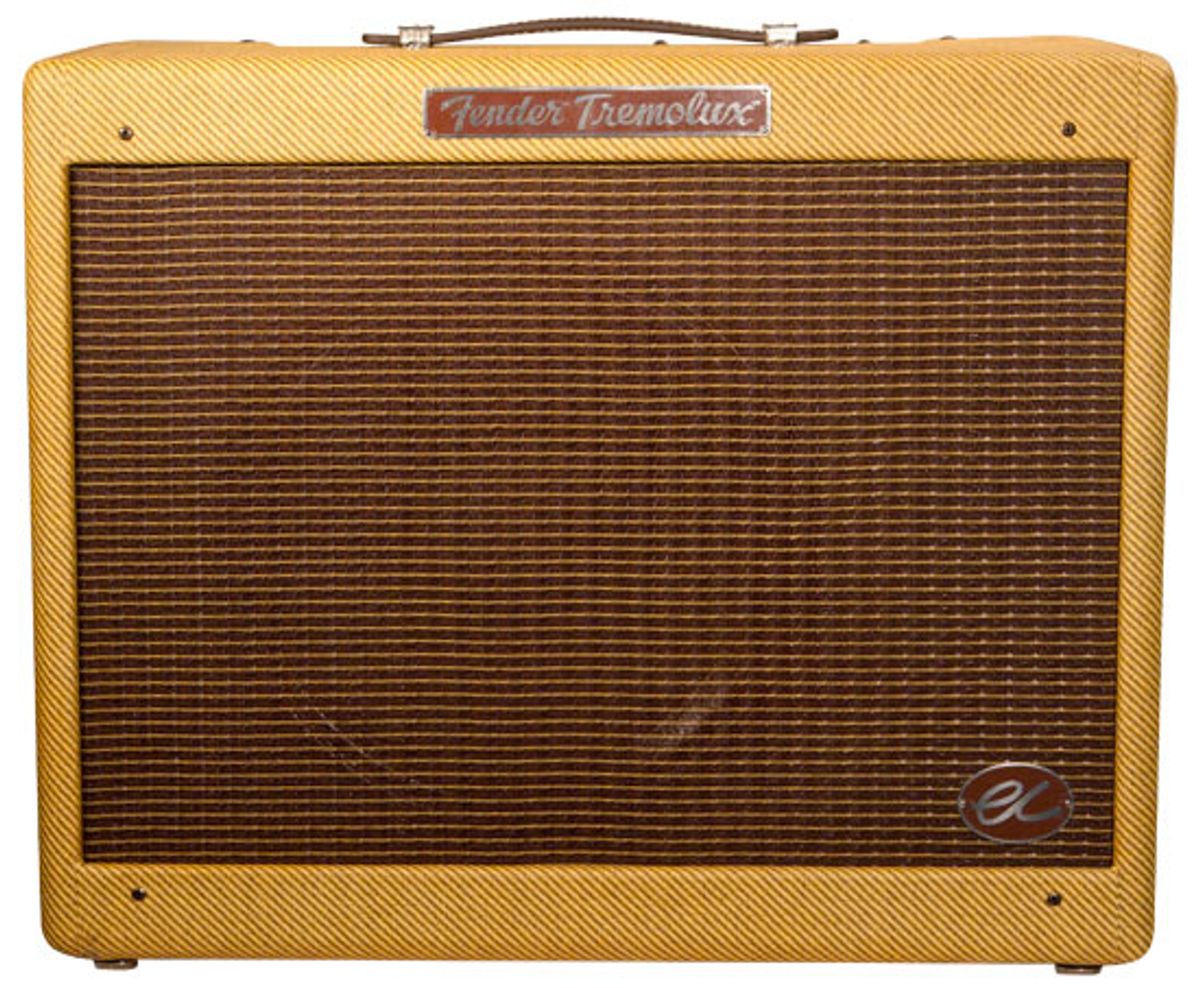 The new hand-wired EC Tremolux delivers greater-than-the-sum-of-its-parts clout with a super hip tremolo circuit and power attenuation capabilities.
There's nothing more blues than a Fender Tweed. From a visual standpoint, a Tweed Deluxe, Bassman, and Twin are probably the most essential and ubiquitous electric blues accessories. Looks don't count for much if you ain't got the sound though, and Tweeds shape the sonic signature of everything from the sting of Muddy Waters' Chess sides to Slim Harpo's throbbing and shuffling Excello slabs.
Such truths are not lost on a blues scholar like Eric Clapton. And given his storied infatuation with electric blues in its most authentic forms it's surprising that we didn't see a Fender Tweed with EC's initials on it sooner. But if you're a fan of compressed, exploding, South Michigan Avenue tones it may well have been worth the wait, because the new hand-wired EC Tremolux delivers the greater-than-the-sum-of-its-parts clout with a super hip tremolo circuit and power attenuation capabilities that make it handy beyond blasting the front row at your local juke joint.
Dressed to Kill
The EC Tremolux is based on Fender's first generation Tremolux from the mid '50s, which for all practical purposes, is the legendary 5E3 Tweed Deluxe with tremolo. That means it's rated at right around 12 watts (a figure that never fails to surprise), which is churned up through three 12AX7 preamp tubes, a pair of 6V6GTs in the power section, and a 5Y3GT rectifier tube.
The Tremolux is beautifully built—on par with anything you'd see from a boutique builder. The pine cabinet, which also helps makes the Tremolux quite light, looks clean and immaculate, and the lacquered Tweed covering is flawless at the seams. Even the most nuts-and-bolts parts of the amp look cool—right down to the Celestion G12-65.
The control panel looks as simple as they come, though the simplicity belies the amp's versatility. An Output switch just adjacent to the light jewel attenuates the power by about half. Next to the Output switch you'll find the Speed control for the Tremolo. It's the only control for the Tremolo, which might be a bummer for players looking for a deep, chopping trem. But those that dig a cool throb to put on top of their blues shuffles will probably enjoy the simplicity. Apart from the Tone and Volume knobs, there are high- and low-gain inputs. It's a beautifully simple control set that beckons you to fire up and go.
Down and Dirty
Anyone who has ever played a little Tweed like a Deluxe or Tremolux can tell you that a simple circuit and control set don't necessarily translate to crystalinity you often associate with Fenders—even small ones like Blackface and Silverface champs. Instead the Tremolux is full of color and character, even at low volumes. If you need pure bell-like chime and jangle for, say, your Telecaster's bridge pickup, you might end up a little frustrated with how much color the Tremolux adds to an otherwise clean tone. But if you're constantly looking for ways to pepper your jangle with a little attitude, a Stratocaster or Telecaster with amp volume between 3 and 5 and generous application of high end via the Tone knob gives you a sweet, butt-kicking Tom Petty-style rhythm tone. You may not be able to hear too much of it over a raging rhythm section, but it's a very cool recording texture.
To compete with a loud band, you'll have give the Tremolux some gas. And when you do, the little Tweed gets mean. Needless to say, the Tremolux is not a high gain monster, so when you do crank it the grit and overdrive are accompanied by a heavy amp compression that's a signature of Fender Tweeds, but can sound odd to the uninitiated, or those inclined to believe that a cranked Tweed is all that stands between them and their inner raging Neil Young. With a Stratocaster in any one of the three positions from the bridge to middle pickup, the Tremolux takes on a honky, saxophone-like hue on chords and Keith Richards/Chuck Berry two-string stops played between the first and ninth frets. Single note solos up above the ninth fret have sweet and biting character that retains some of that cool sax-like color. And true to form, working through a Jimmy Reed shuffle that's punctuated with leads up at the 12th fret is a slice of blues heaven—husky, bass-rich, tight, and singing when you need it.
Single note solos up above the ninth fret have sweet and biting character that retains cool sax-like color

In general, Les Pauls sound everything from bossy to muddy. The compressed character of the amp can makes it hard to summon the whole breadth of a humbucker's harmonic richness. Getting a really slicing tone from a Les Paul means cranking the tone, putting a little kick behind your pick attack, and keeping the neck pickup out of the mix. It's a glorious tone, and a combination of dynamic pickwork and volume knob control will help you get the most out of it. In general, though, the Tremolux seems to have the most range with a Telecaster or Stratocaster or mini humbucker-equipped Gibson Firebird out front. And the combination of twang and harmonic content from the Telecaster in particular, is an especially good fit. Muddy would be pleased.
The Verdict
When the Tremolux is in its sweet spot, you'll never want to leave—especially if you're a blues head with electric South Side inclinations. A good Telecaster or mini humbucker-equipped axe will make this amp sound liveliest, and you can expand the vocabulary of those combinations with pick dynamics and deft use of your guitar volume knob. Humbuckers are a less-than-perfect match for the super-compressed upper half of the amp's power range, though they'll record well at lower levels
The $1,999 price tag may give pause to some, though it falls in line with many hand-wired Deluxe clones that don't have the Tremolux's very cool Tremolo or power attenuation capabilities. It's a lot to pay for an amp that doesn't have miles of headroom and isn't exactly multi-dimensional. But what the Tremolux does, it does beautifully. And in the studio, where you can roll back the volume, give it a little more room to move, and even throw on a little fuzz, the Tremolux can be a very capable little beast. At the end of the day, though, the Tremolux belongs in a roadhouse cranking away over a drums and bass trio blasting dirty blues and belting rowdy Telecaster licks. And if you have the coin to spare, it might be the best juke joint wingman you ever had.
Buy if...
Muddy Waters is your man!

Skip if...
you're looking for something a little cleaner for your janglepop masterpiece.

Rating...