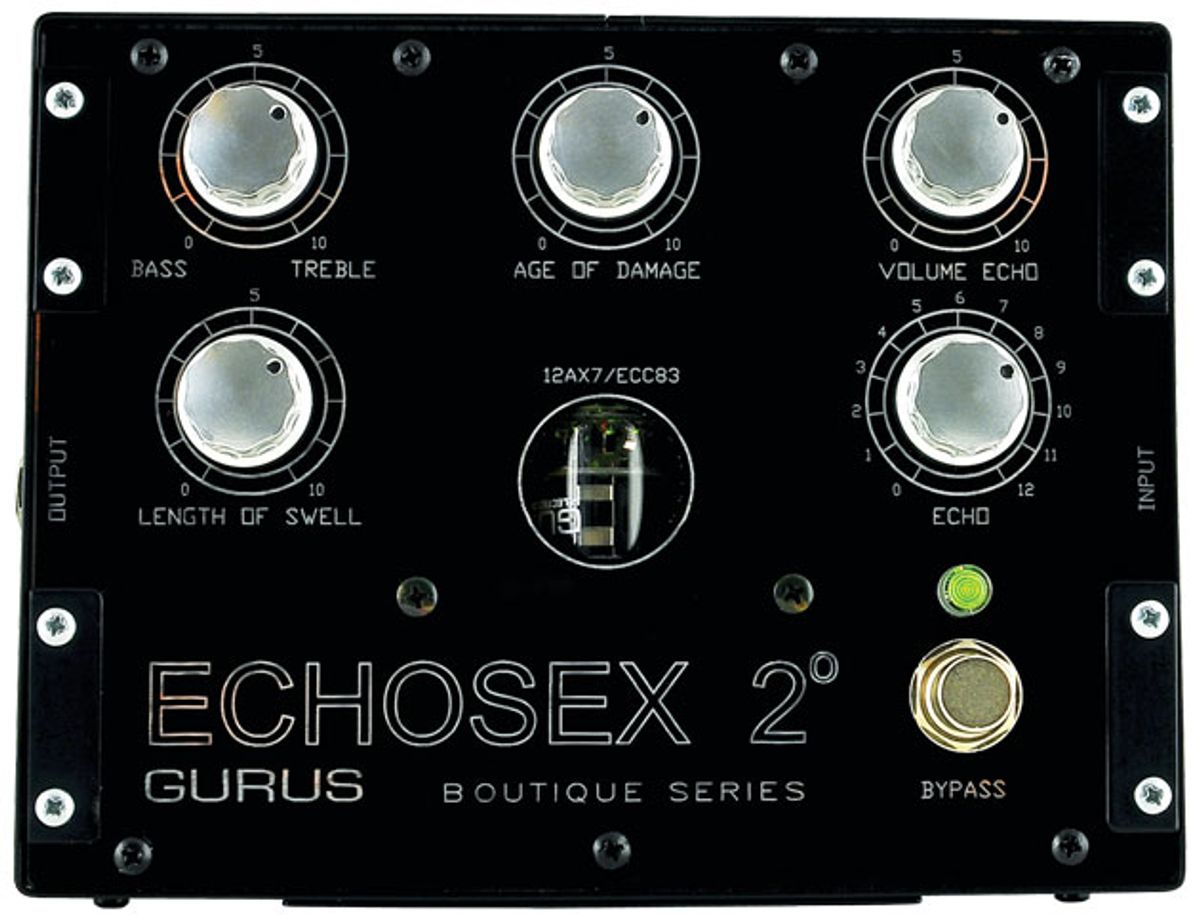 An Italian faux-analog delay that captures the elusive Binson Echorec sound.
When it comes to design, we often think of German precision, no-nonsense American pragmatism, and the form-follows-function economy of Scandinavians. Part of the charm of Italian design, though, is often an endearing eccentricity, as found in everything from the Vespa scooter to the Bialetti espresso pot—or that lesser-known Italian classic, the Binson Echorec.
How fitting that engineer Bonfiglio Bini created the Echorec in Milan, a city long associated with design. Back in the '60s, while most delay designers focused on tape as a medium, Bini concluded that a magnetic drum would be considerably less fragile. Result: an echo unit that played and sounded unlike any other. The Echorec became an integral sound for both Barrett- and Gilmour-era Floyd, and Jimmy Page applied it to John Bonham's drums on "When The Levee Breaks."
The drive to capture that sound in a stompbox has bordered on the religious. One recent attempt is the Echosex 2 from Italian builder Gurus. It's as Italian as Lucio Battisti driving a Fiat 500 through Umbria.
Ciao, Bellissimo Some of us have a have a near-biological reaction when we encounter mythic gear. Indeed, after unboxing the Echosex, I felt like I needed a cold shower. The etching, Perspex faceplate, and overall layout are nods to original Binsons, and I love how Gurus retained the imperfect English labels. LEDs surrounding a 12AX7 preamp tube glow brighter as input increases—a reference to the "magic eye" indicator on the originals. The actual delays, however, are produced via a digital PT2399 chip, with post-delay filtering to mimic the sound of tape heads.
There's something wonderful about big knobs and script you can see without a magnifying glass.

The layout is clean: On the top row are controls for bass/treble, "age of damage," and volume echo (dry/wet mix). Lower-row knobs control length of swell (feedback) and echo (time in ms.) To the side are DIP switches to choose the bypass mode (hard cutoff or spillover) and to set the input level for line or guitar. (Like the original Echorec, the Echosex 2 can sere as both stompbox and outboard studio effect/preamp.)
We tend to focus on how many pedals we can cram onto our boards. But sometimes it's nice to remember how much we can do with a few big, beautiful, boxes. There's something wonderful about big knobs and script you can see without a magnifying glass.
Set The Controls For The Heart Of The Sun
The Echosex 2 is about as plug-and-play as it gets. The only reason to read to manual is to make sure the DIP switches are set appropriately. I grabbed a Fender Telecaster Standard and Vox AC15 to test the Echosex 2 (plus an Acid Fuzz Sonic Boom to see how the device would respond to a period-perfect fuzz). Naturally, I dove straight into the "damaged" settings. Part of the Echorec's charm has to do with the way its capstan can become misshapen over time, producing an effect similar to tape warble. The Echosex nails this.
The Echosex controls are beautifully interactive. For example, you can sculpt self-oscillating feedback via the bass/treble knob, which not only makes feedback tones brighter or darker, but also fine-tunes the point at which repeats self-oscillate.
Ratings
Pros:
Beautifully authentic Echorec sounds. Lovingly made. Awesome studio effect.
Cons:
Omits the original Echorec's multi-head effects.
Tones:


Ease of Use:


Build/Design:


Value:


Street:
$409
Gurus Amps Echosex 2
gurusamps.it
Off with Their Heads!
However, the Echosex 2 omits one key feature from the original Echorec: multi-head effects. Echorecs had several playback heads capable of beautiful, disorienting delays. It's hard to understand why anyone would spend the time to get so many details perfect, but neglect this signature feature. At this price, it's frustrating.
Beyond that glaring omission, the Echosex excels at conjuring the Echorec magic. With the feedback and tone controls set just right, guitar lines can generate super-long repeat trails, darkly mysterious delay washes, and bright, articulate repeats that can rise above cluttered arrangements. The tone control is even more effective with a fuzz engaged. Adding warble with the "Damage" control gives repeats a cool EMI/Abbey Road-style "artificial double-tracking" effect. With volume echo 100% wet, I was reminded how extreme classic echo can be. That said, subtler settings function much like those on any other great-sounding faux-analog delay.
Period technology limited the original Echorec to 300ms delays, but the digital Echosex 2 provides 660ms. The extra time is useful for layering parts, though it sometimes highlights the absence of a multi-tap option. You can create soundscapes not possible with an Echorec, yet true to its sonic spirit.
The Verdict
Visually and sonically, Gurus has done something wonderful. You could get to roughly the same place—at roughly half the cost—with some of the better recent Echorec-inspired stomps, but you can also opt for Converse sneakers over custom-made boots. The Echosex 2's unique, bespoke quality is uncommon even among the best-built boxes, making the pedal a delight to work with.
While it's tough enough for touring, the Echosex 2 may be most inspirational in the studio. With its line-level option, it could serve well as an outboard effect, treating guitars, other instruments, or entire mixes. The Gurus Echosex 2 is a real asset for the resourceful player—and a beautiful piece of hardware that might render much of your pedalboard redundant.