The H&K Statesman packs a bigger punch than you might expect from its size, 20-watts and reasonable price.


Download Example 1


Clean



Download Example 2


Crunch & Lead



Download Example 3


High Gain



Clips were recorded with a 2008 Les Paul Standard. SM57 on center, Neumann U87 room.


Clean: Clean channel, Bridge pickup, reverb on 2




Crunch and Lead: Bridge and Neck pickups, gain on 7




High Gain: Bridge pickup, gain on 10



Hughes & Kettner make fine products. They've been around for several decades now and I can clearly recall when they brought out the Cream Machine and Blues Master back in the late eighties—those were favorites in my circle. In 2008, the not-so-recent trend of low powered heads and combos appeals to a very large population of players, especially those who love EL84-based amps. Besides that, PA systems are efficient these days and nobody likes arguing with the soundman… or going to their chiropractor! Knowing the beauty of EL84 power tubes, H&K has tapped their high gain, low(er) volume capability and put them to good use in the Statesman Dual EL84 Combo.
Offering 20 watts of power in an attractive, Chocolate Brown 1x12 combo (Eminence Rockdriver Cream) with basketweave grill, the STM Dual EL84 boasts 2 channels, a shared 3-band EQ, FX loop, "boost" and "twang" modes, and an Accutronics spring reverb. It weighs in at 43 lbs and comes with a protective cover for storage or travel. For an MSRP of $1395, it sits in a comfortable price range, while not being exactly inexpensive. Still, compared to the prices of boutique combos, it's still significantly lower in cost than many others on the market. So how does it stack up?
Plugging In
I had the opportunity to have the amp around for a while and was able to use it in a variety of situations in my work at the studio. My first dealings with the amp were in extremely low volume settings and the amp reacted much like any tube amp would. Sure, it was quiet, but it didn't really stand out as anything special. It wasn't until the amp was opened up a bit that its true voice became apparent. With my Les Paul the clean channel exhibited many of the good characteristics of classic American amps: shimmery, with a bit of a mid scoop, and a good amount of twang. Engaging the "twang" button brought out a lot of spank in the guitar and it almost surprised me how Strat-like my LP could sound. I did find that you have to be careful with the voicing of the amp, as it tended to get a little boxy in the midrange area depending on how far the mid knob was cranked. Where most Marshalls seem to like the mids up, this amp favored them slightly lower in 12 o'clock position with many of my guitars. Still, there is enough travel in the EQ to find a sweet spot on just about any guitar. The reverb didn't seem to have a lot of dimension to it. Cranking it all the way up brought out the springiness, but not necessarily in a surf-rock way. Backing it down made it less audible but the overall effect of the reverb wasn't comparable to the great, classic reverb amps we know and love. That said, I should mention that the amp offers a "reverb balance" control on the back panel that lets you regulate the ratio of reverberation between the Clean and Drive channels. This is a first for me, and I enjoyed the ability to push the reverb more on the clean channel and let the drive channel stay drier. Very cool. The FX loop proved to be an excellent way to add in various time-based effects and reverbs that I had on hand. It never compromised the integrity of the tone and was very quiet to boot.

Speaking of quiet, the STM has a very low noise floor. With the volume knob rolled down on my Strat, there was little hiss and hum to contend with even when the amp was cranked up. Sometimes it was a bit startling how loud the amp actually was when it was time to play. You wouldn't expect it from the idling volume. Nice!
Moving on to the gain channel, I found it to be very robust and rich without being overly biting. Having the presence control helped to bring out more chime in the amp, and the midrange tended to sit nicely in the mix of my tracks that I'd recorded with the Les Paul. I'd characterize the sound of the amp as having a lot of "bark" to it. It has gain for days, but doesn't get into modern metal territory. This is more of a classic-sounding amp, which I believe has a lot to do with its voicing. Even pulling the mids down all the way never scooped out the tone far down enough to get ultra chunky. That's not a bad thing at all, by the way. Engaging the boost button adds more gain to the front end of the circuit. I liked this feature as long as the gain wasn't set on 10. At that point it became a little too raspy for my taste, but that might be just the right thing for a single coil pickup.
The Eminence speaker held its own nicely, and never collapsed with the amp on 10. Rolling back the volume allowed for a decent clean on the gain channel, but not quite like a 100W EL34 amp would have. There was always a bit of hair on the tone unless the volume was backed off to 1 or so on the guitar. Again, this is more an artifact of the power tubes than the amp design. One thing I noticed is that because the EQ is shared by both channels, tones that were set up to sound good on one channel didn't always allow for a well-voiced sound on the other. If I dialed in a great distortion tone, it invariably sounded either too dark or too bright on the clean channel. Conversely, a sparkling clean tone ended up making the gain channel too bright. Like many amps that share one EQ between two channels, you may find yourself in need of a quick adjustment to make the most of both sounds.
The Final Mojo
Overall, the STM is a nice combo amp with plenty of features that make it very competitive in its price range. Aside from a few issues, this amp sits nicely in the EL84 category and would make a great addition to anyone's live or recording rig. At 43 pounds, it won't break your back and sounds much bigger than its size. Good job Hughes & Kettner.
Buy if...
You're looking for a competitively priced tube combo with plenty of features.
Skip if...
You want a true 2-channel amp.
Rating...

Looking for more great gear for the guitar player in your life (yourself included!)? Check out this year's Holiday Gear Finds!
This full-amp-stack-in-a-box pedal brings a new flavor to the Guitar Legend Tone Series of pedals, Missing Link Audio's flagship product line.
Adding to the company's line of premium-quality effects pedals, Missing Link Audio has unleashed the new AC/Overdrive pedal. This full-amp-stack-in-a-box pedal – the only Angus & Malcom all-in-one stompbox on the market – brings a new flavor to the Guitar Legend Tone Series of pedals, Missing Link Audio's flagship product line.
The AC/OD layout has three knobs to control Volume, Gain and Tone. That user-friendly format is perfect for quickly getting your ideal tone, and it also offers a ton of versatility. MLA's new AC/OD absolutely nails the Angus tone from the days of "High Voltage" to "Back in Black". You can also easily dial inMalcom with the turn of a knob. The pedal covers a broad range of sonic terrain, from boost to hot overdrive to complete tube-like saturation. The pedal is designed to leave on all the time and is very touch responsive. You can get everything from fat rhythm tones to a perfect lead tone just by using your guitar's volume knob and your right-hand attack.
Features 
Three knobs to control Volume, Gain and Tone
Die-cast aluminum cases for gig-worthy durability
Limited lifetime warranty
True bypass on/off switch
9-volt DC input
Made in the USA
MLA Pedals AC/OD - Music & Demo by A. Barrero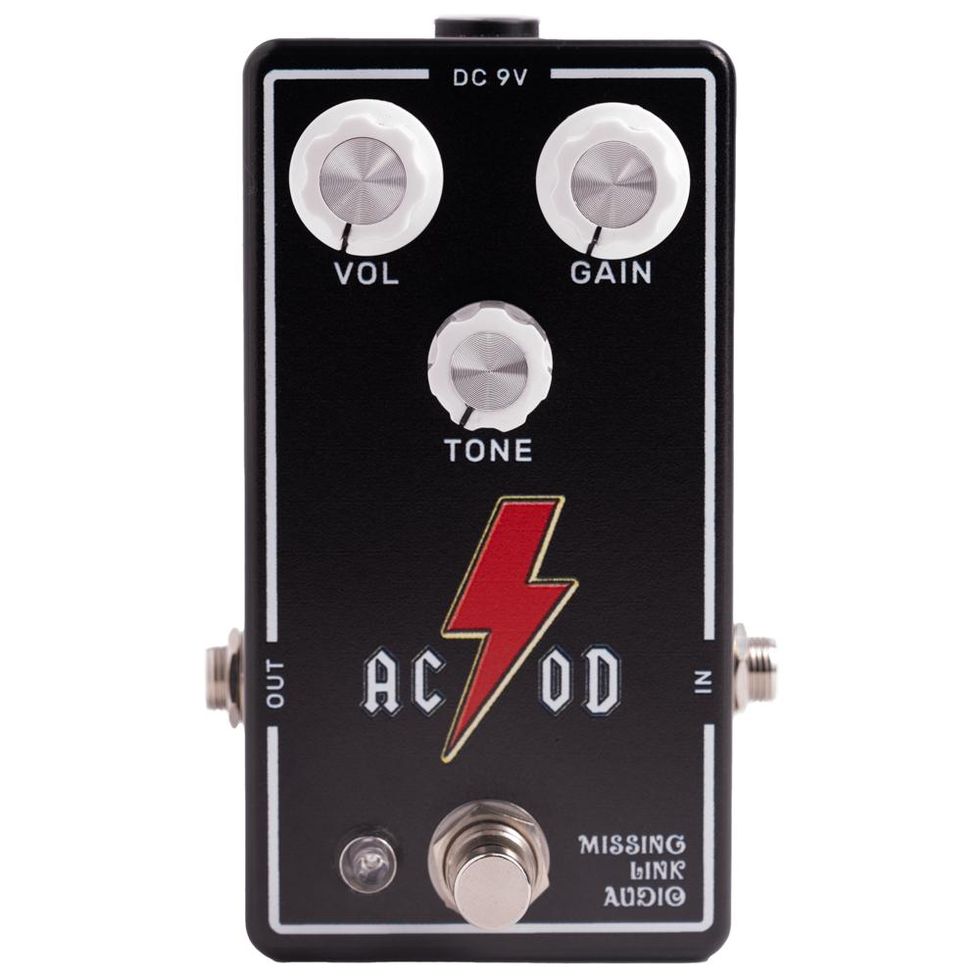 www.mlapedals.com.
Sporting custom artwork etched onto the covers, the Railhammer Billy Corgan Z-One Humcutters are designed to offer a fat midrange and a smooth top end.
Billy Corgan was looking for something for heavier Smashing Pumpkins songs, so Joe Naylor designed the Railhammer Billy Corgan Z-One pickup. Sporting custom artwork etched onto the covers, the Railhammer Billy Corgan Z-One Humcutters have a fat midrange and a smooth top end. This pickup combines the drive and sustain of a humbucker with the percussive attack and string clarity of a P90. Get beefy P90 tone plus amp-pummeling output with the Railhammer Billy Corgan Z-One.
Patented Railhammer Pickups take passive guitar pickups to a new level with rails under the wound strings lead to tighter lows, and poles under the plain strings offer fatter heights. With increased clarity, the passive pickup's tone is never sterile.
Railhammer Billy Corgan Signature Z-One Pickup Demo
Designed for utmost comfort and performance, the Vertigo Ultra Bass is Mono's answer to those who seek the ultimate gigging experience.
Complete with a range of game-changing design features, such as the patent-pending attachable FREERIDE Wheel System, premium water-resistant and reflective materials, shockproof shell structure and improved ergonomic features, the Vertigo Ultra Bass takes gear protection to the next level.
The Vertigo Ultra Bass features:
Patent-pending FREERIDE Wheel System that allows for wheels to be attached on the case in no time, giving you the option to travel with it seamlessly
Upgraded materials, including a water-resistant 1680D Ballistic Nylon outer shell, plush inner lining and new reflective trim for maximum backstage and night visibility
Enhanced protection with a shockproof shell structure and heavy-duty water-resistant YKK zippers for protection from the elements
Improved ergonomics and functionality including added back support and load-lifting detachable shoulder straps with side release buckles
Flexible storage options with added space for touring essentials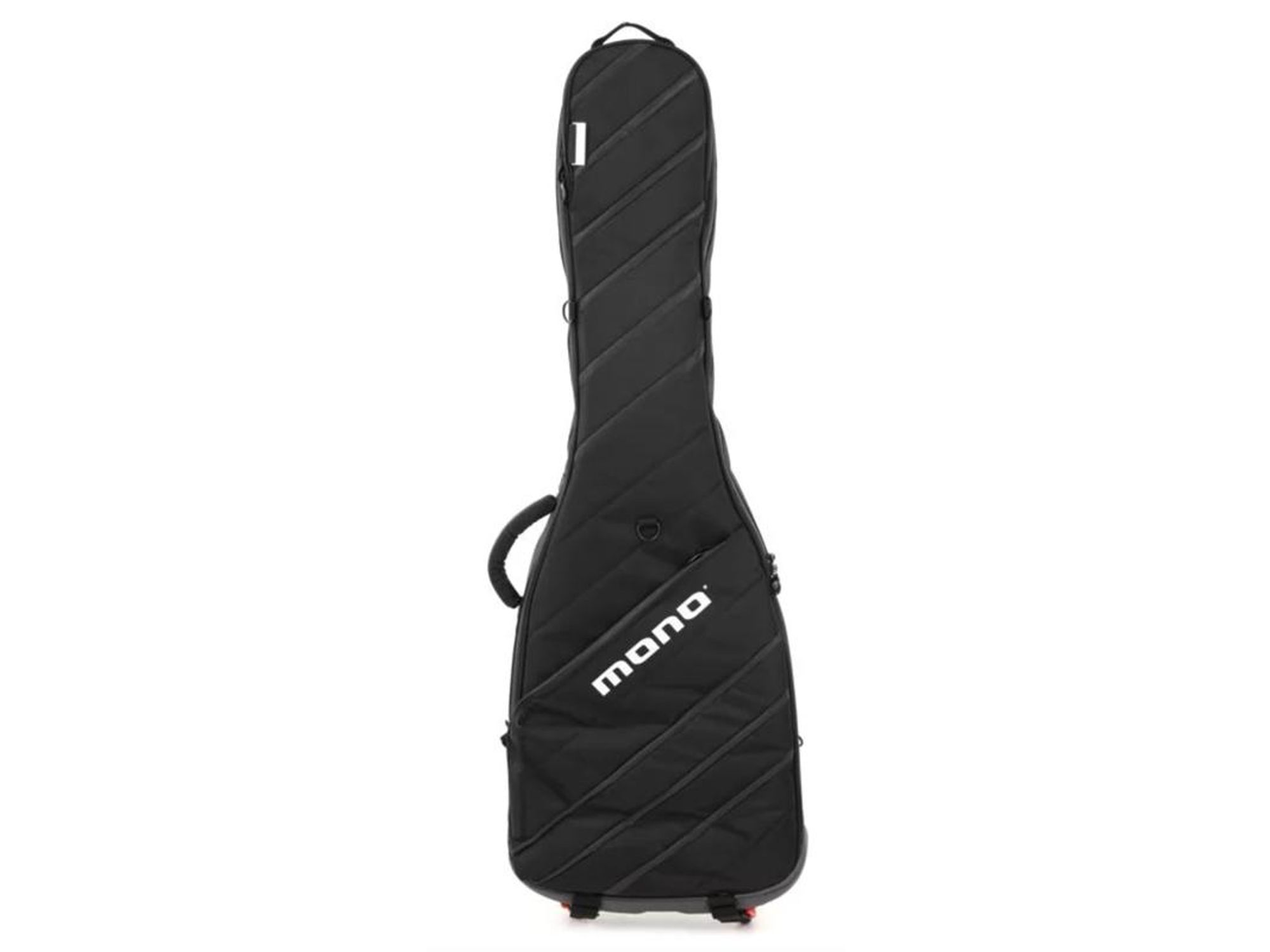 For more information, please visit monocreators.com.
Mono