It''s the smart layout and functionality of the controls that make the Ibanez Echo Shifter a standout and help bridge the gap between modern stompbox practicality and the quirky joys of tape delay and analog synths.
When I was a kid, I thought The Song Remains the Same looked like pretty good fun. Donning dragon flares, walking the back forty of your Welsh farm, and playing hurdy gurdy with glowing eyes by your very own castle all seemed like excellent ways to while away your time. But none of the aforementioned activities looked quite as thrilling as being Jimmy Page, freaking out with the playback head slider on an Echoplex, driving Robert Plant to yowling insanity! That, I thought, was something to aspire to.
As my current post as Premier Guitar gear editor might suggest, I never got the castle. I did get the Echoplex though, and nearly ran the damn thing into the ground thrashing away at that playback head slider. If you've ever had the pleasure of going mad on your own Echoplex, it's hard not to twitch a little at the sight of the delay time slider on Ibanez's new Echo Shifter. Sure, there are hyper-powerful DSP delays that can replicate virtually imperceptible nuances of tape delay, but few can deliver the tactile delights of manipulating your delay with a slide control. And what's cool about the Echo Shifter—which has an all-analog signal path, with the added flexibility of digitally controlled tap-tempo—is that it delivers all the bizarre, expressive power of a slider control plus a set of potentially freakish oscillation and manipulation controls that open up uncommon delay possibilities and sweet baseline echo tones—all at the going rate of much more conventional delays.
Micro Moogleplex!
While the Echo Shifter bears some clear family ties to old Ibanez pedals like the Standard Fuzz, Ibanez unabashedly embraced mid- to late-'70s synth style in designing the Echo Shifter. The knobs are the same you'd find on a vintage Mini Moog, and the wood side panels and graphics look lifted right from the Moog playbook, too.
Controls are very logically and thoughtfully situated. Three knobs control feedback, mix, and depth. The first two are standard delay controls, while depth controls the intensity of the modulation function when you switch it on. The oscillation function dramatically increases the self-oscillation tendencies and sensitivity of the feedback control. But the centerpiece of the control set is the delay-time slider, which looks lifted from an old Ibanez Standard Fuzz. Two footswitches turn the effect on and off and enable tap-tempo functionality.
Freak Machine
While there's no doubt the Echo Shifter was built for getting weird, it's a great delay in the conventional sense. It delivers clean analog repeats that are colored by an organic and clear, if slightly boxy, tone as they decay, including "Shine on You Crazy Diamond"-style echo that could pass muster with most Gilmour tone-o-philes.
Putting an aggressive fuzz or distortion before the Echo Shifter highlights the colder qualities of the repeats—especially if you like longer delay times. But the effect can be quite pleasing in short-delay situations—and for some, the high-end taper on the decays may be exactly what they want from an analog delay.
Ratings
Pros:
Super expressive controls provide a wide range of traditional and out-there sounds. Wonderfully intuitive design. Looks fantastic. Great value.
Cons:
Sensitive oscillation control could be a little less touchy.
Tones:


Ease of Use:


Build/Design:


Value:



Street:
$149
Company
ibanez.com

The Echo Shifter's control interface feels intuitive in conventional settings, but it shines brightest when you probe the outer limits. The sensitivity and sweep of the feedback control, as well as the responsiveness of the delay-time slider, make the Echo Sifter an expansive playground for radical and explosive sounds that you can transform from insane to tame in a fraction of a second. The most out-there applications require moving fast—most likely with two hands. But one of the real upsides of the delay slider and its orientation is that you can manipulate it with your foot pretty readily, provided you don't prefer platforms or thick-soled boots. And if you happen to jam barefoot and tend to be dexterous at the lower extremities, you'll be surprised at the dramatic effects you can pull off with your big toe. You do have to mind the feedback control. And riding it from 50 to 80 percent and working the delay slider delivers cool flying-saucer-lift-off swells that teeter at the edge of self-oscillation.
At these highest reaches, the feedback knob is touchy, but with the oscillation switch on it becomes terrifyingly—and delightfully—temperamental. Just a nudge can cause speaker-blowing oscillation loops that balloon as fast and explosively as a nuclear blast over the Bikini Atoll. It's delightful but it's easy to lose control if your fingers and mind are elsewhere. The function would be a bit more musical if Ibanez split the difference between baseline gain and what you get when you flip the switch.
The modulation control uses pitch modulation to create lovely underwater warbles or tape-style wobble with the depth control at lower levels. Set depth all the way up, and the modulation detunes and returns to pitch somewhat like Freddie Tavares' "Looney Tunes" pedal-steel intro.
The Verdict
If you've spent most of your guitar-playing life pining for an Echoplex, only to find the originals too expensive, and analog and DSP approximations dissatisfying to operate, the Echo Shifter just might be the fix. You'd be hard-pressed to find a cooler-looking pedal, and it sounds range from better than average to excellent for an affordable delay, depending on the application. But it's the smart layout and functionality of the controls that make the Echo Shifter a standout and help bridge the gap between modern stompbox practicality and the quirky joys of tape delay and analog synths. And the street price of just 150 bucks is more than fair for a thoughtfully designed delay that covers so much ground—freaky or otherwise.
Watch our video review:

Looking for more great gear for the guitar player in your life (yourself included!)? Check out this year's Holiday Gear Finds!
Dunable announce new Minotaur model featuring Grover Rotomatic Keystone tuners.
The Minotaur's DNA is rooted in their classic Moonflower model, which Dunable discontinued in 2017. However, they have long since wanted to create a fresh take on a carved top guitar design, and various attempts to rework the Moonflower led them to a brand new concept with the Minotuar.
Dunable's goal is to give the player a guitar that plays fast and smooth, sounds amazing, and gives maximum physical ergonomic comfort. The Minotaur's soft and meticulous contours, simple and effective control layout, and 25.5" scale length are designed to easily meet this criteria.

Dunable Minotaur!
Features
25.5" scale length
Dual Humbucker
one volume, one tone, push pull for coil splitting
Grover Rotomatic Keystone tuners
Grover Tune O Matic bridge with brass Kluson top-mount tailpiece
jumbo nickel frets
12" fretboard radius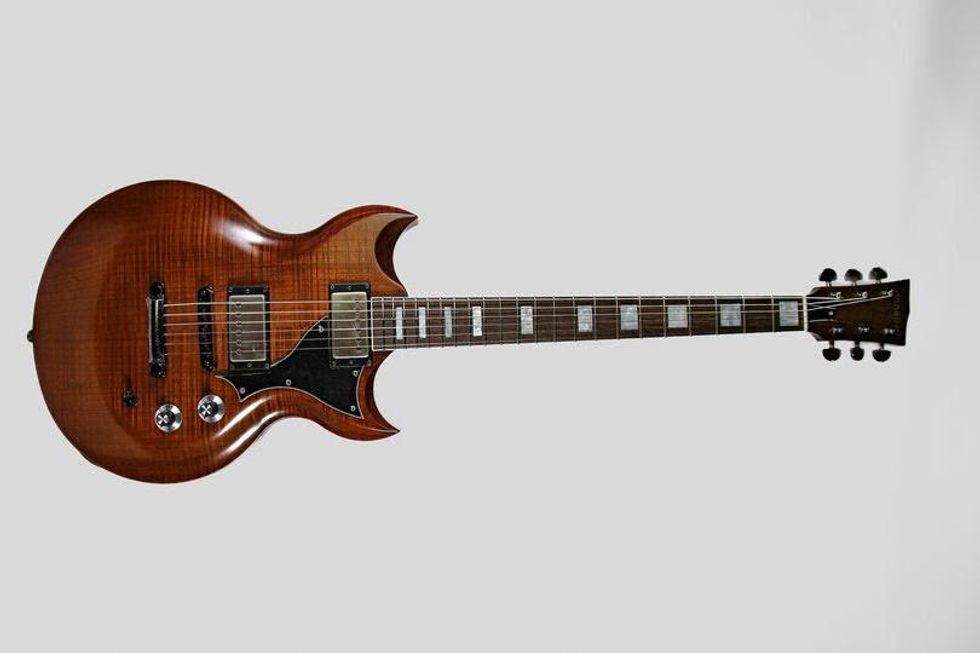 Dunable
This full-amp-stack-in-a-box pedal brings a new flavor to the Guitar Legend Tone Series of pedals, Missing Link Audio's flagship product line.
Adding to the company's line of premium-quality effects pedals, Missing Link Audio has unleashed the new AC/Overdrive pedal. This full-amp-stack-in-a-box pedal – the only Angus & Malcom all-in-one stompbox on the market – brings a new flavor to the Guitar Legend Tone Series of pedals, Missing Link Audio's flagship product line.
The AC/OD layout has three knobs to control Volume, Gain and Tone. That user-friendly format is perfect for quickly getting your ideal tone, and it also offers a ton of versatility. MLA's new AC/OD absolutely nails the Angus tone from the days of "High Voltage" to "Back in Black". You can also easily dial inMalcom with the turn of a knob. The pedal covers a broad range of sonic terrain, from boost to hot overdrive to complete tube-like saturation. The pedal is designed to leave on all the time and is very touch responsive. You can get everything from fat rhythm tones to a perfect lead tone just by using your guitar's volume knob and your right-hand attack.
Features 
Three knobs to control Volume, Gain and Tone
Die-cast aluminum cases for gig-worthy durability
Limited lifetime warranty
True bypass on/off switch
9-volt DC input
Made in the USA
MLA Pedals AC/OD - Music & Demo by A. Barrero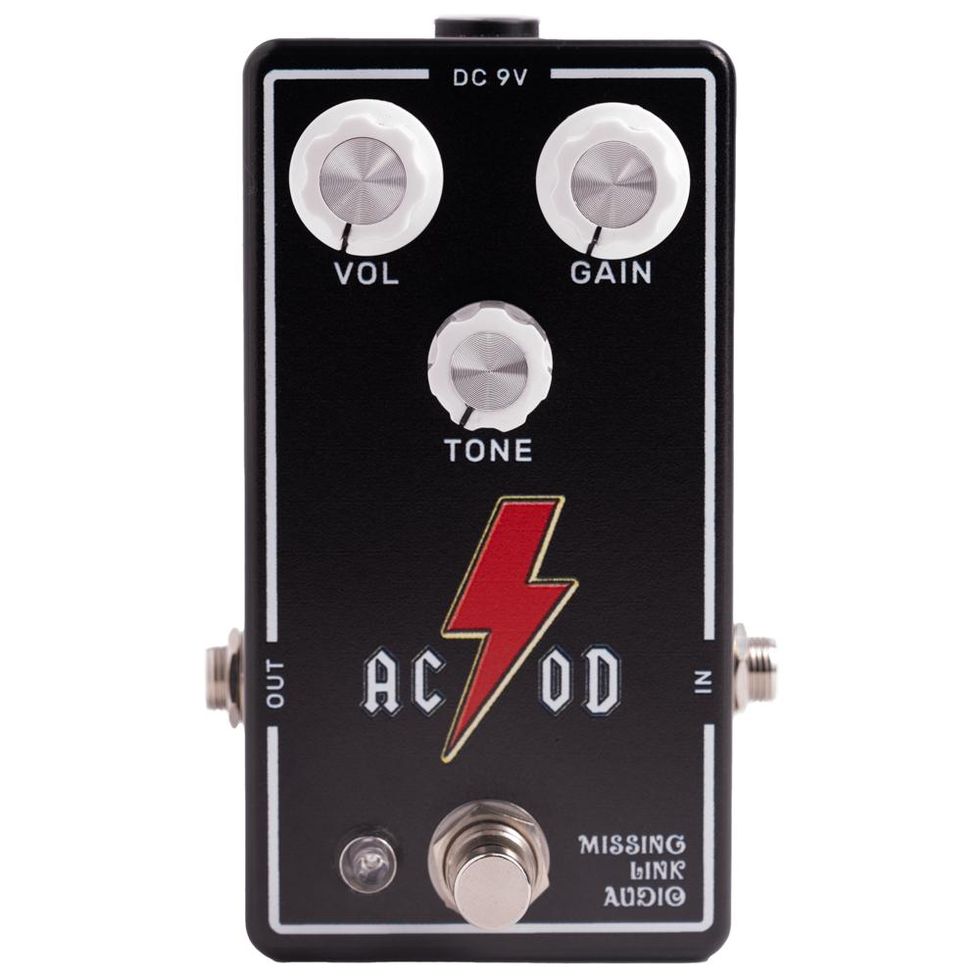 www.mlapedals.com.
Energy is in everything. Something came over me while playing historical instruments in the Martin Guitar Museum.
When I'm filming gear demo videos, I rarely know what I'm going to play. I just pick up whatever instrument I'm handed and try to feel where it wants to go. Sometimes I get no direction, but sometimes, gear is truly inspiring—like music or emotion falls right out. I find this true particularly with old guitars. You might feel some vibe attached to the instrument that affects what and how you play. I realize this sounds like a hippie/pseudo-spiritual platitude, but we're living in amazing times. The Nobel Prize was just awarded to a trio of quantum physicists for their experiments with quantum entanglement, what Albert Einstein called "spooky action at a distance." Mainstream science now sounds like magic, so let's suspend our disbelief for a minute and consider that there's more to our world than what's on the surface.
I recently spent a day filming a factory tour of Martin Guitars in Nazareth, Pennsylvania. After we wrapped, we discovered that Martin has this amazing museum that showcases more than 170 historic instruments. We decided to meet at the museum at 7:45 a.m. the next morning to film a few choice pieces before catching our flight in not-too-near Newark, New Jersey, that afternoon.
These were not ideal conditions for a performance. Neither my brain nor my fingers work well before 10 a.m., plus I hadn't slept well the night before. Even so, we loaded into the museum, met the curators, set up the shoot, and began rolling by 8 a.m.
The first guitar was an 1834 gut string, perhaps the oldest Martin in existence. It was beautiful but had some tuning issues and did not project very well, so playing it felt more like work than music.
Next was a prewar D-45 worth over $500k. The strings were ancient with that rusty feel, like you'll need a tetanus shot after playing it. I'm sure it sounded great, but I was tired and thinking more about making our flight than playing guitar. Wonderful instrument but uninspired performance on my end.
Then, I played a 1953 D-18 coined "Grandpa" by Kurt Cobain. I picked up the deeply sacred D-18, and my hands went to an A minor. This sounds like hype, but honestly, I closed my eyes and connected with a deep, beautiful sadness. The feeling was palpable as soon as you picked it up. This guitar pretty much played itself, leading me to a sad version of "While My Guitar Gently Weeps." I don't know if it was any good, but I know I felt something deeply. That's why I started playing guitar in the first place. I don't have to play well to feel moved.
I later talked to the museum director, who told me the D-18 was given to Cobain by his 1991 girlfriend Mary Lou Lord. Cobain played it on tour before and after Nirvana's Nevermind. It was returned to her after Cobain married. Shortly after that, Mary Lou loaned the guitar to Elliott Smith, who played it until his death.
When I'm sad, I make myself play guitar to feel better, because it usually works. This 70-year-old guitar spent a lot of time literally pressed up against the hearts and chests of two artists who were so tormented by their emotions that they ended their lives. That's heavy. You can't explain those feelings that make the hair stand up on your arm, or when you feel like crying for no reason … but hitting that A minor made me feel it.
We had to split for the airport, so Chris Kies and Perry Bean started packing up. As they did, I saw this cute little 1880 Martin 000 that belonged to Joan Baez. In the photo next to it, Joan looks like my mom in the '60s. I asked the curator if I could play it, and Chris grabbed his phone to do a quick Insta video. I swear there was a happy vibe coming off this tiny guitar. It felt like watching my mom dance—like a warm hug I needed after Cobain's D-18.
In Chinese culture, there is a superstition that antiques may hold evil spirits, and chi (energy) transfer can bring this negativity into your home. Feng shui is all about objects carrying good or bad chi. Here's how I see it: All matter is made of atoms. Atoms contain energy. Ergo, everything contains energy, or, more aptly, everything is energy. Ever walk into a room and feel powerful emotion: joy, sadness, fear, tranquility? That's energy. We all have felt energy coming from people, places, and things. But that's what I love about old guitars: Their atoms spent the first few hundred years as a tree in the forest connected to nature. Then, they're turned into an instrument that makes people happy or consoles them when they are sad. That's the kind of chi I want around me.
The Saddest Martin Ever? A 1953 D-18 Owned by Kurt Cobain & Elliott Smith