IK Multimedia iRig Stomp I/O Review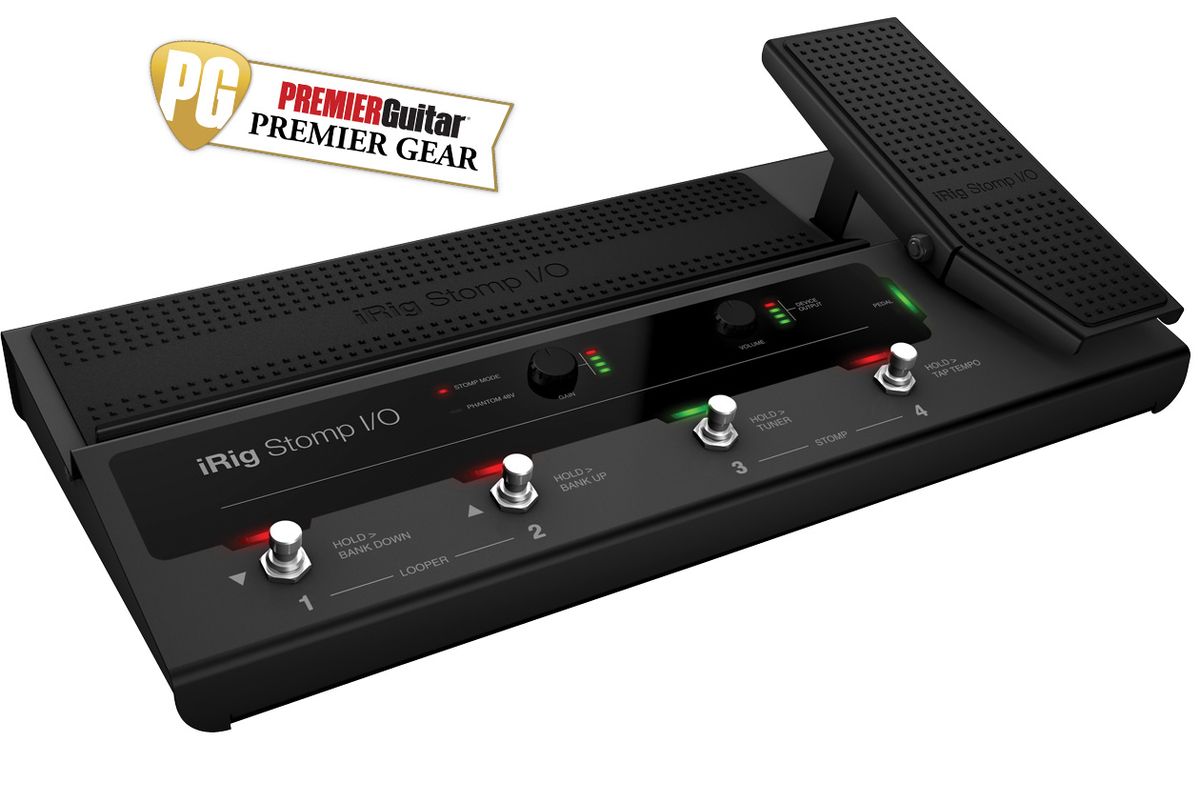 This audio interface/MIDI controller is perfect for iOS devices—and lots of other things.
 

Ratings

Pros:

Good-sounding audio interface. Rugged build. Works with most music software. Nice price.

Cons:

Installing and configuring AmpliTube CS software can be tricky. You may need add-on models if your focus isn't hard rock/metal.

Street:

$299

IK Multimedia iRig Stomp I/Oikmultimedia.com

Tones:Ease of Use:Build/Design:Value:
---
It's been 17 years since Italy's IK Multimedia launched their AmpliTube modeling software, which remains a popular choice among guitarists. Meanwhile, the company has created a long line of hardware tools designed to communicate with your computer or iOS device. Their latest is the iRig Stomp I/O, which does double duty as an audio interface and MIDI foot controller. With its built-in hardware tray, the device is ideal for iPads and iPhones running AmpliTube CS, the mobile edition version of IKM's flagship software.
Freedom of Choice
A free app, AmpliTube CS includes only a modest number of modeled amps and effects. But registering the iRig Stomp I/O unlocks a suite of eight amp models, nine cabinets, and 17 stompbox effects. You also get a copy of AmpliTube 4 Deluxe, the computer-based version. It's a deeper program that includes roughly three times as many models as CS. The IKM store offers many additional models, including officially licensed content from big-name artists and manufacturers.
But you don't need to use IKM software to make good use of the iRig Stomp I/O. Since the rocker pedal and footswitches transmit MIDI data, you can control anything that responds to MIDI commands: rival amp modeling software, hardware modelers, DAWs, and many other things. There are also two jacks for connecting external controller switches or pedals (not included).
So before talking about using the iRig Stomp I/O with IKM software, let's consider it simply as an interface and controller, regardless of the software or hardware you use it with.
Built to Bash
This is a stout piece of gear, with a rugged steel housing, high-quality switches, and a substantial-feeling wah-style treadle. All jacks are plastic, yet they seem relatively sturdy. I'd have no qualms using the iRig Stomp I/O on big stages or in intense studio situations.
You don't need to use IKM software to make good use of the iRig Stomp I/O.
The pedalboard's A/D convertors sound fab. Tones are sparkly, present, and suitable for professional use. The device supports audio at 16- and 24-bit depth, and sample rates up to 96 kHz. It interfaces with iOS devices via Apple Lightning cable, and your device charges while connected. Alternately, you can connect to a computer with a USB cable. (Both cables are included.) Or you can transmit audio and MIDI the old-fashioned way, through a stereo pair of 1/4" jacks and traditional MIDI in and out ports. The combo 1/4"/XLR input jack also accommodates microphones, and there's 24-volt phantom power for use with condenser mics.
In other words, this tough little interface/controller has many possible uses even if you don't use IKM software. It could be especially handy (footy?) in a laptop-based mobile studio.
Enter AmpliTube
I tested the iRig Stomp I/O and recorded the demo clips using a 2017 Apple iPad Pro running AmpliTube CS for iPad. For review purposes, I confined myself to the included amp, cab, and effects models.
Every modeling platform has a personality. At risk of over-generalizing, AmpliTube specializes in high-gain tones suitable for metal and heavy rock. Oh, you can get good clean sounds, but there are far more options when it comes to the aggro stuff. Overall, AmpliTube tones tend toward brightness, which is great for adding clarity to potentially dark-sounding high-output pickups. (I don't own any extra-hot pickups, so I recorded the clips using a DIY guitar with vintage-output Firebird pickups.) In any case, there's more than enough control to fine-tune the response to your pickups of choice.
My biggest disappointments are the reverbs. Only two are available, and they can sound cakey and artificial. But that's nothing that a couple of bucks can't fix, since other reverbs are available from the IKM store. (The Fender-licensed spring reverb is particularly sweet.)
Perfect Vision
AmpliTube CS for iPad is a masterful bit of UI design. If you can't discern the controls while standing above the pedalboard, you have no business operating a motor vehicle. The app has two operation modes, each with a lucid display.
In stomp mode, the switches and pedal control the virtual stompboxes. In stomp mode you'll probably use the footswitches mainly to activate and bypass effects, but the treadle has many uses other than simply being a wah controller. It can control any combination of AmpliTube parameters. (You might, for example, increase the level and feedback of a delay effect while altering the intensity of a stereo pan effect and goosing overdrive gain.) And since most modern music software supports assignable MIDI commands, you can pretty much control anything on anything.
In live mode, you use the footswitches to select presets, change program banks, and activate a huge, easy-to-read tuner. The pedal does whatever you've previously instructed it to do. You can switch between stomp and live modes from the pedalboard.
The Verdict
IK Multimedia'siRig Stomp I/O is a reassuringly rugged MIDI foot controller and a good-sounding audio interface. With its hardware tray and included software, it's ideal for iOS devices running AmpliTube CS. But you don't have to be an AmpliTube fan—the device is suited to any recording or performing scenario that benefits from a good audio converter and/or a sturdy set of foot controllers. Considering its fine sound, quality build, and vast utility, it's a good deal at $299.
---