March 2008 New Products: Just Got Back From NAMM.08
This year's NAMM show was a monstrous affair, to be sure. Over four days in mid-January, more than 88,000 people found their way to the Anaheim Convention Center in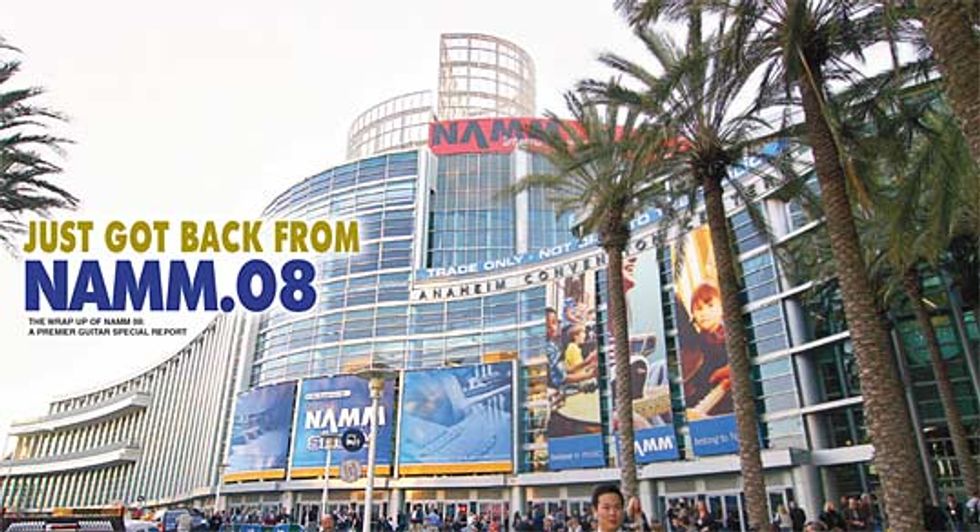 This year's NAMM show was a monstrous affair, to be sure.
Over four days in mid-January, more than 88,000 people found their way to the Anaheim Convention Center in California to check out the newest products from the industry's biggest players. Despite an air of economic uncertainty, the event was packed with a record number of exhibitors (1,560 to be exact) and it seemed that every company in attendance – from Fender and Taylor to the smallest boutique shops – had something to get excited over. It validated our belief that it is great time to be a gearhead.
If you weren't able to make the trip, PG's got you covered. Just scroll down to see some of the coolest guitars, amps and accessories we stumbled across, and check out our exclusive interviews with
David Grissom
,
Pete Anderson
,
Ladd Smith
and
Rusty Cooley
from Saturday evening's All Star Guitar Night. We also have loads of exclusive
videos
from NAMM plus a wrap-up
podcast
to complete the coverage.
Here's to four days of gear-induced madness. You're welcome.
---
HiWatt Custom 7 Head



The new Custom 7 head and combo caught our eye, promising Townshend-approved tones at reasonable household volumes. Pumping 7 watts through one EL84 tube in a single-ended output design, it is hand-built in the U.K. HiWatt's heavy-duty standards are thankfully present and accounted for, meaning you could lug this to a low-powered gig without worries.

price TBA
hiwatt.com

---
DigiTech HardWire Pedals



Featuring true bypass, unique high-voltage operation that keeps your 9V power supply at a consistent level – meaning more consistent tone – and a bomb-proof chassis, this new line from DigiTech promises to have something for every pedalboard. As an added bonus, precision pots let you dial in the exact same tone every time.

Starting at $119
digitech.com

---
Henman-Bevilacqua S2



Henman-Bevilacqua brings a fresh approach to the age-old problem of adjusting the truss rod: they've eliminated it. Instead, a load-bearing beam with a floating fingerboard design does the work, while maintaining a traditional feel. The bodies have a familiar-yet-contemporary shape and each piece of hardware has been manufactured to close harmonic tolerances. They also feature WCR pickups with true vintage nickel covers.

list $5900
henbev.com

---



TV Jones Model 10



With a body made of solid Obeche and an attractive single cutaway, the Model 10 from TV Jones promises to be a fun guitar. It includes an ebony fretboard, 22 medium frets and TV Jones Power'Tron pickups in both the neck and bridge. Pictured is the company's attractive Nicotine finish (and that's not just because we're smokers).

Starting at $1400
tvjones.com

---
65Amps Monterey



Basically a SoHo front-end with a 6V6 power section, this amp delivers classic American amp tones. With a tight low-end and rich, harmonic overdrive, this amp is available in two configurations: the Monterey features two 6V6s and puts out 22 watts, while the Monterey HP features four power tubes and pushes the rating to 38 watts.

Starting at $2395
65amps.com

---
fOXX Pedals



fOXX announced six new pedals at NAMM: the Clean Machine (shown), a clean or dirty sustainer; the Down Machine, a wah for bass and organ; the Loud Machine, a fuzzed-out volume pedal; the O.D. Machine, an overdrive; the Wah Machine; and the Wah Volume, which is pretty self-explanatory. All of these pedals feature fOXX's trademark felt covering, in your choice of colors.

Starting at $199
foxxpedals.com

---
Diamond Spitfire



Voiced with a cleaner, vintage vibe, these amps come dressed in an attractive British tan tolex, and seem poised to draw in a new audience to Diamond. Featuring four "Winged C" EL34s, two channels, a low-focus control and a half-power switch on the rear, this amp delivered some amazing country/blues tones. It's also available as a custom- ordered combo.

$2299
diamondamplification.com

---
Martin D28-M Elvis Presley Commemorative Limited Edition



A tribute to both the King and Martin's 175th anniversary, only 175 of these acoustics will be produced. A copy of Elvis' 1955 D-28, including his trademark leather cover, the D28-M will feature a polished black ebony headstock with a silhouette of Elvis playing his Martin inlaid in Mother of Pearl, star position markers, and a heelcap with the TCB lightning bolt logo. Also includes a special, oversized case to accommodate the leather cover.

$11,499
mguitar.com

---
OohLaLa Pedals



A relatively new company on the boutique scene (although the company's founders have played an integral part in the industry for the past several years), OohLaLa showed off four new pedals slated for a spring release: the Synth Mangler, Torn's Peaker, X-Ray and the Soda Meiser. The Soda Meiser (pictured) has been described as "fuzz bliss" by OohLaLa's Queen Bee, Amada Marquez. If you dig boutique, you'll dig these.

$180-$475
oohlalamanufacturing.com

---
Gretsch G5135 G. Love Corvette



If you haven't heard of G. Love & the Special Sauce, do yourself a favor. The newest signature model in Gretsch's Electromatic collection pays tribute to Garrett "G. Love" Dutton, packing in a pair of TV Jones Power'Tron pickups, deluxe mini precision tuners and a sweet "Philly- Green" color scheme.

$1450
gretsch.com

---
Collings City Limits Jazz Archtop



If you've got a jazz itch that needs scratching, look no further. The City Limits Jazz Archtop features a premium carved European spruce top, a fully hollow mahogany body, Kent Armstrong floating pickup, ebony tailpiece, Schaller tuners and a deluxe hardshell case. This gorgeous guitar is available in Cremona or Amber Sunburst.

$8500
collingsguitars.com

---
R. Taylor Style 2 Acoustic



This gorgeous custom-made acoustic is the newest addition to the R. Taylor family, offering up a smaller size than the Style 1. Featuring a 15" lower bout, a maximum body depth of 4 1/16" and a modified-X bracing pattern (all hand-shaped), this guitar responds well to both finger and flatpicking. You can choose from a variety of woods and a solid or slotted peghead.

starting at $4,480
rtaylorguitars.com

---
Victoria Amp Co. Electro King



Based on the Gibson GA40 and packing 5879 preamp tubes, this new offering from Victoria Amp Co. promises to reward adventurous guitarists with a fresh take on vintage and a rich tremolo circuit. The cabinet is built with solid pine, houses a Jensen P12J speaker and is covered in attractive two-tone tolex.

$2295
victoriaamp.com

---
Red Witch Pedals



Red Witch pedals are now being distributed by Dana B. Goods, meaning these New Zealand-made pedals should be easier to find stateside. The Empress Chorus has already found its way onto Andy Summers' pedalboard for the Police tour. The Deluxe Moon Phaser was capable of convincing rotating speaker sounds, as well as any kind of phase you could imagine. The Pentavocal Tremolo and the Fuzz God II were also on display for tone tweakers.

Starting at $309.95
redwitchanalogpedals.com

---
Saint Guitar Company Messenger



Builder Adam Hernandez has been at it for ten years, but this was Saint Guitar Company's debut NAMM show. On display was an eye-catching double cutaway called the Messenger. Made completely by hand, the 25 1/4" scale guitar features a luthier grade maple top and a mahogany body and neck for a rich, full sound. Gotoh tuners, wide/pyramid fretwire and Seymour Duncan pickups round out the package, although it can be completely customized for your tastes.

Starting at $3500
stguitars.com

---
Jaguar Amplification Twin Combo



A 45-watt Class A/B amp featuring two EL34s, the Jaguar Twin also has a Class A half-power switch which not only lowers the volume but ups the harmonic content in the process. The combo is available in 1x12, 2x12 or headonly configurations – the combos come standard with customized Celestion Greenbacks.

2x12 combo $2999
jaguaramplification.com

---
Budda Superdrive V-40



Budda announced their latest additions to the Superdrive Series, featuring 6V6 power tubes for 40 watts of roots rock power. The use of 6V6s give it a more organic sound, while still retaining that tradmark Budda bite. New cream paneling with purple lettering also give this a different vibe than its predecesors.

$2195
budda.com

---