Matrixx-N SanGreal Acoustic Instrument Amplifier Review
Watch the video review: Click for full-size video Regular readers, I hope you're sitting down. I actually like an amp that's not compact and light and easy. Yeah, it's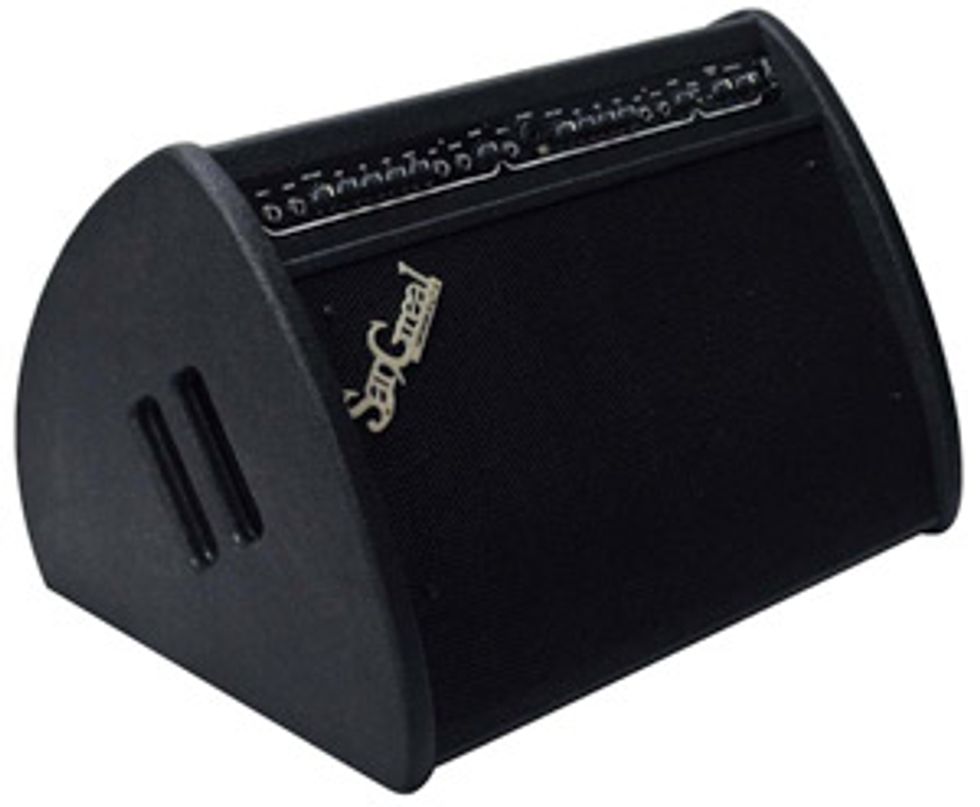 Watch the video review:

Click for full-size video

Regular readers, I hope you're sitting down. I actually like an amp that's not compact and light and easy. Yeah, it's that good. It's boutiquey and extremely cool, too.
The SanGreal acoustic amp is a smokin' 400 watts (bi-amped, 200 watts per low-frequency and high-frequency driver) with two input channels that can be customized for your specific applications. Since I sing while playing the guitar, the folks at SanGreal gave me an instrument channel with line and instrument inputs, and one channel with both XLR and instrument inputs—and the XLR in has phantom power. Both channels have input Gain, three-band EQ, and multi-mode Reverb. Channel one includes a narrow-band notch filter, and our review unit had the optional vacuum tube, which adds some additional warmth. Master and Monitor volume controls and an FX loop complete the control section.
The beautiful acoustic tone comes from the combination of a neodymium-powered ribbon driver and an advanced low-frequency driver. The cabinet is monitor-shaped, made of birch multi-ply with a handle at one end and a speaker pole mount on the other. It is hefty at 42 pounds, and a little bulky at 24"x16"x19", but if killer tone is your thing, you probably won't care. There are three reverb modes, mediumlength bright, medium-length warm, and short-length bright. The medium warm is nice and really useful for guitar and vocal.
Turn it up 'til your ears bleed

Without spending any time to get to know what I was working with, I plugged in a Tanglewood TSR2 (also reviewed in this issue) which has an active B-Band pickup, and started turning up. And up. And up. I had the Gain and the Master both at 3 o'clock before I couldn't take anymore— but there wasn't even a hint of feedback or distortion. If I'd had earplugs, I could have dimed it (wow—there's a word I never thought I'd get to use in a review). My windows were rattling, and my ears were about to bleed.
So far so good! I took it with me to a gig at a small, L-shaped venue. No problem getting sound everywhere and hearing myself. However, the sound seemed a little too bright in some parts of the room. I was playing the Tanglewood, which is a very bright guitar, so I beefed up the bass a bit to compensate and dialed back the highs just a bit. A friend plugged in a Kirk Sand nylonstring guitar, and it sounded spectacularly beautiful. Every detail was audible, every frequency seemed utterly balanced with all the others.
In a live situation, you can lay it flat on the floor in front of you like a conventional amp, or set it on a speaker stand behind you, where it can serve as main and monitor all in one. On a speaker stand, the ribbon driver spreads the sound over a very wide area, filling large rooms easily. In addition, the ribbon driver technology keeps the volume from dropping off as dramatically as a conventional speaker. Usually you lose 6 dB every time you double the distance away from the speaker. With the SanGreal, you only lose 3 dB. Handily, the SanGreal has a monitor input on the right side panel, allowing it to be used as a floor monitor. Now, this is not just a simple monitor function— this allows you to turn your guitar up as loud as you want and then mix in the rest of the band, so you hear you as much as you want, and the rest of the band is perfectly balanced to your needs. For a small-to-medium sized gig, this could become indespensible.
To the Guitarsenal!
At home again, I pulled out my trusty Gallagher GA-70 (rosewood grand auditorium) with an LR Baggs iMix, which my ears knowbetter than any other guitar. I spent some time just playing chords and listening to the balance across the spectrum. I turned up loud again—not as loud as before, but loud enough so I was hearing more amp than guitar. With the Mix knob on the guitar turned to iBeam only, a hint of brittleness crept in, but I was able to shave the highs back and compensate. With the Mix rolled all the way to just the ribbon transducer, it was much warmer and woodier. With the Mix knob in the middle, the tone was warm and incredibly detailed. There is nothing missing from the mix, nothing harsh or nasal or muddy about it.
So here's the big newsflash: The SanGreal gives you exactly what you give it, in much the same way a Bose L1 does. If your guitar sounds like crap, it's not going to do you any favors. If your guitar sounds great, turn it up! Then again, if your guitar sounds like crap, you're probably not going to be interested in a high-end boutique amp.
Next up was my Gallagher A-70 (rosewood auditorium), which has a passive K&K Western Mini pickup. I was treated to the aural equivalent of melted dark chocolate—rich, dark, smooth and irresistible. I played for a long time, just listening to what sounded exactly like my guitar only bigger and louder, every detail of it. I didn't have to dial anything in or out, the EQ stayed flat.
I pulled out a nylon string next, a JD Guitars Double Forte with a spruce top and rosewood back and sides. It also has a K&K Western Mini installed. Again, I left the EQ flat and found myself swimming in lovely, rich acousticy goodness. Clear, present, detailed, warm but lively, yet clean as an operating room.
Most acoustic amps are nearly worthless for playing electric guitars through, but this one had me curious, so I plugged in my
Telecaster
. The neck pickup was warm and smooth, a very useful tone for ballads or jazz. The bridge pickup was a little too harsh for my ears, but maybe just fine for others. The blend between the two was a little midrangey for my taste, too, but it was not a bad sound. But this is an acoustic amp, so that's not exactly a minus. SanGreal's design team leader, Gene Juall, says there are some artists now touring with this amp, an acoustic and a Telecaster. I believe it.
Out of pure curiosity, I grabbed my electric fiddle, a Yamaha Silent Violin. Yes, I know this is not Premier Fiddle, but stick with me here, there's a real method to my madness. If the SanGreal can take a very nicely sculpted stick of wood with a pickup and no body and make it sound like an old master, we know we've got something wonderful. And it's not bad, not bad at all. Considering I never practice, it sounded pretty darn good. I dialed out a little harshness, boosted the bass, which added some body and creaminess, shaved the mids back and found a really nice woody-bright tone that kept me fiddlin' until my bow arm threatened to fall off.
Last but not least, my son plugged his digital piano in and treated me to some Harold Bud and Brian Eno-style ambient sounds, which I have to say was a wonderful and relaxing way to finish writing this review. It sounded like a very nice small grand piano, really very live and woody. He didn't think the reverb was quite dramatic enough, so he plugged a Fishman AFX Reverb into the effects loop, which allowed him to dial in a beautiful cathedral verb.
The direct out on the unit is real slick. The speaker is so accurate and colors the sound so little that you can send exactly what you are hearing to the board and have the audience hear you exactly as you want to be heard. This kind of control and flexibility is remarkable. There is an extension cab available now, and Gator makes a bag that fits the SanGreal like a glove, the GPA-700, with wheels and a retractable handle, for a reasonable street price.
The Final Mojo

This is a versatile piece of gear, and extremely user friendly. All of the guitars I own (and two I don't) sounded fantastic through it. If you are a multi-instrumentalist, you could use this for pretty much every acoustic instrument you play, including keys and fiddle. Singers will have no complaints about the vocal channel, either—let me assure you, the headroom can take it from a whisper to a scream. With 400 bi-amped watts that seem extremely efficient, there aren't a lot of gigs this puppy won't handle. Yes, at 42 pounds it's not a contender for easiest piece of gear to deal with, but it's a hell of a lot more convenient than lugging a complete PA system around for a single artist, and it'll do the job at least as well.
Buy if...
versatility, pure tone and serious power are important to you.
Skip if...
you need more than two inputs or never play any gigs where you need this kind of power. Rating...