Full Metal Jackie Certified: The 50 Most Influential Heavy Metal Songs of the '80s, The Fender Telecaster Handbook, Rock and Roll Tourist, Shovel Headed Tour Machine: Live At Wacken & Other Assorted Atrocities (Exodus), The T.A.M.I. Show: Collector's Edition
Books

Full Metal Jackie Certified: The 50 Most Influential Heavy Metal Songs of the '80s

By Jackie Kajzer and Roger Lotring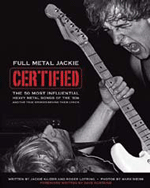 You would never think that Megadeth's anthem "Peace Sells, But Who's Buying" came from the non-metal monthly Reader's Digest or Vernon Reid's guitar riff on "Cult of Personality" resulted from his inability to mimic Corey Glover's vocal patterns, but these stories and others in Full Metal Jackie Certified show sometimes inspiration strikes artists at the weirdest times and from peculiar sources. Authors Jackie Kajzer—known better in metal radio circles as "Full Metal Jackie"—and Robert Roger Lotring collect insight straight from the rockers about the creative process and backstory behind some of the most influential metal songs of the '80s. While the literary formula of tourbus recollections and wild stories were great years ago, the telltale difference in this book is in the thorough and detailed execution.
First, they are forthright on the intention of this book. It's about the influence of the lyrics of these songs from the '80s heavy metal genre. It's not just another legacy list for the ages. With their mission clearly defined, they easily peel away the excess fat of hair metal and Sunset Strip rock found in the '80s and get to the meat of the debate—the messages and meanings behind our favorite metal songs. Secondly, the narratives go well beyond the redundant stories and anecdotes. They include thoughts from the heavy metal artists and songwriters about the cultural and social impact these songs had when spandex was cool. They complement that original info with newly acquired and fresh insight from those same artists on the continued validity and power these songs still hold today. And thirdly, the book dives deep into each song's musical composition.
From Ozzy Osbourne's bassist Bob Daisley remembering how one of Randy Rhoad's effects pedals sounded like a chugging train—even when Rhoads wasn't playing—inspired the song "Crazy Train" or Pantera's Darrell "Dimebag" Abbott's nonstop guitar riff in "Cowboys From Hell" being stimulus to Philip Anselmo's lyrical onslaught, our favorite instrument was the inspirational culprit over and over again.
Another key move by the authors is listing the songs chronologically by album release date, and not ranked in order of most influential. Kudos to them for not leering over that slippery slope… often the number rankings overshadow the content of book like this—no matter its strength or merit. However, to say there isn't any room for debate on the inclusion and exclusion of songs/artists would be a shallow line. So, gather your musical buddies, grab some brews, spin some vinyl and hash out the details of this book full of metal classics. —CK
List $29.99
courseptr.com
The Fender Telecaster Handbook
By Paul Balmer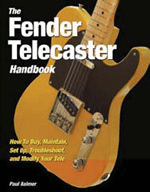 The latest of Balmer's model-specific handbooks (The Fender Stratocaster Handbook and The Gibson Les Paul Handbook), this modest-but-jampacked volume is sure to find its place next the others on the shelves of Telecaster enthusiasts and repair shops everywhere. The attraction is not just in its wealth of detailed information about the guitar that is arguably Leo Fender's most consequential invention; there is also the surplus of specific advice and precise instructions for maximizing the potential of just about every flavor of Telecaster out there, along with page after page of meticulous, full-color photos demonstrating the projects. There's plenty of eye candy, too, and Andy Summers, and a long-time Tele advocate, contributes an earnest and very well written foreword.
In just under 200 pages, The Fender Telecaster Handbook shows you how to perform basic setup and tuning, undertake common and not-so-common repairs and adjustments (including a comprehensive entry on B-Benders), and then follows up with case studies on more than a dozen specific Telecaster and Esquire models, from the exalted to the plebian, as well as covering 10 key players and their guitars. Along the way, Balmer takes the time to discuss tools and related concerns, as well to probe the minutiae—sharing, for example, Tele luminary Jerry Donahue's secrets for setting up and intonating a traditional, threebrass- saddle bridge.
In keeping with the intention of a truly practical handbook, Balmer also provides a healthy dose of appendices, along with a glossary and useful contacts. Appendices cover a gamut of topics, from historical reference material like pot codes and serial numbers, to more Telespecific information, like a case study of pickup outputs and a discussion of bridge pickup base plate functions. There is even an appendix dedicated to capacitors that originally appeared in PG as Dirk Wacker's "Auditioning Tone Capacitors" [Mar., 2008].
It's also gratifying to note that a book as destined to be used as much as this one comes in a sturdy hardcover with an adequate binding. If you're an ardent Tele fan, or just planning to do some work on one, this book is a no-brainer. —CB
List $25
voyageurpress.com
Rock and Roll Tourist
By Graham Forbes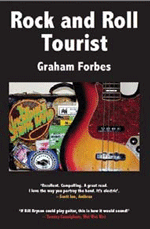 Forbes, sometime bass player for the Incredible String Band boasts a list of choice gigs that's simply to long to mention, but he's also a highly skilled raconteur. In a lively narrative that manages at turns to be everything from boisterous, clever, blithe, irreverent— and preposterously funny— to clearheaded, pointed, avuncular and humane, Forbes tells the story of his trip around the world to see some really great bands, beginning with what prompted it, a bout of OxyContin addiction following an emergency surgery, following a Kiss concert in Tampa that he describes this way: "Then there's the circus make-up plastered all over their faces, their stage clothes like Batman and Robin on acid, their huge clumping high-heeled boots, and just in case their zillion watts of amplification haven't bludgeoned us into quivering submission, they end every show with massive explosions and pyrotechnics designed to deafen us completely. If you like rock music just slightly quieter than an Apollo launch, then Gene's your man. It's brilliant." And this is just the first page.
Forbes's obvious enthusiasm for rock 'n' roll and the troubadour lifestyle is matched by his obvious zeal for storytelling. His meandering road-tale is filled with the observations of places and events—and most of all the characters—that are the stuff of a touring musician's catalog of experiences. Unlike the shaggy-dog stories of many a lifelong musician, Forbes's anecdotes and yarns are full of only half-gestured-at significance. His narration seems to be in no hurry, and he feels no urge to sermonize, or beat his readers over the head with profundity. The result is a book that turns out to be deeply moral without moralizing, and a highly rewarding read. Forbes takes pleasure in his passion for the music and the scenes, and he celebrates that passion in the people who surround him in with effortless, exacting detail. That is all, and it's more than enough. —CB
List $15.95
northumbria.ac.uk/sd/central/its/uni_press/
Video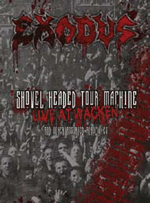 Shovel Headed Tour Machine: Live At Wacken & Other Assorted Atrocities (Exodus)
Exodus has released 11 albums and toured heavily, all while dealing with numerous lineup fluctuations— notably Kirk Hammett left for some other band and vocalist Paul Baloff died.
Yet, they still keep true to their core initiatives: play thrash and play it fast. And Shovel Headed Tour Machine: Live At Wacken & Other Assorted Atrocities captures them still doing it nearly 30 years later.
Let me say this right here and now: that crowd should be bigger… much, much bigger, definitely in the household name ranks as their contemporaries Anthrax and Slayer. Their latest DVD set was taped live at their Wacken, Germany, performance on the Shovel Headed Kill Machine tour, is a true testament to this statement. Not since first hearing Pantera's 101 Proof Live have I been this utterly blown away by a live metal band on tape. The band is unbelievably tight starting with guitarists Gary Holt and Lee Altus showing what thrash metal is all about with complex and diametric, yet complimentary guitar riffs. Rob Dukes' vocals are only overshadowed by how fantastic his frontman abilities are. Production-wise, the sound is excellent, with no woofy overtones and clipping bass frequencies that often plague live recordings such as these.
The set includes an audio CD with the tracks from the DVD, plus a documentary five years in the making with photos, even more live performances, and antics from the band on the road. The sheer amount of material provided in the set really shows just how much the band appreciates their fans. For Exodus fans, getting the DVD set is a no-brainer. For casual metal fans that really want to see just how well the genre can be presented, look no further. This honestly is the best live metal DVD set that I've seen (and heard) in a very long time. —JW
List $29.98
nuclearblastusa.com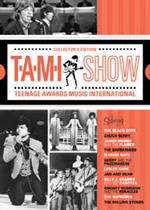 The T.A.M.I. Show: Collector's Edition

In the T.A.M.I. Show: Collector's Edition DVD you get to see one of the Rolling Stones' biggest mistakes ever—and that's coming from Keith Richards. That mistake was deciding to close the show after one of
James Brown and the Famous Flames' greatest performances captured on film. Brown is at the top of his game with maximum energy, untouchable dancing and unwavering grace even when he fakes two heartaches only to juke 'n' jive with more fervor than before. But to say that's the only thing this DVD has to offer would be a complete injustice.
The TAMI (Teenage Awards Music International or Teen Age Music International) was a live concert held at the Santa Monica Civic Auditorium on October 29, 1964. This first-time ever on DVD collection features guitar legend Chuck Berry ripping through "Johnny B. Goode," "Maybellene" and "Sweet Little Sixteen." Then for surf-rock fans you have the Beach Boys performing the classics "Surfin' U.S.A.," "Surfer Girl" and "I Get Around." A special treat for purists is that this lineup includes Brian Wilson on bass and vocals—shortly after in 1965 he stopped touring until the mid-70s. As mentioned earlier, the Rolling Stones close the show with five songs including "Time Is On My Side" and "It's All Over Now." While the Rolling Stones performance is nothing to snicker at – except maybe their haircuts and clothing – the shock and disbelief of what they saw from Brown is very apparent on their faces.
We are a guitar magazine, but the performances from Marvin Gaye, Smokey Robinson and the Supremes—who perform three # 1 hits back to back to back—are all knockouts. If all these nostalgic, can't miss performances weren't enough, TAMI also has commentary from director Steve Binder, original radio spots and a 20-page booklet with liner notes, rare photos and memorabilia. —CK
List $19.93
shoutfactory.com