The famed bass builder designs a super-playable solidbody.
Michael Tobias made his mark with high-end basses in the '70s. As with many of the era's best small luthiers, the popularity of his instruments outstripped his ability to build them. Tobias sold his company to Gibson on the first day of 1990, hoping the giant would grow the brand and boost production. But about three years later, Tobias left the company.
These days Tobias runs MTD (Michael Tobias Design). While he's still best known among bassists, he's drawing on his experience as a luthier and a picker to design guitars too. The Kingston Rubicon, MTD's first guitar, is available a 22-fret model with a fixed bridge (reviewed here) or a 24-fret, tremolo-equipped model. It's a thoughtfully designed guitar that emphasizes playability and functionality.
Money Well Spent
MTD's Kingston series offers Tobias's design touch and quality workmanship at an accessible price. (Most of the cost savings come from making the Kingston Rubicon 6–22 in China, though instruments are set up in States.) The craftsmanship is generally very good—the only noticeable issues on the test model were a little excess glue around the nut, and a loose truss rod cover that was cut a little too long.
This axe plays like a beast. The 25.5" scale, asymmetric carve and compound-radius fretboard add up to one of the most comfortable and fastest necks I've come across.

The Kingston includes the Buzz Feiten Tuning System, which uses a compensated nut to improve intonation, particularly at the first three frets. The system, typically associated with upscale offerings from the likes Tom Anderson and Suhr, makes the MTD pleasurable and satisfying to play, especially when experimenting with different chord voicings, which ring true and in tune regardless of position. The only bummer is that the 6-22's tuners seem to perform less well than the Buzz Feiten system. I had to re-tune a little more than I would have liked.
Rapid Rubicon
With a matte-finished, transparent red, flame maple cap on its alder body, the MTD has an attractive, modern-day, shredder vibe—tasteful and not too radical. The visual contrast between the dark body and light-colored maple neck is strong, but it works well. I wouldn't object too a less-busy headstock, though the unorthodox shape ensures straight string-pull to the tuners. The MTD logo and Kingston Rubicon engraving on the truss rod cover are fine, but the "Michael Tobias Design" tag (plus multiple fonts and text sizes) make things look cluttered.
Seductive Sounds
Regardless of how you view its looks, this axe plays like a beast. The 25.5" scale, asymmetric carve (fatter on the bass side and thinner on the treble) and compound-radius fretboard add up to one of the most comfortable and fastest necks I've come across. It feels just right from the first fret to the upper reaches of the neck. I played for hours with no fatigue.
Ratings
Pros:
Excellent sounds and a broad tonal range. Stellar intonation.
Cons:
Could use better tuners.
Tones:


Playability:


Build/Design:


Value:


Street:
$799
MTD Kingston Rubicon 6–22
mtdkingston.com
The guitar's electronics consist of a pair of MTD humbuckers with a three-way selector switch, plus individual series/parallel toggle switches positioned below the bridge. I tested the guitar through a Mesa/Boogie Blue Angel amp and various effects boxes (Mesa/Boogie V-Twin, Pro Co Rat, Mad Professor Golden Cello) and got fabulous results with each.
The Rubicon 6–22's bridge and neck pickups generate vibrant if slightly compressed tones with ample sustain, and the available voices easily cover pop, rock, or fusion styles. Without outboard effects or a lot of amp gain, the pickups' civilized personalities are a little too smooth and refined for aggressive, metal-type sounds, though they're plenty versatile if you like clean tones or use lots of pedals.
The series/parallel wiring expands the Rubicon 6–22's palette, and is one of the instrument's real upsides. I've got several humbucker-equipped guitars with series/parallel wiring and coil splitting, but few are this rewarding to use. All settings sound organic, with nicely balanced output. The parallel setting provides cool, hollowed-out, quasi-single-coil sounds (though they're beefier than a true single-coil). I got much mileage out of alternating between parallel and series. For example, switching to parallel gives single-note runs more clarity and bite, lending upper-register bends a visceral, screaming quality that reminds me of Miles Davis-era Mike Stern. Switching to series provides fuller, more vocal tones, with tons of sustain from the neck pickup and Billy Gibbons-like throatiness from the bridge.
While I love the contrasting series/parallel switching, I wish the switches and pots responded to a lighter touch. (I like to operate them with a quick flick of the finger, though some players prefer extra resistance.) But overall, the controls are more convenient than typical push/pull switches, and the layout works well.
The Verdict
At $799, the Kingston Rubicon 6–22 isn't cheap. But the guitar's master luthier pedigree, excellent playability, versatile tonal range, and Buzz Feiten Tuning System rival features on guitars costing two or three times the price.
Looking for more great gear for the guitar player in your life (yourself included!)? Check out this year's Holiday Gear Finds!
Flare is a dual-function pedal with a tube-like booster and a 1970s-style ring modulator effect that can be played separately or together.
Flare's ring modulator is based on the iconic tone of the original Dan Armstrong Green Ringer. This vintage classic was made famous by Frank Zappa who loved the unusual modulations created by generating a harmonic octave over notes. Messiah's version offers two control knobs: a "Sparkle" tone attenuator and output Level control. Its taupe-gold body, purple and green knobs and stick-figure rock 'n' roller holding up a flame convey an appropriately rockin'70s vibe.

​In a unique twist, Messiah's Flare pairs the ringer with a warm tube-style boost instead of a fuzz. Flare feeds the booster into the ringer for an extra punch, while preserving the Green Ringerspirit. The ringer side also turns any fuzz into an octafuzz, and it has the ability to quiet signal background noise fed through it.
The booster side features a single Boost knob to control the MOSFET circuit, making it very tube-amp-friendly with a warm, organic boost and gain of up to 32dB.
​The pedal is a distinct improvement over the 1970s pedal that inspired it. "Most ringer pedals don't track well," Tom Hejda, owner of Messiah Guitars. "The player can't rely on repeating the same effect even with the most consistently played notes. We carefully matched the components, so our ringer follows your every move, producing that slightly dirty octave you expect on demand."
Messiah developed this vintage octave pedal with flexible features so that people who love that messy, dirty Zappa-esque sound can get there with ease but there's also something for those who have not fallen in love with fuzz or the Green Ringer alone. Flare offers an array of sonic options while retaining simplicity in the controls.
Each Flair Pedal Includes:
3 control knobs: Boost, Sparkle, and Level
Two effects – Ring Modulator and Boost – can be used together or separately
Space-saving top side jacks
Durable, cast aluminum alloy 125B enclosure with fun artwork
Easy to see, illuminated True-bypass foot switch
Standard 9V pedal power input​
Flare Pedal Demo
Messiah Guitars pedals are designed with an explorative player in mind. Like their custom guitars and amplifiers, Messiah's pedals are hand-crafted in Los Angeles for a long life with guaranteed quality.
Flare retails for $199.00 and can be purchased directly at Messiah Guitars or you can hear it in person at Impulse Music Co. in Canyon Country, CA.
For more information, please visit messiahguitars.com.
This feathery little guy is a joy to play because of its incredibly quick response to your right hand - much faster and more expressive than your typical auto-wah pedal.
​If it looks like a duck, acts like a duck, and QUACKS like a duck, then it must be a duck. That's how we came up with the name for our new envelope filter. This feathery little guy is a joy to play because of its incredibly quick response to your right hand - much faster and more expressive than your typical auto-wah pedal. Trevor explains how this is possible in the launch video, as well as gives a demo on Le Canard's operation.
​The attack control determines how quickly the filter responds to the envelope, and the decay sets how quickly the filter releases afterward. The range controls which frequency spectrum the filter does its magic on. Add to this relay-based full-bypass switching with failsafe, and you've got one crazy little quacky beast. It is so expressive that you'll want to give up on your rocker-wah forever.
The MayFly Le Canard envelope filter features:
Super fast responding envelope follower. Touch it and it jumps!
Range control to dial in the character of the filter
Attack control to control how fast the filter moves on that first touch
Release control to control how slowly the filter slides back to baseline
Full bypass using relays with Fail SafeTM (automatically switches to bypass if the pedal loses power)
Cast aluminum enclosure with groovy artwork
MSRP $149 USD ($199 CAD)​
Introducing the MayFly Le Canard Envelope Filter
All MayFly pedals are hand-made in Canada.
For more information, please visit mayflyaudio.com.
Outlaw Effects introduces their next generation of NOMAD rechargeable battery-powered pedal boards.
Available in two sizes, NOMAD ISO is a compact, versatile tool that offers the convenience of a fully powered board plus the additional freedom of not having to plug into an outlet. NOMAD ISO is ideal for stages with limited outlet availability, quick changeovers, busking outdoors, temporary rehearsal locations, and more.
NOMAD ISO builds upon the legacy of the ultra-convenient and reliable NOMAD rechargeable pedalboard line originally launched in 2018. The brand new NOMAD ISO editions feature eight isolated outputs (1 x 9V DC, and 1 switchable 9V/12V DC) for even more versatility and clean, quiet power. With an integrated lithium-ion battery pack boasting 12800mAh capacity, NOMAD ISO can fuel a wide array of pedals, and will last over 10 hours* on a single charge.
Each NOMAD ISO pedal board includes adhesive hook & loop pedal-mounting tape, eight (8) standard DC connector cables, and one (1) reverse polarity DC cable, giving you everything you need to build your ultimate "off-the-grid" rig. A rugged, road-ready padded gig bag with shoulder strap is also included, to safely protect your gear while you're on the move.
NOMAD ISO S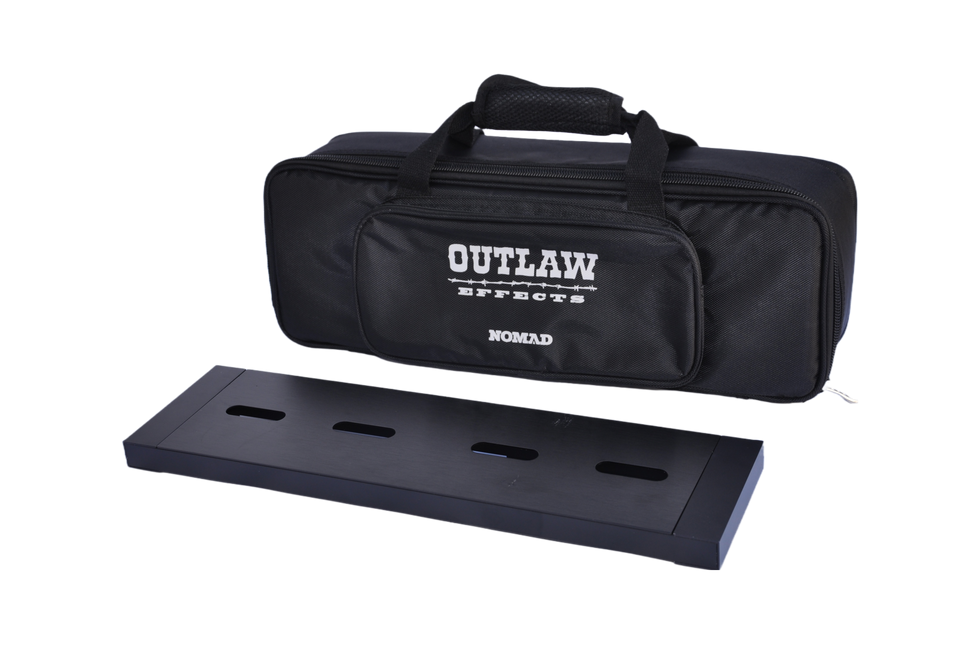 NOMAD ISO S: MSRP $309 / MAP: $249
Dimensions: 19 ¼" x 5 ¼"
NOMAD ISO M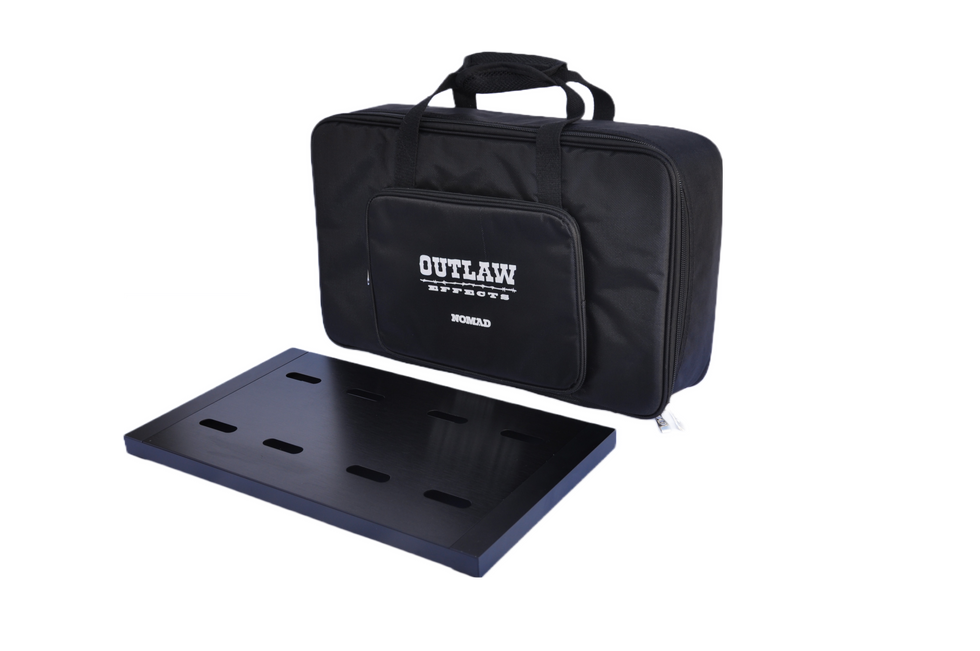 NOMAD ISO M: MSRP $349 / MAP $279
Dimensions: 19 ¼" x 11"
More info: https://www.outlawguitareffects.com.