Best of 2011: Premier Gear Awards - Web Edition
Now that December has come to a close, it's time to honor the gear that rose above the rest in our online-only review pool.
What makes a Premier Gear Award winner—particularly when about 90 percent of the gear we saw this year could be considered for the distinction? Well, above all, what it really means is that a guitar, bass, pedal, or amp spoke to the reviewer in a deeply personal way and opened up a sense of possibility or an avenue of expression. It means that, somewhere, a manufacturer, designer, garage-based pedal builder, or sawdust-churning luthier has applied their talents to create something extraordinary by any measure.
But perhaps most important, each of these tools spoke up in their own voice and said, "There is music within these wires, wood, and circuits. Come! Take it and make it yours!" We're quite certain you'll find your own tune lurking in one of these objects, however beastly, beautiful, or bizarre. We can't wait to hear what you come up with.
SuperMegaUltraGroovy Capo 2
SuperMegaUltraGroovy made a huge splash in the transcription software realm with their revolutionary Capo 2 for Mac. The entire category of software that slows down audio without changing the pitch is fairly new. But Capo 2 reached even further into the future by incorporating chord detection, TAB support, and the ability to export whole songs or loops.
Reviewer Jason Shadrick found mapping songs and auto-identifying them a breeze, and the software capably aided in working out the solo on Pat Martino's take on Wes Montgomery's "Road Song." After putting it through its paces as both a learning and teaching tool, Shadrick remarked, "Capo is by far the easiest and most practical program I've tried for squeezing out musical knowledge from an MP3."
Though the chord detection and audio fidelity had understandable hiccups, the peerless software's scope of uses—from changing a song's key to helping throw together charts for weekend gigs—all but demanded an award.
Strymon Lex Rotary
The quest for Leslie tones in a more portable form has been a long one. The latest to take up the challenge were the bright minds at Strymon—a company whose unique ability to blend digital and analog to create versatile, natural-sounding effects had already been recognized by our awards. So needless to say, we were stoked.
The Lex delivered by giving us a world of tone-tweaking options that coer every nuance of rotary speaker performance—including mic distance and horn level—that genuinely approximate the response and feel of a genuine rotary speaker. It was this rare element that caused reviewer Jordan Wagner to take note. "After playing with the pedal on a single setting for over several hours, I had really forgotten that I was working with a pedal emulator—it just felt and sounded that real," he wrote.
Rivera Metal Shaman
In recent years we've seen high-profile amp builders like James Brown, Stephen Fryette, and Ben Fargen try their hand at pedal design with great success. And Paul Rivera's entry into the market was no different. His debut line of three pedals impressed our reviewers across the board, but none as much as the remarkably amp-like Metal Shaman.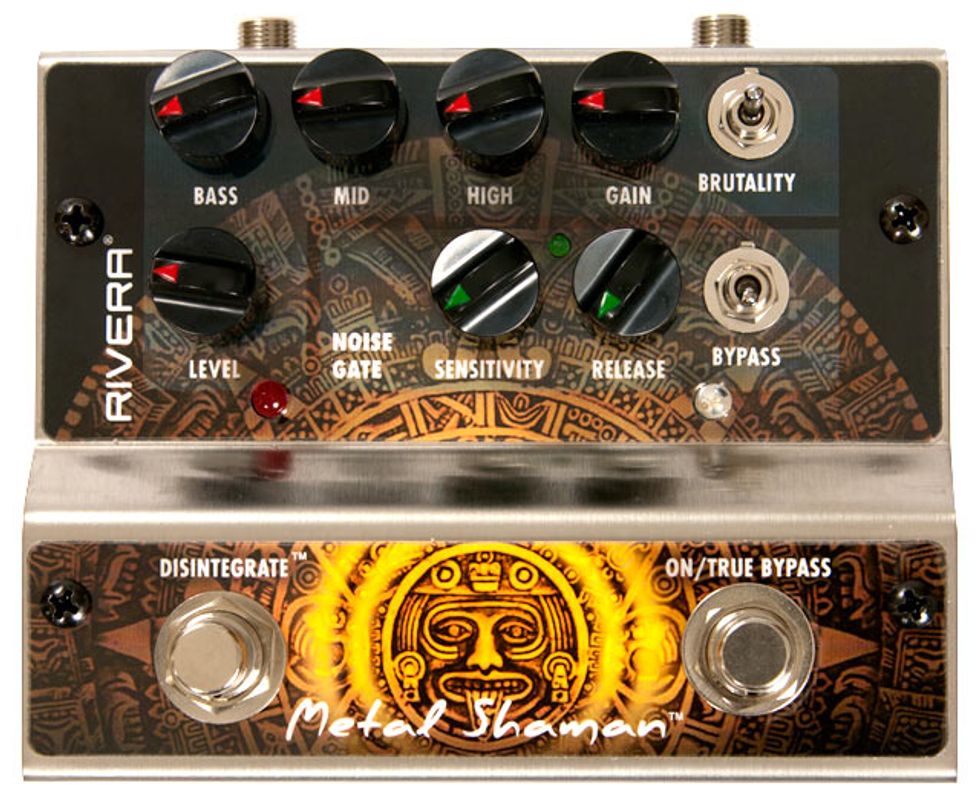 When plugged into a clean, low-wattage amp and a '74 Les Paul Custom, the Metal Shaman blew away reviewer Steve Ouimette with its focused, tight low end and a capacity for dynamics. The secret ingredient, though, was the pedal's Brutality mini-toggle, which compelled Ouimette to write, "People talk a lot about three dimensions in tone, but the Metal Shaman created a very perceptible and unmistakable expansiveness." Add in the Disintegrate switch, which provided the perfect solo boost and made pinch harmonics "a breeze," and a flexibility to work with different guitar and pickup combinations, and we had a sure winner for monster metal amp tones in a box.
Levana EQ Booster
It isn't often that we encounter a boost pedal that inspires the words "astounding," "remarkable," and "utterly fantastic" from our reviewers' keyboards. But Levana's EQ Booster transcended the boost category as a studio-quality preamp in a box that's designed to work with any instrument that uses a 1/4" jack.
The pedal allows you to alter the amount of low-end (in the range of 40Hz-250Hz) or high-end emphasis (4KHz, 2KHz, and 950Hz), and further tweak the high-end frequencies and amount of gain for unprecedented control over your guitar's signal. Wagner noted, "The pedal's ability to boost the most pleasing frequencies in the guitar's signal is utterly astounding and it can give you an otherworldly amount of sustain, clarity, and note separation where you need it. I wasn't long into my experience before I was left wondering why I would ever want to turn it off."
The pedal emphasized picking nuance and sustain when paired with a Telecaster, but imparted a vintage, low-power tube amp tone to a 1978 Greco EC-700. And its ability to maintain each instrument's tone while adding fidelity, clarity, and sparkle earned the EQ Booster a perfect score.
---
To see our list of 21 award winners from the printed edition of Premier Guitar, click here…