Danelectro Longhorn Baritone Review
Deep twang is the thang in this accessibly priced, smooth playing, and well-built baritone.
Excellent playability. Lower register tones and lipstick pickups are a great match. Well built. Beautiful and stylish.
Tone might benefit from lower output pickups.
4.5
4.5
4.5
5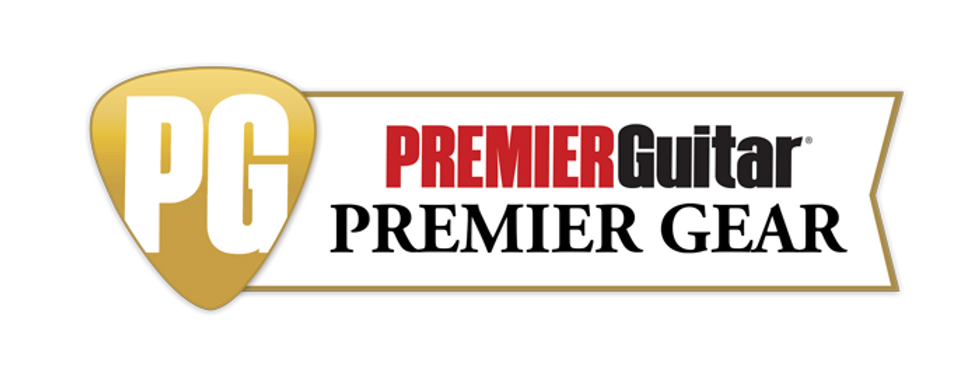 Long-scale, 6-string Danelectros are among the great unheralded instruments in popular music. Consider Glen Campbell's "Wichita Lineman." It's pretty close to a perfect song—a Jimmy Webb melody for the ages, a string arrangement that tugs at the heart almost from the start. But what really stands out for a lot of listeners is the loping, economical guitar solo that is a strange personification of the humble, devoted narrator of the song. The solo, played by Glen Campbell himself, derived its unique tonality from a Danelectro 6-string bass—one borrowed from Carol Kaye no less. And in a tune brimming with highlights, that solo is one of the most memorable.
---
Danelectro's new Longhorn Baritone, which comes from the factory tuned B to B, is not a 6-string bass, which is tuned E to E. But it's almost impossible to not think of those low-down Glen Campbell tones when you play the Longhorn, which mates the clear, bell-like signal from a Danelectro lipstick pickup with the rubbery bottom end from a 29.75" scale. It's a combination that's very much in vogue these days, thanks to Phoebe Bridgers' adoption of the similar Danelectro '56 Baritone. And in this very stylish incarnation, it is still an instrument uniquely capable of evoking haunted, dusty, and mysterious musical moods with a single low and twangy note.
Stylishly, Sneakily Huge
Like their long-scale Danelectro forebears, Danelectro baritones have a way of sneaking up on unsuspecting artists in search of something different. Bridgers happened upon the instrument during a session, bought one of her own for $500, and made it a sonic centerpiece of her first LP. And I've watched incredulous rockers receive a humble Dano' baritone from an engineer with a sarcastic smirk, plug it into a Big Muff and a Sunn Model T, and then burst into a lunatic grin as they summon the sound of doom.
One of the coolest things about Danelectro is that, since the company's resurrection, they've consistently made baritones a fixture of the line. But while Danelectro maintains the company's legendary, lyre-like Longhorn shape in a 4-string bass configuration—and occasionally in the shape of the awesome, mutant Guitarlin—this is the first Longhorn Baritone we've seen in a while. Its return, purely from an aesthetic standpoint, is welcome. The elongated neck, capped by Dano's signature Coke-bottle headstock, gracefully accents the fluid lines of the body. Baritones often look like gawky, ungainly versions of shorter scale guitars—almost like afterthoughts. The Longhorn, however, makes the inherent length of the instrument a design asset, and part of a harmonious whole.
Ergonomically speaking, there are advantages, too. The deep cutaways enable access to every fret, and the combination of light weight, a slender profile, and the long horns, which sit naturally on the thigh and against the ribs, make it comfortable to play over extended periods while seated. Surprisingly, given the long neck and super-light, semi-hollow, wood-composite body, the Longhorn isn't too prone to neck dive, though I'd be sure to use your least slippery strap.
The Longhorn Baritone is built in Danelectro's Korean manufacturing facility. Most of the recent guitars we've seen from that shop are very well made, and that goes for the Longhorn, too. Obvious construction flaws are non-existent. And the fretwork, in particular, is very nice for an instrument in this price range.
Early guitars from the new Danelectro company were often vintage-correct to a fault. Few players I know love the wood bridge that appeared on original Danos and '90s incarnations. But the Longhorn, like other current Danelectros, makes smart concessions to modernity. The adjustable bridge is stable and easy to intonate. The Kluson-style tuners are reliably solid. And unlike long-scale Danelectros of old, this one features a truss rod you can access from the headstock—an especially handy feature on a baritone, which has a fair bit of neck-straining string pull.
The tone and volume knobs, too, are a slight deviation from vintage spec (originals had no tone control). But the teardrop tone controls here are a pleasure to use, and the concentric volume/tone knobs are a bit of minor design genius. The copperburst finish is not quite as copper as some finishes you see on vintage Danos—it has just a touch of ruby or pink in places. But it is lovely nonetheless, particularly on this body style, and it's flawlessly applied. The aluminum nut, by the way, is a very cool vintage-inspired touch that contributes to the instrument's sense of solidity.
Down Low Done Right
The sense of quality and wholeness that you perceive when giving the Longhorn Baritone a once-over translates to an exceptional playing experience, too. When you tune up and give the guitar a strum, you feel it in your ribs. The semi-hollow body is extremely resonant and the sustain is superb. And when you plug the guitar in (it really pays to have a nice 12" speaker or bigger on the receiving end of the signal), that resonance and sustain is rendered large in a lovely way. Not every player will approach a baritone in the same way, but I was moved to, as Donovan would say, dig the slowness. Taking a languid approach to fingerpicking chords allowed notes to bloom hypnotically. And the guitar's smooth playability invites that type of approach. The Longhorn also highlights the inherently pianistic nature of baritone guitars, and the guitar's clarity and organic resonance make playing a high-chord arpeggio against a deep open-string thumb bass accompaniment feel like you're stretching the boundaries of conventional guitar and entering expressive regions associated with an 88-key keyboard.
The Verdict
Because baritone guitars are just as much the domain of doom metal practitioners as pop arrangers and next-wave indie guitarists, the Longhorn Baritone won't please every possible customer. The Longhorn's pickups, which are hotter than the alnico 6 units in Danelectro's more vintage-oriented 6-strings, are perhaps a compromise made for the heavy music set (and they sound truly huge with fuzz), but I'd prefer a little less output and a little more contoured sweetness. Still, for less than 600 bucks, the Longhorn Baritone is a high-quality, super-playable, and relatively inexpensive instrument that can transform the way you compose and play. It's hard to put a cost on creative potential like that.
Danelectro Longhorn Baritone Demo | First Look
Danelectro