Duncan-Turner Acoustic Research Mama Bear Preamp
The Mama Bear puts a variety of acoustic tones in reach.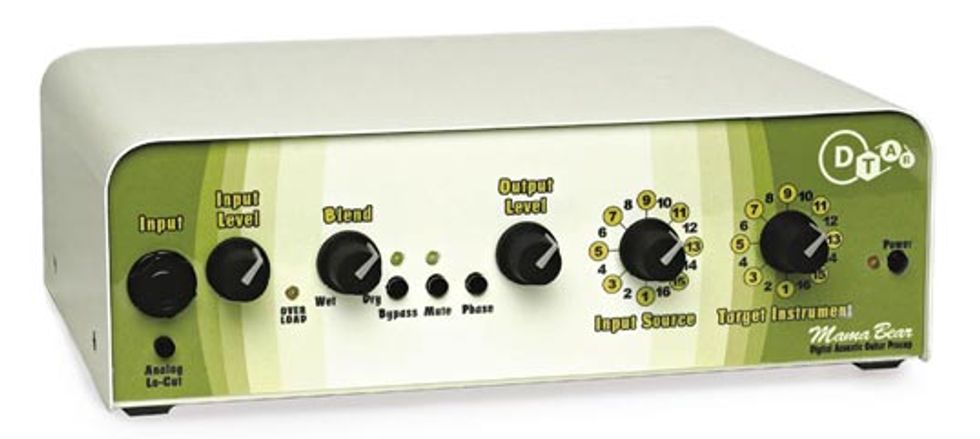 For much of history, a guitar's ability to be heard relied as much on circumstance as it did skill. Bigger music halls, larger orchestras and the bane of nearly every guitarist's existence, drums, all but drowned out non-amplified acoustic guitars.
Fortunately the beauty, the power and the iconic status of the acoustic have kept them from going the way of vihuela or the cistre.
Today, the volume problem has been solved, but the problem of simultaneously sounding loud and good has not. Mechanical devices, massive body shapes, violin building techniques, microphones and a junkyard's worth of pickups have all met with varying degrees of success. While electric players now have a wide array of modeling devices at their disposal, acoustic players have largely been left out of the fray. Parker introduced their popular line of piezo-equipped Fly guitars, Line 6 launched their Variax, Korg has their ToneWorks AX10A modeling pedal and DigiTech and Boss have their own acoustic simulators for non-piezo equipped guitars. But what about acoustic players? Well, coming to the rescue is… Seymour Duncan? The pickup guys?
---
"Working with Rick Turner of Renaissance Buitars and using acoustic research gained from the University of Helsinki, Seymour Duncan and off-shoot D-TAR have brought modeling technology to the hands of acoustic players."
---
Working with Rick Turner of Renaissance Guitars and using acoustic research gained from the University of Helsinki, Seymour Duncan and off-shoot D-TAR have brought modeling technology to the hands of acoustic players. Although they call the technology "Acoustic Guitar Emulation," that may simply be a matter of semantics.
Classically Inspired
Using a selection of high-end microphones and a range of acoustic guitars that would give Tony Rice heart palpitations, the D-TAR team set out to capture the sound of some of the most soughtafter acoustic guitars of the last 100 years. They recorded an envious array of instruments, that included a pre-war C.F. Martin parlor, tenor and D-28, a 1932 Gibson 12- fret L-00, a 1928 "baby body" Gibson L-5, a DuPont "Petit Bouche" reproduction of a Selmer Maccaferri and two pre-war National resonators. The recording process took a year and a half and spanned five different studios, all in the mission of ensuring that the "essence" of these prized instruments were fully realized.
To reproduce the sound quality of these valuable instruments, the D-TAR Mama Bear utilizes a powerful 32-bit digital processor, which produces a minimum of noise. Designed with the working musician in mind, the Mama Bear can be used simply as a preamp to help warm up the sounds of piezo-equipped guitars, limit mic bleed and feedback problems in live situations or to emulate the sounds of classic acoustic guitars.
Despite the "Brady Bunch" aesthetic, the Mama Bear brings a range of useful features right to the player's fingertips. From left to right, the controls include an Analog Lo-Cut button to help tame boomy guitars; an Input Level with clipping/ overload indicator LED; Blend, Bypass, Mute and Phase buttons – the latter being used to help limit feedback; an Output Level knob and two numbered dials listed as Input Source (what's feeding the device) and Target Instrument (controlling your emulation). Flipping the Mama Bear around reveals a single 16VAC input jack, ground lift, XLR balanced output jack and a 1/4" unbalanced output jack.
The unit is small – just 8.5" wide by 6.25" deep by 2.75" tall – and is about the size of a hardback novel, so packing it in a good-sized gig bag shouldn't be much of a problem.
Plugging In
I used a wide range of guitars and amps to put the Mama Bear through its paces, along with some deliberately inappropriate choices to simulate the conditions you might encounter at a café or open mic performance.
First up was a 1979 Takamine F-307 through a 1976 Fender Princeton Reverb. I used two George L's vintage cables to hook everything together. Plugging the Takamine directly into the Princeton produced mixed results. Although the sound was recognizably acoustic, the tone tended to be hard, harsh and unfocused. Both the A and the E strings suffered from a lack of clarity and resonance.
I then selected the first setting with the Input Source knob (for ceramic piezo UST #1) and the "parlor" emulation for output. Almost immediately I was greeted by the chimey, compressed timbre of a small-bodied acoustic. With some EQ adjustment on the Princeton to dial out some of the mid tones, I ended up with a very usable approximation of a parlor acoustic – not one wound with silk and steel strings, mind you, but a sweet, pleasant and usable representation of that class of guitar. Although there was some residual harshness from the older piezo system on my Takamine, a quick turn of the Blend knob was able to tame some of the clack and hard edge of the bridge-mounted pickup.
Scrolling through the other smaller-bodied emulations on the Target Instrument control produced similar results, but I found myself having to adjust the Input Source and Output Level knobs in order to get the best out of the two. Savvy players should consider keeping a notebook handy with their input, output and pickup selections logged if their set requires them to use multiple guitars.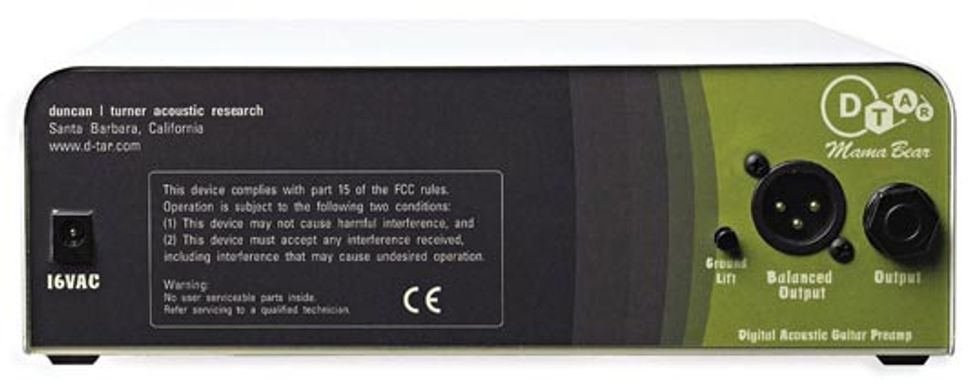 The biggest surprise was in emulating larger-bodied guitars, such as jumbos and dreadnoughts. Like a lot of players, I love banging away at first position open chords on a big-bodied acoustic, but they can be a bit of a beast to play during a long set. The ability to take an OO or OM-sized guitar and get a nice, ringing, big-bodied sound with a reasonably sized guitar will please a lot of players. For smaller players or people who have had neck or shoulder injuries that exclude them from playing a larger guitar, this alone should be enough reason to buy a Mama Bear.
The next stops on the Target Instrument dial were the more exotic selections: the archtop, gypsy jazz and two resonator settings. It shouldn't come as a surprise that I had some difficulties here because of my less-than-ideal guitar and amp setup. A good deal of effort was spent trying different Input Source selections, as well as trying to strike a balance with the Blend and Output Level settings, to little avail. I could see where the Mama Bear wanted to take me, but I just wasn't using the right equipment – Seymour Duncan recommends using the Mama Bear with a decent PA, powered studio monitors or a good quality acoustic amp.
I then tried some more contemporary piezo-loaded guitars and a more appropriate amplifier. This time I selected two Taylors – a T5 Thinline Fiveway and a 314ce – and ran both through a Fender Acoustasonic 30 DSP. The T5 yielded fat, full-bodied jumbo and dreadnought tones with ease. Smaller-bodied guitars produced their characteristic brilliance and even the gypsy jazz tone made its first appearance. I should note that in order to make the best of this particular setting you really have to alter your picking technique; you can't play your guitar like a dreadnought and expect to sound like Django. This was un-amplified café music, so you have to play it to the back of the hall. In order to get the best results you should strangle the pick a bit and attack towards the bridge – small wonder Django went through so many guitars.
Unfortunately, the hollowbody archtop and resonator tones still remained somewhat elusive with the T5, so I plugged in the Taylor 314ce to see if we could coax them out. Just like the Takamine and T5, the small and large body sounds were all present and accounted for, and even the gypsy jazz sounds were there in all their nasal glory, but this time both of the resonator settings floated to the front.
Did they sound just like big bell brass bombers? Well, yes and no. With the 314ce the differences between the Biscuit Blues and Tricone settings were pretty marked. The Biscuit Blues had a mellower timbre to it, almost like a Dobro Hound Dog rather than a bell brass-bodied guitar, but for amplified purposes it definitely gets you in the ballpark. The Tricone setting produced more of the ringing and rattling it was famous for, and using a ceramic slide coaxed out some fittingly ratty blues tunes. The hollowbody archtop setting still remained an enigma with the 314ce, but that said, the Mama Bear's 15 usable settings earn it more than a passing grade.
Overall, the Mama Bear is a robust preamp for acoustic guitarists looking for a portable effects solution, but there were a few minor qualms. There weren't any classical guitar settings available in the Mama Bear system, but word has it that there will be updated models that will allow players to load in new guitar selections in the future [according to Vice President of Marketing, Evan Skopp, there has not been any demand for this as of yet].
The Final Mojo
In short, all of my guitars benefited from plugging into the Mama Bear. There are a plethora of legendary acoustic sounds here, all in an easy-to-use and quiet package. The preset EQ and pickup selection helps eliminate the guesswork, and the Blend function further increases the unit's tonal possibilities. Of course, you won't be able to turn poor-quality piezos into studio- quality champions, but there's enough juice here to take a midrange acoustic from good to great status with little more than a few cables.
Buy if...
you love acoustic guitars or want to expand yout tonal range with a piezo-equipped solidbody electric.
Skip if...
you have no use for demo electricity or you are in search of the ultimate acoustic archtop tone.
Rating...
 
MSRP
$499 - Duncan-Turner Acoustic Research -
d-tar.com
Our expert has stated his case, now we want to hear yours. Share your comments and ratings below.