Dunlop Cry Baby Daredevil Fuzz Wah Review
A union of fuzz-motivated minds yields a beastly wah.
A beautiful marriage of fuzz and wah. Searing, focused fuzz tones. Pairs perfectly with PAF-style humbuckers. Quality construction.
Internally mounted pots for fuzz volume and gain. Narrow sweep may suit pedal but will leave some players longing for more range.
5
4.5
4
4.5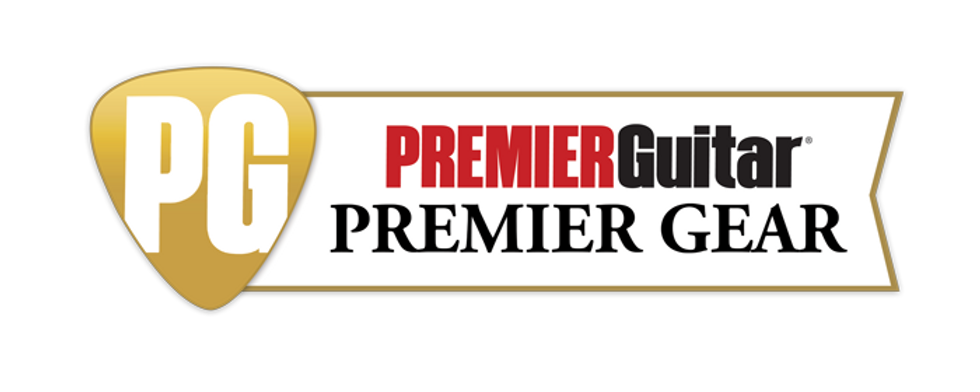 I first got to know Daredevil Pedals' Johnny Wator because I recognized a fellow Stooges fan. As you'd expect from any pedal-building acolyte of Ann Arbor's finest, Wator's wares explored the filthier side of the effects spectrum: raspy silicon fuzzes, dirty delays, and the sound of cocked wahs. And for players drawn to all things punky, scuzzy, and dragged through the gutter, Daredevil's roster is, forgive the pun, a funhouse. It's hard to imagine a bunch of folks more sympathetic to Wator's aims than Dunlop. They harbor many maniacs with a deep affinity for the heavy and unhinged. And the fruit of their collaboration with Wator, the Cry Baby Daredevil Fuzz Wah, is as beautifully nasty as you would dare imagine.
---
The Cheetah Growls in Chrome
Given a wah pedal's extroverted musical mission, I think they should be stylish things, too. Wator and Dunlop seem to feel the same. The treadle is adorned with a crown logo that would make a killer hood or grille ornament. It's also chrome plated in the style of vintage Colorsound and Vox wahs. Even the side-mounted toggle switch that activates the fuzz is mounted against a suitably glam steel lightning bolt.
The circuit is a unique design based on custom-order fuzz wahs that Wator built in his Chicago shop, and in this mass-produced iteration it is very carefully put together. The circuit itself is fastidiously laid out on through-hole circuit board, and switches for both the wah and the fuzz are enclosure mounted, making replacement and repair easy. The circuit board is also home to two small knobs that control fuzz gain and volume. It's too bad that the two controls are internally mounted given the profound way that they can shape the pedal's tone and functionality. And considering their placement on the outboard edge of the circuit board, you can imagine how the knobs could be mounted on the enclosure's exterior. On the other hand, such a feature would have driven production costs skyward, making the reasonable $229 price less appealing.
Filter the Fuzz Fantastic
Wator's conceptual departure point for the Daredevil Fuzz Wah was a union of the old Clyde McCoy Cry Baby sound and his own LSD Fuzz, which is a sort of high-octane derivative of the Mosrite Fuzzrite circuit. On its own, the wah exhibits pronounced midrange-y leanings, which can drive the fuzz to manic heights. I have wahs that are creamier sounding, which is lovely for soul ballads and mellow psychedelia. The Daredevil, however, comes on relatively strong. There's a distinct volume jump when you click it on. And the taper from the heel down position to biting midrangey zones can seem both fast and steep. Wator deliberately made the tone sweep of the Daredevil's rocker shorter and narrower—a quality he admires in Cry Babys from the mid to late 1970s. While this filtering curve can make the Daredevil feel less subtle and sound a little more nasal, there are abundant shadings to explore in the middle and higher ranges of the sweep. It can give a Stratocaster a lot more body and attitude in a solo, and it is a beautiful match for PAFs, which can mellow its more aggressive edges.
Everything from Stones-y garage folk and Stooges punk to My Bloody Valentine walls of sound can be awakened by the way the Daredevil lunges for the jugular.
Kicking on the fuzz, meanwhile, is an electric thrill. Fuzz tones in the toe-down range are white hot and focused. And a lot of players that quest for the most perfectly vicious mid-'60s fuzz will find it here. At many rocker settings, the fuzz buzzes and explodes with feral fury. But it's the way it can scythe through a mix that make it feel like the ultimate '60s fuzz, and everything from Stones-y garage folk and Stooges punk to My Bloody Valentine walls of sound can be awakened by the way the Daredevil lunges for the jugular.
While I generally kept the fuzz gain at maximum, I kept the master volume much lower, because at maximum output the DareDevil is blistering hot and very, very loud. There are benefits to this volume. Toying with feedback at the higher output levels, for instance, is a joy and broadens the palette of the pedal, your guitar, and an amp. Navigating these feedback zones necessitates a bit of a dance with your amplifier as you find just-right proximities for coaxing certain overtones. But even minor mastery of the technique yields thrilling results, and there are copious, unexpected tone colors to source.
The Verdict
The Daredevil Fuzz Wah is not a mere branding exercise or some insignificant twist on an existing Cry Baby design. It's a cool, idiosyncratic, if slightly aggressive, wah paired with a deadly take on a silicon Fuzzrite. Can you link up any wah and a Fuzzrite clone and achieve the same effect? My attempts to do so yielded a much less cohesive and less pleasing take on the sound Wator concocted here. Because the Daredevil is engineered to yield a very specific sonic sum, evaluation scores should be considered fluid based on musical predilections. If you like confrontational, retro-punky assault, go with my scores here. If you like smoother, more predictable outcomes, you may want to round down a bit on the tone side. But if you're keen to escape wah convention or love the emotive, unshackled wah styles of Ron Asheton, Eddie Hazel, or Mick Ronson, the Daredevil Fuzz Wah is a perfect vehicle for cutting loose.
Dunlop Cry Baby Daredevil Fuzz Wah Demo | First Look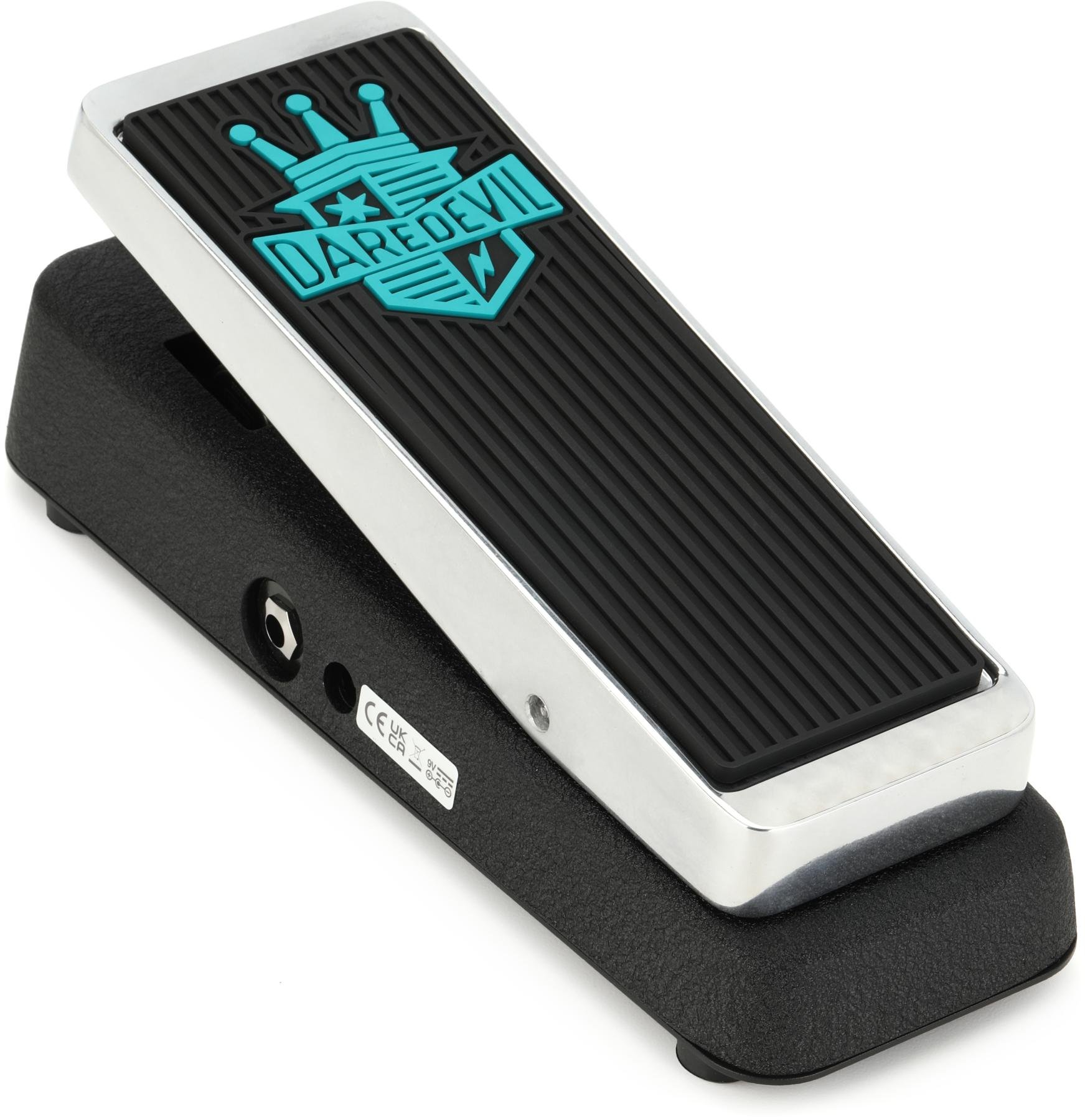 Cry Baby Daredevil Fuzz Wah Pedal
Dunlop