Lotus Pedal Designs Iceverb Review
This reverb stompbox is designed to deliver subtle, sweet spring-style sounds.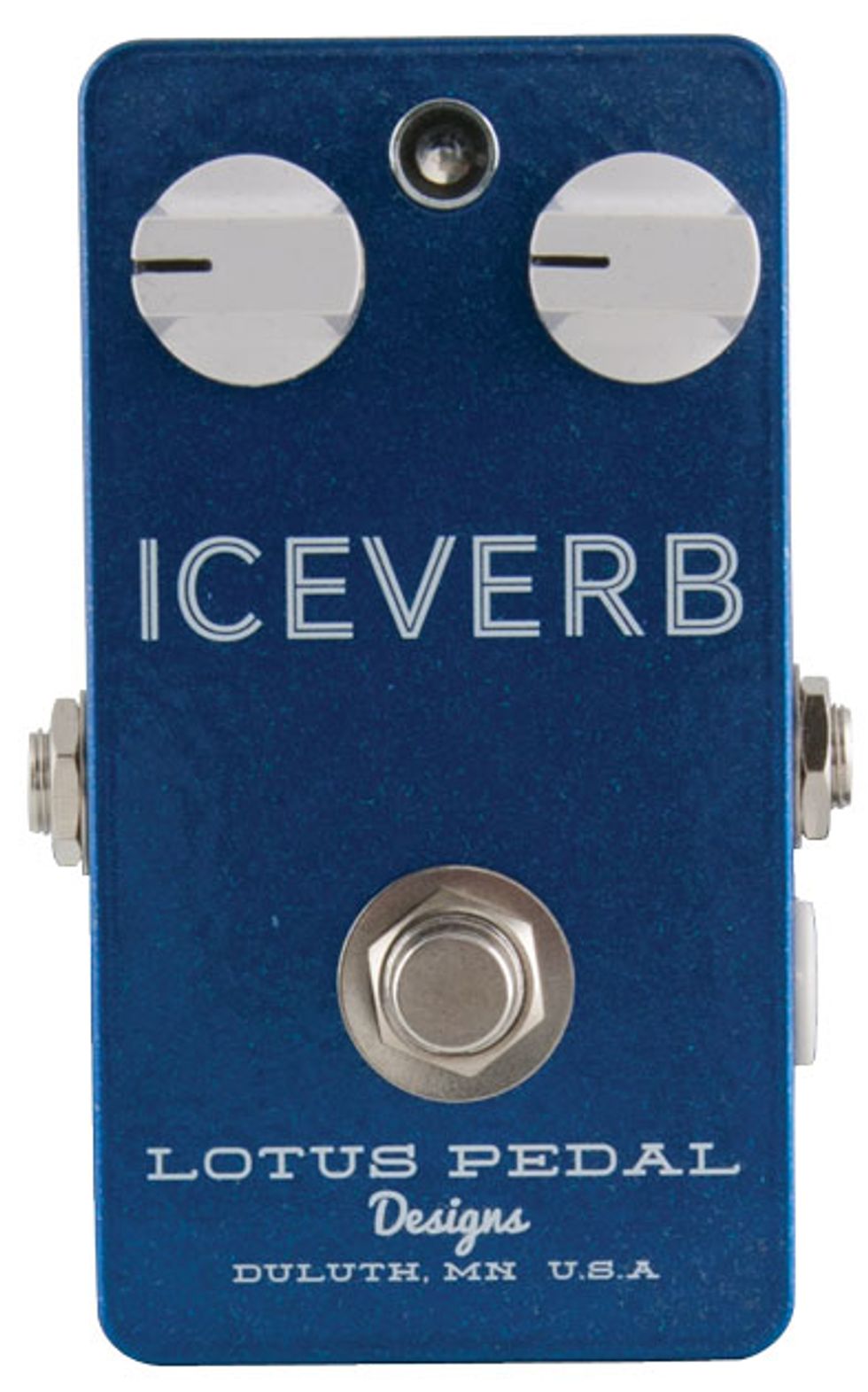 After ordering a boutique pedal that arrived dead, Sean Erspamer, an electronics technician at Crane Song LTD for over a decade, decided to build his own pedals. In 2009, he formed Lotus Pedal Designs and turned his attention to quality and a function-over-form aesthetic that was—and remains—a distinct contrast to the look-at-me designs that prevail in the world of custom boutique pedals.
The Iceverb is Lotus' take on classic spring reverb. Like almost all Lotus designs it takes a less-is-more approach, bucking the deeper-than-deepest-space reverb trend. It's also built to work more like an "always-on" pedal, not unlike an amp's built-in verb.
The glamour control added a sheen that really brought my basic guitar tone to life.

Too Cool for School
While previous Lotus offerings had a utilitarian vibe with bare-bones aluminum cases, the Iceverb comes in a (relatively) flashy ice-blue enclosure. Like other Lotus pedals, the Iceverb's knobs are unlabeled, a design feature that is at once cool and irksome. And even though the Iceverb has only two knobs, it would be nice to have some hint about each control. After going online, I found that the right knob controls the reverb level or mix, and the left knob is what Lotus calls the glamour control, which is essentially a high-cut filter that tapers the high-end of the reverb trails.
Subtly Surfy
The Iceverb is all about subtlety. It's capable of being very warm and lush, but its basic voice is on the drier side of things. As I put the pedal through its paces, it seemed like the intensity knob didn't really kick in until about 9 o'clock. Before that the effect was pretty faint.
In maneuvering the glamour knob, I needed to move it to about noon before it had any kind of noticeable impact. From that point on, though, the glamour control added a sheen that really brought my basic guitar tone to life. And as I turned it clockwise, I got a lot more high-end sparkle with the trails, which contributed definition, atmosphere, and presence.
To my ears, the pedal sounded best with both knobs maxed. Here, the Lotus provided one of the best pedal executions of a spring reverb effect I've ever heard.
Ratings
Pros:
Sonically excellent spring-style reverb.
Cons:
Less versatility than some other reverb pedals.
Tones:


Playability/Ease of Use:


Build/Design:


Value:


Street:
$179
Lotus Pedal Designs Iceverb
lotuspedaldesigns.com
On a typical reverb, cranking everything would probably be overkill and the sound would be way too washed out to be useful. With the Iceverb, however, wide open is the sweet spot. When I played busy single-note passages, the individual notes rang out clearly, fully, and well defined. If I played slower with harmonically rich chords, there was a Frisell-like ambience that had just a hint of velvety modulation as overtones intertwined.
As much as I really enjoyed the sounds I was getting, there were times I wanted a little bit more ceiling. Even if you never need to go past the edge, there is a certain comfort in knowing that territory exists—like an amp that goes to 11. That gripe aside, however, you can't argue the loveliness and detail in the reverb sounds that are available.
The Verdict
If you are looking for an extreme and cavernous reverb, or if your tastes lean toward David Torn-like soundscapes, the Iceverb probably wouldn't be the right choice for you. Erspamer is fine with that. "The pedal is designed to be an always-on kind of reverb," he says. "And no, it does not do 'over-the-top' reverb. This was intentional because so many reverbs on the market today focus on extreme settings."
If you're in need of a gorgeous, simple reverb to complement a reverb-less vintage amp like a Fender Bassman, or replace or supplement an anemic onboard unit, you'd be hard-pressed to find a better sounding reverb than the Lotus Iceverb. It might be a one-trick pony but it does that trick a lot better than most.