A fiery high-gain fuzz that stretches convention.
Wide range of hot-to-blazing fuzz sounds. Cleans up remarkably well for a high-gain device. Momentary footswitch enables quick fuzz blasts. Lifetime warranty.
Would be nice to have external access to the internal trimmers
4.5
4.5
4
4
With a very non-traditional Queen of Hearts graphic, sunshine yellow enclosure (one of three available finishes), and gold knobs, the MAS Effects Sona Fuzz is striking. But more important to any guitarist who likes things loud, it's a high-gain unit that goes beyond traditional buzzy sounds. The Sona Fuzz is the brainchild of pedal builder Mark A. Stratman, a former software engineer who is also the founder of We Build Planes (a community of amateur aircraft builders). Given Startman's CV, it's not surprising that the true bypass Sona Fuzz is exceptionally well built. So much so that it comes with a very generous "forever" lifetime warranty that applies even if you bought the pedal secondhand. As well made as it is, though, it's the sound and its unique place among fuzzes that will find you keeping it around long term.
---
The Tone Queen Roars
The Sona Fuzz's layout is straightforward. There are knobs for fuzz, volume, tone, and a "body" toggle switch for the high pass filter, which thins the output or makes it fatter with bottom end. This is particularly useful for tailoring your sound to match single-coils or humbuckers. Under the hood are two internal trimmers. One is a bias control that can be set to achieve a splatty, fractured fuzz. The other is a gain control. As shipped from the factory, it's set just short of maximum, which MAS Effects deems optimal. This trim pot allows you to get just a little bit more gain, if desired. But as we'll discover, that's a little on top of a lot.
I tested the Sona Fuzz using an Ernie Ball/Music Man Axis Sport guitar and a Mesa/Boogie Tremoverb combo. Starting with the fuzz (distortion) control all the way off, the Sona Fuzz was already rumbling, and gain levels sounded equivalent to a typical distortion pedal at about 50 percent gain. Sustain is already excellent at this level, especially with the body switch on. Humbucker-driven power chords, meanwhile, often sounded leaner and sweeter with the body switch off. But even single-coil lead sounds had serious teeth this far south of maximum gain.
This trim pot allows you to get just a little bit more gain, if desired. But as we'll discover, that's a little on top of a lot.
Bumping the fuzz control to 11 o'clock changed the character of the pedal, making it more aggressive and generating sustain that pushed solos to screaming. There's still more aggression to source, though. Maxing the fuzz control makes power chords a wall of doom, and single notes sustain almost endlessly, blossoming into feedback rather than decaying as they do at lower fuzz settings. Putting the body switch in the off position at these high gain settings still offers a cool alternate tonal color. I expected the extra high end to induce less-desirable feedback. But when pushed to these extremes, the Sona Fuzz was still pretty noise-free with nary a squeak or squeal to report. Although, as MAS Effects notes, if you max out the internal gain trim pot, the pedal will get noisy fast.
One of the distinguishing and unexpected features of the Sona Fuzz is that, while it can get downright filthy, the pedal also cleans up when you reduce guitar volume. Even at the maxed-out fuzz setting, when I turned my guitar's volume down to about 40 percent of full volume the pedal was transformed. Low-register notes got smoother and individual notes in full barre chords were easy to discern. With single-coils I could even get clean enough to play folky triad figures without sounding ridiculous.
The Verdict
The Sona Fuzz is a versatile fuzz pedal that can cover the sonic ground between fuzz and high-gain distortion. Unusual for a fuzz, it uses a soft-touch footswitch that can be operated as a momentary switch, so you seamlessly incorporate the fuzz sound in strategically or rhythmically driven doses, inviting a lot of musical ideas that can take advantage of the ultra-potent fuzz and the major discrepancies between those sounds and clean ones. This is a gain device with a lot of potential.
Looking for more great gear for the guitar player in your life (yourself included!)? Check out this year's Holiday Gear Finds!
Outlaw Effects introduces their next generation of NOMAD rechargeable battery-powered pedal boards.
Available in two sizes, NOMAD ISO is a compact, versatile tool that offers the convenience of a fully powered board plus the additional freedom of not having to plug into an outlet. NOMAD ISO is ideal for stages with limited outlet availability, quick changeovers, busking outdoors, temporary rehearsal locations, and more!
NOMAD ISO builds upon the legacy of the ultra-convenient and reliable NOMAD rechargeable pedalboard line originally launched in 2018. The brand new NOMAD ISO editions feature eight isolated outputs (1 x 9V DC, and 1 switchable 9V/12V DC) for even more versatility and clean, quiet power. With an integrated lithium-ion battery pack boasting 12800mAh capacity, NOMAD ISO can fuel a wide array of pedals, and will last over 10 hours* on a single charge.
Each NOMAD ISO pedal board includes adhesive hook & loop pedal-mounting tape, eight (8) standard DC connector cables, and one (1) reverse polarity DC cable, giving you everything you need to build your ultimate "off-the-grid" rig. A rugged, road-ready padded gig bag with shoulder strap is also included, to safely protect your gear while you're on the move.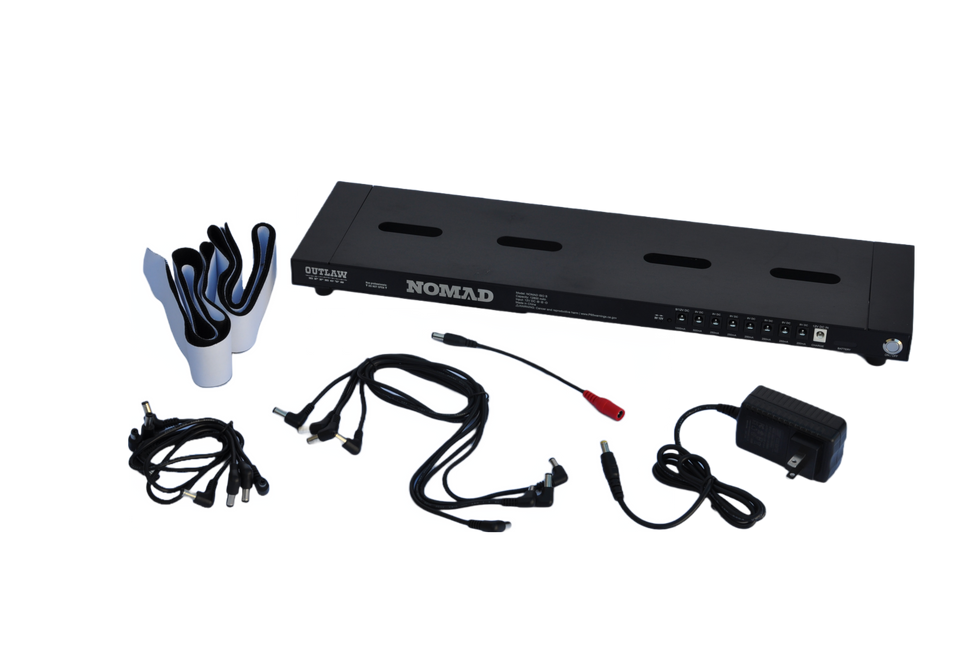 Dunable announce new Minotaur model featuring Grover Rotomatic Keystone tuners.
The Minotaur's DNA is rooted in their classic Moonflower model, which Dunable discontinued in 2017. However, they have long since wanted to create a fresh take on a carved top guitar design, and various attempts to rework the Moonflower led them to a brand new concept with the Minotuar.
Dunable's goal is to give the player a guitar that plays fast and smooth, sounds amazing, and gives maximum physical ergonomic comfort. The Minotaur's soft and meticulous contours, simple and effective control layout, and 25.5" scale length are designed to easily meet this criteria.

Dunable Minotaur!
Features
25.5" scale length
Dual Humbucker
one volume, one tone, push pull for coil splitting
Grover Rotomatic Keystone tuners
Grover Tune O Matic bridge with brass Kluson top-mount tailpiece
jumbo nickel frets
12" fretboard radius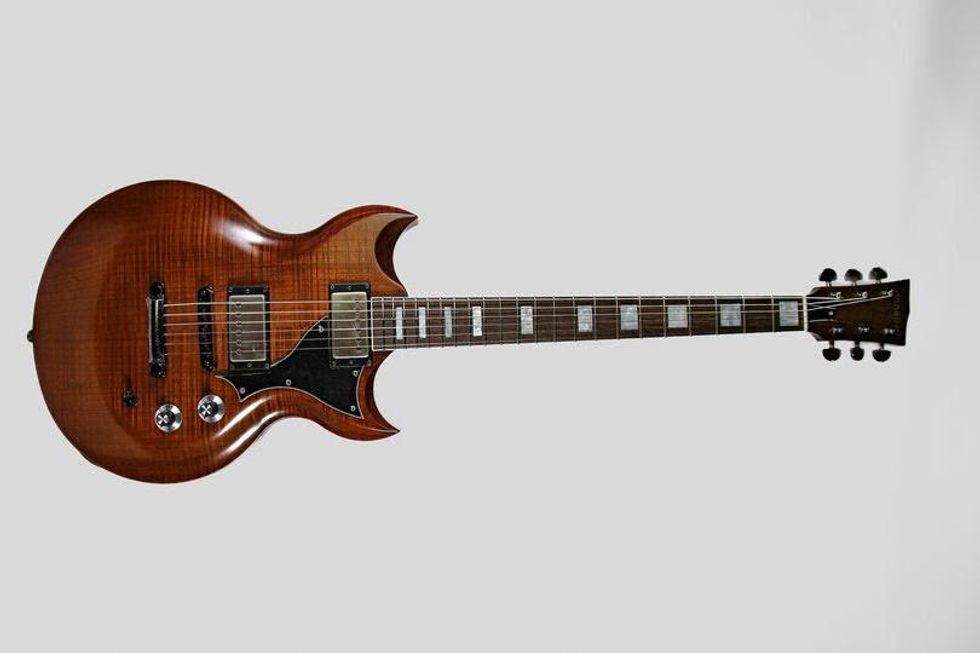 Dunable
This full-amp-stack-in-a-box pedal brings a new flavor to the Guitar Legend Tone Series of pedals, Missing Link Audio's flagship product line.
Adding to the company's line of premium-quality effects pedals, Missing Link Audio has unleashed the new AC/Overdrive pedal. This full-amp-stack-in-a-box pedal – the only Angus & Malcom all-in-one stompbox on the market – brings a new flavor to the Guitar Legend Tone Series of pedals, Missing Link Audio's flagship product line.
The AC/OD layout has three knobs to control Volume, Gain and Tone. That user-friendly format is perfect for quickly getting your ideal tone, and it also offers a ton of versatility. MLA's new AC/OD absolutely nails the Angus tone from the days of "High Voltage" to "Back in Black". You can also easily dial inMalcom with the turn of a knob. The pedal covers a broad range of sonic terrain, from boost to hot overdrive to complete tube-like saturation. The pedal is designed to leave on all the time and is very touch responsive. You can get everything from fat rhythm tones to a perfect lead tone just by using your guitar's volume knob and your right-hand attack.
Features 
Three knobs to control Volume, Gain and Tone
Die-cast aluminum cases for gig-worthy durability
Limited lifetime warranty
True bypass on/off switch
9-volt DC input
Made in the USA
MLA Pedals AC/OD - Music & Demo by A. Barrero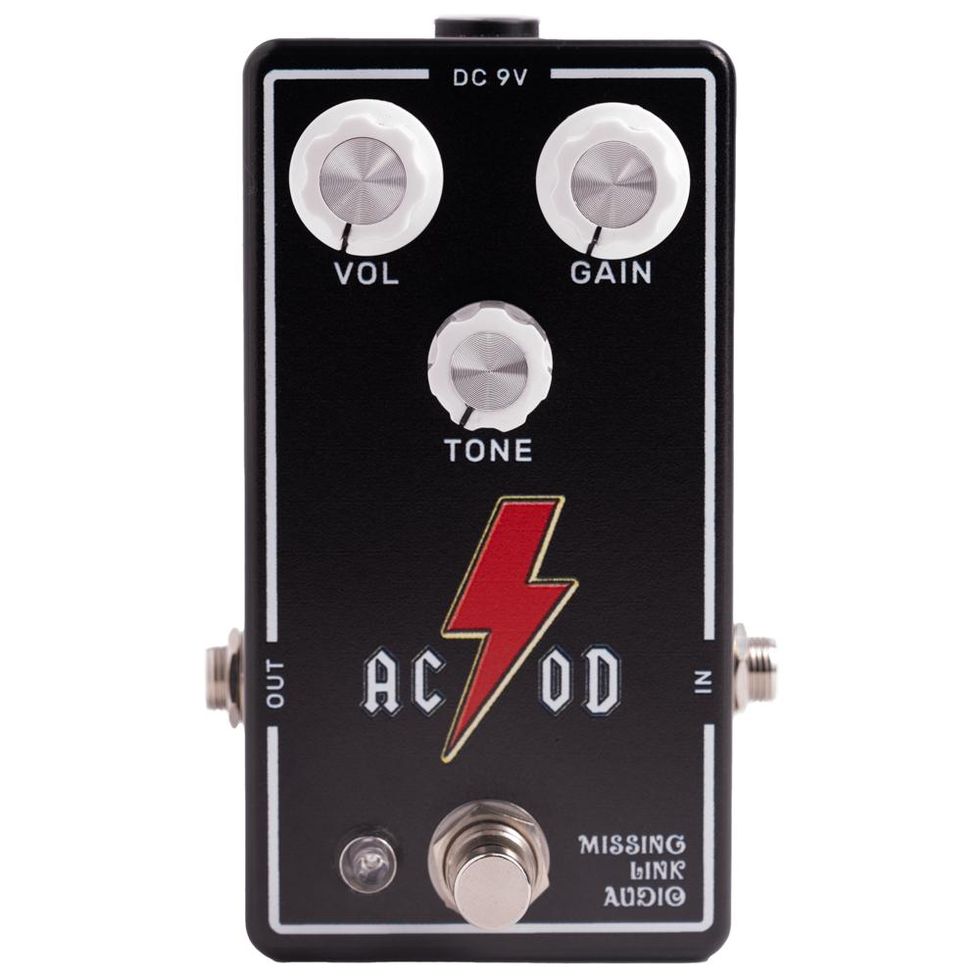 www.mlapedals.com.