Rig Rundown - Blondie's Chris Stein and Tommy Kessler
PG's Tessa Jeffers is on location in Chicago, IL, at the Chicago Theatre where she catches up with Blondie's Chris Stein and Tommy Kessler.
PG's Tessa Jeffers is on location in Chicago, IL, at the Chicago Theatre where she catches up with Blondie's Chris Stein and Tommy Kessler.
Guitars
Blondie's original guitarist, Chris Stein, uses one guitar only—his "very sexy" XOX Audio Tools Carbon-Fiber guitar (not pictured). Stein loves the lightness of this long-scale model and says he's finding it hard to go back to hardwood guitars. The carbon fiber weighs only 4 lbs. and is unaffected by weather and temperature. Stein brings a gunmetal DBZ hollowbody on tour, but according to him, he plays one guitar and he never breaks strings. He plays his XOX with National metal fingerpicks and Dunlop plastic fingerpicks.
Kessler works extensively with Doug Kauer on made-to-order guitars. Kessler opens up the show with his custom sparkle blue Daylighter semi-hollow carved top with a Bigsby. It's set up like a Les Paul with two tones and two volumes. But his number one guitar is his black Kauer, a single-cut solidbody Starliner prototype. All of his Kauers have WolfeTone humbuckers. For his extended solo on "Atomic," Kessler uses a Schroeder equipped with Seymour Duncans and a 3-way toggle. He also has a goldtop Les Paul on hand but it's his backup guitar used mostly only in the studio. In addition to his four electrics, he uses a nylon-string Taylor NS74ce for the song "Wipe Off My Sweat." He strings his electrics with Ernie Ball .011s and uses Couch straps made out of old automobile material.
Amps
Stein plays through a 3-channel Mesa/Boogie Rectifier, but he mostly sticks to the middle channel for crunch, using the clean channel and distortion for only a few songs. Stein says it's reliable, "doesn't crap out," and the house sound guy likes the tone. Kessler plays through a Soldano SLO100 on the clean channel on a crunch setting at 100 watts with two 2x12 Soldano cabs with Weber speakers on either side.
In addition, Kessler uses a Line 6 wireless system, Furman Power Conditioner and a THD Hot Plate, and also has a Weber MASS Attenuator onhand.
Effects
Kessler's pedalboard for Blondie has been virtually the same for three years. He uses a Pigtronix Philosopher's Tone, Fulltone Clyde Standard wah, DigiTech Whammy 5, Pigtronix Envelope Phaser, Pigtronix Tremvelope, Pigtronix Aria, Boss DD-5 Digital Delay, Line 6 DL4, Cusack-modded Z.Vex Seek Wah, and an Ernie Ball Volume Jr.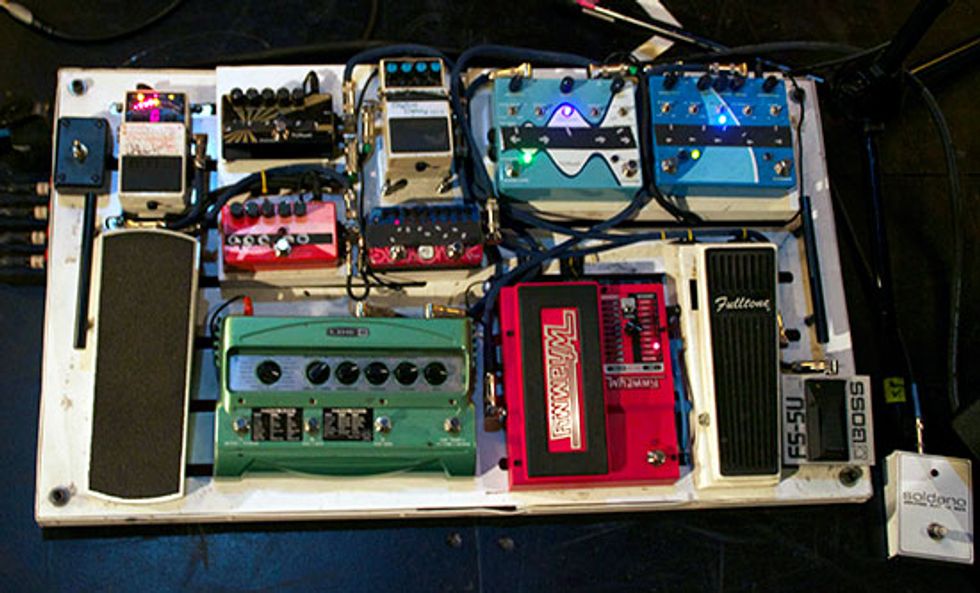 Stein's effects for this tour are very minimal. He says he really only uses the Seymour Duncan Deja Vu Tap Delay, an Ibanez Tube Screamer, and a Boss CS-3 Compressor/Sustainer. When we talked to him he was trying out a DigiTech Hardwire Metal Distortion, and he also had a Hardwire Stereo Reverb, Boss PSM-5 Power Supply & Master Switch, Boss TU-2 Tuner, Boss SD-2 Dual Overdrive, and Boss DD-5 Digital Delay on his board.