Rig Rundown: The Gaslight Anthem
The Garden State rockers walk us through their vintage-meets-modern setups.
On October 8, 2014, Premier Guitar met with Alex Rosamilia and his tech Brad Clifford before The Gaslight Anthem's show at Marathon Music in Nashville. Rosamilia took PG through his rack of touring vintage guitars and revealed how he tailors his tone with a wet/ dry amp combination.
Alex Rosamilia's Gear
Guitars
Alex Rosamilia travels with the kind of vintage guitars a less brave musician would leave at home in a vault. His current No. 1 is a walnut-brown 1970 Gibson SG with a Seymour Duncan Antiquity humbucker in the bridge.
No. 2 is a beautiful Bigsby-equipped 1966 Gibson ES-355 in dark cherry. The guitar has had a neck break and a bridge swap but other than that, remains completely stock.
No. 3 is a loved and slightly abused all-stock 1981 silverburst Gibson Les Paul Custom.
When Rosamilia wants something a bit unusual, he goes with his 1983 BC Rich Bich in cherry burst.
The only new-ish guitar on tour is a Jazzmaster-inspired 2013 Nash JM-63 with a charcoal frost finish. Brad Clifford strings all guitars with Ernie Ball Skinny Top/Heavy Bottom sets, gauged .010-.052.
Amps
Half of Rosamilia's amp tone comes from a slightly dirty 1978 Marshall JMP 2x12. He runs the JMP dry and pipes delays and other swirly effects through the AC30.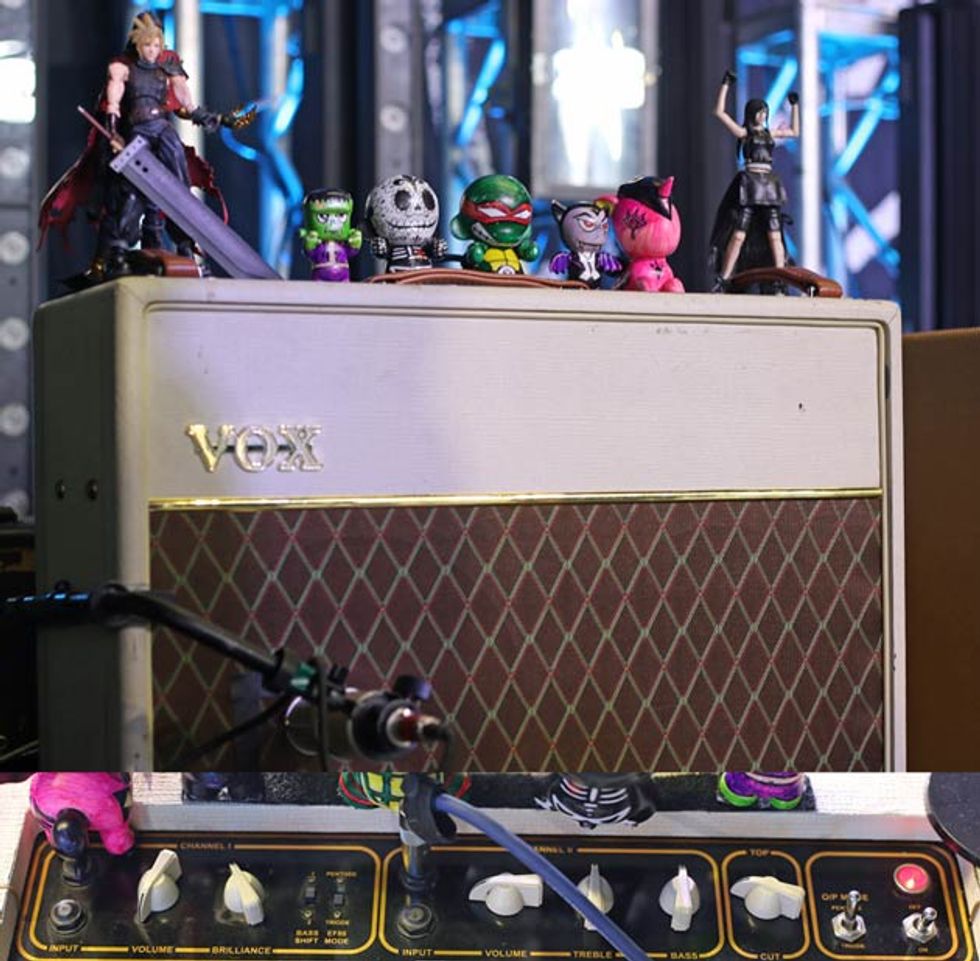 The other half of Rosamilia's amp equation is a Vox Hand-Wired series AC30. Each amp sports a pair of Weber Blue Dogs. He runs the JMP dry and pipes delays and other swirly effects through the AC30. Rosamilia carries vintage backups for each amp: a small 1967 Marshall PA-20 head and 1962 Vox AC30 loaded with Celestion Blue 12" speakers.
Effects
Brad Clifford assembled a pedalboard for Rosamilia that uses two Loop-Master pedal switching devices to keep the sound pristine. The signal starts with the guitar running into an Ernie Ball VP JR volume pedal, and its tuner out hits a TC Electronic PolyTune Mini Noir. From there, the signal enters the first Loop-Master, which is connected to six pedals: a Boss NS-2 (to control unwanted noise from the gain pedals), an Ibanez TS9, a Fuzzrocious Ram the Manparts, an Earthquaker Devices Bit Commander, an Earthquaker Devices Organizer, and an Earthquaker Devices Hummingbird. A Radial Bones Twin-City ABY splits the signal for the two amps.
Rosamilia's second Loop-Master controls another five pedals: a Boss Dimension C, TC Electronic Flashback, Earthquaker Dispatch Master, Seymour Duncan Vapor Trail, and Earthquaker Devices Ghost Echo. Two T-Rex Fuel Tank Chameleon power systems provide juice to Rosamilia's 11 pedals.
Brian Fallon's Gear
Guitars
Brian carries three Fender Custom Shop Relic Telecasters on the road. One features Custom Shop Nocaster pickups; the other two each sport a set of Lollar '52 T pickups. All three Teles feature a 4-way switching system for more tonal options, and Brad Clifford strings them with SIT Power Wound Nickel sets, gauged .010-046.
Amps
Fallon's main amp is a very Vox-like JMI AM 15 T with a JMI Celestion speaker.
Fallon keeps a Penn Instrument Custom Series 3/10 with Weber Classic Alnicos onstage as a backup.
Effects
Fallon's Salvage Custom pedalboard features an internally hidden T-Rex Fuel Tank Chameleon power source. On top, the signal enters a Dunlop British Invasion Cry Baby Wah decorated with a limited-edition Union Jack paint job. Next is a Fulltone OCD, then a Black Arts Pharaoh that runs into a MXR EVH90 Phase 90. Last in line is a tried-and-true Boss TU-3.